Georgia's Legacy Leaders
As we celebrate 35 years of Georgia Trend, we recognize 15 people who have devoted themselves to improving the lives of those across the state.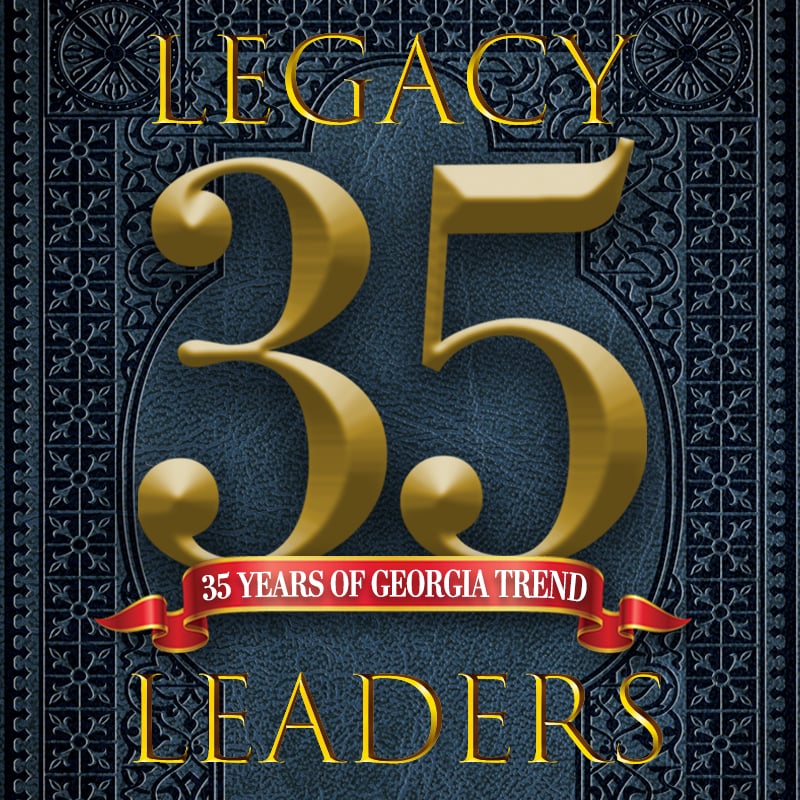 This month Georgia Trend celebrates 35 years as the statewide magazine dedicated to business, politics and economic development. To mark this milestone, we wanted to recognize people from around the state who have contributed for many years to making Georgia No.1 for business – as well as a great place to live, work and raise a family.
We asked you, our readers, for suggestions of unsung leaders, people we don't feature regularly in the pages of our magazine who are having an outsized impact on their communities. And you delivered. From political leaders to developers on the cutting edge to a woman working to solve teen pregnancy issues, we offer profiles of 15 legacy leaders: Georgians who have devoted their lives to improving the lives of residents and visitors alike.
It's our way of saying thank you to our readers and our leaders for three-and-a-half extraordinary decades. As we continue to report on statewide successes and solutions, we look forward to spotlighting the leaders of tomorrow – people who may even have been mentored or inspired by the individuals featured in these pages.
Legacy leader profiles were written by Anna Bentley, Betty Darby, Patty Rasmussen, K.K. Snyder and Haisten Willis. – Karen Kirkpatrick
---
Greg Parker
Founder and CEO, Parkers
Savannah
Greg Parker is first to say he didn't know what he was doing back in 1976 when he started his gas station convenience store empire – Parker's – in Midway, GA. He was helping out his dad, trying to figure out how to make the business profitable. And he did, the old-fashioned way – working every day for three years, including Christmas – with a healthy dose of new-fangled metrics.
"I knew early on that your scorecard is your report card," he says. "I hijacked all the things I was learning in an E.K. Williams management course and figured out how to put everything I needed to operate a store on one page."
Eventually, one store turned into more than 64 throughout Georgia and South Carolina. The brand is synonymous with clean, friendly, profitable and philanthropic.
"With success comes a responsibility to give back, and we've been doing it for years," Parker says. "Education and healthcare are our two big philanthropic buckets and where we'll keep our focus."
Parker donated a record $5-million gift to Georgia Southern University in 2018; made a $1-million endowment to the emergency and trauma center at Savannah's Memorial University Hospital; and has donated more than $200,000 annually since 2011 to 430 area schools through the company's fueling the community rewards program.
Parker credits his "remarkable team" for his success. "My hope is that the brand will continue long after I'm gone to create opportunity for the people who got me here," he says. – PR
---
Fay Gold
Founder, Fay Gold Gallery
Atlanta
In 1980, Fay Gold recognized a glaring gap in Atlanta's art scene. There were no contemporary galleries. "I'd been collecting in New York, and I realized no one was bringing any of the New York artists here, the pop art, everything that was happening," she says. At the time she was "just Mrs. Gold," teaching art in her little store in Buckhead. But she took the plunge with the vacant studio space she had available and opened Fay Gold Gallery.
"I opened with George Segal, a very famous sculptor," she recalls. "a couple hundred people came. I stood, paralyzed, at the door. I realized they needed it."
Three years later when the gallery started showing a profit, gold closed the art school and threw herself fully into the gallery, never looking back. She dealt in all media – paintings, photography, sculpture and prints.
"It was definitely radical for Atlanta," says Gold of the space she provided to modern artists who rarely showed in the south at that time.
A trained artist in her own right with confidence in her eye, taste and ability, gold has worked with some of the top contemporary artists of the past few decades, including Robert Rauschenberg, Robert Mapplethorpe, Cindy Sherman, Andres Serrano, Jean-Michel Basquiat and Atlanta resident Radcliffe Bailey.
Gold is a savvy businessperson, developing a base of regional artists that appealed to decorators looking for "less political" but original artwork for clients. And she's not done yet. She closed the original gallery in 2009, but last year, at age 87, she opened its newest iteration in Castleberry Hill, just southwest of downtown Atlanta.
"My greatest secret is that I never knew what I was doing," she says. "If a door opened, I did it. If another door opened, I did it. It created itself and grew." – PR
---
William Underwood
President, Mercer University
Macon
William Underwood arrived at Mercer University in 2006 believing he found one of higher education's best-kept secrets. "I thought that a lot could be accomplished here," he says.
And it has. On underwood's watch, enrollment has increased significantly, two campuses – one in Savannah and one in Columbus – opened, the Atlanta campus is undergoing $100 million in new construction, and programs from academics to athletics have expanded and flourished.
Mercer's made substantial commitments to rural healthcare in Georgia, offering free medical school tuition to students committed to returning to rural communities to provide primary care. The university started three rural medical clinics with plans to establish a network statewide.
"We're hoping to have as many as 30 in the years ahead," says Underwood. "I think over the next several years we can make Georgia a model of how to provide access to primary care to people living in rural communities."
But one program, Mercer On Mission (MOM), a nationally recognized service-learning initiative championed by underwood, resonates personally. Underwood accompanied a group of engineering students on a MOM trip several years ago, assisting them with fitting landmine victims and amputees with prosthetics designed in the university's laboratories.
"I love that [MOM] program," says Underwood. "It puts the research and service missions of the university together in a way that impacts people, but really impacts the students who participate. I think they experience the fact that they have gifts and talents that can be deployed to make a difference with people." – PR
---
Loy Howard
President and CEO, Tanner Health System
Carrollton
It was an intentional career and lifestyle choice that brought Loy Howard to Tanner Health System in Carrollton in 1994. Part-time farmers, Howard and his wife raise cattle (and raised children) on their farm.
"It's been rewarding," he says about overseeing the local healthcare system, "but there is a degree of responsibility that comes with it when the community is smaller."
Howard didn't just run the hospital system. He also joined the chamber of commerce and service clubs and got to know his neighbors. It all paid off. "If you've been there long enough, you can see the long-term impact of your effort," he says. "You hope at the end of the day you made a contribution to making your community better."
And how. Howard has recruited 150 physicians over the course of his 40-year career, watching them build up clinical practices that positively affected community healthcare. He oversaw the building and completion of the 130,000-square-foot outpatient medical complex, Tanner Health Pavilion, last year, and has made investments in electronic health records. He's enthusiastic about the new embrace of telemedicine – a silver lining of the pandemic.
Describing himself as a "tree-hugger," Howard says Tanner, as an entity, was insistent that greenspace be built into the medical complex – and he's overseeing that as well. "We know that parking is nice, but you can't always add more greenspace," he says. "It's part of the recovery equation.
"Our whole mission, vision and business model is about offering high-quality services right here close to home," says Howard. "that's something we're proud of. We've made a difference in people's lives." – PR
---
Robert "Bob" James
President, Carver State Bank
Savannah
In 1971, Carver State Bank in Savannah may have been taking a gamble when it turned its presidency over to 25-year-old Robert "Bob" James and his freshly awarded MBA from Harvard business school. The Black-owned bank was established in 1927, and its longevity has been a testament to founder Louis Toomer's vision and stable leadership over the years. Unlike many of its peers, the bank has thrived. When James took over, there were around 60 minority-owned banks throughout the country. Today that number is at 21.
But if it was a gamble, it paid off. James is still president, almost 50 years onward, and the bank remains a fixture in Savannah.
"I've gone from being the youngest bank president in the state to being the oldest," he says.
Over the course of that career recruiters came calling, but James decided a rooted lifestyle in a smaller city best suited his two-career family. He's branched out, too, founding a black weekly newspaper and serving over the decades on the boards of anti-poverty nonprofits, hospitals and the savannah economic development authority.
"A lot of the motivation for staying independent and being black-owned is we make a special effort in community development," he says. "during the 2008 recession, so many banks failed – but carver thrived. We were able to lend money, and we got our commercial customers through it. Most people would have predicted otherwise." – BD
---
Sally Bethea
Senior Advisor, Chattahoochee Riverkeeper
Atlanta
In the early '90s, the Chattahoochee River was in bad shape. "It was routine for there to be spills of untreated sewage three or four times a month to the creeks that flowed into the river," says Sally Bethea. "Everybody knew it was happening, and no one would do anything about it."
So Bethea did. She became the Chattahoochee Riverkeeper's first executive director after the organization was founded in 1994 by Laura Turner Seydel and Rutherford Seydel. It's a position she held for 20 years before retiring in 2014 to become a senior advisor to the organization.
In her two decades as riverkeeper, she led bold efforts to clean the river – and hold governments and businesses accountable for breaking environmental protection laws. The biggest battle was a federal lawsuit against the city of Atlanta, which has since spent about $2 billion in an ongoing effort to fix its sewer lines, dramatically increasing water quality in the process.
"It's unfortunate that it took a federal lawsuit and a little, small nonprofit to get the ball rolling," she says, "but sometimes that's how it works."
Now, Bethea teaches a graduate-level water resources planning course at Georgia Tech, volunteers at the Chattahoochee River National Recreation area and writes a regular column for Atlanta INtown. And though she no longer leads the organization, she doesn't see it going anywhere any time soon.
"The fact is there will always need to be a Chattahoochee Riverkeeper organization working with government and business to make sure that we all have enough clean water, now and in the future," she says. – AB
---
John Turner
Chair, W.C. Bradley Co.
Columbus
In the late 1990s, John Turner was between projects. His family owns the W.C. Bradley Co., A group of companies that produce home and lifestyle products – charcoal, gas and electric grills and smokers, and accessories (and, through its real estate division, has made a large impact on Columbus) – and the division he ran was sold. The Turner family was known for their philanthropic and community engagement, but Turner wasn't asked to help build an arts center.
Instead, he was approached by individuals looking to create a whitewater course on the Chattahoochee River flowing through downtown Columbus. The fact that he had zero experience with river sports was of little consequence.
"Honestly, none of us that worked on that project were very confident with which end of the paddle to grab hold of," he jokes. "What we came to understand was that we had an exceptional river lurking behind these old mill dams."
Turner discovered that common goals can make strange bedfellows (historic preservationists, environmentalists and river rats were the project's main constituencies), and he learned to deal with the alphabet soup of government entities that control the Chattahoochee. In 2013, the 2.15-mile whitewater course opened to great acclaim.
"Communities are always looking for something real and unique, and here we had this amazing natural resource," Turner says. "If you were to ask what's most responsible for the revitalization of downtown, you'd say the arts, which would include the springer opera house as well as Columbus state university arts program. But the river is by far the most visited attraction in the community." – PR
---
Angie Barber
Director, Network of Trust School Health Program
Phoebe Putney Memorial Hospital
Albany
Angie Barber was a high school teacher in Albany in the 1980s, at a time when pregnant students were discouraged from attending school. When two of her students became pregnant, she knew there had to be a way to support them with finishing school and parenting.
This belief – and her determination to do something about it – made her an obvious choice for director when in 1994 Phoebe Putney Memorial Hospital launched network of trust, an interactive, in-school outreach program for pregnant teens and teen parents.
The program grew over the years, and in 2008, Barber and her team expanded network of trust to include pregnancy prevention, with the teen pregnancy prevention coalition (TPPC). The goal of TPPC was to decrease the Dougherty county teen pregnancy rate, the highest in the state, by 15%. TPPC has succeeded far beyond its goal, decreasing rates from 83.1 per 1,000 in 2009 to 35 per 1,000 in 2018.
Twenty-five years after joining network of trust, barber still leads the national award-winning program, having supported thousands of teen moms – and dads – through pregnancy, graduation, parenting, starting employment or, in many cases, enrolling in college.
Network of Trust's ever-evolving program now offers services from mentoring and HIV education to mental health support and suicide prevention. Continually growing its programming and community partnerships under Barber's leadership, Network of Trust most recently partnered with Morehouse School of Medicine and aspire behavioral health to establish an opioid prevention program.
"Whatever issues may be at hand, it takes us all working together to solve them," says Barber, who serves on numerous boards, including Voices for Georgia's Children, Family Literacy Connection, Girl Scouts of Georgia and Family Connections. "It is truly a circle of love in every way." – KKS
---
Charlotte Nash
Chair, Gwinnett County Board of Commissioners
Dacula
It may be easier for Charlotte Nash to describe what hasn't changed during her lifetime in Gwinnett county than what has.
She recently told colleagues about riding her horse as a teenager where a new grade-separated interchange is in the works at Harbins Road and State Route 316.
"They looked at me like I was two centuries old," Nash recalls with a laugh. "About 80,000 people lived in Gwinnett County when I graduated from high school. We're marching toward 1 million now."
Nash has overseen many of the county's biggest changes herself. She worked for Gwinnett County government for more than 27 years after graduating from the University of Georgia, becoming financial services director and then county administrator ahead of a 2004 retirement. Following that first retirement, she served on the Gwinnett Recreation Authority from 2005 until the end of 2010 and led a consulting firm before becoming chair of the Gwinnett County Board of Commissioners in a 2011 special election, then winning reelection in 2012 and 2016.
Nash has often been credited with ensuring the county's financial security and restoring residents' trust following a 2011 commission bribery scandal. A strong advocate of transit, she helped shape legislation enabling the county to call a vote on contracting with MARTA for commuter services.
"I hope that folks here in the Gwinnett County community feel as though i've done my best by the county," she says of the legacy she leaves behind.
This time, when her term ends this year, she will stay retired. She thinks.
It's a county that looks so different, especially for a lifelong resident like Nash. But she wouldn't have it any other way.
"If there is a country on the face of the earth, we have people from that country living and working here in Gwinnett County," she says. "There are things I miss about the earlier eras in the county's history, but I wouldn't give anything for the welcoming place it is now." – HW
---
Eric Tanenblatt
Global Chair of Public Policy and Regulation, Dentons
Atlanta and Washington, D.C.
In an era of increased polarization, Eric Tanenblatt remains unshakably pragmatic and optimistic.
"I think we live in a pretty remarkable country," he says. "Political leaders come and go, but people look up to America. The core ideals of who we are as Americans are strong. If you look at what's happening right now with all the protesting – the peaceful protesting is good. If we have an issue, we have a right to express ourselves."
Tanenblatt's early career focused around politics. He worked for and counted the late sen. Paul Coverdell as his mentor. He held a staff position in the Department of Health and Human Services during the first President George Bush's administration. He served Gov. Sonny Perdue as chief of staff. He advised and fundraised for Republican candidates. But his greatest delight was policy.
"I liked the fact that you could impact decisions," he says, "whether (that was) the work I did creating hands on Georgia, serving on the Corporation for National and Community Service Board or promoting the AmeriCorps program."
Currently, Tanenblatt leads the global public policy and regulatory practice at Dentons, the world's largest law firm. He's fascinated by disruptive technology, especially automation and autonomous vehicles, and in January became a visiting professor at Emory University, teaching a political science course on federalism.
"I think we all have a responsibility to give back and be involved," says Tanenblatt. "I'm not a big believer in people sitting back complaining. I hope people look at what I've done and say, 'He was a doer.'" – PR
---
Robert Shaw
Chair and CEO, Engineered Floors
Dalton
Born and raised in Dalton, Robert Shaw and his brother, Bud, built a carpet empire. In 1985, Shaw Industries became the first carpet manufacturer to crack the Fortune 500 – no mean feat when the industry was dominated by giants of the time like Dupont, Allied and Monsanto. Shaw kept things humming along until he sold the company to Berkshire Hathaway in 2001. He stayed on as CEO until 2006 when most folks thought he was off to a well-deserved retirement. Three years later he was back with a new company, engineered floors. There was just one wrinkle: it was the height of the great recession.
"Going into the carpet business in 2009, you had to make sure you were sane," he jokes. But he felt like he had a winner. "If you can create something that's better, cheaper and the public will buy it, it probably makes sense."
Engineered Floors created jobs at a crucial time, starting with one small plant in Calhoun. They've since made two acquisitions and built three more plants. Today, the company has right at 5,000 employees.
At 89, Shaw isn't slowing down.
"I don't like the label 'legacy,'" says Shaw. "It means what did you leave. I would rather talk about what we can build. Eighty percent of our total employees are located within a 40-mile radius of dalton. That's the start of a legacy. The legacy will be 30 years down the road somewhere." – PR
---
Keith Mason
Principal, KWM Capital Management
Atlanta
In a career that spans the Gold Dome, the White House, prestigious law firms, the Georgia Ports Authority and more, Keith Mason is most proud of the impacts his work has had on the state of Georgia.
As chief of staff for Gov. Zell Miller, Mason was instrumental in gaining support for the Georgia lottery, which now funds pre-K programs and the Hope scholarship. Hope has "made a huge difference not just in our state, but in the surrounding states," Mason says. "I think it raised the quality of higher education in Georgia and the Southeast, if not nationally."
As a board member (1998-2005) and chair (2001-2003) of the Georgia Ports Authority (GPA), Mason focused on strengthening the port's finances and pursuing strategic growth initiatives. During his time at GPA, the port became the fastest-growing seaport in the United States, becoming the fourth-busiest container terminal in the country in 2007.
As an investor, Mason has been involved in some of Atlanta's largest projects, including the 22-mile-loop of trails known as the Beltline. Mason and his father, Wayne, after purchasing a 5-mile tract of the northeastern loop in 2004, subsequently sold the land to the city of Atlanta.
Overall, he says, his work has resulted in stronger, more vibrant and diverse economies and communities.
"I tend to connect the dots pretty well in terms of identifying problems and opportunities, as well as people and resources to then get things to move forward," he says, "and look around the corners and see what's coming down the road." – AB
---
Larry A. Peevy
President, Tallulah Falls School
Tallulah Falls
Larry Peevy sums up his life's mission simply: to make a difference in children's lives.
He chose to accomplish this through education, first with 35 years in administrative roles at the University of Montevallo, Georgia College and State University and Georgia Military College.
Then, in 2007, he joined northeast Georgia's Tallulah Falls School as president and head of school. Under his leadership, the private K-12 day and boarding school has elevated its academic rigor, expanded its facilities and grown its student body to more than 500 students from seven states and 20 countries.
Peevy also added a new component to the school's mission: character. By emphasizing character education, "not only are you developing great academically prepared people," he says, "but they have a character that is the type that will make good decisions that affect other people in a positive way."
In addition to his career in education, Peevy served 23 years in the U.S. Army, first voluntarily enlisting during the Vietnam conflict. "I felt that it was a duty that every young man should do in some way," he says. He served with the 121st Army Reserve Command, was on active duty during Operation Desert Storm and retired as a lieutenant colonel.
"There's a difference I think between just doing a job and making a difference, and you can feel it," he says. "I think the one thing I can look back on and feel good about is that I have, I believe, made a difference in the lives of many young people." – AB
---
Karen Beavor
President and CEO, Georgia Center for Nonprofits
Atlanta
Fresh out of college, Karen Beavor was conflicted: should she pursue a master's in clinical psychology or a law degree? The new grad took a year off instead, accepting what she thought would be a temporary position at a legal services group that worked with homeless people.
"I kind of got consumed in that work, and i ended up staying there for 12 years," she says. "I just got very interested in social justice work."
Her next step was to build the Georgia Center for Nonprofits (GCN) from an ambitious idea to philanthropic asset. Beginning with a team of just "1.5 people," she says, Beavor has been the organization's president and CEO since 1998.
"We're like a Chamber of commerce for nonprofits," she says. "I call it a chamber of community."
GCN works with 1,000 nonprofits and more than 5,000 professionals across the state, mostly in strategic planning to help them manage, lead and govern better to make a bigger impact. GCN also develops nonprofit leaders through its nonprofit university courses and annual high potential diverse leaders program. And then there's fundraising: GCN's GAgives efforts have raised $45 million for georgia nonprofits, she says.
"If you think about the amplifying effect of helping so many people fulfill their own purpose and activate around what they're really passionate about and make a difference," beavor says, "i think the exponential effect of that is enormous, and i'd like to think that i had a little role to play in some of that." – AB
---
Bill Tunnell, Jerry Spangler, Thomas Walsh
Founding Principals, TSW
Atlanta
As full-service design firm TSW celebrates its 30th anniversary this year, its three founding principals – Bill Tunnell, Jerry Spangler and Thomas Walsh – reflect on their firm's accomplishments.
With a relatively small team of about 30, TSW has successfully integrated and balanced its three disciplines: planning, architecture and landscape architecture. Striking the right balance among the three requires a highly collaborative process and sharp focus on the end result: a cohesive space that reflects and respects its community's needs.
"The overarching theme for everything we do is the building blocks of community," Tunnell says. "We work for cities and local governments to help them develop visions for where they want their communities to go."
TSW espouses the ideals of the new urbanism movement, which rejects suburban sprawl in favor of traditional town-building principles: walkable urban spaces that get people out of their cars and into the community.
"We believe in that," Tunnell says. "We believe in the importance of the public realm."
TSW has infused these ideals into projects around the southeast and beyond, recently winning a 2020 urban guild award for Las Catalinas, a 1,200-acre resort town in Costa Rica.
In Georgia, TSW has helped cities across the state – in Woodstock, Suwanee, Augusta, Rome, Albany and more – reimagine their communities, transforming downtrodden city centers and aging developments into vibrant, walkable communities.
"Thirty or 40 years from now," Walsh says, "I think TSW will be recognized for this period of history of having changed [communities] from more sprawling, car-centric [communities] into hopefully a more walkable, pedestrian-friendly type of communities." – AB