Georgia Trend Daily – August 3, 2020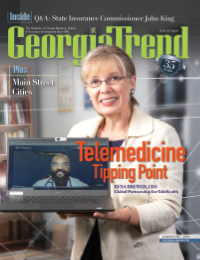 Aug. 3, 2020 GPB
Kemp Extends Coronavirus Restrictions, Including Ban On Mask Mandates
Stephen Fowler reports that Gov. Brian Kemp signed executive orders Friday night that extend a series of COVID-19 health and safety precautions, including a ban on local governments seeking to take stronger action than the state by requiring face coverings in public. The public health state of emergency, which grants Kemp broad powers to fight the coronavirus, is also extended through September 10.
Telemedicine Tipping Point
Mary Ann DeMuth reports that the coronavirus has upended our world and caused a sudden pivot in many traditional practices, including the practice of medicine. In response to the surge in appointment cancellations due to patients' fears of contracting the virus, physicians and other healthcare providers across the state have rapidly increased the use of telemedicine.
Florida blocks oyster harvesting as court mulls Georgia water case
Tamar Hallerman reports that Florida officials on Saturday will begin enforcing a ban on oyster harvesting in the Apalachicola Bay as the state tries to protect the iconic region while it hashes out a long-running water dispute with Georgia at the U.S. Supreme Court.
MEAG Power, JEA settle disputes over Plant Vogtle
Staff reports that Jacksonville Electric Authority, Northeast Florida's community-owned electric provider, the city of Jacksonville, and the Municipal Electric Authority of Georgia (MEAG Power) have announced a settlement of all disputed issues relating to the new Units 3 and 4 of the Alvin W. Vogtle Electric Generating Plant (Plant Vogtle), and the Amended & Restated Power Purchase Agreement dated as of Dec. 31, 2014.
Riney Foundation gives $7.8 million to Winship for multiple myeloma research
Catherine Williams reports that the Paula and Rodger Riney Foundation announced a gift of $7.8 million to Winship Cancer Institute of Emory University (Winship) to fund the Riney Family Multiple Myeloma Research Program Fund. The two-year project will support fast-tracked research projects at Winship in multiple myeloma, a blood cancer caused by malignant plasma cells that accumulate in the bone marrow.
Rural hospitals face COVID challenges of patient transfers, staffing
Andy Miller reports that Evans Memorial Hospital in southeast Georgia recently struggled to find someone to accept the transfer of a very sick COVID-19 patient. After Evans staff called 14 hospitals, one finally agreed to take the patient. That hospital turned out to be two states away — in Bowling Green, Ky.
CARES Act funding spent slowly by Atlanta, Georgia as Congress debates more aid
David Pendered reports that the City of Atlanta has spent 15 cents of every dollar it's received from the federal CARES Act. Georgia has spent 25 cents of every dollar received, according to information self-reported to the federal government by a deadline of July 17.
Mary Ann DeMuth reports, this weekend, Aug. 1-3, Columbus State University (CSU) would normally have held its Camp P.R.O.W.L. (Pride, Relationships, Opportunities, Wisdom, Leadership) in-person event to prepare students to successfully navigate their first year on campus. However, with the COVID-19 pandemic ongoing, the four-day, three-night orientation took place virtually via Minecraft, a popular video game.
Despite polls favoring incumbent Buddy Carter, Democrats Lisa Ring and Joyce Marie Griggs face off for 1st District seat
DeAnn Komanecky reports that Georgia's First Congressional District is ranked as "solid Republican" by numerous political analysts, but two area Democrats aren't letting that stop them from vying to be the one who unseats incumbent Republican Earl "Buddy" Carter. Voters will have the choice between Joyce Marie Griggs, an Iraq combat veteran, and Lisa Ring, a former corrections officer and self-styled "military mom" in the Aug. 11 runoff election.
Republican runoff candidates get last-minute face time with constituents
Taylor Cooper reports that Glynn County Republicans gathered by the marsh at Coastal Kitchen on Saturday to meet with potential future representatives. U.S. Sen. David Perdue, R-Ga., stopped by during the meet-and-greet to share a few words about the campaign season with the party faithful, describing a tough electoral fight ahead in the Atlanta area and asking those in attendance to talk to friends and family about the general election in November.
Jon Ossoff: Georgians want leaders who will heal our country
Carlton Fletcher reports that at 33, U.S. Senate candidate Jon Ossoff is young enough to wear the "maverick" brand that's often placed on brash young politicians. But Ossoff is no babe in the woods in the political arena, having narrowly lost a showdown with Karen Handel for her heavily Republican U.S. House District 6 seat in 2017, a race that was the most expensive such showdown in American history.
Senate race in Georgia gaining steam past the 100-day point
Beau Evans reports that battle lines are being drawn in the race to fill the remaining two years of retired U.S. Sen. Johnny Isakson's Senate term with less than 100 days left until Election Day in November. U.S. Sen. Kelly Loeffler, R-Ga., who was appointed to hold the seat in December, has squared off with Republican challenger U.S. Rep. Doug Collins, R-Ga., over criminal justice issues and their personal backgrounds.
Kelly Loeffler takes BLM criticism to host with white supremacist ties
Tia Mitchell and Chris Joyner report that U.S. Sen. Kelly Loeffler granted an interview to a TV pundit associated with white supremacy and Nazism. The interview aired on One America News Network on Thursday and Loeffler promoted it heavily on her Facebook and Twitter accounts Friday, tagging the controversial host.