Telemedicine Tipping Point
The increased use of technology for virtual patient visits has been one positive outcome of the COVID-19 pandemic.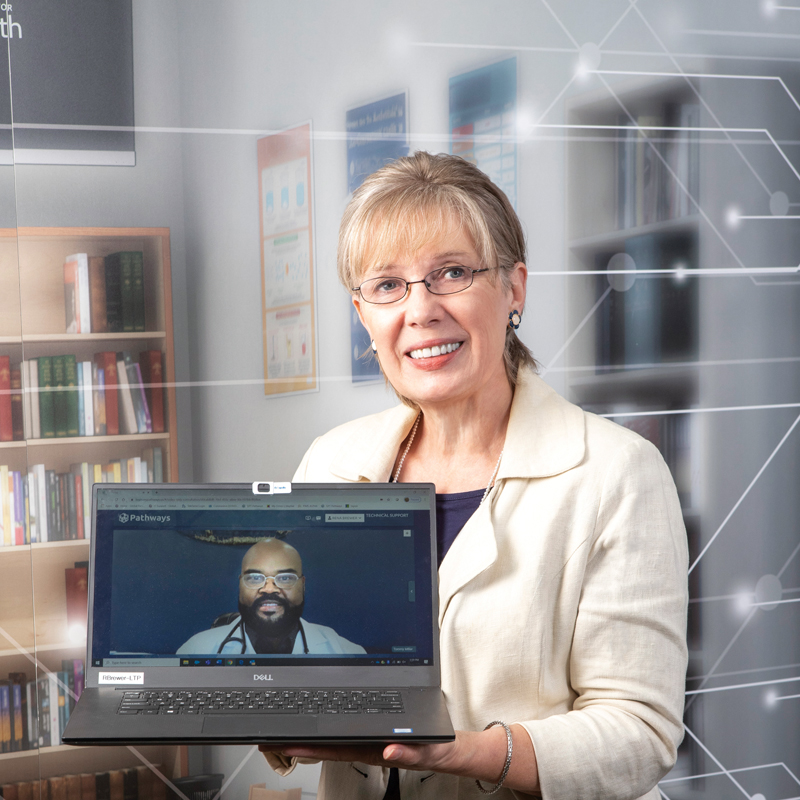 The coronavirus has upended our world and caused a sudden pivot in many traditional practices, including the practice of medicine. In response to the surge in appointment cancellations due to patients' fears of contracting the virus, physicians and other healthcare providers across the state have rapidly increased the use of telemedicine.
Telemedicine uses technology to deliver medical care at a distance. The term is sometimes used interchangeably with telehealth, a broader term that refers to electronic and telecommunications technologies used to provide an array of healthcare services, including medical consultation, nutrition and wellness counseling, emergency preparedness and health provider education.
The concept of telemedicine is certainly not new. Rena Brewer, CEO of the Blackshear-based Global Partnership for TeleHealth (GPT), says telemedicine was born in the late 1950s as hospital systems began using closed-circuit television links to connect facilities. Adoption has been slow over the past 60 years because of high start-up costs, physician skepticism, lack of reimbursement from insurance and little or no consumer demand. However, COVID-19 changed all that, and suddenly telemedicine has become the new normal.
Nationwide, research analysts estimate the number of telemedicine visits surged 50% during March and virtual medical visits are expected to top 1 billion this year. In Georgia, Brewer says GPT, a nonprofit network that provides web-based telehealth software to its members, saw a 130% increase in medical provider accounts during March and April.
"For a solid two weeks [in March], we were overwhelmed with calls and demand for telehealth," Brewer says. "After about a month, most providers had figured out some mechanism to launch telehealth services and see patients."
She says the GPT network, which was founded in 2004, now has more than 650 providers and locations that can host virtual patient visits, like skilled nursing facilities, school clinics and rural hospitals. About 90% of these are in Georgia, but GPT also serves providers in other states and countries. "We don't turn people away," she says.
Georgia's Department of Public Health (DPH) has its own network that works with GPT's. Over the past five years, the two organizations have collaborated to expand patient care in underserved areas of the state, and DPH has also experienced a dramatic upsurge in telemedicine interest.
"During the COVID-19 response, our telehealth team has provided and trained approximately 1,300 clinicians on how to use the web-based platform for clinical services," says Suleima Salgado, DPH director of telehealth, telemedicine and rural initiatives. "Prior to COVID-19, we only had 15 contracted physicians using the web-based platform." In addition, she says DPH has provided guidance and technical assistance to more than 600 clinicians looking to implement telemedicine in their hospitals, universities and clinical settings as a result of the coronavirus.
Wellstar Health System began incorporating telemedicine in 2013, but it was limited to an exchange of secure messages between doctors and patients for things like prescription refills. According to Dr. Rob Schreiner, the system's executive vice president and president of Wellstar Medical Group, the first doctor-to-patient virtual visits occurred in 2017 in a hospital-to-hospital setting. That's where a specialist at one of the system's 11 hospitals might see a patient at another hospital or at one of more than 300 medical office locations. Last fall he says the system took the leap to do urgent care video visits through Wellstar Online Care.
"Just a few short months later, we went from those modest applications of video visits to gangbusters," he says. "Now we've got nearly all 28 specialties doing video visits to some degree." At the height of the pandemic, he adds, Wellstar physicians were seeing 2,000 patients a day and "one-third of all patient encounters in the system were video."
---
Accelerated Adoption
What has prompted the huge upsurge in demand for telemedicine during the pandemic is the ability for medical providers to connect with patients in their homes via computers, tablets and smartphones.
"Prior to COVID-19, the connections were clinic to clinic," Brewer says. "All the uptick [in telemedicine] has been directly to the patient in the home."
Schreiner agrees that increased use of telemedicine is the result of physicians being able to virtually see patients who are reluctant to leave home because of coronavirus concerns. In addition, he says Wellstar does doctor-to-patient video visits in the hospitals.
"When the hospitals were super-full of COVID patients and PPE [personal protective equipment] was scarce, we wanted to limit healthcare worker exposure. We had physicians doing video consults outside patient rooms with patients holding an iPad," he says.
As the pandemic created an urgent need for virtual patient visits, barriers to telemedicine usage tumbled in a perfect storm. Concerns about its appropriateness and quality of care took a back seat to limiting patient exposure to the virus. State medical board rules and federal and state reimbursement restrictions were lifted, enabling physicians to be reimbursed for telemedicine visits by Medicare, Medicaid and most insurance companies. Costs to connect have been greatly reduced, with GPT charging providers a monthly fee of $69 to $99. Some, like those in behavioral health, need only a laptop or tablet to connect with their patients. For more advanced diagnostic tools such as special cameras for image transfer and otoscopes and stethoscopes that transmit data digitally, Brewer says today's investment can be less than $10,000.
However, hurdles remain. Individuals who don't have cell phones or other electronic devices and high-speed internet access aren't able to take advantage of virtual home visits with their doctors. And no one knows whether the pre-coronavirus rules and restrictions on telemedicine will be reinstated when the pandemic is over.
---
Rural Physician Assistance
Dr. Jean Sumner, dean of the Mercer University School of Medicine, has long been an advocate for telemedicine. Before becoming dean in 2016, she used the technology for about eight years in her internal medicine practice, serving Johnson and Washington counties.
"I started out using it in the office for my psychiatric patients," she says. "GPT had psychiatrists [in its network] who were very committed to quality care. The patients were pleased. They felt they had a psychiatrist who cared for them, and they were willing to come to the office."
She also found the technology useful for monitoring geriatric patients living in nursing homes that had telemedicine capabilities. "It's not good to take these patients out of that familiar environment," she says. "When you have to transport them, it's a risk, and nowadays it's even more of a risk."
Sumner has been closely involved in efforts by the medical school's Georgia Rural Health Innovation Center to promote telemedicine use among rural physicians. In late March, the center and GPT teamed up to offer rural physicians six months' use of free software that enables patients to be seen in their homes. She says the technology is a simple, secure and private way for patients to receive care from their physicians without having to come to an office or healthcare facility.
Interest in the offer has been robust, with nearly 150 providers signed up by early June. "It makes sense to do what's best for the patient," she says. "And the telehealth technology is incredibly high-quality. I don't think we'll ever go back to a system without telehealth."
---
Addressing Provider Scarcity
Dr. Kayln Lane, medical director for Southeast Georgia-based Unison Behavioral Health, has been seeing patients exclusively via telemedicine for the past five years. The child and adolescent psychiatrist began using the technology when she moved to Colquitt, a city in Miller County on the other side of the state from Unison.
"I was thinking this is something I'll do as a stop-gap measure," she says. "Then I realized this is what I wanted to do long term."
Before the pandemic, kids and teenagers came to one of Unison's six clinics for appointments during which Lane employed telemedicine to evaluate them from her home. She also virtually evaluated children at Ware, Coffee, Atkinson and Pierce county schools. She says there were definite advantages to using telemedicine in these settings.
"Outside Metro Atlanta, there are very few child and adolescent psychiatrists," she explains. "Not only can I provide services in areas where there are no other providers, but I can provide services in multiple areas in the same day, as opposed to driving to clinic A on Monday and clinic B on Tuesday. Scheduling is easier when you don't have to worry about geography and travel."
Telemedicine appointments at schools have benefits for children and their parents. Lane says the in-school setting reduces the amount of class time children miss, and it's often more convenient for parents than driving to a clinic. In addition, she has the ability to work with school personnel to further assist her patients.
Frequently the technology aspect of telemedicine is a plus for kids and teenagers. "Most kids are very comfortable with technology," she says, "more so than adults. If I have technical issues, it's the kids I'll ask to fix them instead of the parent in the room."
When schools closed in the spring and people began staying home to avoid coronavirus infections, Lane's patients started seeing her from their homes using their electronic devices. She says the home setting is beneficial for many patients who have behavioral health issues. As an example, she notes a 15-year-old girl who has Asperger syndrome, a condition on the autism spectrum that affects social interactions and communication. During her appointment from home, the girl was more relaxed, talkative and engaged than in previous clinic visits. "Being in her own home brought down that wall of anxiety that normally interfered with her ability to communicate," Lane says, cautioning that every individual is different as far as what works best for psychiatric evaluations.
"Some people don't like it," she says, "but every day I have at least one parent who says, 'this is great. Can we keep doing this?'"
She hopes the increased use of telemedicine will be one positive outcome of the pandemic. "I hope this will be an opportunity for people to become more educated and informed about telemedicine as an option and a great benefit for our society in terms of medical care," she says. "When done well, it can be just as good as traditional face-to-face medical care."
---
Cementing Success
Unlike Lane, Dr. Kim Kitchens, a Sandersville internal medicine and sleep medicine physician, is a recent convert to telemedicine, having signed up for the Rural Health Innovation Center's free offer at the end of March.
"When the coronavirus occurred, people were not wanting to come in to the office," he says. "That's when our [telemedicine] initiation came in by fire."
He says the telemedicine orientation, done through Zoom video conferencing, was simple. Within a couple of days, his practice was up and running and he was seeing patients virtually in their homes.
"It was a wonderful time to rollout that because a lot of people who might be reluctant were eagerly embracing it," he says. "It's easy for the patients to access it, and it's an easy platform for us."
Kitchens says most of his telemedicine appointments have not been for potential virus infections, but for chronic disease management and more routine concerns like rashes and tick bites. For sleep medicine follow-up visits, he says telemedicine is the perfect platform because some of those patients live 60 miles or more away, and it saves them a trip to his office.
Even though his practice is in a rural area and internet traffic has greatly increased during the pandemic, he says he's had good success with connections to patients' homes. However, he says, "it stresses [the need for] state initiatives to push broadband into rural areas where you're going to have an older population and the health demands are greater."
Increased usage of telemedicine during the pandemic hasn't been limited to rural areas. Dr. Angela Evans, a Wellstar Medical Group Family Medicine practitioner just south of downtown Atlanta near College Park, had her first virtual patient visit in late March. "Within two weeks, I went from two to three per day to 20 video visits per day," she says. "It was like drinking from a waterfall."
She says her elderly patients gave the biggest pushback over using the technology, so she reached out to adult children or family members to help the seniors get set up. "Once they [saw] it for the first time, they realized it was not intimidating," she says. Now, many of her patients want to keep doing video visits to avoid driving to her office.
"I was hesitant [about telemedicine] at first," Evans says. But, "it's been amazing to have it as an additional tool, and it's helping me take better care of my patients."
Kitchens believes acceptance of telemedicine will continue to grow because of improved convenience for patients, especially among those who have transportation issues. He says patients who've been asking to do their appointments by telemedicine "have automatically sealed its success because they're willing to embrace it, whereas before they were reluctant."
Schreiner believes the coronavirus is responsible for telemedicine becoming the new normal. "Change is hard," he says. "What helps change is a burning platform or compelling reason, and there's no more compelling reason than a pandemic. Patients will get better care going forward by incorporating video visits into the portfolio of healthcare access."
"COVID seems to be the tipping point that has gotten us over the slow adoption hurdle and has made it [telemedicine] more mainstream," says Brewer. "That's a silver lining for us."