Adel | Cook County: Community in Motion
Location, land and leadership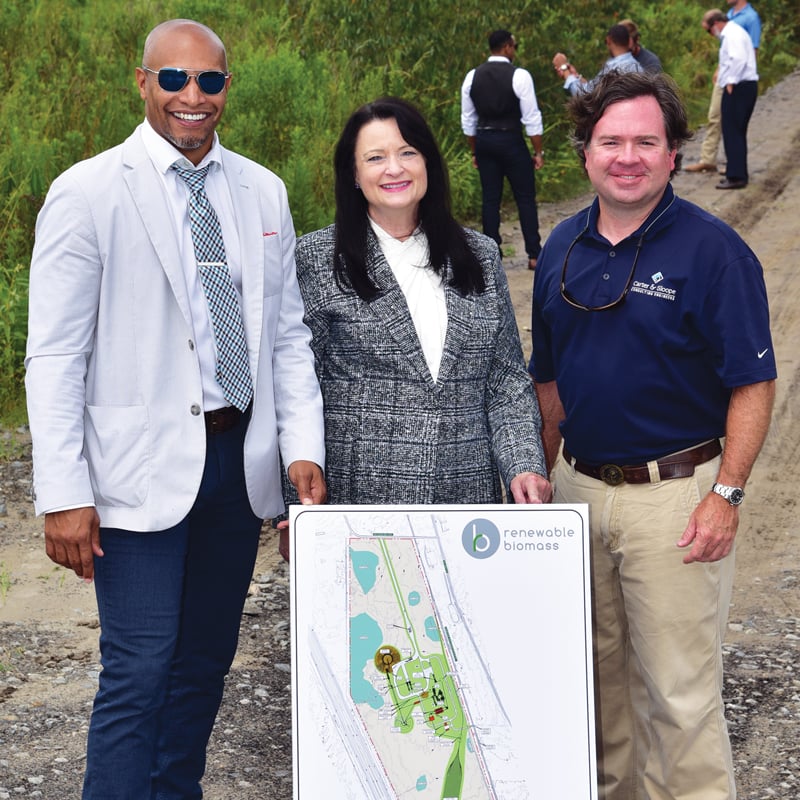 When it comes to location, Cook County has it in spades, with all the advantages of straddling the bustling Interstate 75 as it nears the Florida state line. And the longer Lisa Collins, executive director of the Cook County Economic Development Commission, is on the job, the more focus she's able to place on developing those prime areas.
Case in point is this summer's announcement that Houston-based Renewable Biomass Group will construct a $95-million wood pellet facility in Adel, initially creating 60 new jobs. Founder and CEO Craig Whitlock says its 18-month plan to be fully operational begins with breaking ground later this year. The facility will produce biomass pellets for export to Europe and Asia, where electrical utilities will use the pellets to stoke retrofitted coal-fired power plants or in combination with coal for co-firing.
The 170-acre property is adjacent to I-75, and the company will use Norfolk Southern Railway to transport product to the Port of Savannah for overseas shipment to places such as Antwerp and Japan, says Whitlock, adding that use of the Port of Brunswick in addition to Savannah has potential for the future. The company projects a volume of 450,000 metric tons of finished product per year, he says.
Whitlock says he has a deep appreciation for the leaders of Cook County that he's worked with during the three years to bring the greenfield biomass project to fruition. It's the company's first foray into Georgia, which it chose after exploring potential in several other states.
"When we landed in Georgia and saw how robust it is and the proximity to a port that is moving significant volumes of pellets already and then found Adel, it stood out because of the people there," he says.
---
Expansion Announcements
Established in Cook County since 1984, BASF Corp. announced in June plans for a $70-million expansion of its Sparks facility, including a new formulation unit, a lab expansion and climate-controlled warehouses, bringing its total assets there to $200 million. "We've been working with them for two years," says Collins.
Hiring for 30 new positions, including lab techs, production and warehouse operators, and supervisory and administrative staff, will begin first quarter 2021, says Holly Southerland, supply chain manager, with plans to be fully operational by August of next year.
Deciding factors like technical fit, operation knowledge and having the portfolio synergies for fungicides and insecticides manufacturing already in place are what brought the new investments to Cook County, says Scott Freeman, technical engineering services manager.
Blockchain technology company Blockstream, which began operations in Cook's industrial park in 2019, announced expansion of its Bitcoin mining data center earlier this year. The operation is basically a computer server farm and the cooling units required to keep them properly conditioned, making Blockstream a consumer of a large volume of power.
To get the company the power it needed, Adel partnered with six other MEAG communities to sell their excess power, for which the city was recognized with the Visionary City Award from the Georgia Municipal Association, says Mayor Buddy Duke. (See Georgia Trend's February 2020 issue.)
The company recently took advantage of the Federal Opportunity Zone in Cook County, as well as New Market Tax Credits, and purchased 84 acres on Exit 45, says Collins. The company will move expanded operations there once it completes its own substation to generate additional power, says Collins.
Two additional industry expansions were announced in Cook this year, including tempered glass manufacturer Cardinal Glass, which added a new line this spring. The state-of-the-art equipment was purchased from Spain and required installers from there to travel to Cook County for the project.
"It etches glass, but it's not your normal etching," says Collins, adding that the etching is done prior to the tempering, baking the etching into the glass. Cardinal will soon invest $5 million in the construction of an office complex adjoining the manufacturing facility.
Also adding a line is locally grown company Steel Building Systems (SBS), one of seven steel building fabricators located in Cook County. Other improvements in the county include the T-SPLOST-funded Alabama Road Extension (State Highway 37) to Quitman Highway, also known as the Hospital Corridor as it leads to Southwell Medical's Cook Medical Plaza, a $50-million hospital, skilled nursing center and medical office building completed in late 2019 that retained 250 jobs from the old hospital and added approximately 100 new jobs, says Collins. The Adel City Council has approved two corridor redevelopment studies. In all, the county plans to fully develop six underutilized interchanges.
"They're trying to ascertain what their challenges are and what their existing conditions are for the main corridors leading into Adel and Cook County," says John Stover, project manager with Carter & Sloope who also serves as engineer for the Cook County Economic Development Commission and the city of Adel.
"Instead of being reactive to things that come in and develop quickly, they're trying to be proactive in taking a snapshot of what they have there, analyzing that and then developing regulations to help control the way it's developed and redeveloped in the future," Stover says. "Essentially, they're trying to create better gateways into the community."
The runway was lengthened by 500 feet, another recent improvement, at the Cook County Airport. "So now we can handle almost any business jet that's on the market," says Interim Manager Jerry Connell, adding they'll soon install fencing and some other security measures. With the 26 existing hangars at 100% capacity with a waiting list, the county is also constructing 10 new hangars.
Housing inventory in the county is low, but Brian Stone, president of Brian Stone Construction, recently launched phase 4 of Stone Ridge Apartments and Townhomes in an effort to keep up with the demand. At build out, the gated development will include 106 units, many of which are occupied by people who work in nearby counties but choose to live in Cook because of more affordable housing rates in a quieter rural setting, says Stone, who owns about 150 rental properties in the area.
---
A Downtown Focus
Adel and Cook County are doing all the right things, says Collins, such as adopting an Urban Revitalization Plan and being named a PlanFirst Community by the Georgia Department of Community Affairs (DCA) for efforts to successfully implement it. DCA also designated Adel as a Rural Zone, which enables it to offer tax credits for investments in historic downtown areas. In addition, Adel received DCA grants for the Community HOME Investment Program (CHIP), which supports local efforts to provide safe and affordable housing.
Like most rural small towns, Adel has to dig deep to attract business to its downtown area. The new Main Street designation will help, says Brandie Dame, Main Street director.
"It's really important on a local level because of the tools they give Main Street directors," she says. "Big industries look to see if you're a Main Street, because they know that if you're taking care of your downtown you love your community."
Dame's efforts go hand in hand with those of Heather Green, president of the Adel-Cook County Chamber of Commerce, who has continued building chamber membership and providing support during this challenging year.
"We just launched a brand-new website, and that's an added benefit for members because the smaller companies may not have a website," she says, adding individual pages are linked to the member directory on the chamber's site. The chamber is also in strategic planning mode to cover the next three to five years.
COVID-19 put a hold on most tourism traffic earlier this year, including at South Georgia Motorsports Park, one of the county's biggest attractions. However, Georgia Grown Trails 37 and 41, each offering dozens of agritourism stops, intersect in Adel, says Connell, who, in addition to his work at the airport, is also co-founder of the trails and chair of the Cook County Tourism Authority. He anticipates many summer and fall visitors at Cook County stops such as Horse Creek Winery and the Red Barn fruit and vegetable market.
Another project that has potential to bring people to Cook County is the $7-million expansion to the city's recreation facilities, which will enable them to host tournaments and bring in additional revenue, says Duke. Funded by $5 million in SPLOST dollars and $2 million earmarked by the city, the project will include lighted baseball and softball fields, a soccer field, a youth football field and a walking track.
---
Feeding the Pipeline
Business and industry searching for a location quickly look at the available skilled workforce, and education administrators in Cook County are innovative when it comes to positioning their students for success beyond the classroom. The Cook County School District and Wiregrass Georgia Technical College's Cook County campus partner on a number of programs, says Bill Tillman, who serves as both director of the Cook campus and director of economic development for the college.
An apprenticeship program he oversees currently serves 50 students and 20 local companies. "Students are taught skilled competencies on the job by the employer at the same time they're enrolled in a program of study that complements what they're doing at work," says Tillman.
"The main objective, to be honest, is that when they finish, we want them to stay with that employer, of course, and continue their job and career," he says, adding they've had great success in technical industrial careers such as welding, precision tool and industrial maintenance. "It helps a lot of local business and industry fill their workforce needs."
On the economic development side, the school offers opportunities for contract training. "We can offer business and industry training such as forklift driver safety and Heartsaver CPR as well as things like OSHA and leadership supervisory training," says Tillman. "In a lot of cases, we're sending instructors to the site to get the training done, so it's very affordable."
Superintendent of Cook County schools, Tim Dixon, says the partnership with the technical college, along with Career, Technical and Agricultural Education (CTAE) course offerings, give high school students a real advantage and benefits the school system by not having to fund its own career academy.
Dixon says frequent communication with area industry, field trips, job shadowing, career speakers and other interaction with students helps the system offer the education and training that will benefit them in the workforce.
"We're like most small schools in that we want our kids to go to college, but we want them to come back home. Many of our students just do not realize the opportunities right here in their backyard," says Dixon. "They just think in order to do 'X' job, whatever career they decide, that they have to move to a big city, when a lot of times we have the need right here in our community."
Together, both schools are developing a new program called Hornet Ready, identifying high school students nearing graduation who plan to go directly to work. Within one week, the students can complete skills training at Wiregrass, including CPR, first aid, forklift driver safety and more, enabling them to enter the job force right after graduation, says Tillman.
Helping students identify the areas they're interested in is very rewarding, says Dixon. "In these pathways, there are leadership opportunities within the clubs and organizations that go along with them. If a kid feels ownership or feels needed, they're more apt to stay with us. The CTAE programs allow kids to have ownership in school, and I love that."
With its prime location for manufacturing, downtown development focus and emphasis on preparing workers for local industries, Adel and Cook County continue to foster growth.

---
Local Flavor
Happy Trails
Outdoor recreation is a big draw to Cook County, thanks to the presence of Reed Bingham State Park. Visitors can count on seeing abundant wildlife, including gopher tortoises, yellow bellied sliders and indigo snakes. American alligators often enjoy the sun along the lake's edge, and nesting bald eagles are frequently seen in winter. But what really makes this park significant is that nearly 80% of the Coastal Plain's plant community can be found along its Coastal Plain Nature Trail with some of the most diverse habitat in the country.
Bud Fuller, park manager, says Reed Bingham offers just under seven miles of flatland soft trails, giving visitors the opportunity to see gopher tortoise and wiregrass restoration areas as well as planted longleaf pines, all part of a sustainable project to restore the habitat of one of the largest gopher tortoise populations on that side of Georgia.
The gopher tortoise plays an intricate role in creating the diverse ecosystem for other animals and plants. "Several different species will come in behind them and inhabit their dormant tortoise dens," says Fuller, adding that having the tortoises there moving soil around helps introduce new fauna to the area.
"We've been able to incorporate that trail system into an ever-evolving growing lifecycle of expanding territory for the gopher tortoise," says Fuller.
The diversity of the plant community there also has to be restored by fire every year via controlled burns, he says.
"It introduces that rejuvenation process between the trees for the longevity of the longleaf pine," he says of the burns. "It's a beautiful picture out there, with so many elements going on."
During normal years, the park hosts a couple of ranger-led interpretive hikes on the trail system. The guided hikes are tied into the state park system's site-specific Junior Ranger book designed to encourage kids to get out and experience nature first-hand while exploring Georgia's history and outdoor recreational activities.
While operating under limited services this year, the park continues to offer hikers access to the trail but temporarily suspended guided hikes, says Fuller. In the meantime, the park system is featuring online programming available on gastateparks.org, on the Georgia State Parks and Historic Site's Facebook page and on YouTube.
Many other activities are currently open to visitors at Reed Bigham, including the 375-acre lake where visitors can enjoy the popular beach and boat, water ski and fish for bass, crappie, catfish and bream. A Georgia fishing license is required for those ages 16 and over. In addition, the park's campground is open year round.
Check with the park for current hours and open services and attractions.