South Metro Atlanta: A Growing Force
Logistics, residential development and education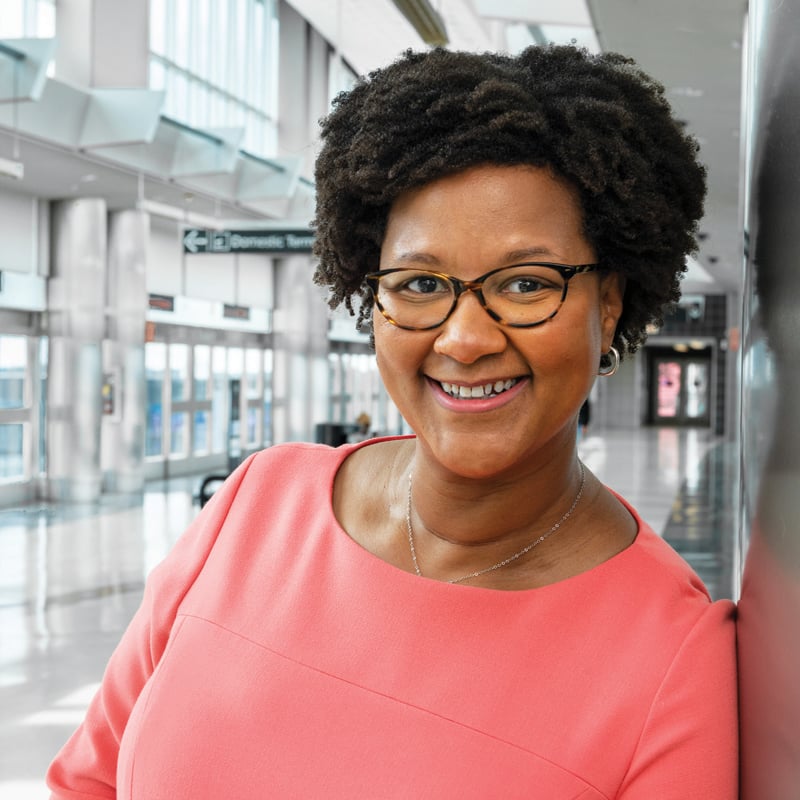 The word "opportunity" should come to mind when one thinks of South Metro Atlanta. With more than 60,000 employees commuting to Hartsfield-Jackson Atlanta International Airport, expanding logistics facilities and thousands of acres of undeveloped land available, growth and expansion will continue coming to the counties on Atlanta's south side.
"You have easy access to the operations of the airport, but you also have room for growth thanks to more than 90,000 undeveloped acres," says Gerald McDowell, executive director of the Aerotropolis Atlanta Community Improvement Districts (CIDs). "The Aerotropolis initiative includes 14 cities, Clayton and Fulton counties, and the Metro Atlanta Chamber of Commerce. All these entities are coming to the table to work together and provide investment where any operation looking to locate here would have full support on the government side as well as the private sector side."
Michael Hightower, managing partner of program management and development company The Collaborative Firm and founder of the South Metro Atlanta Development Outlook Conference, which was held for the 18th year in February, has seen firsthand the vast amount of change and growth in this area over the years.
"There are several things that have fueled that," he says. "One has been, of course, the continued growth at Hartsfield-Jackson. Two, we've seen the Georgia International Convention Center has been a magnet and a catalyst for tourism in the area. Thirdly, I think we've also seen companies and entities such as Porsche in the Hapeville area, Pinewood Studios in Fayette County, Camp Creek Marketplace in Camp Creek, and now, of course the new Airport City which is being planned for College Park [commit to the area]."
In South Fulton, Clayton, Coweta, Henry, Fayette and Spalding counties, the airport acts as an economic engine for growth reaching far and wide. Between them, the counties count nearly 2 million residents, with educational opportunities abounding for those ready to boost their career and jobs ready for anyone looking for a place to settle down.
The Aerotropolis Atlanta CIDs provide multiple services to the airport, maintaining more than 25 miles of right of way, providing visible public safety, improving signage and implementing transit solutions.
"Over the past two years, we completed the Aerotropolis transit feasibility study," McDowell says. "In that study there were several recommendations, two of which ended up in the Atlanta Transit Link [ATL] project list approved by the ATL board in December." The ATL is the agency the Georgia General Assembly created in 2018 to oversee transit planning in the metro region.
Those two projects are the Corporate Crescent Circulator and two proposed Intermodal Transportation Centers. The circulator project would create transit service from Hartsfield-Jackson's domestic terminal to College Park, Hapeville, Mountain View and the international airport terminal. The intermodel centers would be the primary connection and transfer points west and east of the airport for all travel modes. Phase two of the study will explore each project in more detail to determine what is feasible for implementation.
The CIDs are also working on a micro transit system to fill the gaps when MARTA closes in the early morning hours for maintenance. Because the airport operates 24 hours a day, many employees commute to work during the closure period. And in late 2020 or early 2021, the CID plans to launch an autonomous shuttle service as well. All of the projects serve a growing Hartsfield-Jackson, which is undergoing a 20-year, $6-billion expansion.
The Aerotropolis Atlanta Alliance is another organization helping to bring major players of the region together.
"We're proud of the positive momentum and perception of the area our public/private partnership has generated through our initiatives," says Shannon James, president and CEO of the alliance. "Many key regional players in economic development, workforce development and education are now working together across multi-jurisdictions to improve our economic competitiveness."
---
Airport City
One of the most anticipated projects in the South Metro region is College Park's Airport City, which was unanimously approved by the city council in 2019.
"It's moving forward," McDowell says of Airport City. "They've already secured a partnership for the residential component of Airport City. That component will be moving forward in 2020."
In addition to housing, the $700-million-plus project will include Class A office space, potentially serving as a regional or North American headquarters for major corporations, plus hotels and retail space. College Park is partnering with AAC Group on the 420-acre mixed-use development. A pedestrian bridge will link the project to the Georgia International Convention Center, and the ATL SkyTrain will link to the airport.
"We've gotten a lot of interest from a number of developers and small businesses, and there's excitement from residents as well," says Bianca Motley Broom, who began her first term as College Park mayor in January. "This is one of those once-in-a-generation types of developments. It has the power to shift not only the perception of College Park, but to serve as a catalyst for our citizens to have some of the things we've identified as necessities in our area."
College Park boasts both affordability and accessibility thanks to its MARTA station, says Motley Broom, and Airport City will not only connect residents with the airport, but connect airport visitors with the city.
Another new amenity in College Park is the Gateway Center Arena, a 5,000-seat event venue that opened in late 2019 as the home to the NBA G League's College Park Skyhawks and the WNBA's Atlanta Dream.
"The arena will be a great hub for the Southern Crescent as we move forward in trying to ensure that we have entertainment options right here in our community," says Motley Broom. "It allows us to begin telling the story of College Park from a different perspective."
---
Education and Development
The airport also has a big impact on neighboring Clayton County. In addition to advanced manufacturing, aviation and aerospace, the county is home to global supply chain and logistics companies that depend on the world's busiest airport.
"Clayton is a great place for companies requiring educated talent, abundant land and convenient transport," says Erica Rocker-Wills, senior business development manager and interim executive director of the Development Authority of Clayton County. "Redevelopment costs are comparatively low compared to other major U.S. cities, [and] with diverse power sources available, utility costs are at 50% of the national average."
For Clayton – or any region – to advance its economy, strong educational opportunities must exist. In the South Metro region, one of the chief providers of those opportunities is Clayton State University, which serves about 7,000 students on its Morrow campus.
"Clayton State generates about 2,900 jobs, with an overall economic output of about $283 million," says Clayton State University President Tim Hynes.
Hynes describes the school as a positive contributor to the region, a talent developer and supporter, and a provider of the skills needed to excel in the workforce.
"We have an evolving curriculum that addresses the general needs of anyone who's going to get a job, such as oral and written skills, the ability to work in teams and basic leadership capability," says Hynes. "Those skills are embedded directly or indirectly in all of our academic programs."
Clayton State is also focusing on emerging economic needs. The school offers a bachelor's degree in film and digital media to support Georgia's growing movie industry. Supply chain and logistics are also an important focus, reflecting the growing logistics projects in the area. Workforce experience is paramount, and 70% of the college's students graduate having completed at least one internship. The school's goal is for that number to reach 90%.
About 80% of Clayton State's students come from the metro area, chiefly from South Fulton, Clayton, Henry, Fayette, Spalding and DeKalb counties.
"We were designed with an eye toward projected workforce needs in the Southern Crescent area," says Hynes.
To the south and east of Clayton is Henry County, a fast-growing county with a 2018 estimated population exceeding 230,000. The county seat, McDonough, has seen renewed development across the board, including in its downtown square area.
"The combination of historic preservation and substantial economic development create a community in McDonough rich in diversity, yet infused with timeless traditions and southern charm," says McDonough Mayor Billy Copeland. "Long recognized as being the heart of McDonough, along with the Henry County seat, downtown McDonough is thriving."
Among other additions, the C.O. Polk Interactive Museum recently opened on the McDonough Square in a building that formerly served as a post office. The museum features a mural from modernist artist Louis Henri Jean Charlot and teaches about the history of the city.
Henry County boasts its own strong educational initiatives as well, with a college and career academy, the Academy for Advanced Studies and a Southern Crescent Technical College campus. Thinking even bigger, Henry is now marketing a 6,000-acre site near Atlanta Motor Speedway to developers.
---
Southern Strength
Among the southernmost counties in Metro Atlanta is Spalding, an important area for logistics thanks to its location near I-75. Spalding is home to the only eco-friendly industrial park in Georgia, which includes a number of Japanese firms as tenants.
"We have six Japanese companies in the park, and we only have two sites left," says David Luckie, executive director of the Griffin Spalding Development Authority. "We've gotten a lot of attention worldwide from both aspects."
On the day after Christmas, the development authority announced that Mitsui Kinzoku Die-Casting Technology America would invest $20 million at the park, starting off with 30 new jobs and expanding over five phases.
With the existing park nearing capacity, Luckie is scouting sites for a second location.
Spalding has also partnered with neighboring Butts County on a few projects, including a 1-million-square-foot distribution center for Dollar General and a new 1,200-acre industrial park along I-75. Other projects include a hotel planned for downtown Griffin and an under-construction Holiday Inn Express.
"We've been attracting a lot more people to the area," says Luckie. "More tourists, more young people overall. The economy is improving here, and we think our best days are still out there."
In nearby Newnan, a strong economy is built around healthcare, small local businesses and a high quality of life. There's the Piedmont Medical Plaza, which includes Piedmont Newnan Hospital and the Piedmont Cancer Institute, and the Encompass Health Rehabilitation Hospital providing high-paying jobs and quality care for local residents.
"We're creating a healthcare destination," says Candace Boothby, president and CEO of the Newnan-Coweta Chamber of Commerce.
Boothby can name a number of statewide initiatives that were spearheaded in Newnan, including Georgia's first college and career academy and a film studio in Senoia that helped pave the way for the state's famous film tax credit.
Newnan and Coweta County today target advanced manufacturing and corporate headquarters facilities. There are 18 international firms representing 10 countries with a presence inside the county already, and Boothby says Coweta has learned it doesn't need to offer incentives to lure manufacturing.
"The focus has shifted now, and we are only incentivizing advanced manufacturing or corporate office facilities," says Boothby. "The new vision for our development authority is a primary focus on corporate, white-collar development. We have more interest from potential investors than we can manage."
To the east of Newnan, Fayette County also has plenty going for it.
"We've got a lot of great things already in place," says Colin Martin, president and CEO of the Fayette Chamber of Commerce. "Our school system is the crown jewel of the county. Peachtree City has a great reputation as a place to live. Line Creek Brewery is always a cool place to go, and we brag about the Marvel movies that are made here as often as we can."
What Martin, who took the job in late 2018, hopes to improve is Fayette's talent attraction and retention. A task force was convened for that purpose last year in hopes of helping lure new people to the county. Solutions include hosting more recurring events and making sure housing is available for all incomes.
"I'm a big believer that it's about placemaking," says Martin. "People don't just come here because we've got houses or jobs, they come because they want to live in a place. We want to help create an atmosphere where they can make their place."
Martin and the chamber are making their case to recent high school graduates from the county, airport employees, people who work in Fayette County but don't currently live there, younger military veterans, college-bound high school students and senior corporate executives.
Pinewood Atlanta Studios is one great way to market the county, and there's plenty of excitement around an ongoing downtown Fayetteville revitalization, including a $23-million new city hall and the 265-acre mixed-use Pinewood Forest development.
"We're a hidden jewel down here on the south side," says Martin. "You tell me what lifestyle you want, and I've got a place for you in Fayette County."