From the Publisher: Southside Gem
Atlanta's southern half is seeing new developments while also maintaining the area's unspoiled charm.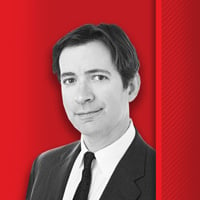 Reading about South Metro Atlanta in this month's issue brings back many fond memories of when I worked as a newspaper reporter and editor in McDonough, Jonesboro and Newnan in the '90s. It's amazing to see how much has changed since then and exciting to see the opportunities ahead.
Much of the area's unspoiled charm remains undiminished. When returning from Columbus to Atlanta, I still like to pull off on Highway 27 and ride beneath the beautiful tree canopy in Moreland or take Highway 138 in Henry County near Panola Mountain.
Growth here is nothing new – Henry County has been one of Georgia's fastest-growing counties since the '90s – but there is a lot in the works that could distribute growth more evenly throughout South Metro.
Of course Hartsfield-Jackson Atlanta International Airport, which is undergoing a $6-billion expansion, remains a magnet for development on a massive scale with so much undeveloped land nearby. This land – and more farther southwest – is some of the most affordable in the metro area and includes frontage along the Chattahoochee River as it winds through Fulton and Coweta counties. The unspoiled beauty of the region inspired Atlanta restaurateur Steve Nygren to develop Serenbe, one of the nation's greatest conservation communities, less than 30 minutes away in the heart of a 40,000-acre forest in south Fulton County.
The Southside's natural riches are many, and the region has long been a popular residential and retirement choice for Delta pilots and employees. Newnan in particular, the City of Homes, has a large number of beautiful antebellum homes that were spared during the Civil War.
Long a healthcare and manufacturing hub, Newnan was recently selected for a new 1-million-square-foot Amazon Prime distribution center. Just to the north, Union City is home to Atlanta Metro Studios, and, most recently, Coca-Cola Bottling Co.'s new half-million-square-foot sales center.
Chick-fil-A, Delta and Porsche headquarters, along with the airport, power an employment base that includes logistics operations that have replaced many of the jobs lost with the closures of Fort Gillem in Forest Park and Fort McPherson in south Atlanta in 2005. Clearly, these are diverse sectors. Popular tourism spots include shops in Senoia that capitalize on The Walking Dead TV series that is partially filmed there and the annual Renaissance Fair in Fairburn.
Thanks to the free ATL SkyTrain, the Georgia International Convention Center in College Park is the world's only convention center directly connected to a major airport, so convention attendees don't need a car. Plans for MARTA expansion in the region include a bus rapid transit (BRT) line along South Fulton Parkway with several stations and transit-oriented developments (TODs) around the Bankhead, Hamilton E. Holmes, Ashby, Vine City, West End and Lakewood/Fort Mac stations. These TODs, which are in Opportunity Zones providing tax credits to eligible projects, will adhere to MARTA's rule of 20% affordable housing to meet Atlanta's workforce housing goals.
Other transportation plans will make South Metro a strong workforce hub. The State Road and Tollway Authority is expanding Xpress bus service to the airport area, and MARTA is building new bus shelters in Clayton County. The Aerotropolis Atlanta Community Improvement Districts (CIDs) are redeveloping Camp Creek Parkway and planning to redevelop Virginia Avenue as a SMART Corridor with autonomous shuttles using a grant from the Atlanta Regional Commission. This initiative will improve traffic management and provide a safer environment for pedestrians.
Even bolder, the Aerotropolis CIDs recently announced at the South Metro Development Outlook Conference plans to pursue an innovative new transportation mode – podcars – to connect riders to specific stops like park-and-ride lots and hotels. Podcars are small, automated vehicles that will operate on a specially built network that guides them.
Leaders agree that the region needs to improve education, public safety and quality of life to keep its momentum and are keen to attract more office and retail. The southside's biggest challenge could be perception. Perhaps a lingering unease about living near an airport, associated with outdated FAA noise standards, is to blame or the typical north-south pattern that seems to beset so many large cities.
However, times are changing, and hopefully this perception is becoming outdated. Developments like the Georgia International Convention Center near the airport, Pinewood Studios in Fayette County and the new Airport City planned for College Park are becoming real catalysts for the region's growth.
As I've said before, the Southside is a gem, and expanding on its transit infrastructure could make it the next frontier of Metro Atlanta growth.