Ga Fare: College Park Educator
Virgil's Gullah Kitchen and Bar serves seafood-based dishes with a deft hand and a good eye.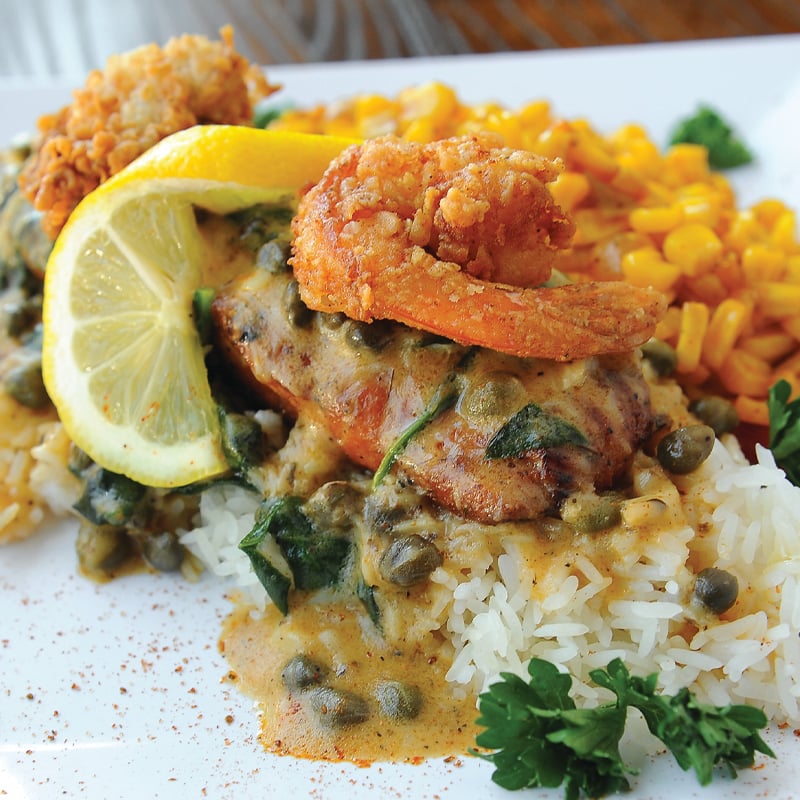 College Park, south of Atlanta, is known for its proximity to the airport and named for its once-thriving women's college (Cox College and Academy, where College Park's City Hall now stands) and what was once Georgia Military Academy (now Woodward Academy). Its downtown streets bear the names of Ivy League institutions – Virgil's Gullah Kitchen and Bar is on Main Street, between Harvard and Princeton.
As it turns out, Virgil's also provides an education – figuratively and literally. The first time I ate there, I learned College Park has a great little restaurant and a thriving community that loves it. On the second, I watched as a diverse group of fifth-graders from Marietta learned about Gullah-Geechee culture while sampling its cuisine. We Southerners have historically passed along folktales and music by "oral tradition," or talking and singing, but what we eat is often just as valuable a guide to our collective past and present.
Besides, can you think of a better way to learn Georgia history than by eating crisp fried okra and crab rice?
At lunch, we enjoyed the rollicking environment – R&B and soul classics on the sound system fuel a pleasantly boisterous atmosphere, in the kind of restaurant design I think of as "hip rustic:" rough paneling, artsy pendant lights, steel stools along a long bar with corrugated steel facing. The crowd ranges from full families to working folks to a group of women who downed cocktails as they spilled the tea about their friends and mates. (I wish other restaurants could tap Virgil's energetic vibe instead of simply substituting loudness.)
Virgil's serves food based on family recipes from namesake Virgil F. Smalls, the late father and father-in-law of the owners, Gregory ("Gee") and Juan Smalls. Gee grew up on James Island, near Charleston, steeped in Gullah-Geechee culture. "Steeped" is a good description of the culture itself – living in isolation along the barrier islands between southern North Carolina and North Florida, centered around Sea Island, enslaved people from West and Central Africa and their descendants forged their own language, traditions, music and food.
That food – lots of rice, crab, shrimp and oysters – commingles here with standard Southern staples like mac and cheese, corn, collards, cabbage, pork chops and fried fish. Add in a few city preferences – pan-seared salmon, baked or fried "jam up" wings, "Gullah egg rolls," plenty of vegan options – and you've got Virgil's light-hearted point of view on what modern Gullah- Geechee food ought to be.
It's all prepared with a deft hand and a good eye. Those okra are halved lengthwise and dusted with crunchy cornmeal, keeping their moist okra-ness inside, with a kicked-up remoulade. Perfect fried oysters arrive in what looks like a mini-fry basket, topped with disks of pickled jalapeño. She-crab soup hits the mark for what should be a standard-bearer for any coastal Southern restaurant, with the deep true taste of roe and well-made stock, as opposed to the thick floury muck you find too often.
For sheer simple goodness, it's hard to beat the crab rice – a little mound of jasmine grains, onions and crab, gently seasoned – and again, the subtle crab taste prevails. When there's heat, it's noticeable, but never overpowering – those baked wings fly straight in your mouth. Revelations abound – the okra soup is less like a thick, roux-based gumbo than a bright, vegetable-forward soup. It's a little like a less meaty version of another coastal Southern standard, Brunswick stew.
The fried cabbage is generously onion-fied and bacon-ated (though a vegan version is available). The mac and cheese is as good as you'd hope: bronze crust, gooey cheddar aplenty. Sautéed shrimp and fried corn were also dependable options – but the shrimp is even better with a gentle crab gravy over rice.
As restrained as the kitchen can be in allowing those seafood flavors to take the lead, somebody is pouring on the sweetness with abandon. The single dessert is a crazy rich blondie with salted caramel ice cream and a circus of whipped cream, chocolate sauce and nuts on top. Presented as the "least sweet" cocktail, the Chuck Town Tini, with vodka and lime, was decidedly tilted on the sugar scale. Still, the cocktail list is so fun you want to try them all – who can resist something called the Geechee Rita, made with Hennessey and topped with Grand Marnier? (Also: You can add hemp CBD-infused agave to any drink for $10.)
Along with the decidedly delicious food and fun atmosphere, Virgil's staff seems happy to be there, to explain the cuisine and the concept, to help you choose a tapas-style selection of small plates.
Virgil's is a small and welcome contributor to Georgians' growing awareness of their complex culture. Along with Brunswick chef Matthew Braiford and his partner/collaborator Jovan Sage, who are enriching the coastal culinary scene with Gullah-Geechee creations using heritage ingredients from Braiford's family farm (including Gullah-Geechee gin from Atlanta's Simple Man Distillery), Virgil's reminds us all that the richness and joy wrung from cruelly hard times are worth celebrating. Knowing these dishes' full story only adds to your appreciation of the cooks, shrimpers, crabbers and farmers who conjured them, from nearly nothing, in the most severe circumstances.
Let's call it a class in Virgil's continuing education.
---
New Orleans Mashups
One of our servers at Virgil's compared Gullah-Geechee food to the subtle mix of Creole cooking. We can't help wondering if New Orleans flavors and their mashups are having a moment .
The Po'Boy Shop

ATLANTA
Authentic, fast, friendly: Everything, including the sauces, is made in-house. Shrimp and oyster po'boys, of course, are
standout, but also try the "debris" – delicious tatters of roast beef in gravy.
---
Bon Ton
ATLANTA
Straight-up N'awlins favorites with a few Vietnamese twists, such as banh mi with fried shrimp, pickled veggies and
cilantro.
---
Kajun Crab
CHAMBLEE
Crab, clam and crawfish boils (build your own combo!) with Asian touches like crab rangoon, fried rice and lychee
lemonade.