Georgia Fare: Spring Takes Flight
Redbird in Atlanta transforms an old familiar place with a new vibe.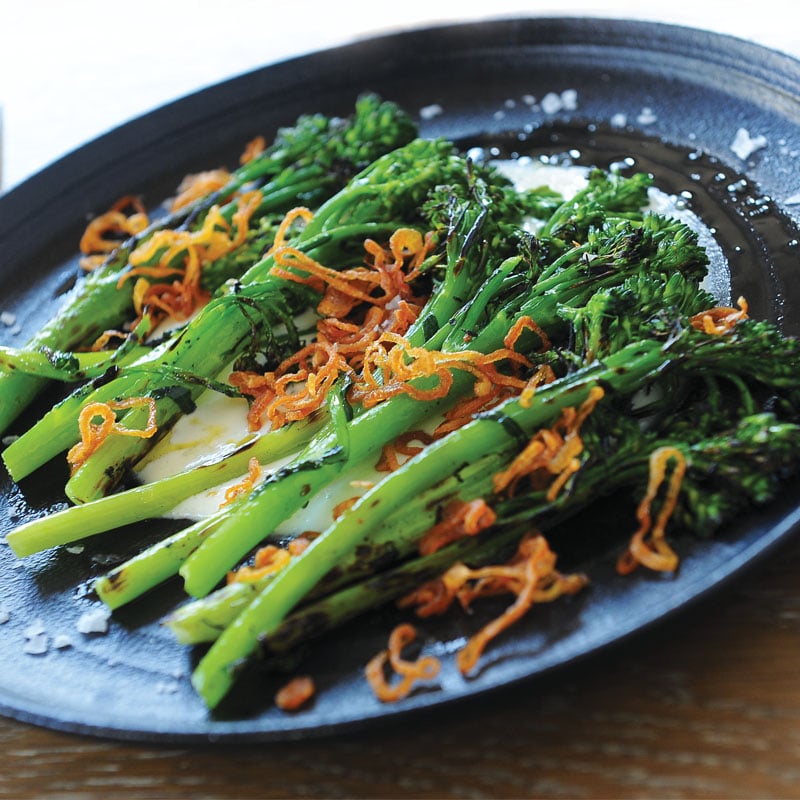 The best part of spring: Feeling young, whether you actually are or not. But time does go by more quickly as you pile on the years. And especially in the restaurant world, a few years is a long time.
Take Baby Driver, a 2017 action thriller that was shot in Atlanta. Its music and scene-melding techniques still seem cutting edge – until you get to the part where our hero, Baby, takes his new girlfriend to Bacchanalia, "the finest wining and dining of all the wines and dines in town."
And there it is – the industrial tile that always reminded me a little of an elementary school cafeteria, the dim, sexy lighting, the busy bar, just as it looked for all the time when it was, without question, Atlanta's top dining destination. Bacchanalia still exists – but in another, smaller location just down the road – and its focus seems more intimate and private. In its place is Redbird, which feels different from the old Bacchanalia's gravitas and upscale refinement from the moment you open the door.
Now the doors swing directly into a small foyer near the bar, where, in daytime, light floods through a space brightened by white oak and a soft mellow blue. The light alone is different, as Bacchanalia served only dinner. But also, everything about the layout seems more direct – instead of Bacchanalia's labyrinthine entrance through Star Provisions and its ponderous waiting area near the host stand, you can take a seat at the bar just a few feet from the door.
A few high tables near the kitchen allow a perch to watch the action, and a view from the kitchen allows Chef Zeb Stevenson (most recently of Buckhead's Watershed, now closed) to survey the entire restaurant. Outside, a pleasant, covered patio will see more use as the weather warms.
Even the menu seems … well, sprightly. While there's plenty to keep a carnivore happy, this "veg-forward" approach embraces the kinds of roots, greens and grains you don't often see in restaurants of this caliber – tender baby turnips immersed in pot likker and parsley butter; red peas baked in apple cider with crumbled potato chips; crisp planks of herbed polenta fries with truffled mushrooms. (The menu changes often and will likely include more spring-oriented dishes and produce than those offered during our midwinter visits.)
One side dish, which we enjoyed as a starter, feels like a signature: Gently grilled whole okra pods, lined up in a wading pool of tangy buttermilk sauce and topped with crispy fried shallots. Delicious.
While the entrees are offered à la carte, they often include some herbs or sauces that lighten them as well: The pan-roasted red trout arrives covered with its herbaceous "sizzling scallion condiment." Be sure to order something with the sweet onion hollandaise or have it as a side. At lunch, it enriched the blackened redfish salad, with arugula, thin-sliced pear, puffed wild rice and avocado dressing under the protein.
The 14-ounce miso-brined duck breast is one of the priciest ($32) items on the menu, but it is also one of the best duck dishes in town, served on Cumberland sauce, the old-school currant-based companion of game dishes. Unapologetically meaty and rich in ruby juices, it's a must-order for duck lovers – and it serves two.
At lunch, meat lovers will also be rewarded by the burger – dry-aged and delectably smoky, with fontina cheese, "Nick's bacon and onions" and accompanied by hand-cut fries. It's a diner tribute dish, with its pickle spear holding it together and its half-envelope of wax paper to aid eating it.
Several other noteworthy dishes could be worth just dropping in for a drink and a snack, or coffee and dessert: The Wrens on a Wire updates a gin-and-tonic, livening it up with Pivon Blanco vermouth, fresh lime and a sprig of rosemary. It's a good match for the delectable chicken liver pâté, served with grilled black bread, housemade mustard and preserves.
The wine list is entirely comprised of small and family-owned vineyards, including an excellent Sancerre by the glass (Les Boursicottes). Our best dessert was the odd-sounding but caramel-luscious banana upside-down cake with vanilla ice cream. (Sadly, the restaurant was out of sugar cream pie the day I wanted to order it – this Midwestern specialty is the deceptively simple cousin of chess pie.)
It's spring again. Time to celebrate something new. Try to keep up.
---
Redbird
Note: The restaurant doesn't accept cash, except perhaps for a quick tip at the bar. Credit and debit cards only.
Address: 1198 Howell Mill Road, Atlanta
Contact: 404.900.5172
Website: redbirdatl.com
Hours: Lunch, Mondays-Fridays
Brunch: Saturdays-Sundays
Dinner: Mondays-Saturdays
Parking:Fee in nearby lot/garage.
Gratuity-based valet service
Thursday-Saturday evenings.
Dress Code: Smart casual
---
Speaking of gin cocktails
Your parents' favorite spirit is enjoying a "ginaissance." Try a tincture at one of these expert watering holes.
Alley Cat
Savannah
Tucked away in the alley behind Broughton Street, this downstairs bar pays tribute to the old while welcoming the new. It's a great place for a Pink Lady ($12), with gin, apple brandy, pomegranate, lemon and frothy egg white.
---
Golden Eagle
Atlanta
It feels a little like a very luxe version of an Eagles Club bar, but while the humor is apparent, these folks are very serious about their elixirs. Try the Suffering Bastard ($13), with gin, VSOP brandy, ginger, lime and Underberg bitters (said to cure hangovers).
---
Little Hawaiian
Carrollton
Tiki drinks with rum rule the menu, but you'll also find a traditional Singapore Sling ($6.50) – gin, pineapple juice and orange liqueur.