From the Publisher: Broadband Needs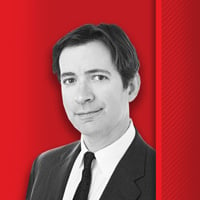 As the 2020 legislative session wraps up, many are anxious to see how Georgia's broadband funding for rural areas turns out. There is hope for action. But that hope is in the face of declining budget revenues partially due to a 2018 state income tax reduction.
The reduction was passed because of an expected rise in state revenue tied to federal tax cuts enacted in 2017, but a shortfall has put the state in a quandary over management of its discretionary budget. Gov. Brian Kemp campaigned on improving rural Georgia's economy, but we may be losing ground on broadband.
In 2018, Congress provided $600 million to the U.S. Department of Agriculture (USDA) to expand broadband into rural America. Requests for funding through the program, dubbed ReConnect, came to $1.4 billion. Around $343 million has been awarded across 22 states to date.
While the Georgia Department of Community Affairs has worked with local jurisdictions to come up with projects, state funding for broadband expansion has been lacking. Without state support, it may be difficult to compete with other states for grants, even with former Georgia Gov. Sonny Perdue running the USDA. The sole ReConnect grant announced thus far is for $4.4 million to expand broadband in Gilmer County.
The USDA grants aren't necessarily in proportion to state investment. Missouri, for instance, passed $5 million for rural broadband funding in 2018. The following year, four Missouri applicants that include telephone companies, an electric cooperative and a utility received a total of $60 million in grants and loans from the USDA. Tennessee announced close to $15 million in state funding for broadband accessibility grants in 2019; the USDA awarded a Tennessee electric cooperative nearly $3 million in grants later in the year.
Nor does investment guarantee USDA funding. Indiana has pledged $100 million for rural broadband deployment and was absent from the first round of ReConnect grants. However, the FCC awarded $29 million in funding over 10 years, beginning in 2018.
Skin in the game seems to get results. Elsewhere in the south, Alabama ponied up $7.4 million in 2019, through its Alabama Broadband Accessibility Fund. Late in 2019, Alabama was awarded $62.3 million from the USDA. North Carolina awarded around $10 million to service providers for rural broadband deployment in 2019, with the ambitious goal of creating high-speed internet access statewide by June 2021. To date, two North Carolina telephone co-ops have received around $32 million in USDA ReConnect grants and loans.
With all this said, the fact is that it is difficult to move the needle on rural broadband, which involves very expensive equipment and ongoing operations and maintenance. The Gilmer County grant, while certainly welcome, will help around 2,100 Georgians. But there are an estimated 1.6 million rural residents in Georgia without high-speed internet.
North Carolina is currently questioning the mapping technique used by the FCC to establish priority rural areas most in need of broadband. And Georgia is in the midst of its own mapping initiative, having proven in a pilot program that the FCC maps used to award funds missed about half the homes and businesses that were without broadband. While it makes sense to resolve this issue beforehand, we are losing important ground, and the next round of $600 million in ReConnect grants is ongoing.
Two legislative prospects have emerged to potentially fund rural broadband initiatives in Georgia. These include claiming state tax on digital purchases, which Kemp signed into law in January. This could be a growing and steady resource when matched with broadband deployment. The other option involves enabling loans from the Georgia Environmental Finance Authority (GEFA), which has distributed billions in funding to Georgia communities to help with infrastructure upgrades and water quality management.
GEFA is a lifeline, particularly for rural communities without other funding resources for infrastructure improvements. While the legislature may be tempted to grab this low-hanging fruit, it may hurt the communities they mean to help.
The whittling away at state income taxes, while it may seem like a good idea, is not a great option for a state already losing the battle to match infrastructure – like rural broadband availability – to business, workforce and residents' needs.
Georgia has proven adept at funding its transportation infrastructure needs, though it took a while. Hopefully we can find solutions to the broadband issue in time to regain our footing in the race for more and better jobs in our state's rural regions.