Georgia Fare: Black Sheep in Blue Ridge
This chef-driven restaurant in a historic home is the spot to be for both locals and vacationers.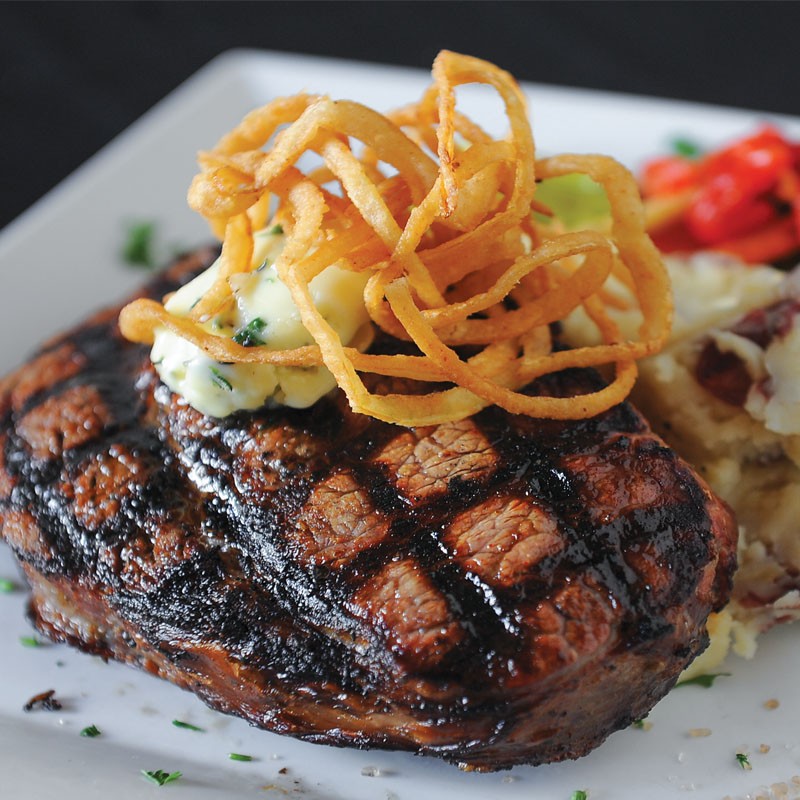 It might have been easy to predict why and where the state's exploding restaurant scene has spiked the most sharply in the past year or so: Atlanta (of course). Athens (always ahead of the curve). Savannah (long overdue). But… the North Georgia Mountains, too? Really?
Yes, really. "Exploding" might be a slight overstatement – except in context. Suddenly there's a more-than-welcome profusion of good, interesting independent restaurants in remote areas where the best (or sometimes only) restaurant food was barbecue. These chefs serve their tourist-driven economies with straightforward, familiar fare, but also seem to want to amuse themselves and their neighbors – the hardy bunch that actually lives on these curvy, sometimes icy roads year-round – with dollops of good humor and fresh twists.
The pioneers in this domain are thriving. Take, for example, the excellent Canyon Grill in Rising Fawn, now in its 24th year and under new ownership that sticks to its original, winning formula. In Clarkesville, Harvest Habersham is a steadfast favorite just off the town square that has hosted the likes of former President Jimmy Carter. In 2018, first-time restaurateur Ward Gann brought Cleveland Clyde's, a much-needed community gathering spot on the small town square, and it was an instant hit.
Or, consider Blue Ridge's The Black Sheep. Opened in 2013 and purchased in 2017 by current owner Brandon Lofton, in leaf-peeping season the place has such a solid core of regulars it's often packed by 6 p.m. In December, The Black Sheep's new banquet facility for weddings and other events opened its doors. Housed in a c. 1914 house (built by the Butt family, who hosted close friend Margaret Mitchell), it has a cozy bar and large tables often filled with families or vacationing friends, as well as a sweeping (winter-enclosed) porch bar, also with a fireplace. Opening that porch bar, the largest in Blue Ridge, transformed his business, says Lofton, doubling his volume. "It's crazy," he says of the uptick after that and other investments, including a Wine Spectator-approved wine list. "It's been astronomical."
The Black Sheep's specialty seems to be its little character-building fillips: An oyster bar (yes, in the mountains). White "ostrich" leatherette banquets. A cheery little fire. A crystal chandelier embellished with copper Jello molds. Craft cocktails, such as the house Manhattan, with bourbon, Amaro, sweet vermouth and Angostura bitters. Intriguing beers, including several local varieties on tap, such as Hell's Holler porter, from Blue Ridge's Grumpy Old Man Brewing.
Lofton brought deep restaurant experience to his role, after 18 years with Landry's restaurants (McCormick & Schmick's, Joe's Crab Shack, Morton's Steakhouse, many others). "I don't put anything on the plate I don't approve of," he says of Chef Ryan Beadnell's menu. A chef by trade, Lofton dislikes "off-putting" dishes that feature "a bunch of ingredients you've never heard of."
His preferences show in the clear flavors of skilled cooking with quality ingredients. You might start with lamb lollipops – three little grilled handlebars with aioli and balsamic glaze. Or the giant beet salad, with purple and orange root vegetables grilled and served with mesclun, red onion, goat cheese and candied pecans. The calamari is another good choice, with a giant heap of crisp-fried cephalopod with cherry peppers and sweet chili peppers.
One night's special, grilled halibut, was perhaps my favorite of two visits, a right-sized portion with garlic aioli, red-skinned potatoes, asparagus spears, capers and lemon, flecked with parsley. Chicken cavatappi was a satisfying, if less exciting alternative, on corkscrew pasta with peppadews, ricotta salata and arugula pesto. (The grilled half-chicken now replaces it on the menu.)
The hand-cut 16-ounce ribeye is sure to placate any meat-eating mountain man (or woman), with enough left over for steak and eggs in the morning. It's garnished with garlic herb butter, crisp onion rings and asparagus spears. It's an eye-popping dish – like the frutti di mare, with a half lobster tail topping fettuccine with mussels, shrimp and scallops in a clear, light tomato broth, topped with thick shavings of Parmesan-Reggiano. For dessert, you won't need the pecan pie or the key lime tart, but you'll have them anyway. And you'll be glad.
Lofton, who has lived in Blue Ridge year-round for only three years, sounds a little like a newly besotted suitor when he describes it: "This town will only continue to grow," he says. "We've just begun. It's in its infancy."
If you're looking for a nearby romantic getaway, replete with flickering fireplace and sparkling champagne, I know just the spot.
---
The Black Sheep
480 West Main St., Blue Ridge
706.946.3663
blacksheepblueridge.com
Hours: Dinner, Tuesdays-Sundays
Brunch, Saturdays and Sundays
Parking: Plentiful on street
Dress Code: Anything from John Deere to cashmere
---
Worthwhile Finds in the North Georgia Mountains
Restaurant Lorene
Young Harris
This tiny restaurant, in this tiny college town, impresses with audacious (and delicious!) concoctions, in conjunction with their farmer suppliers: Mexican street corn with furikake seasoning. Creole pasta with crawfish and tasso. Anise-scented pea soup.
---
Julep Kitchen
Dillard
Part of an ambitious new 22-acre resort, Julep Farms, featuring cottages and a dining room, Julep Kitchen serves up Southern standards like a sweet tea pork chop and smoked trout.
---
Odd Duck Eatery
Clarkesville
Quinoa salad and bangers and mash … in Clarkesville? Believe it – along with crowd-pleasing bean soup and cheesesteaks at lunch.