Lodging Disrupters
The proliferation of short-term rentals has outpaced regulations, but their Wild West days may be drawing to a close.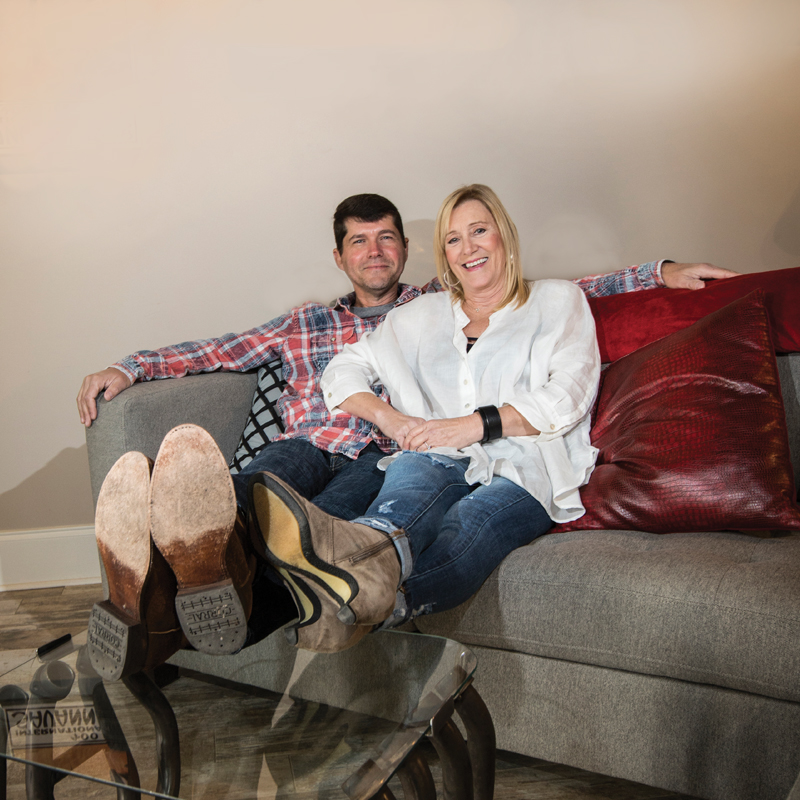 Hotels offer travelers – both business and vacation – consistency, convenience and the general feeling of knowing exactly what you're going to get from a booking. But what if you dream of staying in a treehouse or a tiki hut, on a farm with llamas or in an old gas station or maybe in Paradise? Thanks to the proliferation of short-term vacation rentals (STVR) – think Airbnb and VRBO (Vacation Rentals By Owner) – all of those dreams are possible.
As with so many things, however, dreams often come with a price. The creativity, variety and affordability of STVRs are disrupting the tourism and housing industries, prompting cities, counties – and the state – to pass or propose regulations.
Thunderbolt is a perfect example.
Tourists en route from Savannah to Tybee Island's beaches drive through Thunderbolt, probably not realizing they're passing through a municipality. The town's fishing and shrimping heyday is largely long gone, although the town maintains a pier, and marine industries like yacht repair dot the short waterfront.
Most of the fewer than 3,000 souls who live in Thunderbolt work in nearby Savannah. There's a handful of comfortably down-scale restaurants and a sprinkling of other businesses, as well as a wall of condos along the riverfront.
In short, it doesn't seem like a place that could serve as the poster child for the impact the short-term vacation rental industry is having on Georgia. But consider this: The Thunderbolt Town Council is pondering joining the approximately 280 other Georgia cities and counties that impose a hotel/motel excise tax. And Thunderbolt does not have any hotels or motels.
The short-term vacation rental industry has come to Thunderbolt, and now there's a potential revenue stream to capture. The small town sits about halfway between downtown Savannah, with its booming tourism growth, and Tybee Island, with its beaches. Lots of tourists want to hit both hot spots, and Airbnb/VBRO hosts figure many of them will like the idea of splitting the distance midway in a place that's cheaper than at either end.
Enter Frankie Kerby and his fiancé, Cookie Espinoza. Kerby represents the next generation of the short-term rental industry, which may have started out as home-sharing or room-sharing but is evolving to include investment properties built or renovated expressly for short-term use. The couple's Gas Station Thunderbolt is a perfect example.
"This was Freddie Byrd's service station, and a lot of local people are excited that we have cleaned it up, fixed it up and found a use for it," says Kerby.
He hasn't pinned down the operation dates for the station – variously listed from the 1930s to the '50s – but it's been a long time since anyone pumped gas there. In recent years, the classic canopy-style gas station served as an office for a carpet company. Now, done up as a studio apartment, it rents at a seasonally variable rate of $175 and sleeps up to eight via queen-size bunk beds.
---
A Quirky Variety
The large number of people Gas Station Thunderbolt can accommodate is one of the reasons Airbnb is thriving. That's an experience most hotels – especially in an area with few or no hotels – can offer: the opportunity for a group of family or friends to stay in one place. And it's just one way STVRs are turning the hospitality industry on its head.
According to Airbnb, 1.1 million guests stayed in one of its Georgia listings and made owners a total of $158 million in 2018. And AirDNA, which analyzes rental data, lists more than 10,500 active rentals in Atlanta, 900 in Augusta and more than 2,000 in the Golden Isles.
Three factors drive the short-term rental market: availability, rates and novelty. Budget-minded travelers can usually find a short-term rental at a lower rate than a conventional hotel room, especially during peak times, like Masters week in Augusta and during the Super Bowl in Atlanta last year. And novelty – the chance to room somewhere radically different when traveling in a time when even upscale hotels feel homogenized – counts for a significant share. You can see it when you scan the listings for a given city and find accommodations comparing themselves to hobbit holes or spotlighting the farm animals surrounding a yurt/treehouse/tiny house.
Speaking of treehouses, they're a thing at the moment. Maybe it's because a Buckhead treehouse was Airbnb's "#1 most wished-for listing worldwide" in 2017, complete with media citations that include The Today Show and Architectural Digest. That particular one is three separate treehouses connected by rope bridges and rents for $375 a night. It's booked through 2020.
If you're looking for either a religious or an artistic experience, you can rent one of three cottages at Howard Finster's Paradise Garden near Summerville. The nightly rental of $110 to $130 gives you full access to Paradise Garden, the sculpture garden created by the famous folk artist and evangelist, and the proceeds go to the nonprofit foundation that operates Paradise Garden.
"As the most popular Airbnb accommodations in Northwest Georgia, our three Airbnbs at Paradise Garden provide much needed nonprofit revenue to operate our four-acre historic art environment," says Tina Cox, executive director of Paradise Garden Foundation. "This fuels economic development by way of cultural tourism for the tri-state area for Georgia, Alabama and Tennessee."
---
To Regulate or Not?
Internet-driven short-term rentals are a classic example of an industry that got ahead of regulation. Airbnb opened shop in 2008, but the drive to regulate the short-term rental industry didn't really gain steam until almost 10 years later. First cities and now states – including, potentially, Georgia – have entered the fray, and they're making up for lost time.
Likely to add fuel to that fire: a deadly Halloween party-gone-wrong two months ago that left five people dead in suburban San Francisco after more than 100 people showed up for a party at an Airbnb that reportedly prohibited parties. Airbnb responded by announcing it would ban party houses going forward and implement security measures aimed at curbing unauthorized parties.
Other issues aren't as deadly. The city ordinances currently on the books offer clear clues as to the problems that prompted them. They address noise, parking, litter, safety and fire codes, and requirements that entrances be monitored by security cameras. The element they most commonly share is registration and licensing.
In Savannah, where tourism is big business, there's no shortage of short-term rentals in the city's prime attraction, its historic district. And the city has passed an ordinance to control the proliferation of them.
"It's the delicate balance of walking that line where we allow the use but monitor compliance to protect our neighborhoods," says Bridget Lidy, Savannah's director of planning and urban design, whose department is tasked with enforcing the city's STVR policies.
"Our regulation went into effect in 2015 here in Savannah; since that time we have done one update of the regulation, which was completed in 2017. We have just over 1,300 short-term vacation rental certificates within our community," Lidy says. "We also have a cap that's in place to protect the residential character of our community."
The city requires STVR owners to obtain a certificate, and there's a limited supply of those: when more than 20 percent of the properties in an area have them, the certificates are capped. The certificates are limited to mixed-use zoning areas, where inns were already an allowed use, Lidy says.
Regulations include a requirement that owners inform neighbors before a STVR certificate is issued; that renters must follow noise ordinances and must not exceed a maximum occupancy; that owners must be in compliance with all city code provisions; and that owners must pay hotel/motel and other applicable taxes.
The ordinance provides for an escalating series of fines for violators, starting at $500 and rising to $1,000. Certificates can be revoked after the third violation, but circumstances have yet to go that far, Lidy says.
Cities led the regulatory move in Georgia. Twenty-two of them have enacted specific regulations similar to Savannah's for short-term rentals, and according to the Georgia Municipal Association (GMA), such regulations are under consideration in another 25 jurisdictions.
But not everyone is a fan of regulatory control.
Near the end of last year's General Assembly session, State Rep. Kasey Carpenter (R-Dalton), who operates several short-term rentals in Dalton and is also working on building a hotel there, introduced a bill that would prohibit local governments from regulating short-term rentals in virtually any way – banning them outright; imposing occupancy limits; requiring their inspection, licensing or registration; or restricting or regulating the length or frequency of stays. House Bill 523 is in committee; whether it will gain traction in this year's session remains to be seen.
"It was an outright banning of regulation. That was the original piece, but that was not the original intent. This was the initial bill to get everybody to the table, the cities, the Georgia Municipal Association," Carpenter says. "We think there is an opportunity to find common-sense regulation. We're also trying to make it as uniform as possible across the state.
"Airbnb and short-term rentals are just where the economy is going, and you're stymying something that has growth potential," he says.
The GMA finds nothing to like in House Bill 523 and maintains that short-term rental regulation should remain a local matter.
"We're taking it very seriously because our city council members and mayors are elected to help provide a safe community and a community that treats businesses equitably. We have a lot of communities that have decided it is enough of a concern to regulate the activities of those short-term rentals and, in some cases, the locations of those short-term rentals," says Tom Gehl, GMA's director of governmental relations. "There's an expression I like, and it is if you've seen one city, you have seen one city."
In Metro Atlanta, for example, the regulations range from outright bans on STVRs in Dunwoody and Peachtree Corners, which don't allow rentals for less than a month, to no regulation at all in Roswell (though it's under consideration), to Brookhaven, which was part of the not-allowed crowd until last year, when it passed regulations allowing them in residential areas provided hosts get a permit and list their homes for fewer than 180 days per year.
"Communities are different in many different ways when it comes to things like this," Gehl adds. "Savannah is a lot different from Chamblee, and Douglasville is a lot different from Jonesboro [all of which are communities with short-term rental regulations on the books]. Each of those cities went through a process working with its citizens on what to regulate."
Kerby, the Gas Station Thunderbolt owner, says he has no problem with regulations, including taxation, that Thunderbolt is considering. "Businesses ought to be regulated, so they're not hurting the community," he says.
---
A Multifaceted Dilemma
Georgia's thriving tourism industry is essentially a self-fueling engine. Tourism promotion entities like chambers of commerce and convention and visitors' bureaus share in the revenue generated by the hotel/motel excise tax, and those funds finance tourism promotion efforts.
"Short-term rental operators are obligated to collect and remit that tax, too, but lots of times they float under the radar, and we don't have the resources, city by city, to scour the internet looking for them. They're benefiting from tourism promotion that they are not helping to fund," Gehl says. "When you are shopping for these places, you do not actually get the physical address until you pay for a reservation. So local governments have difficulty finding where these things actually are – it's like whack-a-mole."
A community's interest in regulating short-term rentals depends on multiple factors. Most clearly impacted are cities with heavy tourism, like Savannah. In fact, the industry is changing the face of the downtown historic district, Savannah's marque attraction, as fewer and fewer of those restored mansions, townhouses and carriage houses are owner-occupied.
But a city doesn't have to be a vacation destination to find significant short-term rental impact. All it takes is a college to generate demand for large supplies of lodging at the same time, say at graduation or during football season. And the impact reaches beyond tourism. STVRs can change the quality of life and character of residential neighborhoods and can exacerbate the problem of affordable housing.
When investors convert long-term rentals – units that might have gone to students or hospitality workers in heavy tourism areas, for example – to Airbnb units, prices of remaining long-term housing can go up.
"I call it the financialization of housing, where you have investor-owned housing, companies that buy houses to take them off the residential market and turn them into short-term rentals," Gehl says.
It's one of the problems that needs to be worked out, because most everyone agrees that short-term rentals are here to stay. After all, where else can you find the vacation treehouse of your dreams?