Georgia Fare: Hai Times
Decatur's new Chinese pick-me-up has plenty of heat.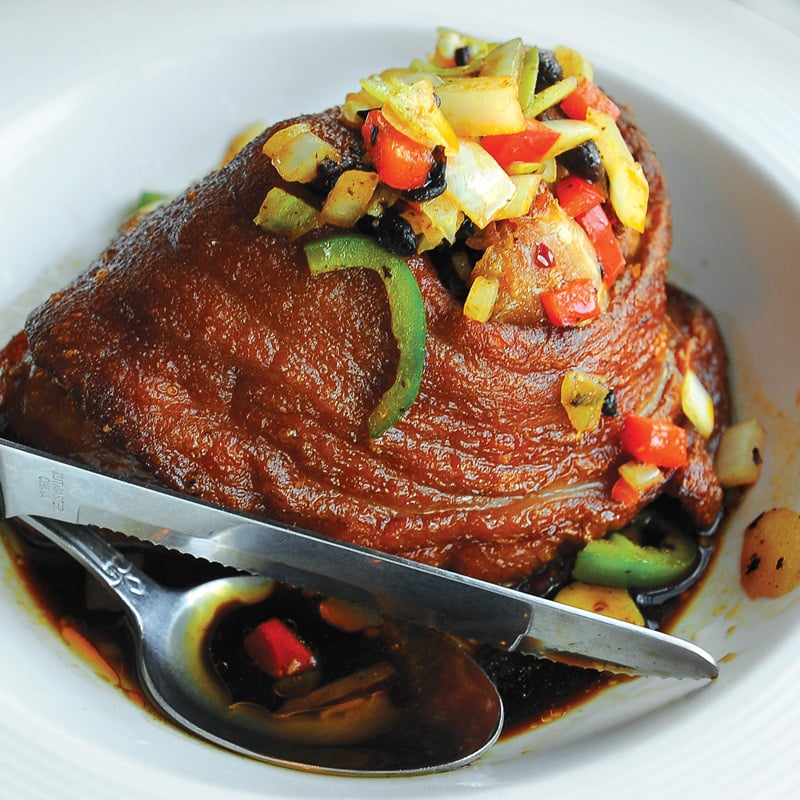 January in Georgia: Depending on where you live, you could be experiencing ice storms and wintry blasts, or just low light, early sundown and general post-holiday blahs. Whether you're suffering from cold, cabin fever or seasonal affective disorder (SAD!), I've got a suggestion: Get Hai. This smallish new spot in the recently refurbished Suburban Plaza shopping center, not far from Decatur's charming downtown, is good for what ails you, especially if that involves chilblains, mopiness and all-around lack of zest.
Zest they've got, and plenty of it. Chef Wang Hai worked with legendary Szechuan chef Peter Chang (formerly of Tasty China in Marietta, more recently working in Virginia, now with his newest restaurant Mama Chang), a man so restless in his efforts to create great restaurants he became a sort of "Where's Waldo?" of Chinese food.
What's particularly great about Hai's hotspot is its ability to tempt first-timers with familiar dishes like Mongolian beef, hot and sour soup, General Tso's, Singapore noodles and the like, but also lure experienced and/or daring diners with more unusual dishes: dragon eggplant, spicy pork knuckle and garlic cucumber salad.
You may be familiar with Szechuan food as the sort of Southwestern version of Chinese: Its hallmarks are heat and spice. You may know less about some dishes' ability to pleasantly numb your lips and cheeks with Szechuan peppers or peppercorns.
Here, too, Hai succeeds in its excesses – try almost any of the menu's self-described "hot and numbing" dishes to experience it. (You could think of it as a kind of martini for your palate.) The spicy beef tendon is a good example of both something that you might not expect to love from its description, and this uniquely Szechuan characteristic. It's a cold dish, with thin-sliced beef in a marinade of chili oil, vinegar, garlic and cilantro. We ordered it on a whim, and it remains one of my favorites of several outstanding dishes I tried on repeat visits.
The "hot and numbing" flounder stone pot is another example of Hai's beautifully balanced food – the bubbling heat and dense spices contrast well with the silken white flounder and crunchy, cooling bean sprouts. Equally revelatory, while not as hot, was the spicy pork knuckle – a braised ham-hock-like joint falling apart under chili sauce, celery and jalapeño.
Hai's balance extends to its entire menu – not everything is fiery, and in fact, some of its best dishes are gentle counterparts to its hot-tempered specialties. Dry-fried string beans (Why is this dish getting so hard to find on Chinese menus?) is a gently, pleasantly prickly dish, and that cold cucumber salad is a crisp, refreshing starter, with a herbaceous mustard-garlic dressing that reminds me of nothing so much as Green Goddess.
Equally healthy is the delicious stir-fried bok choy, with ginger and garlic gently infusing its accompanying wrinkly, tender tofu skin. Furong chicken, with wood ear and beech mushrooms, snow peas and red pickled chili peppers, is another mildly spicy dish – it's almost like a subtly hotted-up version of moo goo gai pan.
If you're lucky enough to live close enough to order takeout, you'll soon put Hai on speed dial. Even then, you will want to drop in to experience dishes best enjoyed as soon as possible after serving. That includes the scallion pancake – not the familiar Chinese flat bread studded with young green onion, but a puffy deep-fried balloon more akin to Indian poori, and served with mild curry sauce.
Chef QinYinhua, Hai's wife, specializes in steamed buns and dumplings, and you'll definitely want to order some here – and don't miss Grandma's noodles or the chili wontons. But when you eat in, try the xiao long bao, or soup dumplings. Best enjoyed within minutes of serving, these little steamed packets enclose piping hot chicken broth – be careful not to spray yourself when you pierce them! Vegetarians will find several excellent selections, including a sweet, mildly spicy dragon eggplant, gorgeously arrayed in a ring of soft slices on the plate, sprinkled with scallion.
If this isn't enough to get you through the winter, I'm not sure I can help you.
---
Hai
2641 North Decatur Road, Decatur
470.225.7172 or www.haieat.com
Hours: Open daily for lunch and dinner
Parking: Free in Suburban Plaza lot
Dress Code: Very casual
---
More Hot Dishes for Cold Nights
Umaido
Suwanee
The Ultra Spicy Ramen is a sinus-clearing but ultra-delicious meal with house-made tonkotsu broth. The mind-boggling diversity of toppings and options (rich soup, nori) help make your dish truly your own.
umaido.net
---
Pulaski Heights BBQ
Athens
They're straight-up simple, but oh so good: Slow-smoked whole wings, drenched in Valentina hot sauce, served with housemade ranch.
pulaskiheightsbbq.com
---
Avellino's
Decatur
Owner Lou Dirienzo is famous for the Il Diavolo, the ghost pepper pizza at Avellino's Decatur location. Is a waiver really required?
avellinospizzeria.com