An Aura of Excellence
Georgia's nine HBCU treasures are transforming lives and the workforce.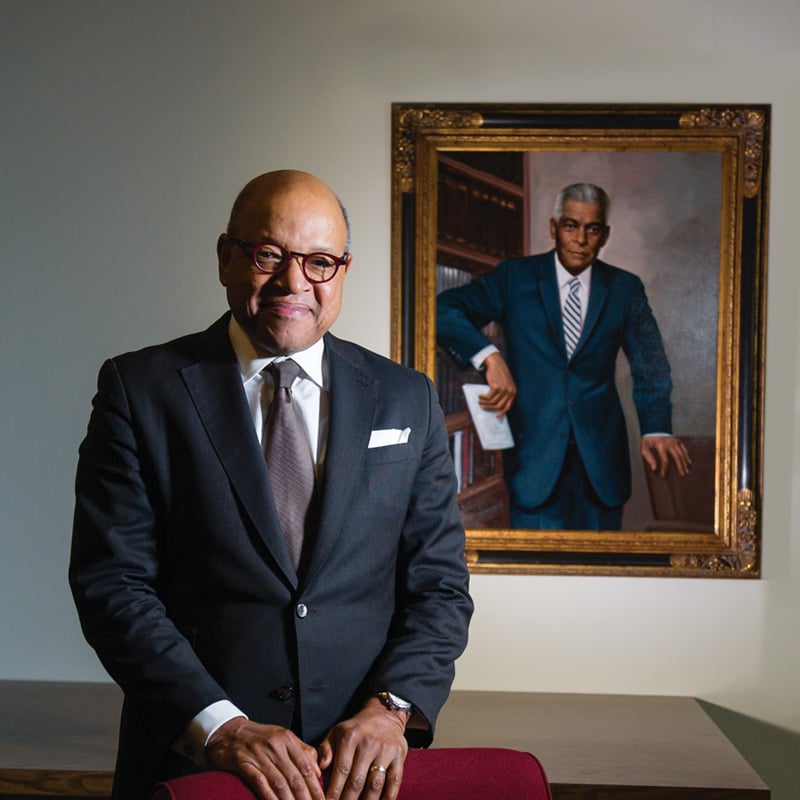 In 1980, Doug Hines, a Detroit native, was a freshman at Eastern Michigan University. An advanced student who had been programming professionally in several computer languages prior to starting college, he turned in his first computer programming class assignment expecting an 'A.' He received a 'C.' Talking with his professor, he was told he hadn't followed the assignment parameters precisely. Hines figured he'd do better on the next assignment. Nope.
"I never got an A on any assignment I did," he recalls. "I finally realized it had nothing to do with my work. It was about me." Hines was the only person of color in his class. He didn't want to believe there was prejudice involved, but by the end of the course he was convinced. "It crushed me," he says.
The following year he went to Morehouse College, an all-male historically black college in Atlanta.
"We had a steady diet of speakers who were accomplished Morehouse grads or black people doing great things in the city or nationally," he says. "Some of them you knew, some you never heard of.
"You'd get professors from Morehouse also telling you, 'You can do anything you can put your mind to,'" he says. "That was something I really, really needed to hear, especially after the experience at Eastern Michigan."
Hines' story is a familiar one, says David A. Thomas, president of Morehouse. "People frequently tell the story of how being in this environment of high expectation for black male achievement was transformative by itself," he says. "And most have a story of at least one faculty member who they think changed their life."
Hines says Morehouse changed his whole life trajectory. "In a world that either intentionally or unintentionally tells you there's something wrong with you because you're black, I still tell everybody who will listen [the Morehouse] experience is invaluable. Because at some point, you really need someone to tell you that you're great and if you work at it great things can happen for you and we're here to support you."
---
Growing Relevance
For those unfamiliar with historically black colleges and universities (HBCUs), a quick primer: they are institutions founded before 1964 with the principal mission of educating black Americans at at time when African Americans were barred from attending established colleges and universities. While the first HBCUs were founded in Pennsylvania and Ohio before the Civil War, most were founded after the second Morrill Land-Grant Act of 1890, which required former Confederate states to offer land-grant institutions for black students if admission was not available elsewhere. More than 90 HBCUs were established between 1861 and 1900.
The U.S. Department of Education identified 102 colleges as HBCUs in 2017; there are nine in Georgia – three public, the rest private. Atlanta is home to the Atlanta University Center (AUC), which is the world's largest association of private black colleges. It includes Clark Atlanta University, Morehouse College, the Morehouse School of Medicine and Spelman College.
In 2014, the state's HBCUs had a combined economic impact of $1.3 billion, according to the UNCF. Enrollment at HBCUs across the country was 298,138 in 2017, according to the National Center for Education Statistics, up 2.1% over the previous year.
Those enrollment numbers represent people from all backgrounds. The HBCU designation is based on historical status, but anyone can attend. In fact, many HBCUs are seeing an increase in Latino students, and about 25 percent of students enrolled in an HBCU in 2017 were not African American.
But even more important than numbers is the growing awareness level. For a host of reasons, including a greater emphasis on recruiting, research demonstrating that HBCUs have a better graduation rate for black students than predominantly white institutions, and the current political and social climate, applications at HBCUs are rising.
"We have definitely seen an increase in interest," says Ingrid Hayes, vice president of enrollment management at Spelman College. "Our applications have increased over the last two years. We know we are attracting many more students."
Why? The answer is complex. "The people who serve as faculty and administrators believe in them," Hayes says. "There is no asterisk on [students'] ability to be successful. They're also wrapped in a cultural and historical perspective that isn't as available on other types of campuses. I think that's the critical piece."
Antonio Pierce is a freshman at Savannah State University (SSU) and attended primarily to play baseball and study business. He's gotten more than he expected. "We learn about ourselves here, our culture, our history," he says. "Just knowing about my people has been uplifting and inspiring, and this type of education is still relevant because racism is still relevant. I feel safe here. I get the benefit of the doubt."
But as empowering as HBCUs have been to individuals, the role they play in diversifying the professional workforce has been incalculable. Though HBCUs make up just 3% of four-year colleges, they educate a large proportion of the professional workforce. A 2018 National Science Foundation report found that "HBCUs awarded 16% of the 54,000 science and engineering bachelor's degrees earned by black citizens and permanent residents," and a 2016 report estimates that up to 50% of all African-American teachers were trained at HBCUs.
---
The Gift
In 2018, Robert Smith, the founder of Vista Equity Partners, visited Morehouse College for the first time. He returned a year later as the commencement speaker and to announce that his family's foundation would create a grant – about $34 million – eliminating the student loan debt for the entire 2019 graduating class. It was a remarkable moment that immediately went viral.
"I got emails from friends around the world that basically said anybody who didn't know what Morehouse is before knows now," says President Thomas. "Quite frankly, [the gift] has also generated interest from other people who aren't part of the Morehouse family but who've come to examine what we do here and what's so special about it that someone like Robert Smith would do something special for it." People like philanthropist and media mogul Oprah Winfrey, who in October 2019 donated $13 million to Morehouse on the 30th anniversary of the Oprah Winfrey Scholars Program, which was initially funded with $12 million in 1989.
It's just part of why interest in Morehouse is up. Morehouse is the nation's largest liberal arts institution for men, with 33 majors across seven academic divisions. Becoming a Morehouse Man, part of the Brotherhood, is a unique experience and one that comes with high expectations. The college has produced five Rhodes Scholars, more than any other HBCU, and has produced alumni as diverse as Nobel Peace Prize laureate Dr. Martin Luther King Jr., Olympian Edwin Moses and Academy Award- winning filmmaker Spike Lee.
Lee was honored in October 2019 during the inaugural Human Rights Film Festival at Morehouse with an award named for him, the Spike Lee Award for Social Impact in Filmmaking, and the unveiling of an oil painting in his likeness that hangs in the Morehouse College Chapel Hall of Honor.
Thomas says Morehouse grads often feel obligated to do something in the world that matters. "There's a saying," he says, "You don't go to Morehouse, Morehouse goes through you."
---
Changing the World, One Woman at a Time
Ranked No. 1 by U.S. News and World Report among HBCUs, Spelman College is also the leading producer of female African-American STEM (science, technology, engineering and math) graduates. For the past six years, Spelman's graduation rate has hovered around 76%, above the national graduation rate of 44% and the highest among HBCUs.
The college has been a trailblazer since its founding in 1881 as the Atlanta Baptist Female Seminary. It became Spelman College in 1924 and has attracted students from all over the country and the world.
Spelman grads are as diverse as they are accomplished. Alumna include Pulitzer Prize-winning author and poet Alice Walker; founder and president of the Children's Defense Fund Marian Wright Edelman; artist Varnette Honeywood; political leader Stacey Abrams; and Marcelite J. Harris, the first African-American female general officer of the U.S. Air Force.
In 2018, Spelman received a $5.4-million grant from the Walton Family Foundation to establish the Atlanta University Center Collective for the Study of Art History and Curatorial Studies, positioning the AUC as the leading incubator of African-American museum professionals in the U.S., with the goal of increasing diversity in this field. An art history major has been created, and curatorial studies has been elevated to minor. A 2019 summer program for high school students interested in the art history career path, developed with the High Museum, was highly successful.
"They were doing work, easily, at a college level," says Hayes. "We are proud to be a space for these budding art historians and curators who will change the face of the museum world."
---
A Regional Powerhouse
In September 2019, Johnathon Hines was honored as Georgia's Pre-K Teacher of the Year by the Georgia Department of Education's Bright from the Start Department of Early Care and Learning. Hines teaches at DeKalb County's Barack H. Obama Magnet School of Technology. He's also a graduate of Albany State University (ASU), the state's largest HBCU.
Hines probably had no idea that his accolade caught the attention of Marion Fedrick, president of ASU. "I want 20 more of those in the next two years," she proudly insists. "Being an HBCU, one of the degrees I'd like to see us strengthen is education."
Alarmed by the declining number of HBCU students pursuing teaching careers, Fedrick wants to reemphasize the importance of African-American classroom teachers. "Those professions will always be needed," she says. "When you look at demographics for the next decade, we won't have people in the [teaching] pipeline that look like the students."
Albany State offers about 60 degrees or certificates. Its most popular programs are health and human performance, health science (nursing in particular), business and biology.
"This is where we're conferring the most degrees," Fedrick says, "and where some of the most high-demand careers are located." In 2018, two new nexus degrees – credentials that emphasize hands-on learning, usually taught by skilled professionals in industries with high-demand careers – were added, one in blockchain with machine learning and one in blockchain with data analytics.
But ASU is doing more. "Employers are telling us they want students coming to them prepared to start work, and experiential learning, where they get hands-on learning, is a big part of this," Fedrick says. ASU is adding a study abroad element – an opportunity for students to study overseas for a semester or more, experiencing education and culture in another country perhaps for the first time – to the curriculum as part of the school's strategic plan that will roll out this month.
---
The University by the Sea
Georgia's oldest public HBCU, SSU, is streamlining services to its customers – the students – by creating a "one-stop shop" where they can do everything: register for classes, handle housing, even talk to advisors, in one place. "The only hard thing the student should deal with is their classes," says Interim President Kimberly Ballard-Washington.
Students from all over Georgia and the nation flock to SSU, many to study biology (the most popular major) or marine science. But the university has also taken services to the community, teaching courses in homeland security and emergency management at the University System of Georgia's Liberty Center in Liberty County near Fort Stewart, and offering a four-year criminal justice degree online.
SSU recently received approval to begin developing new areas of study. "Music education, we have a lot of students that would be interested in that," Ballard-Washington says. "And FinTech, which is a huge industry in Georgia and would allow our students to work in the financial services industry."
Joseph McCrary achieved his dream when he was awarded a baseball scholarship to SSU. A 2013 graduate, McCrary now lives and works in the Atlanta area. Receiving his education at an HBCU meant more than he ever imagined.
"HBCUs create an aura of black excellence. It's important to see your people trying to do something better for themselves, get educated in whatever field of study they want to go for and move in a positive direction," he says. "Once I got there and realized what the school was about, the history, I appreciated it 10 times more."
---
Georgia's Accredited* Historically Black Colleges and Universities
Albany State University
Public
Albany
---
Clark Atlanta University
Private
Atlanta
---
Fort Valley State University
Public
Fort Valley
---
Interdenominational Theological Center
Private
Atlanta
---
Morehouse College
Private
Atlanta
---
Morehouse School of Medicine
Private
Atlanta
---
Paine College
Private
Augusta
---
Savannah State University
Public
Savannah
---
Spelman College
Private
Atlanta
*Morris Brown College in Atlanta lost its accreditation in 2012 but is working toward re-accreditation again.