Why Early Reading Matters
Children who don't read proficiently by the end of third grade are far more likely to be left behind – in many ways.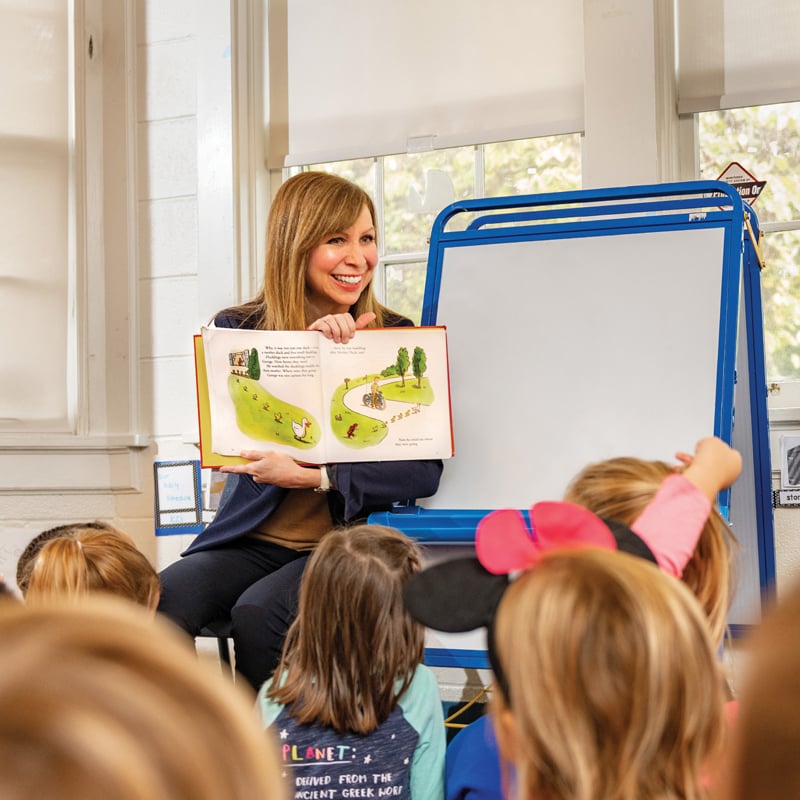 The first thing to know about early literacy is that it is critically important; the next, that it connects to a whole lot of other conditions and challenges. But the best thing to know is that there are solutions to the problem of poor reading skills and some smart people working toward them. They could use your help.
"It's more than an education issue, more than a reading issue," says Arianne Weldon, director of the Get Georgia Reading Campaign, a collaborative nonprofit founded in 2013. "Getting more kids to read takes more than good schools, more than great teachers, more than loving families. It really does take all of us working together."
Only 42 percent of Georgia public school children are now reading proficiently by the end of third grade, according to 2019 Georgia Department of Education (DOE) figures – not a great number, but an improvement over the 37 percent recorded in 2015 and lower scores prior to that.
Weldon says children not in that proficiency group are four times more likely to drop out of high school and, further, that every student who doesn't finish represents an estimated $260,000 in lost earnings and productivity.
"By the end of third grade," says Mindy Binderman, executive director of Georgia Early Education Alliance for Ready Students, or GEEARS, a nonprofit concerned with early learning, "if children are not reading at grade level, they are less likely to be successful in school, less likely to graduate on time, more likely to engage in risky behavior. The third grade reading marker is such an important indicator of all that comes later and, frankly, all that came before."
Weldon emphasizes that early exposure – starting at birth – to words and language is crucial for children. "The most important factor in achieving literacy by third grade is a child's language skill at kindergarten," Weldon says. Poor language skills are a common issue for kids who end up in the juvenile justice system, she says.
A key national study released by the Annie E. Casey Foundation in 2010 highlighted the reading problem, especially among students from low-income families and children of color; subsequent research has reinforced the correlation between poverty and both reading ability and failure to graduate from high school.
"Research kept coming back to proficiency in reading by third grade," Weldon says. "If you could move that needle you would begin to see graduation rates improve, you would begin to see economic competition improve."
Clearly, poverty plays a key role in children's reading proficiency, influencing the schools they attend and the community resources they can utilize. Some 60 percent of Georgia's public school children come from impoverished homes. Access to healthcare, a high incidence of asthma among uninsured kids that may cause them to miss school, and even uncorrected vision impairments also come into play.
Parents' education level, especially mothers', is a factor as well. "Maternal education and maternal literacy is a huge predictor of child literacy and educational outcomes," says Dana Rickman, vice president of the Georgia Partnership for Excellence in Education (GPEE), established by the Georgia Chamber and the Georgia Economic Developers Association to promote and support education. "We've got a pretty high adult illiteracy rate in Georgia that a lot of people don't like talking about." Improving adult literacy ultimately impacts children's reading ability.
---
Why Third Grade?
The significance of third grade reading is almost as simple as recognizing that children shift from learning to read to reading to learn during that school year.
"Course contents in school become increasingly complex after third grade," says Chenyi Zhang, assistant professor at Georgia State University's Department of Early Childhood and Elementary Education, "and children with lower literacy skills may experience tremendous challenges."
Some, he says, may be unable to solve math problems because they cannot understand what the question asks, not because they are not good at math. "Then a chain effect may start. Such a bad experience may unavoidably influence children's motivation toward learning."
Weldon put it very simply in a presentation to Georgia legislators last year: "If kids learn to read proficiently by the end of third grade, they're in the game."
Rickman says third grade reading is "a point-in-time indicator" or a "dipstick kind of a check" for children that "lets us know how well we've prepared them or what's to come for the future – and an indicator of what other things are going on."
Compared to other states, she says, "Georgia is right in the middle of the pack. It's not a Georgia-specific problem. It's an issue that everyone is struggling with."
---
Brain Development
Brain development begins at birth, so children's early interaction with parents and caregivers provides the foundation for everything that follows.
"We know kids' reading brains develop rapidly in the first three years of life," says GEEARS' Binderman. "We know that enriching, high-quality early educational experiences and opportunities to interact and grow vocabulary and engaged families all make a difference in getting kids ready to read when they enter kindergarten. We know that children need to be exposed to millions of words so that they understand sounds and syllables and vocabulary."
Two major factors that affect brain development are preterm birth and low birth weight.
"Babies born prematurely or at a low birth weight have a much higher chance of developmental delays, especially around language and literacy," the GPEE's Rickman says. This is particularly true for "micro-preemies," those born before the 30th week of a pregnancy.
Not so long ago, many of these preterm babies died. "We've had such medical and technological advances that children who [would not have survived] a couple of decades ago are now living. So we have almost a new population entering our school system with development challenges that we've never really seen before. We tend to have a higher percentage in low-wealth communities. That's related to prenatal care," she says.
"There's a ton you can do to intervene early," for preterm babies, Rickman says, "to address a lot of these issues, but you need awareness, resources, connections – parents who can navigate a system to help them and provide early intervention."
But can a third grader who does not read proficiently catch up?
"I would never say anything is hopeless, especially for a child," says Rickman, "but it becomes much more expensive and a lot harder to get that child where they need to be. In Georgia, we have so much inequality in terms of access across the state to various services, it can become close to seemingly impossible for poor [school] districts."
---
Solutions for Success
From their studies, the Get Georgia Reading Campaign and its partners, which include the DOE and Department of Childhood and Early Learning, have come up with what they call a shared framework for action, four "pillars" that define the conditions that must be in place so that all children are on a path to third-grade reading proficiency.
First is language nutrition – "lots of loving words, beginning at birth, to help their brains grow and develop." Then, access to the opportunities and support they need, and a positive learning climate "so that children feel safe and nurtured in preschool and grade school."
The fourth is teacher preparation and effectiveness, "so that all are able to provide children with what they need and support literacy development."
Within that framework, there is opportunity and need for an entire community to help, especially businesses.
Binderman points to a clear link between literacy and the economic well-being of the state. "We know that for our current workforce and future workforce, kids and families need access to a high-quality affordable early learning environment – childcare, pre-K and the like.
"Georgia loses $1.75 billion annually in economic activity," Binderman says, "because parents can't take a promotion or they lose a job or are absent from a job or [often] late due to childcare challenges."
Businesses can help themselves, their employees and the future workforce by providing onsite childcare or offering scholarships for employees to use at day care centers or simply implementing family-friendly policies like flexible hours. In their communities, they can support local reading programs, provide books to hospitals and encourage employees to volunteer to read to children.
---
Teachers and Teaching
"Teachers are being asked to do more than they ever have been asked to do before," says Caitlin Dooley, deputy superintendent for teaching and learning at the Georgia DOE. "They are dealing with some issues in their classroom that have little to do with instruction and yet everything to do with instruction. If you're really hungry and didn't get to eat the night before, you're probably going to have a hard time learning your letters.
"When I first began to teach," Dooley recalls, "I worked in city schools. I used to keep peanut butter crackers in my file cabinet all the time. Kids would come to school, and they were hungry."
A lot of teachers will help fill in the gaps if the system hasn't filled them, she says. "They will make sure a kid who is hungry gets fed or a kid who is tired gets a little rest, because a teacher knows it's hard to learn when you have these fundamental needs that are affecting your ability to learn."
Teachers adhere to standards organized by grade level in English language arts and that are state-specific to literacy learning, Dooley says, and her department supports teachers' implementation of those standards.
"It's important for anyone entering into this conversation to understand that we know how kids learn to read and we have embedded in those standards supports for teachers so they provide foundational instruction," she says.
The state offers opportunities for teachers to keep up with the latest research that will help them in their classrooms. "Leaders know what good instruction looks like; they work with special education to provide support for students who have difficulties learning to read, especially dyslexia, and provide models to ensure students have the support they need."
Dooley says the department is working with the university system to improve teacher preparation in light of new research and understanding of what children require to succeed – in reading and other areas, particularly the importance of so many factors outside the classroom, such as language-rich homes, access to healthcare and support for struggling families.
"A lot of this research pretty much came of age in the last two decades. If a teacher has been in the classroom for a long period of time, this would not have been part of their teacher preparation. We have to make sure there is a regular flow of information from researchers into practice in our classrooms."
Gary Bingham, professor at Georgia State's Department of Early Childhood and Elementary Education, is one who teaches the teachers.
"A teacher has to be equipped with strong tools for thinking about the learning and development of all of her children and the very specific learning needs that may be related to family or neighborhood factors."
It's a particular challenge when children come from poor backgrounds with fewer supports and may not have access to the best-trained teachers, he says. "If the community is under-resourced and the family is under-resourced and you don't have someone who reads regularly," it can harm children's reading skills. And pose a challenge to those who teach them.
"We have to keep learning about children and languages and opportunities," Bingham says. "Our knowledge about what it takes to succeed as a learner is increasing. Keeping a professional a professional is a long-term process beyond initial certification."
---
Community Support
Georgia has a solid list of projects large and small that support literacy, involving schools, libraries, hospitals, businesses, organizations and individuals – tackling the problem in different ways and creating what Bingham calls "a healthy ecosystem around learning to read."
The DeKalb Library Foundation works with the library system to support a "1,000 Books Before Kindergarten" program that supplies families of young children with book bags equipped with a starter book, book suggestions and a reading log. "Since the program was implemented in 2016," Executive Director Jill Joplin says, "we've probably given out over 10,000 bags. We want to get them motivated to do this program. It's one attempt to [reach] parents, get them reading early and often."
The foundation has begun a smaller, more intense "Primetime Preschool" effort, a structured literacy program for three- and-four-year-olds and their families who gather one night a week for six weeks at a library branch, where a trained facilitator teaches parents good interactive reading strategies and shares a meal with them.
In Heard County, the school system sought to engage families early on and set up its "Baby Braves" program, invoking the name of the local high school mascot to provide support and connection – offering access to books and activities that can help prepare children for success. Kaiser Permanente was an early funder.
In Laurens County, Fairview Park Hospital launched a literacy project that gives each newborn a "Read To Me" onesie and provides new parents the opportunity to sign their child up to receive free books every month until age five. The school district, which has a robust Literacy Task Force, provides reading tablets for the hospital's pediatric waiting rooms. The Dublin-Laurens County Chamber of Commerce is a strong advocate for quality childcare in the county, understanding the role it plays in literacy and well-being.
Under the auspices of the Northwest Georgia Regional Library System, a 2019 summer reading program called "A Universe of Stories" sponsored events and activities for children in Whitfield, Murray and Gordon counties, with support from a who's who of local businesses, including Burger King, CVS, the Oakwood Café and Children's Dentistry of Rome, as well as the Kiwanis Club of Dalton.
The PNC Financial Services Group, through its Grow Up Great effort, is working with Atlanta's Children's Museum, the Woodruff Arts Center, the Atlanta Speech School and others to devise early learning programs that bolster workforce development efforts; the PNC Foundation has provided nearly $10 million in funding.
In Meriwether County, the school system and the Get Meriwether Reading organization teamed up last summer for the first Summer Read & Feed Program, which offered reading, books and meals for children at 20 different sites.
In Quitman County, the UGA Extension held a Bingo For Books night this fall to give out books to children and families enrolled in the school system's 21st Century SOAR afterschool program.
Experts say all these efforts matter, regardless of their scale.
With so many children in the state coming from impoverished communities, the DOE's Dooley says, "We've got to fill in some of the gaps that come with that environment."
"Every parent or caregiver wants to be the best they can be," says Binderman, "but as a society we have to ensure that we are helping to support that."