Reaching New Heights
Innovation, infrastructure and capabilities fuel growth in Georgia's aerospace industry.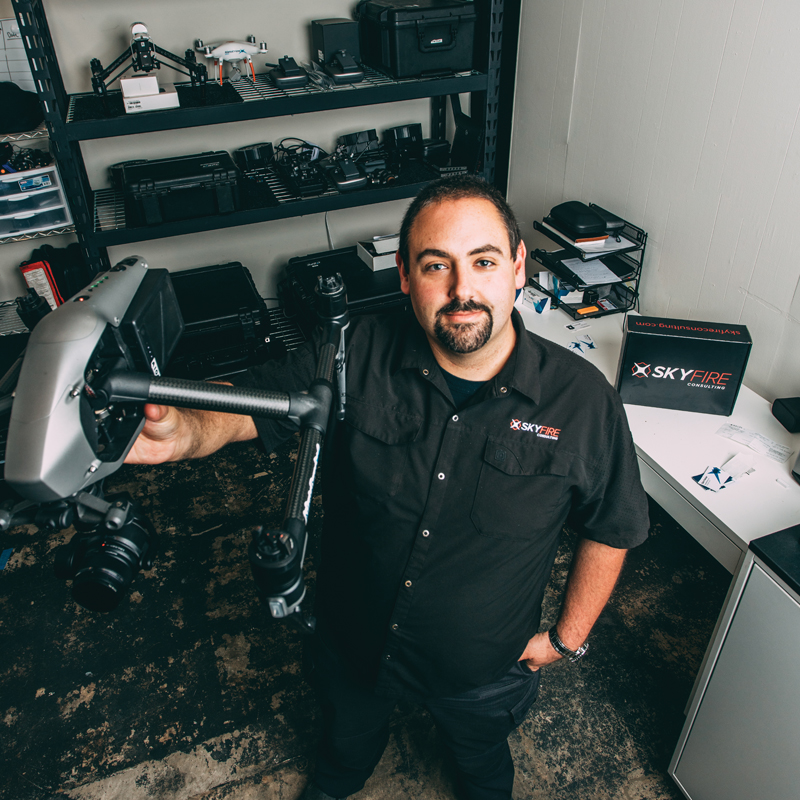 When it comes to the aerospace industry, Georgia is in the big league. In 2017, aerospace companies located here provided direct employment for more than 108,000 citizens.
It's a diverse mix of businesses that run the gamut from family-owned Aerodox in Newton County, which prepares and publishes vital minimum equipment list (MEL) documents for aircraft customers across the U.S. and the world, to Savannah's Gulfstream Aerospace Corp., which in June received Federal Aviation Administration (FAA) certification of its latest business jet, the G600. Gulfstream then capped off the summer by opening a $55-million, 202,000-square-foot maintenance, repair and overhaul (MRO) facility in September. These companies and more than 800 others are part of the aerospace and aviation juggernaut that generates a $57.5-billion economic impact on our state.
---
Open-door Policy
Companies come to Georgia for the low cost of doing business, but they stay because it's easy to do business here. That's especially true for those in the aerospace industry. According to PwC's 2019 aerospace manufacturing attractiveness rankings released in August 2019, Georgia was second only to the state of Washington (home of Boeing).
Aerospace companies routinely cite the state's low corporate income tax rate (5.75 percent), relatively lower salaries and access to great infrastructure assets, particularly Hartsfield-Jackson Atlanta International Airport, which grew 3.3 percent in 2018 to reach a whopping 107.4 million passengers. It's still the world's busiest according to the Airports Council International. The state is also home to eight regional airports and the fastest-growing port in the U.S. (Port of Savannah).
And the state is dedicated to growing the industry's presence. Georgia's Department of Economic Development (GDEcD) devotes a Center of Innovation and its staff to the needs of the aerospace community. The message reads loud and clear: The door is always open. How can we help?
Ease of doing business is one reason Gulfstream made Georgia the center of its global business development strategy. Operations in Savannah and Brunswick represent about half the company's existing capacity right now, says Derek Zimmerman, president of Gulfstream customer support. Reinvestment in its home market is possible "because we have great support from state and local government and development authorities and the airport itself," he says. "They understand that we are a good corporate citizen, we invest in the community and they have been supportive of us. We want to be here, and they make it easy for us to stay here."
Gulfstream President Mark Burns echoes Zimmerman's sentiments. "We have many choices [of where we can locate] around the world, but the reason we're in Georgia is that we're welcome here," he says. "It's given us the opportunity to have over 18,000 employees; develop numbers of different planes, including the G600; and it's all done here in Savannah because of the support we receive."
Amy Hudnall is the head of GDEcD's Center of Innovation for Aerospace, the entity focused entirely on the needs of the aerospace industry. "We have been in the top five for many years, we've got the right mix of corporate presence of industry leaders, we have a super strong supply chain," she says. "While Boeing may be in Charleston, we have a lot of Boeing suppliers in Georgia. We have 840 aerospace companies – that's a lot of capability. That's why we've been successful."
---
Where Are the Workers?
Even as she touts the number of aerospace companies and their success, Hudnall says that the industry does have concerns and the most pressing is workforce.
"There are a lot of people aging out of the workforce, and we don't have enough people coming in to replace them," she says.
In an attempt to address the need, the state began some high school aviation programs, she says, and more. "Aviation technician training is one of the High Demand Career Initiatives that you can go to the technical colleges for free," she says.
Five technical colleges have aviation programs, and then there's Middle Georgia State University (MGSU). The School of Aviation at MGSU located at the Eastman campus is the state's only public four-year collegiate aviation program. Students can choose from a four-year bachelor's in aviation science and management, one-year certification programs and two-year aircraft maintenance training programs. Depending on the program, students can earn associate's degrees and complete their degrees online.
"That allows them to begin earning and puts them in a position to move into management someday if that's what they want to do," says Adon Clark, dean of MGSU's aviation school. These, Clark adds, are marketable graduates.
"If they're willing to pack their bags and move, they're able to find employment," he says. "The majority of our students, aircraft technicians, stay in Georgia because Georgia has a huge aerospace industry. Gulfstream hires a fair number of sheet metal technicians and mechanics, as well as the airlines."
Five years ago, the program had 300 students, total. This fall there are more than 700 flight students and more than 160 aircraft mechanic students, the largest enrollment in the school's history. And the student population is growing and becoming more diverse – as a whole, the School of Aviation has a 34 percent minority enrollment with 14 percent women.
Clark says the key to its program isn't just that it's good – which it is, recognized by the number of partnerships it has with regional carriers – but that it's affordable (relatively speaking) and accessible. Going through the flight program at MGSU (for the four-year degree and FAA flight ratings) would cost about $100,000 versus at least $220,000 elsewhere, typically private and out-of-state institutions. Many of those costs are associated with accumulating the required flight training hours. But MGSU students get a deal.
"We're what's called an FAA-restricted, ATP-approved school, which means graduates of our program that take the requisite courses and training can go to work for the airlines with 1,000 hours instead of 1,500 hours," says Clark. "That's a lot of additional hours when you're building that time. And, if you're full Zell Miller HOPE scholarship-eligible, that takes care of a good bit of your tuition."
---
Refueling the Pipeline
In addition to the state technical colleges and programs at MGSU, companies like Delta Air Lines, Gulfstream, Pratt & Whitney and others have partnered with entities including local economic development authorities, school systems, community and technical colleges and the state to create programs tailored to their needs.
Pratt & Whitney fills rare job vacancies at the company's Columbus facility, which includes the Columbus Engine Center responsible for engine overhauls and the Columbus Forge providing forged engine parts, from the large population of exiting military personnel, military spouses and retirees who remain in the region after leaving Fort Benning. While many of these workers already possess high levels of technical and analytical ability, Pratt & Whitney has worked with Georgia Quick Start to develop job-specific training and provide basic skills training for hourly workers. Additionally, the company has contributed significant funding to support science, technology, engineering and math (STEM) labs in local schools, and provide scholarships and internship programs.
Delta's Propel Pilot Career Path Program was started in 2018 to help address the growing pilot shortage. The airline partnered with eight universities, including MGSU, to identify qualified students, provide them with a qualified job offer and provide a detailed path and accelerated timeline to become a Delta pilot. They're immersed in Delta culture and training. Students and employees who are accepted into the program can also apply for competitively priced private student loans to help cover the cost of flight training.
Gulfstream's Zimmerman says it's important for aerospace companies to take a multifaceted approach to workforce development. "If you rely on one way, you'll miss a significant chunk of your audience," he says. "Outreach and awareness of not just who we are but what type of careers are available in our industry really starts in middle school. In the communities we serve, we're trying to sponsor events that bring middle school kids into facilities or we're coming to them to talk to them about careers and STEM and the importance of that."
In 2015, Gulfstream also invested in a training facility – Gulfstream University – on its Savannah site. Zimmerman describes this technical training center as the equivalent of a college lab. "Now when we onboard new employees, we put them through several weeks of on-the-job, in-situ training," he says. "What do you get from that? It's an incredible accelerant for that employee to be able to show up the next day and be confident, safe and productive. It's been a 2.0 version of what we've always done."
---
Innovating for the Future
Innovation is in the DNA of aerospace. Aerospace companies are attracted to the research and technology pouring out of Georgia's universities and tech companies, particularly those centered in and around Georgia Tech.
Anne Clark is an Air Force veteran, an academic and the associate executive director of Georgia Tech's Applied Research Corp. (GTARC). She is facilitating a government contract connecting the brainpower of the Georgia Tech Research Institute and the logistics/maintenance operations of Delta Air Lines to problem solve for the U.S. Air Force.
"In 2010, Delta cancelled 5,500 flights because of maintenance problems," she says. "In 2018 they cancelled 53. The Air Force wants some of that. They want to know what happened. They asked Georgia Tech to get with Delta, write down that story of how Delta did it, compare it with what the Air Force is doing today and come up with recommendations on how the Air Force could improve."
In August 2018, Clark's team briefed the Pentagon on their proposal and generated substantial interest. The solution would entail formation of teams of Air Force software engineers going after Delta's processes – creating a type of 'software factory' in the Atlanta area and southward toward Warner Robins. And while the investment of capital would likely be significant, once again, the need for labor would be equally vital.
"The dollar amount is exciting; the Air Force talks about tens of millions a year in labor coming to Atlanta," Clark says, "But then we've got Air Force personnel here in Atlanta looking for more partnerships, looking for more innovation coming out of Tech Square, looking to play with the students because of course they want to recruit them as much as everyone else does."
Speaking of innovation, unmanned aerial vehicles (UAVs or drones) are making a commercial splash. In October, Atlanta-based UPS, the parcel-delivery giant, received the FAA's first Part 135 approval to operate a drone airline. Under the subsidiary UPS Flight Forward, UPS can deliver packages via drones, at night, out of sight of the operator, carrying up to 55 pounds of cargo. The company has a long-term strategy for integrating drones in its logistics network that includes deliveries to medical campuses, creating additional safety measures and constructing a centralized control center.
When Matt Sloane decided to leave CNN after 14 years as a news producer, he had just gotten his first drone. He happened to be giving a talk to public information officer students about how CNN covered major news stories including using flying cameras – drones.
"Their ears all perked up, and four of the chiefs came up afterward to ask how do I get this for my fire department," Sloane recalled. "I said I have no idea but I'll find out and get back to you. That's literally how this company started."
Today, Sloane is CEO of Skyfire Consulting, a public-safety specific UAV (drone) consulting company offering flight training, equipment and FAA advisement. Skyfire flew security drones during the Super Bowl in Atlanta in February 2019. "We work a lot with police, fire and emergency management and have added this layer of critical infrastructure as well – pipelines, power grids, things like that," he says.
Some innovation might seem impossible now, like hypersonic air travel from Atlanta to London, but that's exactly what A.J. Piplica, founder and CEO of Hermeus, aims to create. Hypersonic speed – faster than five times the speed of sound (Mach 5) – is ambitious to put it mildly. It's two and a half times faster than the Concorde supersonic passenger jet. But several jet manufacturers are paving the way ahead of Hermeus, all scheduled to fly in 2023.
Piplica expects they'll find the regulatory bumps in the road. In the meantime, "I have a lot of money to raise and technical milestones to hit, like building a reusable Mach 5 aircraft," he adds.
But Piplica says Georgia is the perfect place to do it.
"We get questions all the time from investors or potential investors about when we're moving to L.A. or Seattle or whatever, but when we look at not just Atlanta, but Georgia, there's a big transportation focus not just in the city, but in the state," he says. "We have Delta headquartered here, we have UPS headquartered here, Gulfstream in Savannah, Lockheed Martin in Marietta, a number of big Air Force institutions, Warner Robins being one of them, and then we have one of the best aerospace institutions in the county, Georgia Tech. Having all those things is super helpful.
"There's something to be said for having this type of company away from where most of the companies of this type are usually located. Giving people an option to do this kind of really challenging work with some of the best people in the world in the southeast is unique," he says. "Being able to do it in a big metropolitan area like Atlanta is a unique value proposition that we're [able] to lean on as we're recruiting and hiring. I think that's a big piece of 'why here?'"