Georgia Fare: Chuck's Fish – Good Stuff
In Athens, Chuck's Fish sources its seafood straight from the docks, and it shows.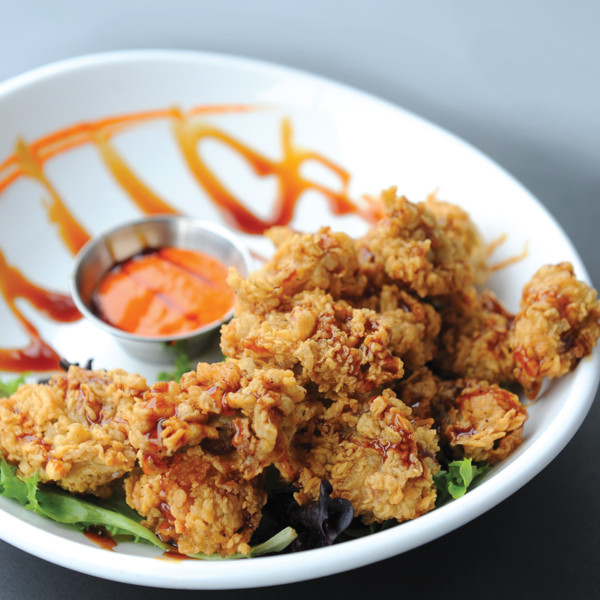 I sip a bit of icy Nama sake from a tiny cup and nestle into the cushioned corner of our banquette. In front of us, a beautiful rainbow sushi roll – misheard by our waitress instead of the eel roll we ordered over the increasing din of arriving guests, but delicious nevertheless.
My companion cradles an expertly made Manhattan; we await a meal that, on two visits, seems to touch every base for fish and seafood lovers: fried with hushpuppies, seared with rice, stuffed with crab, grilled, blackened, served on the half-shell – all fresh and directly sourced from the Gulf Coast.
I could not have imagined sitting in this spot, having this food, as recently as last spring. It's even more of a stretch if you think back further. For years, an exhaust-dusted former Greyhound bus station on West Broad sat empty, but even then it had a kind of reflected glory – Keith Strickland and the late Ricky Wilson, founding members of the B-52's, once worked there. Legend has it that Wilson carved "Klaatu Barada Nikto," from the 1951 sci-fi classic The Day the Earth Stood Still into the ticket counter.
Later, the squat concrete block structure had a short revival as a Junkman's Daughter store, selling, ironically, lots of funky sci-fi memorabilia. But as of May, the place has found new life as Chuck's, a "gulf-to-table" fish and seafood restaurant.
The original building and its footprint remain, but inside, it's a far cry from its former cement-and-Formica decor. Slightly mid-century with tufted leatherette banquettes, with modern touches like the swooping circular light fixtures, the look is, appropriately, both retro and futuristic. A small bar to the left of the entrance is a good holding zone for this no-reservations restaurant that can get crowded at peak times. A long sushi counter extends beyond that.
The story behind this Alabama-based restaurant group, which owns several other restaurant concepts including Five, which also has a location in Athens: Charles Morgan III started it all in 2005, after deciding he could open a restaurant and supply it with fresh, local seafood from his own Harbor Docks Seafood Market, in Destin. Now, all his restaurants, with locations in Georgia, Alabama and Florida, receive regular shipments from Harbor Docks.
As for the name: Chuck's is named in honor of Morgan's father, Charles Morgan Jr., a Birmingham-based lawyer who was catapulted into the Civil Rights struggle after the bombing of his hometown's 16th Street Baptist Church in 1963 that killed four girls.
For some reason, Athens seems to be enjoying a seafood moment, which makes sense – it's long been one of the few real gaps in this college town's sophisticated dining scene. Chuck's sweet spot is pleasing the khaki-pants-and-dock-shoes crowd who vacation in Gulf Shores or along the Panhandle, knowledgeable about seafood and constantly searching for the best fried oyster platter, along with students and foodies up for something simple, healthy and good.
Chuck's real strength is its consistently solid preparation of so many different styles and offerings: The sushi, while American-style super-size, is fresh, delectable and balanced. We watched as the chef prepared and seasoned his rice with a traditional rice paddle in the moments before opening. Fried oysters are delicately breaded, so you can taste their briny earthiness. The recommended Gulf fish (in our case, black grouper) "parmandine" was a celebration of excess, stuffed with crab, Parmesan and toasted almonds.
But the seared scallops showed the restrained hand of an experienced chef – lightly pan-fried and tender, these little rounds were subtly buttery and mellow. The Seafood Trinity shows off with bacon-wrapped stuffed shrimp, fried oysters and blackened fish. (You can switch starches if you like – creamy risotto for skin-on mashed potatoes; Gouda grit cakes for rice pilaf.)
Yes, there is a chicken dish (piccata); yes, there is steak (ribeye). There are also two desserts, a blondie sundae, which you won't really want, and the house-made sorbet, which is a better finish.
Vegetarians would find it challenging to eat here – besides the three salads, two of which include bacon, there was only one green vegetable on the menu: Kimchi Brussels sprouts, which also include bacon, and which was the only dish we sampled at Chuck's that flat did not work. We've had this dish before, and prepared better – done right, it's flash-fried and dark brown, but nuanced in look and flavor. This was heavy, oily and too-long cooked, as well as doused with unnecessary "cilantro aioli."
Still, I'd be happy to return to Chuck's, especially if I were staying in one of the hotels across the street, for some simple grilled fish or good sushi with a craft cocktail. It's not the kind of fate I would have expected for this building, but then I never thought a self-described "tacky little dance band" would become world-famous either.
---
Chuck's Fish
220 W. Broad St., Athens
706.395.6611
or chucksfish.com
Hours: Dinner, Mondays-Saturdays
Parking: On street and nearby garages. Can be challenging on weekends when street parking is scarce
Dress Code: Khakis and deck shoes; Gulf Coast resort wear
---
Under-the-radar Athens Finds
Square One Fish Co.
This former downtown "Florida-style" seafood place has reopened in Normaltown, also serving stuffed, blackened and sautéed specialties.
---
The Table
On Baxter Street, this little hideaway gem serves expertly prepared seafood – sometimes crab-stuffed, sometimes seared – but the best dishes are classic recipes with an Asian twist that brightens and freshens the plate with crisp julienned vegetables, herbs and enoki mushrooms.
---
D92 Korean BBQ
Across from The Table, this latest outpost from the group that runs 9292 in Duluth, and another D92 in Decatur, specializes in traditional Korean grill-it-yourself fare: think beef, and lots of it, along with a dizzying array of side dishes (banchan).
706.850.7990