From the Publisher: Thanks for the Help
While we want to help the helpless during this season of Thanksgiving, solutions are often daunting.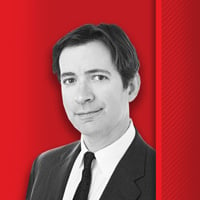 It's time again for turkey, stuffing, gravy, after-the-big-meal naps, football, celebrating and gearing up for the shopping season. These good times stir up a lot of emotions, and whether one breaks bread alone or with friends or family, hopefully sympathy is among them.
We want to help the helpless. Thanksgiving is not necessarily a Christian holiday, but charity is a Christian virtue. Sharing is an essential element of this celebration, which some believe began as a peace offering between nations. Sympathy should beget charity, but solutions are often daunting.
Paralysis can accompany this emotion. Social issues are often presented in generalities that can disconnect, but the specifics are more encouraging than many realize.
In fact, homelessness has been declining nationally, 15 percent overall from 2007, and there was even a hope in my previous Thanksgiving columns that it might disappear altogether – leaving inequality and "underemployment" issues remaining – but housing our most needy and giving them access to resources.
Unfortunately, homelessness is back up again, and although the increase is only .3 percent, it reveals a new trend that threatens to reverse the decline of the last decade.
Big cities are manufacturing a new homeless population. Yes, we are at pre-recession poverty levels, but the rising cost of living has eaten up the money. Hourly wages have been stagnant for 40 years. The median wage in 2018, according to the Pew Research Center, was estimated at $22.65, approximately the same figure as in 1974.
Meanwhile, housing costs in New York City and Los Angeles have skyrocketed, and these cities have the highest poverty rates in the country, according to The Guardian. Housing stock in general hasn't kept up. The same article estimates California needs 180,000 new units annually to keep up with growth but over the last decade has built less than 80,000, largely due to long review periods and local opposition.
Clearly more affordable housing is needed, but after federal funding for housing was slashed in the Reagan years (from $26 billion to $8 billion) resources remain elusive. The housing tax break for top earners included in the 2017 tax cuts amounts to twice the amount allocated in federal funding for affordable housing annually, which was further slashed by $6.2 billion in cuts in 2017, including the elimination of Community Development Block Grants.
Despite federal funding cuts and the national rise in homelessness, Atlanta has become a national leader in this issue. Homelessness in the city fell from 2017 to 2018 by 14 percent, and is down 29 percent from 2015. Mayor Keisha Lance Bottoms has established HomeFirst Atlanta, a $50-million partnership among the city, Invest Atlanta and United Way to create 550 units of permanent supportive housing.
These units will be part of larger developments contributing to 2,500 affordable housing units. Roughly $22 million raised will be invested in low-barrier shelters, enhanced street outreach, an eviction prevention and diversion project, and housing for homeless youth.
This is the second time the city has teamed with United Way. After a successful "Unsheltered No More" effort that housed 1,022 from 2012 to 2013, the city passed a $26-million bond in 2017, matched by $25 million from United Way, sponsored by City Councilman Julian Bond and shepherded by Jack Hardin, co-chair of United Way's Regional Commission on Homelessness.
Atlanta has stepped up with additional resources for the homeless and underserved communities. The Atlanta Community Food Bank is one of the most successful food banks in the country, regionally distributing more than 60 million pounds of groceries a year. Other support includes Housing Opportunities Made for Everyone (HOME), a nonprofit partnering with the Department of Family and Children Services (DFCS) to direct Temporary Assistance for Needy Families funds to "rapid rehousing" in recognition of the link between housing security and child welfare. DFCS provided $500,000 matched with $600,000 Partners for HOME raised privately, and the effort housed 100 families in eight months, according to a report from Boston's WBUR.
We can't get complacent. Wallethub recently ranked Atlanta the 11th neediest city in the country, mostly because of its high homelessness rate. Augusta and Columbus are also included on its list, due primarily to other factors such as food insecurity. But we can celebrate these efforts to stabilize the underprivileged and bring our people together, and give thanks for our champions for the homeless.