At Issue: An Inspiration
Sen. Johnny Isakson is receiving bipartisan praise, and rightfully so.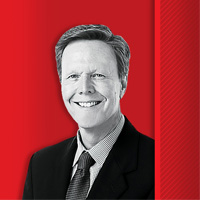 When I was a young college student at the University of Georgia in the 1980s, my political science professor, Chuck Bullock, liked to bring in guest speakers who had accomplished something in politics. I remember one of these speakers, at the time one of the few Republicans in the Georgia legislature, was an up-and-coming state representative named Johnny Isakson.
Of course, most of us knew him by reputation, as he had already made a name for himself. I'd like to say I remember the details of what he had to say to us young political scholars on that day, but 30 years of living have dulled most of those details. I do remember being inspired and impressed with his commitment to improving our state and our country. But that's what Sen. Isakson has always done: he inspires, he encourages, he reaches out, he represents.
Since he announced his upcoming retirement, many have praised his life and career. Notably, this praise has been bipartisan. Both Republicans and Democrats recognize and appreciate true civic leadership when they see it. Among the accolades, some of the dominant themes are decency and integrity. The top-ranking Democrat in the U.S. Senate, Charles Schumer of New York, as combative a partisan as you'll find, used the word "kind" to describe him. Gov. Brian Kemp referred to him as a "true gentleman" and a "fighter for his constituents."
As a political science professor and an administrator, I'm often asked by students if good people can serve in government and keep their integrity. Johnny Isakson is always the first example I come to. It's very often a shocking revelation to most people – that good people can, and often do, serve in government for long periods, fight hard for what they believe in, and remain true to themselves and their principles. And they don't have to sell their souls to do it. It's a great lesson, really.
In his 45-year career in politics, Johnny Isakson leaves a substantial record of achievements at both the federal and state level. One that hasn't been emphasized as much in the reporting is his role in building the Republican Party in Georgia from the 1970s to the 21st century.
When he began his political career, there weren't enough elected Republicans to have a decent basketball game. He and former U.S. Rep. John Linder and a few other notables built the party from the ground up, recruiting candidates, helping to raise money and working with like-minded colleagues to develop a strong bench and a grassroots plan. Isakson worked from inside the Georgia legislature, supporting smart pro-growth policies, reaching across the aisle to Democrats and building a foundation for success. It worked, and he deserves much of the credit.
Without a doubt, his public service legacy revolves around his many legislative achievements. He is the only Georgian ever to have served in the state House, state Senate, U.S. House and U.S. Senate. Among his achievements are crucial bipartisan leadership that paved the way for the development of Plant Vogtle, a leading role in advocacy for the Port of Savannah and Hartsfield-Jackson Atlanta International Airport, crucial support for Lockheed defense projects, and helping to reform and save the Delta Air Lines pension fund. He is a conservative without being an ideologue. He is Republican, but independent-minded. He supports fiscal responsibility but wants to see government represent the people.
But one of my favorite Johnny Isakson stories, which I witnessed first-hand, occurred on the Kennesaw State University campus. It was August 2017, and Sen. Isakson was holding a town hall at KSU. It was the summer of the boisterous, protest-filled town halls in Republican congressional districts throughout the country. Anti-Trump/Russia collusion fever was at its height. A big crowd was expected; journalists and cameras were everywhere. The place was packed to the rafters with voters, and non-voters, from all over the metro area. As President George H.W. Bush might have said, it was "tension city."
Out strode the senator, cane in hand, to polite applause. Everyone knew of his health challenges, he had been diagnosed with Parkinson's disease, but you couldn't tell it from his performance: steady, sure and confident. There were friendly faces in the crowd but also a number of hostile ones. He gave as good as he got, and I know he won some folks over.
The line of the night came near the end. A woman stood up and challenged him on Obamacare, implying he was afraid to state his views. Johnny smiled and said, "Lady, I may be a lot of things, but scared ain't one of em." Game, set and match!