Georgia Fare: The White Bull – Waving a Red Flag
The White Bull in Decatur is writing a great dining story.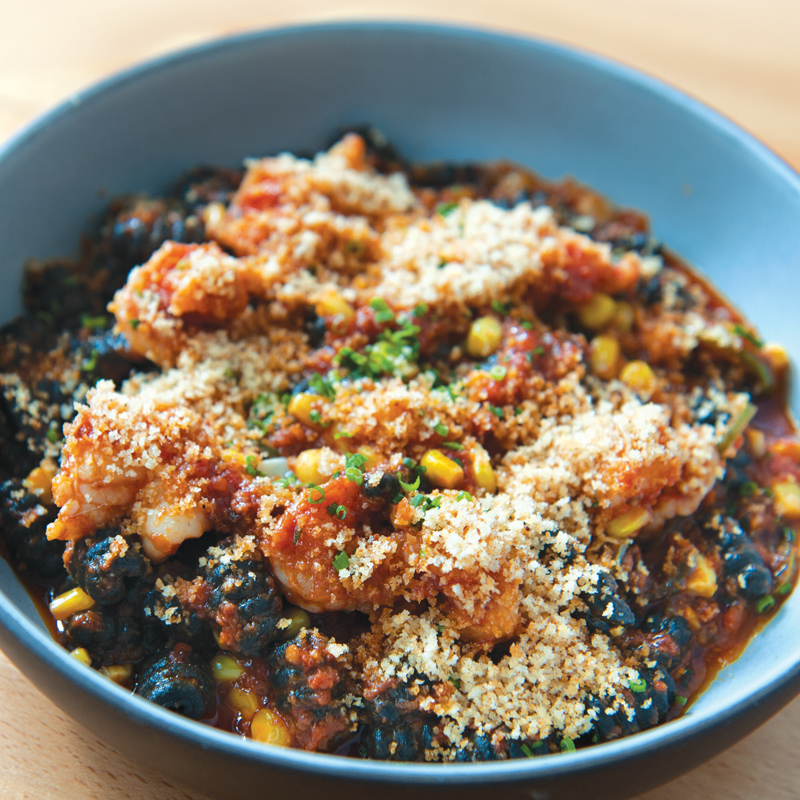 When The White Bull first opened on the Decatur Square in March 2018, I loved it. The concept (new American, heavily seasonal, from Chef Pat Pascarella, formerly of NYC's Le Bernardin and Atlanta's The Optimist), the decor (bleached wood and banquettes, curios and tchotchkes) and even the name (Ernest Hemingway's term for the blank page staring down every terrified writer) fit well in Decatur's sophisticated and rapidly developing food scene. It also happens to mesh with my own preference for quiet, comfortable places that allow you to savor both your meal and your conversation.
The meal was stellar, especially a handmade squid ink spaghetti with shrimp, chorizo and mint, topped with crunchy bread crumbs; and a stout daiquiri-like tribute to Hemingway with blonde rum, grapefruit and Peychaud's bitters. Roasted beets and carrots were deep-hued, bronzed beauties served up with pistachios and fried onions. Handmade agnolotti stuffed with ricotta came with broad, thin squares of SarVecchio (American Parmesan). The ambitious menu seemed to reach for seasonality, creativity and tradition – all at once. And without sacrificing the main goal: deliciousness.
But I loved it the way you love someone you don't know well – warily. You take every small sign as a possible clue of character. For example, we wondered – why was the place so empty? We were there for an early dinner, and the place was only a couple of months old, so that might explain it. The other issue was the server's excruciatingly lengthy explanation of every item on the menu – whether we asked for it or not.
Yes, it was good to know that the staff was not only hand-making the pasta but also milling the flour; yes, it was helpful to show examples of the dried pasta shapes. And yes, lots of menu terms required explanation – nearly every dish had an unusual ingredient (sfincione, banjo, ikura, rufa, to name just a few). But Lord have mercy – when your eyes are as glazed as the carrots, perhaps it's time to let us absorb the information so far and ask if we have other questions.
It was also slightly irksome to be … waitsplained? … about ingredients you already knew – especially fairly common ones, like squid ink or agnolotti. "It was like asking for the time and learning how to build a clock," said a companion.
I wondered whether The White Bull would charge into the forefront, or like so many other worthy restaurants, die the death of a thousand cuts. Were these little issues red flags or the normal growing pains of a green restaurant, to be smoothed out with experience? As with any new relationship, deeper understanding takes time.
Fast-forward to 2019: A second visit finds The White Bull packed with diners. And while the servers still show you the dried pasta (also for sale by the bag), they save the explanations for your questions. Ever ready with recommendations, they happily suggest wine tastes, seasonal favorites, best desserts.
The menu, no less ambitious than before, nevertheless seems to have sharpened its strengths. The inky-black handmade pasta appears this time as gnocchetti sardi, with shrimp, sausage, corn, jalapeño and tomato. In full summer bloom, the burrata-prosciutto salad with yellow sun gold tomatoes and cantaloupe scoops exceeded expectations for what is a fairly standard combination of flavors, with buttermilk twanging the creamy burrata and the crisped prosciutto honing the fruit's sweetness. Pan-fried striped bass turns Mediterranean, nestled among roasted shishito peppers, more sun gold tomatoes and a plank of panelle (chickpea fries), with aji amarillo, a Peruvian yellow chile.
Then came our favorite dessert: affogato. A shot of espresso, poured over chocolate nutella swirl house-made ice cream and hazelnut and here served with amaretti cookies.
Somehow it seemed The White Bull had turned those little red flags from warnings to banners. With higher confidence and a tighter menu, this restaurant is now a standard-bearer. In fact, a sister restaurant from Pascarella, Grana, is set to open this fall in Atlanta's Piedmont Heights, focusing on the kinds of Italian fare he grew up eating. We're looking forward to seeing what kind of flag he'll plant there.
---
The White Bull
123 East Court Square, Decatur
404.600.5649 or whitebullatl.com
Hours: Dinner, Tuesdays-Sundays. Brunch, Saturdays-Sundays
Parking: Scarce on the street; plentiful in nearby paid lots
Dress Code: Comfortable and casual
---
Dining Well in Decatur
You may be familiar with Decatur's staples, but have you tried these new or lesser-known spots?
S.O.S. Tiki Bar
This funky-hip downstairs bar, from the folks behind nearby Victory Sandwich, has recently incorporated a popup menu from former bar manager Ean Bancroft Wednesdays through Saturday nights. Look for island-influenced dishes like meat pies, red royal shrimp, jerk chicken and even whole branzino.
---
The Deer and the Dove
Terry Koval, executive chef at Wrecking Bar Brewpub, has taken over the old Cakes & Ale space. A first visit revealed an edgy but still developing menu focused on "rustic new American dishes" and farm-to-table ingredients, often organic and sustainably raised. B-Side, next door, sells wood-fired bagels, sandwiches, coffee and wine.
---
Doggy Dogg ATL
This takeout shop claims the city's best dogs with such offerings as the 404 (pimento cheese, bacon bits, honey mustard and hot sauce), as well as vegan and gluten-free options.