Gainesville|Hall County: Building a Brighter Future
Healthcare, racing and manufacturing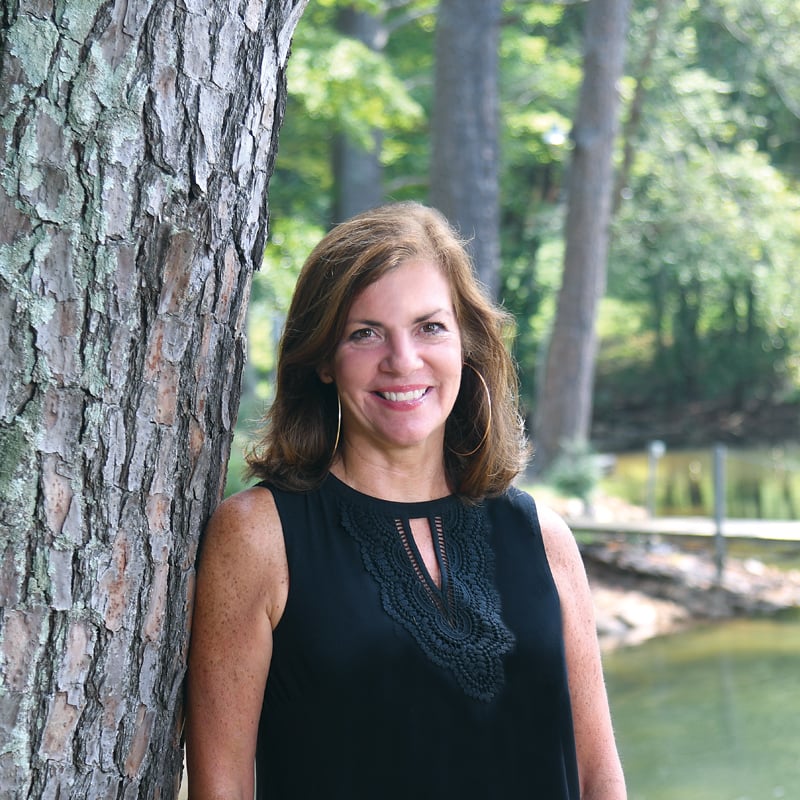 Lying on the east bank of Lake Sidney Lanier and in the foothills of the Blue Ridge Mountains, close enough to Atlanta to lure big business yet far away enough to forge its own identity as the focal point of northeast Georgia, Hall County has played an important role in the state since its creation 201 years ago.
"In Northeast Georgia the roads follow ridge lines, and those lines largely converge in Gainesville," says Tim Evans, vice president of economic development at the Greater Hall Chamber of Commerce. "That's why railroads converged here, and why highways still converge here today."
Those roadways continue to lead new residents to the area. Hall has added nearly 3,000 residents each year over the past decade and secures new and expanding businesses on a regular basis. Historically, its economy boasted textile mills and poultry, and while the latter industry is still around, healthcare and manufacturing now lead the way.
"Thanks to our large manufacturing base and healthcare systems, there are lots of job opportunities here," says Kit Dunlap, president and CEO of the Greater Hall Chamber.
---
Expanding Investment
Fully 98 businesses have announced new or expanded facilities in Hall County since 2015, according to Dunlap, with $1.2 billion invested and 5,000 new jobs.
Local leaders expect more announcements in the coming years with the arrival of the 104-acre Northeast Georgia Inland Port, which will link Gainesville with the Port of Savannah via Norfolk Southern when it opens in 2021.
Some businesses are locally based, while others have headquarters in other states or even other continents. Fox Factory Holding Corp. announced last year it's moving its headquarters from California to Hall County, bringing with it up to 800 jobs and a $50-million initial investment.
Sweden-based Geveko Markings, which makes materials for road and pavement markings, has purchased a 20-acre site in the Gainesville Business Park for its 80,000-square-foot North American headquarters, and Carroll Daniel Construction Co. has opened a new, four-story headquarters with retail and restaurant space on the first floor.
In July, Kubota North America Corp. announced the purchase of 300 acres in Gainesville for a major expansion. The company plans to invest $85 million establishing a new engineering and design center, marking Kubota's fourth major expansion in Georgia since 2013.
Community leaders are already planning for the future, too. A new industrial park, Gainesville's seventh, is on the drawing board. It will span 1,300 acres southeast of I-985.
With so many jobs becoming available and an unemployment rate below 4 percent, filling all the opportunities can be a challenge.
As chair of the Hall chamber's workforce development task force, Greg Vitek connects employers with the local workforce to help fill the area's jobs and get young people on a successful career path. Contact begins as early as elementary school with technology competitions, followed by middle school career fairs and high school dual enrollment programs. Work-based learning programs are a big push, giving high school students valuable time in the workforce even before they enter college.
"The pipeline has to start young. It's not something we can start in high school, it has to be earlier than that," says Vitek. "It's important to have the manufacturers involved, the employers involved, because not only will the kids understand what the potential is for them, they'll understand what the potential is here in Hall County."
Healthcare is another area in Hall County with lots of job potential.
Aside from manufacturing, Gainesville and Hall County are a center for healthcare. Northeast Georgia Medical Center (NGMC), the region's award-winning hospital, alone employs more than 8,000, and in total more than 12,000 medical jobs can be found in Hall County. A recent economic impact report by the Georgia Hospital Association found that NGMC generated $1.75 billion in revenue for the local and state economy.
"This is the major healthcare center for about 19 counties," says Evans. "It adds to the quality of life for the whole region."
Along with NGMC's main campus in Gainesville is the 100-bed Braselton location that opened just a few years ago serving the southern portion of Hall and surrounding counties. The 119-acre Braselton hospital offers its own range of services along with more than 20 physician offices.
Also serving the region is Longstreet Clinic, one of the largest physician groups in Georgia with more than 750 employees including 200 physicians and advanced practice providers. Among the doctors at Longstreet is Betsy Grunch, who in 2016 became the first neurosurgeon in Georgia to perform the successful implantation of an artificial spinal disc replacement device for use in the lumbar spine.
Add to Hall's other healthcare offerings the extensive medical programs at Lanier Technical College, Brenau University and the University of North Georgia, and you've got what Dunlap refers to simply as 'big-time healthcare.'"
---
Lakes, Lanes and Linebackers
When it's time to clock out for the evening or the weekend, there's plenty on tap in Hall as well. Michelin Raceway Road Atlanta is celebrating 50 years in operation. Now owned by NASCAR, the track has undergone significant construction, including for a new main tower, and draws crowds of up to 150,000 for its signature event, Petit Le Mans.
For racers of a slower set, there's an ever-expanding trail network. Much like Atlanta boasts the BeltLine, Hall County is linking up a 30-mile trail system that will one day connect Lake Lanier at the southern end of the county to the mountains in the north. A collection of smaller trails, the overall project has been dubbed the "Highlands to Islands" trail and will allow biking or walking access to Flowery Branch and Gainesville as well.
"Our goal is to make Gainesville and Hall County the most enviable community in Georgia by 2030," says Elizabeth Higgins, executive director of Hall's Vision 2030 initiative, a community project of the chamber launched in 2005 with input from more than 1,000 county residents.
The county doesn't get passed over when it comes to major team sports either. In late summer, dozens of professional athletes, coaches and executives descend on Flowery Branch for Atlanta Falcons training camp. Held at Falcons' corporate headquarters on the aptly named Falcon Parkway, the camp also brings in tourists from across Georgia and the southeast.
"Falcons training camp brings in marketing and publicity that you couldn't put a dollar figure on," says Flowery Branch Mayor Mike Miller. "When the Falcons are here, you can turn on NFL Network or ESPN, or read any newspaper and read the tag line 'Flowery Branch.' That makes us visible nationwide."
Ahead of Super Bowl LIII in Atlanta, the NFC champion Los Angeles Rams practiced at the Flowery Branch facility, again placing the city and Hall County in the national spotlight.
"It's hard to put a number on the economic impact, but business owners in the area are always smiling during Falcons training camp because they're always busy," says Miller.
---
Intown Influence
The Falcons are hardly the only game in Flowery Branch, however, with the city's downtown undergoing significant renovation and expansion.
A new city hall opened in 2018, and now 1,800 homes are being built within a mile of downtown, including detached single-family structures, townhomes and apartments.
"We're the closest downtown to Lake Lanier, and we're trying to take advantage of that," says Miller. "The new city hall is helping spur residential growth in the area."
It also "opened the floodgates" for more development, Miller adds. Restaurants including Antebellum and La Casa del Taco complement the Beer Me brewery and retail spots Liberty Candy Co. and Moe's Record Shop. The third Friday of every month means another Friday Night Block Party is on tap, drawing 2,000 to 4,000 to downtown Flowery Branch.
Gainesville's downtown is thriving, too, thanks to farmer's markets, fashionable stores, restaurants such as Luna's Restaurant and Collegiate Grill and its own vinyl store, Imperial Records. The next step is residential, which should spring up soon thanks to a series of new projects underway that will add some 400 housing units.
"Residential is something we've been lacking downtown, but I think we're about to cure that," says Gainesville Mayor Danny Dunagan. "We're very excited about it."
Two downtown sites, one spanning 6.8 acres and the other spanning four, are set to be redeveloped into mixed-use properties in the near future, and a hotel could be on the way as well.
The main campus of Brenau University, a private college that dates back to 1878, is within walking distance of downtown Gainesville. Historically known for its women's college, today the school enrolls more than 3,500 students from as far away as China at multiple campuses. For the 15th consecutive year, Brenau was named by The Princeton Review to its "Best in the Southeast" section and ranked among the top 22 percent of the nation's 3,000 four-year colleges.
"Brenau has this interesting, distinctive combination of a 141-year-old women's college meeting an innovative, comprehensive university that transforms students' lives," says Anne Skleder, who became Brenau's president July 1. "Our mission is to ensure students have lives of professional fulfillment."
The school emphasizes liberal arts in its undergraduate programs and plays a huge role in educating Hall's healthcare employees. Brenau is opening a physician's assistant program in 2021 and offers graduate degrees in psychology, physical therapy and occupational therapy, plus an online executive MBA program exclusively for women
The university is one of three institutions of higher education in Hall County. In January, the Gainesville campus of Lanier Tech moved to a new, $135-million location and welcomed nearly 4,500 students this fall – a record number, Lanier Tech President Ray Perren says. The school is key to educating the local workforce for gigs in manufacturing and healthcare.
"The new campus allowed us to expand our capacity not only in the number of students we serve but in the number of programs we're able to provide," says Perren. "We held graduation here in May; it was a great event and a very exciting time."
With the new campus comes new programs including construction management and diesel technology, plus an on-campus commercial truck driving range.
Gainesville's third postsecondary institution, a campus of the University of North Georgia (UNG), also benefited from Lanier Tech's move. UNG absorbed the former campus, allowing it to expand as well and bring more offerings to its students and future Hall County leaders.
"It was a win-win situation," Perren says.
With growth firing on all cylinders, extensive planning for improved quality of life and educational and employment opportunities, it truly seems all roads are leading to Hall County.
---
Local Flavor
Parrothead Paradise
Jimmy Buffett fans are a loyal bunch. To see just how loyal, stop by Margaritaville at Lanier Islands, where parrotheads from near and far stop in to sip Landshark Lager, camp out, lounge on the beach and watch Buffett concerts on a giant screen.
"Margaritaville has been a game changer," says Missy Burgess, director of public relations and sponsorships at Lake Lanier Islands.
Opening last year, Margaritaville is a self-styled lakefront paradise with water slides and zip lines, RV campsites, restaurants and its own marina called Port of Indecision. During the summer, Paradise Beach fills with friends and families enjoying a day out on the water.
It's part of the wider Lake Lanier Islands attraction, which draws more than 1 million visitors a year, mostly from the northern Atlanta suburbs but also from Tennessee, Alabama and North and South Carolina. The attraction includes a water park, golf course, hotel, amphitheater, equestrian stables, a conference center and wedding venues and has been extensively renovated since being purchased by Virgil Williams in 2005.
"Lake Lanier Islands has really become a destination," says Chief Operating Officer Grier Todd.
Much of the action takes place from Memorial Day to Labor Day, when up to 1,000 full-time employees clock in each week at Lake Lanier Islands, but winter is prime time at Lake Lanier, as well. Magical Nights of Lights and License to Chill Snow Island both open in November. Millions of lights are displayed across a seven-mile drive, and after oohing and ahhing at them, s'mores around the bonfire are a great way to warm up. There is also a giant snow slide billing itself the highest and fastest in North America, ice skating and carnival rides during the cold months.
Margaritaville, though, takes it to the next level, offering rides on party yachts and a tram for ground travel through the area. There's the Landshark Landing restaurant, tiki bars and thanks to the year-round marina, patrons and parrotheads can dock right where the party is. More campsites are under construction to make the party even bigger.
"We are having a good year. Any time it's 100 degrees, sunshine and no rain, that's good for us," says Todd. "There are only two businesses that like 100 days of 100-degree weather, sunshine and no rain – Lake Lanier Islands and the power company." – Haisten Willis