From the Publisher: Go Higher
Our higher education system is more important than ever as the state seeks to leverage its reputation as the best in the country for business.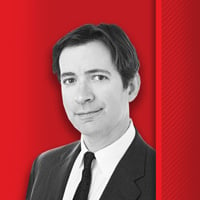 Each fall college football season provides a timely reminder that our higher education system is more important than ever as the state seeks to leverage its reputation as the best in the country for business with the workforce it needs to hold the title.
Gov. Brian Kemp has proposed a 2020 budget of $2.58 billion for the University System of Georgia (USG) and $373 million for the Technical College System of Georgia (TCSG). This includes increases of $86 million for the university system's enrollment growth and operations as well as $48 million in merit-based pay increases, employee recruitment and retention.
TCSG saw more modest budget increases amounting to $4 million, or 1 percent, though it includes a $3-million reduction in marketing funds and a $3-million cut to the Dual Enrollment program budget, despite continued participation growth.
Georgia's budget for financial assistance for higher education students almost entirely relies on the HOPE Scholarship, established 26 years ago to direct profits from the Georgia Lottery to Georgia college students. The 2020 budget allots $857 million in lottery-funded aid to students and $37 million in aid from the state's general fund. There is a system reserve to allow for rainy-day years when lottery sales do not meet targets, but I wonder if we haven't become overly dependent on this wildly popular program.
And while I've always admired the simplicity of the HOPE Scholarship – basically if you maintain a 3.0 grade point average you remain eligible – I was surprised to learn that only a small percentage of HOPE Scholarship funding is based on financial need.
The 2020 budget allocates a total of $863 million for non-need-based aid that rewards high test scores and specific field choices, and $31 million for need-based aid, including $26 million in lottery-funded loans and $5 million from the state for the REACH program, a mentoring and scholarship program that helps high school students succeed.
Financial need has never been more acute among Georgia students. The USG funding formula is based on a 75/25 split between state funding and tuition. The current budget allots a $2.4-billion contribution from the state and counts $2.3 billion in tuition and fees, which is closer to 50/50.
The Great Recession a decade ago accelerated a drop in overall state education funding that was already occurring, shifting the cost burden to students and their families. State lawmakers passed legislation in 2018 to create a need-based aid program, but it has not been funded.
While Georgia's median household income dropped 11 percent from 2007 to 2014, average tuition rose 99 percent across the university system and 65 percent across the TCSG. Both postsecondary systems froze tuition levels in 2016 and 2018, but this year the USG increased tuition 2.5 percent, or $35 to $125 per semester for full-time students. TCSG increased its per-hour tuition rate from $89 to $100.
We must also consider the effect rising tuition costs have had on student debt, which recently topped $1.5 trillion nationally, surpassing credit card debt as the top form of consumer debt. In Georgia, 58 percent of graduates carry student debt averaging $22,443 per borrower.
Though much of our population is effectively priced out of higher education and that threatens our workforce pipeline, there have been some efforts to help students and businesses. In 2014, former Gov. Nathan Deal created the High Demand Career Initiative, offering students free tuition at technical colleges in any of 17 high-demand areas, including automotive tech, computer programming, early childhood education and movie production set design.
It's an effort to address what educators see as a much larger issue – that by next year 65 percent of the jobs in the state will require a certificate or a degree, while just 34 percent of the current population has one. There is pressure on the lottery to release some of its reserves, and there's talk about bringing more gambling to the state as a means of subsidizing our workforce education needs.
Georgia's higher education institutions are more than just workforce mills. They have strengthened and stabilized regions where other resources were scarce. Culturally, they bring arts programs, concerts and libraries that are sometimes taken for granted in the overall picture. Economically, they generate more than $16.8 billion in sales, $11.3 billion in gross domestic product and $8.2 billion in income taxes to the state.
Universities provide nearly 164,000 jobs across Georgia, and each translates to about 2.2 off-campus jobs. A steady plan to return higher education funding to pre-2003 levels is necessary for Georgia to remain competitive enough to access the talent we need. And if that's too ambitious, we need to strengthen our ability to take the burden off our students. Especially if we want them to fall in love with Georgia and stay here.