Q&A with Governor Brian Kemp
New Man at the Top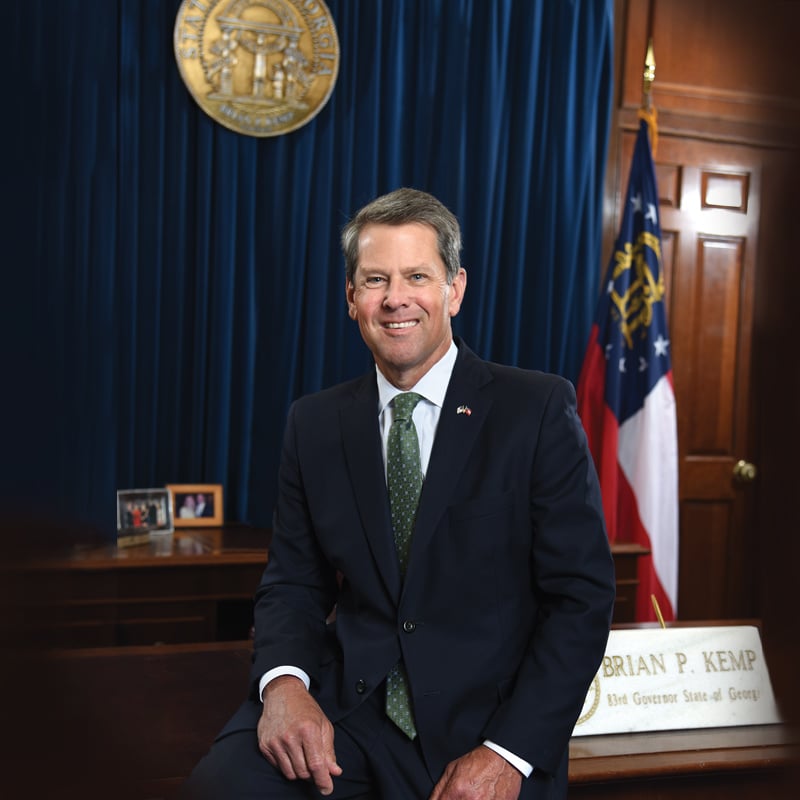 Georgia's 83rd governor, Republican Brian Kemp, took office in January, after defeating Democrat Stacey Abrams in a close 2018 race.
A former secretary of state and Georgia legislator, Kemp campaigned in the primary on gun rights and tough immigration tactics – in one TV spot he pointed a rifle at a teenage boy "interested in one of my daughters," and in another he talked of rounding up undocumented illegals in his truck – and won the endorsement of President Donald Trump. He took a softer tone in the general election, but pledged to be a pro-life governor and to address the healthcare needs of Georgia citizens as well as school safety.
Kemp flexed his muscles during the 2019 legislative session, which passed a Medicaid waivers bill, a teacher pay raise and the heartbeat bill, which bans abortions after a fetal hearbeat is detected, around the sixth week of pregnancy.
Georgia Trend Editor-at-Large Susan Percy talked to the governor in his office at the State Capitol in Atlanta. Following are edited highlights of the interview.
---
GT: How would you appraise your first months in office?
Kemp: It's really been two things. No. 1, we got a lot done. No. 2, we did a lot of historic things. I'm very proud of that. We had a lot of folks that helped. In the legislature, we had a very aggressive agenda. We were successful on just about all of it.
---
GT: Can you give us some specifics?
Kemp: First and foremost, the historic teacher pay raise, [one of] the largest teacher pay raises ever in the state's history, fulfilling the down payment on a big commitment I had to our teachers to do a $5,000 pay raise. We did $3,000 this year.
We also fulfilled a promise of something else I campaigned on. That was school safety and doing school security grants. We did that in the amended budget – almost $70 million to help our administrators and school board members work with teachers, parents, students and law enforcement officers, with complete local control. The grant requests are just flooding in.
---
GT: What kinds of things do the security grants address?
Kemp: Not just an active shooter situation, but weather events, the medical condition of a student – say a seizure – or a teacher.
---
GT: What about safety plan enhancements?
Kemp: Another part of the plan was mental health funding in our high schools. We doubled funding for the existing Apex plan [developed to increase access to mental health services for school-aged children]. One thing we've learned in school shootings or school violence situations throughout the country is that half of those are because of mental health issues.
Unfortunately, administrators and teachers – and the school nurses – are having to deal with mental health issues. Quite honestly, there needs to be more counselors in the schools that have the medical background and training to not only spot those types of situations but also to be able to get that student – or, potentially, an educator – some help.
---
GT: That sounds like a tall order.
Kemp: That's not a one-year fix. It's going to take more money but also going to take more counselors. We just don't have enough counselors, so we are going to have to ease into that program. I think it shows our commitment to mental health. I think it shows my commitment to local control. I feel like our local systems know how to educate our children, and what we have to do is free them up to be able to do that.
---
GT: Let's talk about healthcare – the Medicaid waivers bill that passed during the session.
Kemp: One of the other historic and good things we did was the Patients First Act –allowing us to do the [Affordable Care Act] waivers to help lower private-sector healthcare costs, but also to really fix a broken Medicaid system: How do we better deliver on Medicaid services, things like mental health and other specific issues that are dealing with the aged, blind and disabled? I'm very excited about that. [In the] Trump Administration, the secretary of health and human services as well as the CMS or Medicaid director – I've met with both of them. They are very open and want the states to innovate. I feel really good about our ability to come up with a Georgia-centric solution to lower healthcare costs, provide more access and really move the needle on healthcare.
We also passed 21 different healthcare bills, opening up the ability for Georgia to get more access to cancer treatment. Hospitals – we took on the certificate of need [CON], reforming and innovating the CON process, bringing transparency to that.
Everything's been complicated about healthcare – several [people were] saying, "Obamacare doesn't work." I have a philosophy that you can't just complain about healthcare, you've got to do something to fix it. We took a big step.
---
GT: Why was this the right year to do something about Medicaid? Your predecessor and many other Republicans were opposed to Medicaid expansion.
Kemp: Gov. Deal resisted Medicaid expansion, which I support. This is not Medicaid expansion. This is innovating and fixing a broken system. What got lost in that conversation, and what I heard in the campaign – we have an issue on the private sector side. I can't tell you how many Georgians came up and said, "Look, my family, we can't afford $1,500-$2,000 per month for a health insurance plan, and the dang thing has a $5,000 deductible." Voters were calling on us to reform this.
---
GT: What's the time frame?
Kemp: We are moving very rapidly on the waiver process. Deloitte won the bid. They've got a great team that's been very successful working on this in other states. We're focused every day on that process and working with the Trump Administration to make sure we're going down the right lanes.
---
GT: Governor, the heartbeat bill [HB 481] that you signed. Are you surprised by the response?
Kemp: In some ways, I'm surprised, but in others I'm really not. It's such a political response, I think, versus one that's really based on fact.
---
GT: Can you elaborate?
Kemp: We value life in our state. Georgians have differing opinions on how that should be handled. We've been a state that's always valued life. That's something I campaigned on.
Even if Georgians disagree with it, they can at least know that I'm fulfilling the things I campaigned on, whether it's protecting life at the heartbeat, whether it's health, education, public safety, reforming government or making Georgia No.1 for small business. We value life "from the womb to the tomb." We do that in a lot of different ways.
---
GT: How?
Kemp: Going after human trafficking. My wife, Marty, is creating the GRACE Commission [Georgians for Refuge, Action, Compassion and Education]. We actually visited a safe house that had six victims in there. One of the most compelling stories I heard was this girl started being trafficked when she was nine years old. She's 15 now. It just breaks your heart. They are helping those girls recover and ease back into society and also protecting them from the pimps out there. We are committed to ending human trafficking and going after pimps and those participating in those actions and abusing those young girls. We're also focused on helping the victims get the help they need.
We are working right now on adoption reform, on foster care reform. We are valuing life in many different ways. We can't run from our values in Georgia.
---
GT: Georgia has long had a reputation as a business-friendly state.
Kemp: We value our business environment. We have the best business environment for the film industry in the country, one of best. I've been a longtime supporter. My commitment to that has never wavered despite what some on the left claimed during the campaign. But we can't govern the state of Georgia because someone in Hollywood doesn't like what we're doing.
---
GT: The heartbeat bill that passed – is that the bill you wanted? Weren't you backing a bill that would go into effect if the Supreme Court ever overturns Roe v. Wade?
Kemp: I have always supported the heartbeat bill, but we knew – because of the speed of the session, how busy we were with the transition, how quickly I ended up taking the oath – we knew that was going to be a tough legislative fight. So in working through that, as part of the legislative process, a lot of legislators had ideas on legislation they wanted to do that were pro-life. We got into the session and decided it was probably best to focus on the heartbeat bill, and let the "trigger" bill go, because other states had that.
---
GT: It's important to our readers to keep Georgia a business-friendly state. Are you worried about negative fallout from the heartbeat bill?
Kemp: What I'm concerned about probably more than anything: Some in the media will not write the full story. For your readers who follow the business environment [issues], they probably know better than most how successful our state has been and the great track record that I have and our state has in the first few months that I've been in office.
---
GT: What makes up that track record?
Kemp: We have Invesco expanding [in Midtown Atlanta]. There was a huge announcement we did down at the port [of Savannah] with Plastics Express from Los Angeles. They are building [a warehouse] down there. They are going to be a top five user of the port. We've had SK Innovation [a Korean hybrid electric car battery manufacturer locating in Commerce], the largest foreign investment we've ever had in our state, more than KIA. It's going to be at least 2,000 jobs probably – more like KIA 10 years from now, where it will indirectly affect 15,000 jobs.
---
GT: Is there anything that concerns you about the business climate?
Kemp: The thing that worries me more than anything is just really the world economy and things we can't control, like trade and what the Fed [Federal Reserve Bank] is doing and other issues. We've had a great run, and it's not going to last forever. My job is to make sure we continue to be very conservative with our budget in the state and keep doing everything we can do to grow jobs.
---
GT: What about small businesses?
Kemp: One of the first things I did when I got in office was sign an executive order creating the Georgians First Commission, [with] small business people from all over the state. They are focused on taxes, fees, regulations, bureaucracy, red tape, other things that are hurting our entrepreneurs, hurting small business people. They are working on recommendations.
---
GT: You referenced trade. Are you concerned about talk from Washington on tariffs and threats of tariffs?
Kemp: There is no doubt that tariffs and the whole discussion is affecting the market right now. But I also support the president in what he's doing. We can't continue to let China take advantage of us. I think most people understand that. There are definitely folks experiencing short-term pain, but I think they see the value of long-term gain.
---
GT: You have said you are not sorry that the bill proposing a state takeover of Atlanta's Hartsfield-Jackson Atlanta International Airport did not pass. Could you explain?
Kemp: I stayed neutral on that during the session. That's a huge issue, one that I think needs to be well thought out. At the end of the day, Speaker [David] Ralston and some members of the House were not comfortable moving that forward.
At the end of the session, a lot of things got tied together – the fuel tax issue, the airport issue, the rural transportation issue. End of the day, nothing happens. There's where I said sometimes Georgians can be thankful that nothing happened. Sometimes it's better. This gives everybody some time to continue to research the issue and gives the mayor an opportunity to further convince people she has the issue under control. The ball's certainly in her court, to continue to talk to people about the issue.
---
GT: You had a lot of voter support in rural Georgia. How are you addressing the disparity between rural and metro areas?
Kemp: It's not healthy for our state just to be growing in Atlanta, Augusta, Savannah, Columbus, Macon and a few other places around the state. We need the whole state to have opportunities. It is not a simple fix; it's really quality of life. What makes good quality of life in rural Georgia – a good job, access to healthcare, access to high-speed internet, things you take for granted here [in Atlanta] or in Athens – those are the issues we are focused on, not just fixing the rural hospital issue. You've got to have people and a tax base to support the rural hospital or even just some sort of medical facility.
---
GT: How do you get that done?
Kemp: We are taking an all-inclusive approach. That's one reason for the focus on the Patients First Act, the healthcare bills we passed. I campaigned on implementing a strike force to focus on areas of our state outside metro areas from an economic standpoint. We're working right now to see how we structure that.
---
GT: What would help?
Kemp: The key to that – and this is important for your readers to know – you have to have willing partners. You can't just have the state going down and saying we're going to invest in a mega-site here, invest in a facility. You've got to have local officials willing to put skin in the game and work with you. We understand that for different communities, skin in the game may mean this much in one community, may mean this much in another: just their commitment to try to help us, try to come to the table and work on it together. Not all places have that kind of leadership. One of the things we've talked about is leadership training.
---
GT: Georgia agriculture took a big hit from the storms last fall. I know you were concerned about the delay in getting the disaster relief bill passed by Congress.
Kemp: Concerned, frustrated, mad, angry …
---
GT: So is the bill that passed too little, too late?
Kemp: It's what we've got. I'm very thankful for that. It should have been done a long time ago – it was partisan gridlock quite honestly that contributed to that. Bottom line is the bill passed. We've got to get relief to our farmers. Just the bill passing is going to free up banks to turn [money] loose and to help out farmers, because they now know there's a commitment, there's money coming.
---
GT: Georgia, like much of the country, is sharply divided, polarized. What can you do to improve that situation?
Kemp: No doubt it's polarized out there right now. We continue to have those on the left, quite honestly, that continue to feed that narrative. I'm working for hard-working Georgians, those that voted for me and those that didn't. I'm doing what I told people I would do.
Probably 85 to 90 percent of those issues all Georgians agree on: teacher pay raise, keeping classrooms safe, making healthcare more affordable and more accessible and making it work better. Making Georgia No.1 for small businesses; keeping our families safe; going after street gangs and drug cartels; ending human trafficking. Adoption and foster care reform.
That's really my message to people – especially those that didn't vote for me. If you look beyond the newspaper headlines and look at what we've accomplished and what we are focused on, I think people will go, "Wow, we're moving the state forward." That's my goal, to make Georgia better tomorrow than it is today.