Dalton| Whitfield County: Reason to Believe
Manufacturing, downtown revitalization and education in Dalton.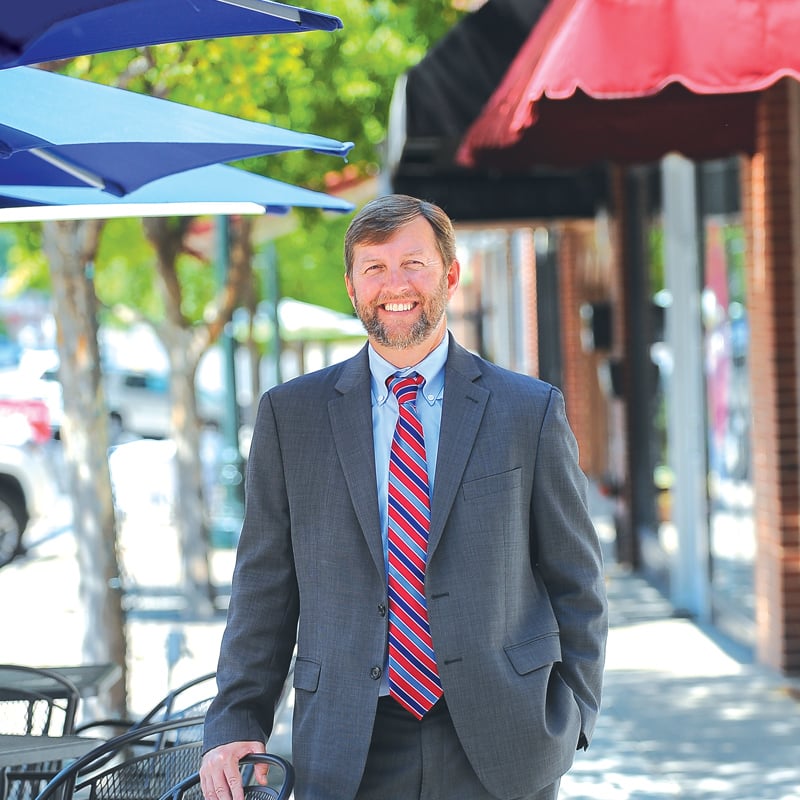 When outsiders hear the word "Dalton," the next word that comes to mind is typically "carpet."
The city proudly claims its textile heritage, with the vast majority of the world's carpet still manufactured within a 65-mile radius of downtown.
Yet Dalton and Whitfield County leaders want people to know there's a lot more to the area. For one, it's now about flooring, not just carpet, but also a broader array of products including wood, vinyl and other materials.
"Our industry has diversified," says Rob Bradham, president and CEO of the Greater Dalton Chamber of Commerce. "Now we're the floor-covering capital of the world."
Beyond that, Dalton offers plenty for both residents and businesses, with more on the way. New manufacturers continue to take advantage of the region's strengths, the city's downtown is in the midst of a revival and an entrepreneurial spirit more than 100 years strong rages on.
"It's an exciting time to be the mayor right now," says Dalton Mayor Dennis Mock. "I call it the Dalton difference. We are very community-minded here, and when we set out to do something we're good at accomplishing our goals."
---
Manufacturing Might
In the age of globalization, Dalton and Whitfield County stand out for manufacturing prowess, a reputation the area not only accepts but relishes. Whitfield is Georgia's 25th largest county, but the state's third largest manufacturer, says Carl Campbell, executive director of the Dalton-Whitfield County Joint Development Authority.
"Manufacturing is who we are and what we do," he says. "We make things here in Dalton."
First and foremost are the flooring titans – Shaw Industries, Mohawk Industries and Engineered Floors are Dalton's three largest employers. All three not only have headquarters in the area, but also own significant manufacturing facilities as well.
And businesses build a lot more than that in Whitfield County, from the essential to the obscure. Lens wipes and silicone scrubbers, rugs and clay pigeons, Frisbee golf discs, solar panels and non-permanent Lego glue, it's all made in Dalton.
The city's story is one of entrepreneurship. Modern tufted carpet was invented in Dalton before becoming a multibillion-dollar industry. Today, leaders push future innovation through a program called the Dalton Innovation Accelerator (DIA).
With headquarters in downtown Dalton's Landmark Building, DIA partners include Dalton State College, the chamber and Barrett Properties. The program launched with the first annual PitchDIA contest in 2018, which has become one of the city's biggest success stories.
Middle schooler and Dalton Public Schools student Tripp Phillips won last year with an invention called Le-Glue, a water-soluble glue for Legos. He got $5,000 and office space in the Landmark Building for his efforts, but that was only the beginning. Last October, Phillips appeared on the ABC series Shark Tank, securing funding from Kevin O'Leary, and now aims to see a pack of Le-Glue included with each Lego set sold worldwide.
---
Believe Greater Dalton
While DIA's instant success is a great story, it's just one part of a larger initiative called Believe Greater Dalton.
Spearheaded by local groups including the chamber, Believe Greater Dalton encompasses six areas: downtown revitalization, raising education outcomes, economic development, entrepreneurship, housing and improving Dalton's self image.
Creating jobs isn't a problem for Dalton. Some 30,000 employees commute to Whitfield County for work. However, of those who bring home $40,000 or more at a job in Whitfield, 62 percent reside outside of the county. Believe Greater Dalton focuses heavily on reaching that 62 percent.
On the education side, the area claims city and county public school systems, Dalton State College (DSC) and a campus of Georgia Northwestern Technical College. Due to the county's large Hispanic population, many students speak Spanish at home. For this reason the focus is on improving fifth grade reading levels, rather than the more common standard of third grade, along with middle grades math.
Dalton State does its part and then some to reach the region's minority students, actively recruiting Hispanic high schoolers and assisting them once they arrive on campus as Georgia's first official Hispanic-Serving Institution, a designation that unlocks federal benefits.
More than half of Dalton State's 5,100 enrollees are first-generation college students, and roughly 87 percent hail from northwest Georgia.
"Our students make very clear that they want to get a job when they graduate, and they want to know that they're majoring in something that is preparing them for a career," says Dalton State President Margaret Venable. "Most of our students come to us from Northwest Georgia, they want to stay in Northwest Georgia and they're looking for jobs in Northwest Georgia. We're trying to produce a workforce that fills those jobs."
DSC's Wright School of Business works closely with the chamber, with workforce development always paramount. Major programs at the school span health and wellness, accounting and marketing, logistics and supply chain management. Science graduates often find work with flooring companies, which use lots of chemical compounds in their products. Dalton State also partners with the two local school systems through dual enrollment programs and, for younger students, literacy promotion.
On the other side of the equation are people like Brian Cooksey, a 25-year Shaw Industries employee who leads the company's workforce development initiatives.
Especially as automation continues to impact flooring and other industries, science, technology, engineering and math (STEM) education becomes more important in middle school and even earlier, with efforts targeting both male and female STEM engagement. It's not just traditional manufacturing jobs the company needs to fill. Shaw employs some 400 IT workers, plus many other roles that don't directly involve manufacturing.
"No matter what type of job you dream of, it exists at Shaw," says Cooksey.
Programs such as the logistics track at Dalton State and a two-year engineering degree from Georgia Northwestern Tech greatly benefit not only Shaw, but other area companies as well.
"It's a win for everybody," Cooksey says.
---
Come on Down(town)
Among Believe Greater Dalton's goals, downtown revitalization impacts at least four of the others: economic development, entrepreneurship, housing and raising Dalton's self image.
Luckily, the city is making good progress. Bradham says that three years ago downtown parking lots were empty, and now residents complain it's hard to find a spot. That's a good problem to have.
Along with the DIA offices, a major draw is Burr Performing Arts Park, which opened last year. Finding something to do downtown used to be a challenge. Now, Shakespeare plays and live music are featured on a regular basis.
"Downtown options are continuing to increase. There is momentum and excitement," says Allyson Coker, Believe Greater Dalton project manager. "Now it's a given that on Friday night you're going to Burr Park, and we've got other restaurant options opening up soon."
For before or after the show, a host of restaurants and bars already open include Cherokee Brewing & Pizza Co., Dalton Brewing Co. and Cyra's. Alliant Health Plans recently moved its headquarters from elsewhere in Whitfield County to downtown, bringing 120 employees with it and helping to fill restaurants during lunch. And just a mile north of town, a former textile facility has been converted into The Mill at Crown Garden, a mixed-use development that could be described as Dalton's answer to Atlanta's Ponce City Market.
Now the focus turns to housing. With just 24 housing units downtown, any project will make an impact, such as the 18-unit Belk-Gallant building renovation being led by Barrett Properties. The site of a former department store that was built in 1941 and still fondly remembered by older residents, Belk-Gallant is being converted to a series of mostly one-bedroom apartments. The building will maintain its historic facade and its status as a pillar of downtown Dalton.
"We're going to make this building a real community asset again," says Bob Caperton, president of Barrett Properties. "It will be a very cool project and will nearly double the inventory of housing in downtown Dalton."
Barrett is also involved in revitalizing the former Dalton railroad depot, another historic property that will house a bar and restaurant upon reopening. Elsewhere, businessman and Georgia State Rep. Kasey Carpenter is working on a 31-room boutique hotel on the site of a former bank. It's the latest in a series of Dalton investments for Carpenter, which include Cherokee Brewing & Pizza Co. and the Oakwood Cafe.
"This is a town built on entrepreneurship," says Bradham.
And Dalton leaders plan to keep building and hope more hotels and high-quality housing land not just downtown but across the county, jelling with initiatives like DIA to move the city forward in the 21st century.
---
Local Flavor
Outdoor Amenities
A drive through Dalton confirms the obvious – it's beautiful in the North Georgia mountains.
But upon closer inspection, the specific offerings for Whitfield County outdoor enthusiasts make it more than just a nice place to ride around.
The city's western edge, including the Dalton State College campus, juts into the John's Mountain Wildlife Management Area, a 24,849-acre property spanning Walker, Whitfield, Gordon and Floyd counties. Along with hunting opportunities for deer, bear, turkey and small game, the area features a shooting range; bike, equestrian and hiking trails; picnic sites; and primitive campsites. Dalton State College (DSC) students can even enjoy a hike between classes thanks to a trio of trails adjacent to campus, with a fourth on the way. DSC President Margaret Venable is known to stroll along them from time to time.
"We're always working to bolster our outdoor amenities in Dalton," says Rob Bradham, president and CEO of the Greater Dalton Chamber of Commerce. "This is a beautiful part of the country with some pretty mountainous terrain. We're trying to turn that into amenities for our local community."
The newest addition to those amenities is Haig Mill Lake Park, a 300-plus-acre public park featuring the 126-acre Haig Mill Lake. Debuting last fall, the area includes a 3.5-mile walking and biking trail surrounding the lake, plus fishing piers, a dock for paddleboats and canoes, picnic pavilion, amphitheater and nature-themed playground for kids.
"We've gotten a lot of positive feedback," says Dalton Superintendent of Parks Steve Knoblett, who has spent three decades working for the city. "Everybody who comes in is really surprised how nice this park is."
Haig is now Dalton's largest park as well, edging out the older Heritage Point Regional Park. It owes its creation to the lake, which is man-made and serves as a drinking water reservoir for the city. For this reason, swimming and other activities, such as driving a boat with a motor, aren't allowed. Still, there's plenty to offer for adventurous types.
Dalton High's track teams practice on the trail, and it hosts a pair of 5Ks, though it's also flat enough to be enjoyed by beginners. Plans include a lodge overlooking the lake that could be rented out for weddings or company events.
The city's outdoor options don't end there. There's the Raisin Woods Mountain Bike Trail, featuring seven different courses, and the Heritage Point Disc Golf Course, which can be played using locally manufactured Prodigy Disc products.
Lastly, though it isn't necessarily a place for recreation, Burr Performing Arts Park celebrated its grand opening last year in downtown Dalton and now provides residents a chance to enjoy the outdoors while watching a show or concert on Friday or Saturday nights. In Dalton, the outdoors can be enjoyed whether driving, walking, biking or hiking, hurling a disc or even just sitting and listening to the music on a cool evening.