Meetings – and More
Conventions and conferences are a big slice of Georgia's $66-billion tourism pie.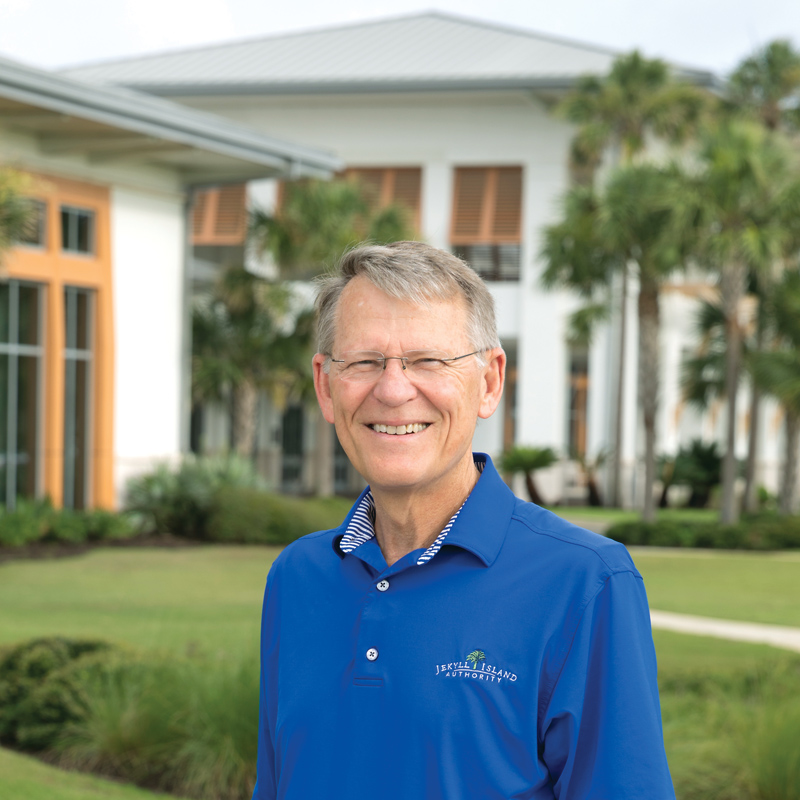 Jones Hooks says success in hosting conventions is a matter of working with what you have that is unique and making the most of it to create a "wow" moment or two.
He should know. Hooks is the executive director of the Jekyll Island Authority, the agency responsible for management and stewardship of the state-owned island, which is home to the only beachside convention center on the east coast south of New Jersey. The Jekyll Island Convention Center generated more than $4.2 million in revenue for the last fiscal year. The combination of first-rate facility and protected environment is a winner.
"Anybody can have a dinner or a picnic outside," Hooks says. "But we can marry our wildlife and natural setting with a first-class dining experience." That might be dinner on the beach followed by a night turtle patrol, undertaken in conjunction with Jekyll's Georgia Sea Turtle Center, to put the wow in a meeting guest's stay.
That kind of experience is in line with what Jay Markwalter, executive director of the Georgia Association of Convention and Visitors Bureaus, sees as a trend toward "a hyper-focus on local experience, putting together a unique Georgia experience" for conventioneers. "That's what attendees want."
Still another factor in promoting and incorporating local attractions and experiences is the family travel that accompanies conventions. "Attendees want to bring families with them," Markwalter says. "So they are looking for spouse or partner activities."
In some places, he says, the position of meeting planner is now called an "experience coordinator." Dedication to incorporating local assets and attributes helps create loyalty to a location and brings more convention dollars.
Georgia's overall tourism industry, which includes the convention and conference segment, generated $66.2 billion in economic impact in 2018, up 4.7 percent from the previous year. Statewide figures for convention business alone are not typically broken out from overall tourism numbers, but Markwalter says all indications are that revenues from meetings and conferences are growing along with the entire industry.
Every corner of the state offers convention and meeting facilities, with varying sizes, strengths and impacts to the local economy.
In Augusta, where the tourism industry brought in some $553 million last year, Bennish Brown, president and CEO of the Augusta Convention and Visitors Bureau, says $61.8 million is a conservative estimate of the impact of conventions, events and sporting activities.
In Columbus, meetings and conventions account for 24 percent of the tourism activity. In FY2018, Columbus hosted 367 meetings for an economic impact of $39 million, according to Peter F. Bowden, president and CEO of VisitColumbusGA.
Facilities overseen by the grandma of all conference activity, the state-operated Georgia World Congress Authority, had a total economic impact of $1.77 billion for FY2018 from the World Congress Center, Mercedes-Benz Stadium and Centennial Olympic Park.
The center itself accounted for $1.08 billion, or 61 percent of the total; events brought in $61.2 million in tax and fee revenues for the state and $42.8 million for local governments.
---
Selling the Site
Regardless of the size or location of the conference facility and the unique opportunities of a particular locale, making the most of it all involves a marketing effort – usually undertaken by local convention and visitors bureaus, community and destination marketers or convention centers themselves, often involving cooperative efforts.
Monica Smith, president and CEO of the Roswell-based Southeast Tourism Society, an alliance of tourism professionals and organizations from 12 states, says Georgia has a lot worth promoting. "There are so many destinations and facilities that make the state great for groups – there's a real variety in the settings. Lots of great product."
Smith, a former head of the Macon-Bibb CVB, offers a straightforward checklist – "The Five A's," she calls it – of what conference and meeting organizers look for.
First is availability of convention space and meeting facilities – that is essential. Then comes access. "Is it easy to drive to or convenient to an airport?" Next, attractions, "things to do outside the conference room," then affordability – do the prices match up with the attendees' budgets? Finally, accommodations – "places for convention-goers to stay within easy distance of the conference site."
Right now, says Markwalter, "Lots of segments of the convention markets are doing well, including sports, but there is a lot of group business potential."
Not every locale gets a Super Bowl, but regional sports events – like the Ironman Triathlon in Augusta – offer hosting opportunities. So do specialized meetings that connect to a local resource, like the annual Association of the United States Army (AUSA) gathering in Columbus, which benefits from proximity to Fort Benning.
"We work with communities to help them harness group business and measure the impact," Markwalter says. He uses the term "SMERF marketing" to describe efforts directed toward social, military, educational, religious and fraternal groups, all of which offer great potential for conference and convention centers throughout the state.
"Conventions and conferences and business travel also lead to leisure and family travel," he says. "It snowballs."
---
Coastal Location
The Jekyll Island Convention Center, which opened in 2012, replaced an older facility and represents a state investment of some $36 million.
"It has done just what the state wanted it to do," Hooks says. "It has been responsible for about $350 million in additional developments on Jekyll Island. It has been a catalyst for redevelopment."
The new center, which accommodates as many as 2,000, and the new convention hotel that followed it – the Westin Jekyll Island – were game-changers.
One of the aims of the new facilities was to lure back some conventions that had been lost to other beachside venues. The state wanted Jekyll to be the convention leader for beachside destinations, Hooks says. And that has worked. "We've definitely seen some groups come back that had been lost," he says, including physician, real estate and civic organizations.
"Unlike some other convention centers," Hooks says, "this is not a loss leader for the community. It has made money for the operational budget every year since it opened."
Currently, about 52 percent of the center's business comes from convention groups; 6 percent is corporate; social/military/educational/religious groups make up some 15 percent; and governmental business accounts for about 25 percent. It's a good mix, he says, "but we're always interested in more corporate."
Because Jekyll is owned and protected by the state of Georgia, all the redevelopment, including the conference center and new hotel, has been built on existing footprints. "We tore down the old building," Hooks says, noting the revitalization effort involved "not one acre of undeveloped land."
Reflecting its colorful history as the playground for some of the nation's wealthiest families – like the Rockefellers, the Morgans and the Vanderbilts – in the early 20th century, the island showcases the cottages of Millionaires Row and the Jekyll Island Club, now a hotel, as well as the new Mosaic museum.
---
Variety in Augusta
In Augusta, the diversity of the convention center client base is a strength, says Darryl Leech, vice president and general manager of the Augusta Marriott Hotel at the Convention Center, which also runs the convention center for the city.
By way of illustration, he names a few groups that have meetings or events on the books for 2019: The Georgia Young Farmers Association, the Cyber Protection Brigade, the Barack Temple #256 Shriners and the Vietnam Helicopter Crew Members Association.
"The center is very flexible; very, very versatile," he says. Most of the groups that come to Augusta for meetings are from Georgia or Washington, D.C. – the latter reflecting the cyber activity at Fort Gordon and the new Georgia Cyber Center near Augusta University. The convention center has 100,000 square feet of meeting space.
The university is the center's biggest client, Leech says, bringing programs and gatherings relating to the medical school and its research activities. As far as marketing, "We fish in a lot of ponds," but target amateur sporting events and meetings of state associations. The strategy is simple: "Maintaining established clientele and finding new ones."
The local experience is enhanced by the hotel and conference center's location near the Broad Street entertainment district and the RiverWalk.
---
River Site
When it comes to something special in the conference venue itself, the Columbus Georgia Convention and Trade Center has a lot of history going for it. The center is located in the old Iron Works, on the banks of the Chattahoochee River. It was built in 1853 and used as a manufacturing facility for many years before it was acquired by the city in 1977.
Hayley Tillery, executive director, says the center is "a hidden secret" that blends 19th century craftsmanship with modern upgrades. "You walk around and see the original exposed brick walls and the ambience of what used to be, but also the mixture of modern conveniences to make it contemporary enough to have events that are unique and in a space you can't find anywhere."
She loves to show it off to meeting planners. "If we get someone to walk through our doors, they will fall in love with it. They see something different from your average conference center."
The Columbus center, which hosts more than 500 events a year, has 182,000 square feet of floor space – with exhibit space located where steamboat parts were once made, Tillery says.
Recent meetings have included Goodwill Industries International and the Military Order of World Wars (MOWW) conference. The Jim Blanchard Leadership Forum, which has drawn the likes of President George W. Bush, actress Octavia Spencer and Apple's Steve Wozniak, takes place there every year. Additionally, the center sees activity from the banking industry – Synovus has its headquarters in the city – and companies like AFLAC and TSYS.
Tillery says the growth of Columbus State University and the revitalization of downtown have enhanced the local convention industry. For recreation, the Chattahoochee River provides the longest urban whitewater-rafting site in the world.
---
Big Impact
The Georgia World Congress Center, part of the Georgia World Congress Center Authority, is one of the country's premier convention sites. Because of its size – 1.4 million square feet of exhibit space – and location in the heart of downtown Atlanta, it competes with places like Chicago, Orlando, Dallas, New Orleans, Miami and Las Vegas.
The center hosts corporate meetings, consumer-oriented events, and convention and trade shows, says Frank Poe, executive director of the authority. "Our commodity is space. We sell space and dates."
This requires monitoring what's going on in the marketplace as well as what customers need for their meetings.
"For convention and trade shows," Poe says, "there is a slower pace to the change. Those are either industry-specific, or they are oriented in support of professional organizations. What changes occur there are more content-driven."
Consumer events, like car shows and boat shows, are staples; but lifestyle experiences are increasingly important, he says.
"In more recent years, there's been activity around people wanting to attend consumer-oriented meetings that are reflective of their entertainment needs," Poe says. This includes events like July's Atlanta Comic Con, a major comic book convention. Such events move more quickly in response to demand for different types of experiences, he says.
"We monitor the marketplace to be sure we are targeting the different show owners, mangers and associations and selling our venue and what our venue can offer to help make their event a success on our campus," he says.
Infrastructure at the center supports what's needed for those events, as does attention to detail. "How we style our seating areas or the flooring or the use of technology are areas we focus a lot of attention on," Poe says. So are "ad hoc gathering spaces throughout the complex and food offerings."
The center is undergoing a $55-million expansion that will add a 100,000-square-foot exhibit hall, which will connect two buildings on the campus and create 1 million square feet of contiguous exhibit space. The estimated economic impact of the expansion is $632 million.
Yet, beyond the center's offerings, Poe says, the overall experience is important. Atlanta's profile is high, and the city itself is a draw. "It's part of our sales pitch."
Conference attendees want equal parts convenience and charm: meeting facilities that are comfortable, efficient and updated, and after-hours experiences that give them a feel for the particular locale that is hosting their gathering.
Hooks calls it "a total experience." Conventioneers want to leave a meeting site feeling they have successfully combined business and pleasure. And maybe even had a couple of those "wow" moments, too.