Georgia Fare: Divine Dining
La Scala in Savannah bucks the trends with its elegant Italian food in a luxe setting.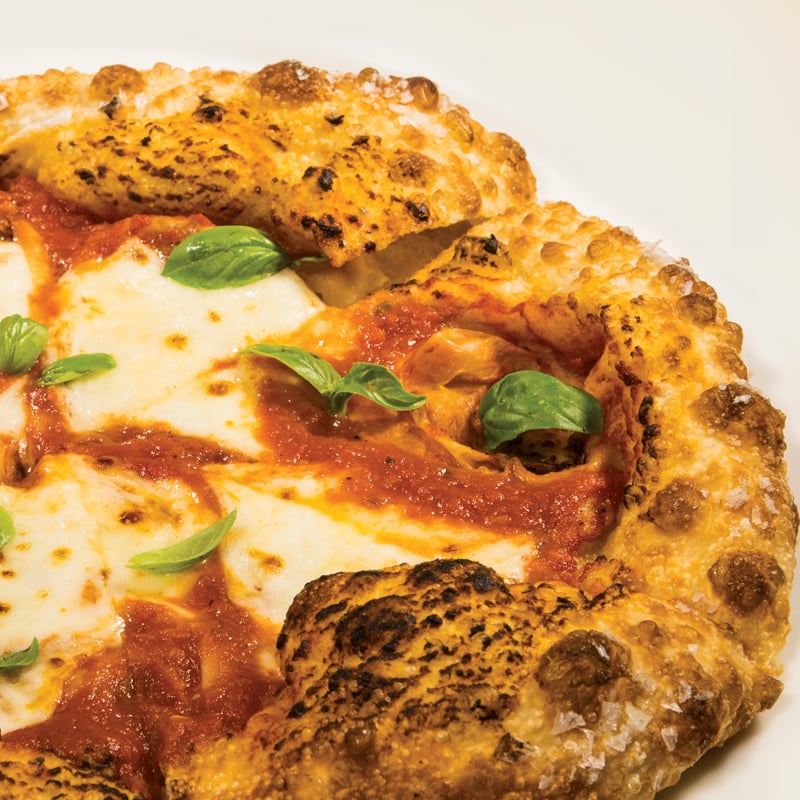 Savannah in August: Almost as hot as its dining scene. With a newly minted James Beard Award-winning chef (Mashama Bailey, of The Grey) and a host of new restaurants, Savannah once again finds itself a dining destination.
Not since the 1990s heyday of Elizabeth on 37th – still going strong, long after the departure of its own Beard Award-winning chef, Elizabeth Terry – has Savannah earned national recognition for innovative but locally rooted cuisine. Meanwhile, traditionalists such as Mrs. Wilkes' Dining Room, another Beard winner, and Bryan Furman of B's Cracklin' BBQ, a Beard nominee, continue to carry the torch for old-school Savannahian foodways.
The recent focus is more likely to be smaller plates and bigger cocktails, with hip, breezy interiors. Think Cotton & Rye or El Coyote in the up-and-coming Starland neighborhood or even Bailey's latest project, The Grey Market, a subway-tiled breakfast/luncheonette with bagels and takeout Negronis.
So if you're headed to Savannah anytime soon and have already checked out these other restaurants, where should you go? It's summer, so you'll want someplace indoors and well-chilled (especially if you like to dress for dinner), where the pace is as slow as the historic district's horse-drawn carriages.
Get thee … to a nunnery?
Well, at least it used to be one. La Scala, down the street from Elizabeth on 37th in a building that was once a convent, is bucking almost all those recent dining trends. Instead of sleek and modern, it is traditional and ornate, filled with antiques, stained glass and white linen tablecloths. The technique is current, but the dishes are classically Italian – fritto misto, Caprese salad, rigatoni Bolognese, veal Marsala, T-bone Fiorentina. There are also pizzas – simple little one- or two-person rounds. The wine list is large, and largely Italian; the staff is sharply dressed and hugely helpful. It is possible to have a quiet conversation and leisurely meal in comfort.
More importantly, the cooking is as elegant as the cut of the general manager's suit. Owners Jeffrey Downey and Donald Lubowicki have some experience in making Old World cuisine relevant but true to its roots – their French bistro Circa 1875 has long been a favorite of locals. Executive Chef David Landrigan oversees that kitchen and La Scala's, while Chef de Cuisine Stephen McLain hails from downtown staple Alligator Soul, where he used Southern-sourced ingredients almost exclusively.
La Scala also sources from local and regional farmers such as Savannah River Farms, Russo's Fresh Seafood and Vertu Farm. The menu changes according to the season, with red sauces and risottos more prevalent in winter and fall and lighter, more Tuscan-inspired dishes such as grilled trout with fava beans in spring.
Begin with a cocktail in the beautifully appointed front room, or move to the dark, curved bar, where it's possible to dine as well. In temperate gaps between extreme seasons, the shaded, quiet back courtyard is a pleasant escape for cool glasses of rosé. (La Scala sometimes screens movies there as well.) For a casual, inexpensive and sumptuous dinner, you could easily split a crisp serving of calamari spiked with tapenade, a bubbly-nubbly margherita pizza and perhaps the flash-sauteed spinach. Toss in some house-made pistachio ice cream for dessert.
But if you're ready for a deeper commitment, La Scala is here for you. You could even schedule a private dinner in the nuns' former chapel if you're ready to walk down the aisle, either to take your table or to take your vows. Starting with ice-flecked martinis and pretty little amuse-bouches (such as dill-flecked cucumber, ramp, caviar and shrimp), this is the place to savor Branzino Arrostito – whole roasted sea bass with artichoke and lemon, perhaps with a piece of the excellent house-made focaccia.
If it's pasta you crave, linguine with white wine clam sauce is a gorgeous little tangle of littlenecks and garlic flecks in an al dente nest. Other standouts: Brick-top grilled chicken with olives, figs and orange over polenta, and the delectable rigatoni bolognese. Wine finds include La Scolca Rugre sparkling Gavi, as well as the crisp white Seghesio Arneis from the Russian River Valley.
Missteps were few – the spaghetti allo zafferano (a saffron sauce) was a bit salty, perhaps because of the optional local shrimp we added to the dish. But where else in Savannah can you get shaved truffles in season, a waitstaff eager to talk knowledgeably about your choices, in the kind of elaborately outfitted setting the Hostess City of the South once specialized in?
The fact that the owners seem to have a sense of humor about the over-the-top luxe decor, while reveling in it, only adds to its local flavor. I mean – a chapel? With hand-painted murals? In a restaurant named for Milan's celebrated and historic opera house? Who does this kind of thing now? Apparently, La Scala does. And in this place, with these people and this food, La Scala really sings.
---
La Scala Ristorante
119 E. 37th Street, Savannah
912.238.3100 or lascalasavannah.com
Hours: Dinner, Mondays-Saturdays
Parking: On the street and a few in the lot, plus valet
Dress Code: Effortlessly fashionable – in other words, Italian
---
Other Fresh Savannah Spots
Rhett
The bite-sized Alida Hotel is worth seeking out for its charming spaces in which to imbibe, including the pool, a pretty little lounge (The Trade Room), an airy rooftop bar (The Lost Square) and its restaurant, Rhett, with a short menu of Southern favorites including NOLA BBQ shrimp and roast chicken with hoppin' John.
---
The Fitzroy
A short distance from the tourist bedlam on Bay Street, The Fitzroy, a stylish new pub from the Australians behind The Collins Quarter, offers a quiet respite for shrimp rolls and schnitzel, with a traditional Pimm's Cup or Old Fashioned.
---
Cantina Tulum
Tacos seem to be taking Savannah by storm – check out Bull Street Tacos or El Coyote for proof. But for a slightly more ambitious menu, try this new Mayan-inspired spot with tacos, tapas, posole, aquachile-marinated octopus and wood-oven-baked cobia in banana leaves.