From the Publisher: Managing Mobility
Solving our transportation issues is the key to resolving our workforce woes.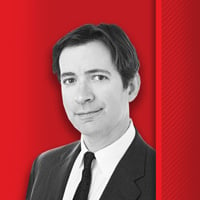 With a good economy comes responsibility, and recent reports indicate Georgia's success may hit a roadblock without significant action. Fortunately Georgia is already ramping up its transportation infrastructure, and traffic could soon become less of a reason for our growing workforce shortage.
Consulting firm McKinsey & Co., in a report obtained by The Atlanta Journal-Constitution, found that Georgia had unfilled positions totaling 110,300 last year. The state could add 380,000 additional jobs and $68 billion in the next decade by expanding its workforce and attracting companies that spread employment more evenly across the state.
The state's strategy of attracting corporate headquarters has paid off, according to the report, but startups are a different story. Georgia ranks 11th in creating new firms but 45th nationally in startup survival rates, with fewer than half of all startups surviving past five years.
The biggest culprit of this missed opportunity is transportation. Atlanta ranked 99th out of 100 global cities in the McKinsey report in terms of physical mobility, and it has the third-longest average commute. Only New York and Los Angeles beat us. Looking at the startup data, it's not hard to see a connection between poor transportation options and "missing millennials" who prefer choices.
Furthermore, Toyota recently relocated from Los Angeles to Dallas, citing that city's housing availability, quality of life and logistics. Atlanta was the No. 3 choice after Charlotte, but Toyota executives told Automotive News that our traffic problems were too similar to California's. Dallas, meanwhile, has expanded its transit system several times since 2002 in concert with its growing expressways.
We're a little late to the party, but Georgia finally has transportation funding to make significant improvements. A lot of it is already spoken for, but new projects on the horizon could have a large impact on traffic affecting the entire state. At the same time, a change in culture is manifesting itself as city and community centers emphasize walking over parking and driving. It's a new form of placemaking that enhances experiences by locals and visitors spending more time in walkable hubs.
Express lanes in northern and southern Metro Atlanta have already helped ease the traffic crunch. Motorists in the northwest corridor took a million trips in the first month the 30 miles of lanes opened last summer, reducing the peak congestion period by almost an hour and moving cars 10 to 15 mph faster. This adds to the 26 miles of express lanes on I-85 north of Atlanta, and another 12 miles of express lanes that have opened in Henry County. More lanes along I-285 and Georgia 400 are planned. The state is more than halfway to its goal of 120 miles of express lanes throughout the region within the next 10 years.
While construction is not set to begin for six years, the state is also planning two parallel freight lanes that will take trucks off Interstate 75 from Macon to McDonough. With a price tag of $1.8 billion, the return on investment could be huge in terms of freight efficiency and safety, not to mention congestion, which is expected to be reduced in the corridor by 40 percent by 2030.
This adds to other freight lane efforts underway outside Atlanta. Georgia Highway 316 and Georgia 400 have been designated official state freight corridors. Hwy. 316 will become a limited access interstate-style route, which means less access to local streets and more "flyover" intersections, but more industrial potential for attracting companies and employers to land along these corridors. With the designation comes access to more money for construction. Hwy. 316 will also link I-85 to Georgia Highway 72 near Athens. With 316 linked to another designated freight corridor, Highway 441, a route for trucks around Atlanta begins to materialize. The legislature's Georgia Freight and Logistics Commission will meet this summer to find ways to facilitate moving these projects forward.
Meanwhile, in the state's biggest city, administrative changes could also help move city projects, a mix of roads, trails and transit, forward at a more rapid pace. Atlanta Mayor Keisha Lance Bottoms has established the city's first Department of Transportation (DOT), a one-stop powerhouse of planning, funding and implementation that will report directly to the mayor.
The city has proven successful in implementing projects over the past decade, when it received around $500 million in funding for transportation improvements from local taxes from 2010 to 2016. Wins include traffic signal optimization downtown, coordinated in concert with Central Atlanta Progress, where 80 intersections saw improvements; and the Midtown Alliance Traffic Operations Program, which reduced peak travel times by 28 percent in 10 major corridors by improving malfunctioning signals.
The new Atlanta DOT has $750 million in funding for strategic transportation planning as the city embarks on a number of big projects, including bus rapid transit and BeltLine pedestrian projects. As connectivity solutions emerge that also emphasize ridesharing and autonomous vehicle projects, the new agency will address red-tape issues that tend to hold up infrastructure project delivery times by improving inter-agency efficiency.
Atlanta's MARTA redevelopments and community improvement district (CID) transportation initiatives – those funded by self-taxing commercial property owners – will continue to take cars off the road by more seamlessly integrating transit- and pedestrian-related platforms into app-based solutions like Google Maps that are so irresistible in the digital age.
CIDs are also taking holistic approaches to transit and streetscape improvements using a mix of bus rapid transit, bike-walk trails and hard rail infrastructure that has as much to do with community experience as reducing traffic.
An acceleration in retail and restaurants around new walking-based communities will also discourage surface street driving and parking in ways more reminiscent of communities like Greenville, S.C., or Asheville, N.C., where traffic seems to have vanished on its own and businesses are doing fine. Workforce housing is an important component, and local governments must update zoning to accommodate such a shift to truly reduce congestion, but infrastructure is just as important. As communities outside the region seek to emulate the model, transit in some form is a must.
Meanwhile rail cargo efficiency is improving, with pledges from the Georgia Ports Authority to facilitate a shift in cargo movement from trucks to rail by enhancing inland ports in Crisp, Murray and Hall counties. Both Norfolk Southern and CSX have announced improvements that will increase train mobility throughout the state, and Georgia Central Railway from Macon to Savannah received a $4-million federal grant for improvements.
Transportation alone may not address the road bump to continuing prosperity, or meet the challenge of fulfilling the workforce potential highlighted by McKinsey. However this sort of thoughtful transportation planning could lead to better solutions in healthcare and education as well. Considering the amount of Georgia's education budget that goes to transportation, local solutions to reduce traffic congestion and promote walkability for all Georgia residents are well worth exploring.
As the state continues to grow in popularity and population, we all need this – not just to stay competitive, but to keep going. The bureaucracy is daunting, as are the inconveniences of so much road construction. It isn't easy to see the forest for the trees and orange cones, but a reduction in truck cargo through central Georgia, an increase in transit and transportation alternatives, smoother app-based technologies and a better-connected network of logistics services may finally bring the change we need to stay competitive. Stay here 'til we get there.