Down on Main Street
Four Georgia cities are proof that the Main Street program delivers GEMS.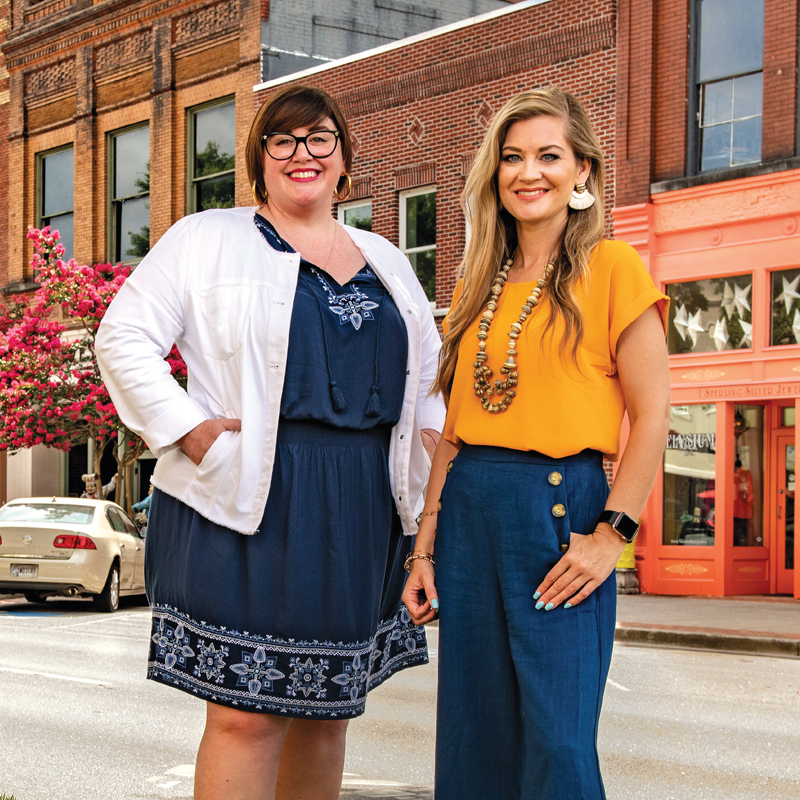 The national Main Street movement that started 39 years ago is responsible for helping transform and renew historic commercial districts of varying sizes and descriptions from sea to shining sea. Its goal, then and now, is to build communities through preservation-based economic development using a proven four-point approach: economic vitality, design, promotion and organization.
Today, the national network is comprised of more than 1,600 rural and urban neighborhoods and communities. Georgia's Main Street Program is the nation's second largest, with 115 communities actively engaged in this recognized method of economic and community development.
Jessica Reynolds is the director of the office of downtown development and Georgia Main Street, both housed in the state Department of Community Affairs (DCA). She's also a former Main Street manager herself, in Carrollton, so she knows what it takes to run a successful local program. Reynolds says that community buy-in is "built at the speed of trust" when "a million little things come together in a successful way.
"A lot of times it starts with having the right make up at the city," she says. "The right elected officials, the right city staff members in place to support the elected officials' vision, communicating effectively the purpose and effectiveness of the Main Street Program. Main Street doesn't happen in a vacuum. It is possible because of all the grassroots movement from our partners and stakeholders in the communities, and the businesses [themselves]."
The Main Street program sorts communities into three tiers based on their commitment of time and resources. Tier 1 is the Downtown Affiliate Network that offers training and some access to technical services provided by the Office of Downtown Development to communities working toward downtown development, perhaps without paid staff or with a desire for flexibility in revitalization.
Tier 2 is the Classic Main Street Program, requiring participants hire paid staff and maintain annual accreditation with the National Main Street Center. These communities are required to meet 10 standards for historic preservation education and economic development.
Drilling down even further, Reynolds and her team look for GEMS – Georgia's Exceptional Main Street communities. These are discovered during annual face-to-face Tier 2 accreditation reviews. Reynolds and her staff follow up with those communities they believe meet GEMS criteria.
The GEMS program started in 2014 with the selection of five cities – Bainbridge, Greensboro, Rome, Toccoa and Valdosta – that had demonstrated success in the Main Street program and had leaders wanting to take the next step in downtown development. Over three years, GEMS communities work closely with the DCA to advance specific projects that fall into one of Main Street's core buckets of organization, economic development, promotions and design. Four GEMS cities – Rome, Bainbridge, Newnan and Moultrie – continue to work with the DCA to make their downtowns welcoming – to businesses, residents and visitors.
---
Solid Foundation
There are 16 GEMS, and they are as diverse as the state itself. And while some of the assets may appear similar – a courthouse square or riverwalk, a village green or historic park – the way each community opts to frame that asset within the Main Street approach is as individual as the community's DNA.
Take the northwest city of Rome, for example, currently working to leverage its location between the Etowah and Oostanaula rivers.
"Our downtown is considered the Broad Street area; that's where everyone wants to be," says Amanda Carter, director of the Downtown Development Authority (DDA) and Main Street manager. But, she adds, they are working to create a river district to "extend our focus.
"A new hotel is going in," she says. "There are new businesses, and a Special Purpose Local Option Sales Tax [SPLOST] was passed to do some streetscaping in the area." They've also teamed up with the tourism department and partnered on the Spirit of the Sun Festival, which includes a paddleboard and kayak race on the rivers.
Carter says the Main Street approach to economic development through preservation has been the game-changer for Rome. "If we weren't designated a Main Street through the state, we would not be where we are now," she says. "Rome has received more low-interest loans from the state than any other city in Georgia. Since 2000, we've received over $9 million in loan funds. It's made a huge difference in our downtown. It's made so many projects happen that wouldn't have happened without that gap funding. That's one of our biggest strengths, using that funding from the state."
Those loans come from DCA and the Georgia Cities Foundation and are available to Rome because it is a designated Main Street city.
Carter says they rely heavily on partnerships, both inside local government and with nonprofits. A community foundation wanted to provide planters and flowers to beautify the downtown but needed assistance with installation. Main Street asked the city to provide the labor, and voila! A streetscape was born.
"That's how you accomplish things," says Carter. "It's all about relationships and a balance of projects, old and new, big and small. People are part of everything we do. Having buy-in creates ownership."
Reynolds says because Rome had such strong community buy-in, it was able to weather what would normally be a difficult transition – the retirement of the previous Main Street manager – with nary a blip. (It also helped that Carter had worked with the previous manager and was already familiar with the community and program.)
Instead of the often-chaotic learning curve, "it was literally the next day, the same beat, the same direction, the same everything," Reynolds says. "That's why they're a GEMS community. The foundation they built wasn't just around the previous director, but around the partnerships. They've been able to focus on the same things they were working on before her departure, and even kick it up a notch. That just doesn't happen in other communities."
---
Rising Excitement
Reynolds says GEMS communities apply the Main Street approach to all the initiatives they tackle, taking a holistic, balanced view on everything from redevelopment projects to placemaking, which according to Main Street philosophy often energizes a community while demonstrating short-term progress. The city of Bainbridge made a full-fledged commitment to placemaking when it became a pilot community of the Georgia Placemaking Collaborative, a three-year program of the Georgia Municipal Association and Georgia Cities Foundation that helps communities capitalize on local assets to create appealing places that will help attract and retain jobs, workers and entrepreneurs.
"It's a three-year commitment," says Amanda Glover, executive director of the Bainbridge DDA and Main Street manager. "We go to two different retreats a year. It's helped us brainstorm and create places and ideas of ways to bring people to Bainbridge. The mission of the collaborative was 'creating a destination mindful of our story while looking toward the future.'"
On the redevelopment side, the city has about 10 different projects going on, thanks to incentives it was able to apply for under the Rural Zones legislation, which provides tax credits for job creation, investment and rehabilitation.
"Last year was the first year that the Department of Community Affairs designated communities [under the legislation]," says Glover. "We were one of nine communities they selected. It's a five-year designation."
In November 2018, Glover says, a business owner opening a restaurant in downtown Bainbridge was able to take advantage of all three credits.
"For the number of employees and jobs created, he's able to claim $2,000 per new full-time equivalent job created as a tax credit for five years," she says. "He's also getting an investment tax credit back on his investment on his [building] rehab. We have several projects, like a brewpub opening this year, that will also take advantage of all three of these tax incentives."
In 2018, a total of $52,000 in jobs tax credits went back to employers for new jobs created; $69,150 in investment tax credits went back to developers; and $164,251 in rehabilitation tax credits went back to developers – just in Bainbridge, and just the first year.
There's more. Projects, both public and private, include adding downtown public restrooms; redeveloping a livery stable into an open-air venue; a six-room boutique hotel going into a historic building. All the activity translates into community interest. "In the last year or two, there's been a lot of talk amongst the citizens about the activity going on downtown," says Glover. "We haven't had that kind of excitement in years."
And that's the whole idea behind being a GEMS city. It's not just about things happening, it's also people talking about it and wondering what's coming next.
---
Bragging Rights
Newnan, another GEMS community, is close enough to Atlanta to commute for work but far enough away to provide elbow room in quaint surroundings. The city has a splendid collection of historic buildings, including an in-use c. 1904 Carnegie Library; a c. 1939 Municipal Building (also still used) that includes an Art Deco theater; and a former historic hospital, vacant for 12 years and now rehabbed as a satellite campus of the University of West Georgia.
"There are a lot of people who brag about being born at the hospital, then having their children start college there, and not having to leave Newnan to do all this," says Courtney Harcourt, Newnan's Main Street manager and staff liaison to the DDA.
Like many Main Street communities, Newnan is working to promote residential development in the downtown district while advocating building code enforcement, especially when rehabbing historic buildings.
"We're working with a private property owner to acquire low-interest financing through [state] programs," Harcourt says. "He's also looking at using historic preservation tax credits. So when those projects come our way, we work really hard to see that property owners and investors get all the tools we have access to. We'll run someone through every single program until we're blue in the face, but we don't push it on people who can't afford to do the work the right way."
The popularity of Newnan's downtown has meant unintended consequences, namely parking woes. (It's a refrain echoed by other successful GEMS communities, as well.) In response, Main Street Newnan chose to affirm the behavior they sought – walking and biking – rather than focusing on the behavior they didn't – driving into downtown. They developed a program, Share with Care, that includes a pledge from drivers, walkers and bikers to observe respectful driving/pedestrian behaviors, to help make the downtown safer and welcoming for everyone. The city received a grant to fund other features that increased walkability like pet way stations, additional crosswalks and timers.
A major placemaking initiative is also underway in an effort to reclaim underutilized and neglected space. Harcourt says they've received about $10,000 in grants to redevelop Wadsworth Alley with public art, tables and benches, with another alley redevelopment not far behind. The project is tied into community events promoting public art and greenspace projects.
---
Overnight Success
Monitoring the progress of Main Street programs over time gives Reynolds a unique perspective. "It's definitely a marathon, not a sprint," she says. "I think Amy Johnson in Moultrie will back me up on this. It's like the 17-year overnight success. She's been doing it for so long, and it's so different from when she started and it's like, boom! All of a sudden, a lot of stuff is happening. But it's because they laid that foundation for years and years."
Amy Herndon Johnson, director of Moultrie's DDA and Main Street manager, points out that it's a foundation built on strong partnerships. "We couldn't do what we're doing without the support of our local government," she says. "The city council and county commission, both governments understand the importance of the heartbeat of our community."
Johnson says the Main Street program gave the community direction, but the courthouse square is its anchor, the centerpiece of most community events, including barbeque festivals, live music and holiday celebrations.
But if anyone thinks all Main Street Moultrie does is plan festivals or light Christmas trees – think again. Several years ago, the Downtown Moultrie Association, a merchant's association, and Downtown Moultrie Tomorrow, a nonprofit organization, joined with the DDA/Main Street for a strategic planning session to think hard about what they wanted downtown Moultrie to be like in the future.
After developing a vision, they put together a project list and set out to raise money so they wouldn't have to ask taxpayers to fund the projects. The groups raised more than $1 million and so far have built a pocket park with tables and benches; cleared a blighted corner and created another park – Mule Barn Park; and built a downtown welcome center on the square, not just for visitors but for the Main Street offices and public restrooms. Other projects include a downtown security system and fiber ring; redevelopment of the former Sportsman Restaurant into a park; and revamping a historic three-story building for business and residential. The list goes on.
"Main Street, as an approach, is one of the biggest economic development tools a community has, without a doubt," says Johnson. "But it didn't happen in a day. It's one thing I've learned, having patience. Projects sometimes take years to complete. We're at a place we haven't been before. I would love to look to the future and know where we'll be in 20 years, but right now, it's a good time to be downtown."
---
Georgia's Exceptional Main Streets (GEMS)
Bainbridge
Brunswick
Columbus
Dahlonega
Greensboro
Madison
Milledgeville
Moultrie
Newnan
Rome
Statesboro
Thomasville
Tifton
Toccoa
Tybee Island
Valdosta
---
Creating a Legacy
Cities are so popular that they're simultaneously cool and hot. But in the 1990s, it was a different story altogether.
"That's really how the Georgia Cities Foundation (GCF) came into being," recalls Perry Hiott, the organization's managing director. "We heard cries from our member cities back in the mid-to-late '90s that the downtowns were dying. They were saying 'help us save our downtowns,' so the Georgia Municipal Association (GMA) stepped in and created the foundation. It's been going strong for 20 years."
Part of its strength was the leadership of Mike Starr, the GCF's longtime president who oversaw the organization's evolution from a low-interest lending program to an organization that also offers training, consulting, design services and a host of other resources for cities. Starr died in early April after a brief illness. "He was a huge champion for downtowns and cities and left a huge void," says Hiott. "He'll be missed greatly."
His vision lives on, however, in the GCF, a 501(c)3 subsidiary of the GMA that continues to help cities revitalize their downtown areas primarily through a revolving low-interest loan program for private-sector projects. In that way, and many others, it works closely with Georgia Main Street.
"It could be an old white elephant department store, a vacant bank, retail space or former mill," Hiott says. "We've partnered with local banks and also with the Georgia Department of Community Affairs (DCA), which also has a lending program for downtown revitalization." The GCF Revolving Loan Fund was launched in 2002. Since then, it has provided more than $27 million in low-interest loans in 59 cities around the state.
These loans provided gap funding – critically important to cities, especially coming out of the Great Recession.
"We learned that access to capital was probably just as important, if not more important, for borrowers than the interest rate, because banks probably were not going to provide 80 or 90 percent financing for these downtown projects," he says.
"In many cases they were only going to provide 50 percent. So where was the borrower going to come up with the other 50 percent? By partnering with banks and private developers, working with the community's DDA [downtown development authority] and the DCA," Hiott adds. "We feel like we've been successful doing what we've intended to do – revitalize downtowns around the state."