Georgia Fare: The Eyes Have It
Watchman's Seafood and Spirits in Atlanta offers an ever-changing menu and beachy vibe.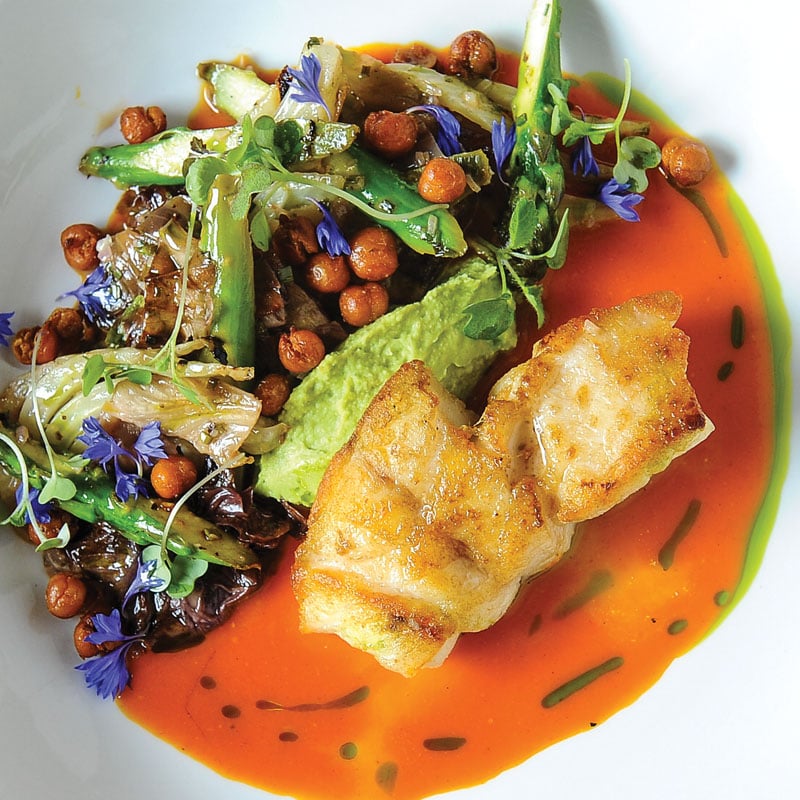 Remember when food halls were the revolutionary new dining concept? With little stalls and communal tables, as well as fine-dining, sit-down spots? Within a few short years, the concept has become so mainstream that Krog Street Market, which opened in 2014, now seems almost quaint compared to giant food-centric projects like Ponce City Market (PCM).
However, with all the similarities, Krog Street's smaller size supplies a calmer vibe than the always-calamitous PCM. That's especially true in its sit-down, anchor restaurants, Superica, Bar Mercado, Ticonderoga Club and now, Watchman's Seafood and Spirits.
Formerly The Luminary, a classic French bistro, Watchman's takes The Luminary's old footprint and strips its European touches for a more bare-bones, almost beachy vibe.
The concept, from the people behind Decatur's much-lauded Kimball House, shares what seems to be the hottest trend of late – small plates and big cocktails. While you can also order full-sized entrees, the menus are short – sometimes shorter than the list of beverages. The focus is sustainable seafood, much of it from the Gulf Coast, with an emphasis on Southern oysters. (A watchman, one server explained to us, keeps a lookout over oyster beds.)
It's a much lighter, brighter environment than the darker, more serious Kimball House. Other differences: Bigger tables, more jovial servers and reservations. While I never could figure out exactly how the waitstaff decided who did what, we were always well taken care of, and the staff had a good handle on the constantly changing menu.
If you're an oyster fan, consider coming for happy hour (Mondays-Fridays, 5 p.m.-7 p.m.), when half-shells go for $1-$2 apiece, with a short list of classic drinks (daiquiri, mojito, rum tonic among them) for $8. Watchman's already seems to have a dedicated happy hour crowd – by 6 p.m., the bar's high-tops were filled with after-work buddies with cocktails and towers of iced-down oysters. Another Kimball House legacy: the sometimes curious but mostly spot-on oyster tasting notes, such as the Salty Birds from St. Marks River, Fla. ("feta, boquerones, delicious!") and our favorites, the Murder Points, from Sandy Bay, Ala. ("butter over scallops").
And those cocktails – the happy hour specials are as well-executed as the more complex craft inventions, like the Coldwater Gimlet, with gin, aquavit, grapefruit and dots of concentrated, deep green lime juice that I thought at first were juniper berries, with a fresh fennel sprig attached to the coupe with a tiny clothespin. The City Bird was another delicious eye-opener, mixing what you're sure shouldn't go together – pineapple rye (who knew?), Jamaican rum, Campari and lemon over a big ice cube and sporting a wedge of fermented pineapple.
If you're not having raw oysters, you might consider … cooked ones, such as the roasted oysters under a bright green blanket of herb butter, dotted with slightly sweet, crisp "cornbread streusel." Or the grilled ramps – sure to be a limited-to-a-week-or-so-in-spring specialty – in which the ramps (something between a green onion and green garlic) are grilled to mellowness and served with three crisp fried oysters, a smear of mustard sauce and a poached egg. Or you can go old-school with shrimp cocktail, in which a small bowl of big pink shrimp are served with house-made cocktail sauce. The romaine Caesar is big enough to share, with flurries of parmesan clinging to its eggy-anchovy dressing.
The shrimp roll on our visit featured a small, split and butter-toasted sweet Hawaiian-roll-style bun stuffed with shrimp salad, dotted with chives and served with potato chips. Speaking of sides: the fresh English peas, cooked to a satisfying tender-toothsomeness, topped with mint, pea tendrils and crumbled bacon, allowed us to feel virtuous while serving basic greed.
Despite the many tid-bitty options, the entrees were the standouts on our two visits. Like the craft cocktails, they often involved unexpected combinations but landed squarely on delectability. For example, the clams fettuccine – little in the minimal menu description ("arugula, lemon, mushroom") prepares you for this generous tangle of tender noodles tossed with littleneck clams, pea shoots, arugula leaves and astonishing bacon-scented confit chanterelle mushrooms, served on a smear of bright green pureed arugula and dribbles of olive oil.
Another head-turner: Seared tilefish with asparagus and crisp-fried chickpeas, topped with a green olive tapenade and served in a pool of saffron brodo.
The only dish we sampled that didn't rise to the level of the rest: The steak frites, a perfectly fine but unspectacular sliced ribeye with rosemary garlic fries, brightened with a brilliant chimichurri, and perhaps offered as consolation for the diner who's been unwillingly dragged to a seafood house. While the coconut crème brûlée offered a fitting conclusion, the key lime pie was prettier than it was memorable, with its piped, toasted meringue and dark graham cracker crust.
If these early crowds are any indication, Krog Street has found another solid anchor, and a better fit for its young, restless crowd. We'll just have to wait and watch.
---
Watchman's Seafood and Spirits
99 Krog St. (in Krog Street Market), Atlanta
404.254.0141 or watchmansatl.com
Hours: Dinner nightly, lunch Saturday and Sunday
Parking: Complimentary valet or free self-parking when space is available
Dress Code: Comfortably stylish
---
More Small Plates and Big Cocktails
Golden Eagle
Atlanta
This gorgeous makeover of the former H. Harper Station in a booming section along Memorial Drive has an unbeatable rotating lineup for happy hour (5-7 p.m. daily), including Sichuan fried chicken strips, brown butter cauliflower and chips and dip ($5), with way-old cocktails like Sazerac, Americano and Kir Royale ($7).
So.Ho on Broad Street
Thomasville
This East-meets-Southeast bistro offers pimento dumplings and vegetable spring rolls with specialty cocktails like the Southern Pie, with house-infused blueberry gin, apple brandy and pecan orgeat made from local pecans.
Cotton Calf Kitchen
Braselton
Thick-cut, Makers Mark-glazed bacon, bluepointe Oysters Rockefeller and "Colossal Shrimp" are just a small part of the starter/bar menu here, where serious bartenders make seriously icy, dry martinis to order. The craft cocktail list also includes such inventions as the Japanese Old Fashioned, with Suntory Whisky Toki, ginger liqueur and orange bitters.