Dealing with Disaster
Mother Nature's devastating punch can't keep Georgia farmers down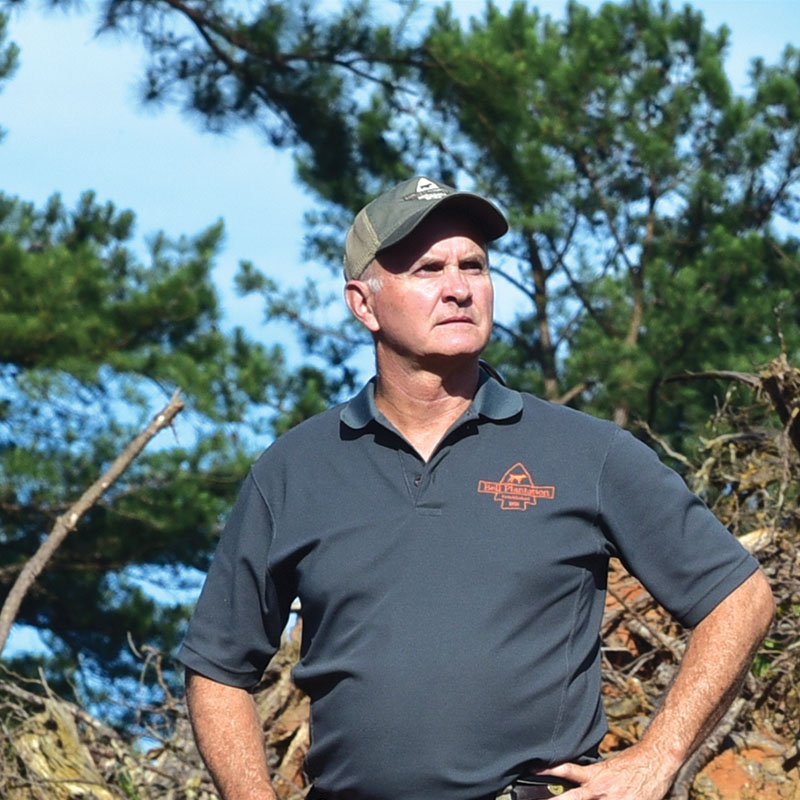 For many Georgians, last October's Hurricane Michael is a distant memory. But nine months later, farmers in the state's southwest region are still grappling with the swath of destruction the storm left in its wake. It was the first major hurricane to hit Georgia since the 1890s. With winds as high as 115 mph, Michael caused $2.5 billion in damage to the agriculture industry.
This once-in-a-lifetime event has created extreme hardship for growers of Georgia's biggest crops, from cotton, peanuts and vegetables to pecans, poultry and timber. Most have now replanted – or are planning to replant – in spite of huge challenges like lack of income from fall crops that couldn't be harvested, destroyed equipment and fields so damaged that cleanup took months.
"It's hard to describe the depth and magnitude [of the storm's impact]," says Adam McLendon, who operates McLendon Acres farm with his dad, Marty, in Calhoun County. "It surprises me still; I see new things that happened from the storm every single day that we have to add to the to-do list. But farmers are resilient. We're fortunate to work in an industry where people look out for each other, and we figure out a way to survive."
---
A Perfect Storm
McLendon calls Hurricane Michael "an unbelievable perfect storm" because it devastated every aspect of Southwest Georgia agriculture. Like many farmers, he aims for crop diversification – planting cotton, peanuts, corn and pecans. "Diversity is the method of survival in years where markets are difficult," he says. "A diverse operation is usually a successful one because it helps mitigate risk." But the powerful hurricane spared nothing – it ravaged what had already been harvested as well as what was in the fields.
McLendon Acres' multi-million-dollar losses included hundreds of acres of cotton plants and pecan trees. An 88,000-bushel storage bin full of corn was crushed by its grain elevator, scattering well over a third of the contents on the ground. Winds also damaged peanut warehouses and mangled nine irrigation systems.
Timing of the storm added to the misery because it hit in the middle of the peanut and cotton harvests. Adam and Marty had to scramble to gather and salvage what they could from the fields after Michael passed while evaluating and prioritizing where to start their massive cleanup efforts. It took a tremendous amount of time to clear away trees and debris, and some of that work is ongoing.
All of this occurred when "tariffs had commodity and pecan prices down," McLendon says. "Farmers combat low prices with efficiency and high yields. It [Michael] hit in a year that was trending to be good for yields and poor for prices, and took away the opportunity to make top yields."
At this point, the McLendons have re-planted corn, peanuts and cotton; replaced the irrigation systems; and readied the corn bins for fall harvest. Because pecans are a secondary crop for the operation, they have not had time to replant trees or deal with the subsurface irrigation systems torn up by roots ripped from the ground.
"Survival right now is day to day, month to month, and it will continue to be difficult," McLendon says. "It's definitely a three-to-five-year recovery [timeframe] to come close to getting back to normal. If we're fortunate to produce a decent crop this year, that will be a huge step."
---
A Way of Life
Unlike McLendon, Rob Cohen is not hoping for a good crop this year. He and his brother co-own Pecan Ridge Plantation in Decatur County, and they have only about 25 percent of their 55,000 pre-Michael pecan trees left. They're not planning to replant until the winter of 2020. He says the trees remaining on about 660 acres – as opposed to the 1,500 acres planted before the hurricane – are starting to have new growth, but it will take about three years before they are back in production.
"I thought we were completely wiped out of the pecan business," he says. "We've basically been reset. Even at the very low prices last year, we would have sold $2.5 to $3 million of pecans, and we sold zero."
He and his brother have cleared all the orchards' downed trees and limbs, but they still need to completely turn and level the soil before they can replant. He says this gargantuan task will take the rest of this year and most of next to complete, and cost a couple hundred dollars an acre.
They've had to lay off workers and pinch pennies to get by. Fortunately he has a commercial fumigation business and his brother is a crop consultant, so they are helping to support the pecan operation out of their pockets. He doesn't rule out selling off land to help keep the farm going.
To replant, they'll choose improved varieties of trees that are more hardy and require less fungicide and insecticide. Once the new trees are planted, Cohen says "we're looking at 2030 or 2031 before we'll be back to somewhat of a fully producing pecan farm.
"Our capacity may be reduced, but we will always farm pecans," he vows. "It's our way of life, and we want to stay in the industry." He says he also wants to have something to pass down to the next generation of his family.
In assessing the hurricane damage, Cohen says, "There's no doubt the vast majority [of people] do not understand what has happened to us down here. That is evident in the disaster bill they [Congress] cannot seem to pass. We're operating completely on borrowed money. Thank goodness our bankers are patient and willing to work with us. We'll figure out a way to get through it; we always have."
---
Financial Challenges
In June, the long-delayed $19.1-billion disaster aid package finally passed Congress and was signed into law. The Georgia General Assembly acted much more quickly, allocating nearly $500 million during a special session last November. The aid included $270 million for debris removal and forest cleanup, expanded assistance, such as Supplemental Nutrition Assistance Program (SNAP) benefits, and economic development initiatives for Southwest Georgia.
In addition, the Georgia Development Authority, which provides insured farm loans, received $55 million intended to forestall farm and equipment repossessions while farmers waited for federal funds.
The third part of the state aid offered $200 million in refundable income tax credits to timber and pecan growers who replant, to help them capture up to $400 per acre of the fair market value of their loss.
The Georgia Farm Bureau (GFB) Foundation for Agriculture set up a tax-deductible relief fund that generated more than $600,000 in contributions from individuals and companies. All donations to GFB were disbursed to farmers who applied, but their applications totaled $126 million in losses.
Along with the state government aid, the University of Georgia (UGA) Cooperative Extension program is assisting farmers with decision-making tools that help determine next steps. "Our economists help develop farm budgets so a person knows whether they'll lose less money by not planting than if they replanted [their crops]," says Laura Perry Johnson, UGA associate dean of extension.
Included in UGA's economic evaluations is the amount of debt the farmer has incurred and whether there will be enough post-Michael income to pay down that debt. "If they haven't been able to pay off their operating loan from last year and they have to start over this year by borrowing additional money, that is a real challenge," she says.
---
Generational Loss
The Georgia Forestry Commission (GFC) is also a resource for advising growers about salvaging and replanting trees and taking advantage of federal programs that will pay to help restore forests, says Scott Griffin, GFC forest management chief. "Our foresters determine if someone needs to reforest, and we come up with a restoration plan," he says. "Once the USDA [U.S. Department of Agriculture] approves the plan, they'll reimburse at 75 percent [of the cost]. A lot of landowners are taking advantage of that."
According to the GFC, timber losses from Hurricane Michael totaled approximately $763 million, the largest direct losses of any Georgia crop. Griffin says the storm walloped 10 percent of the state's 24.6 million forested acres. "To put this into perspective, 37.6 million tons of timber were damaged or destroyed," he says. "That's 1.5 million tractor trailer loads of logs."
He believes most growers are replanting and remaining in the timber business in spite of what he says is a generational loss. "Individuals may have lost $200,000 to $300,00 worth of timber they'd been growing for 30 years," he explains. "For this generation, the revenue, the income and the timber are gone."
Timber grower Tom Sanders, who is also a certified financial planner, estimates two-thirds of his nearly 1,200 acres of trees in Calhoun County were moderately or severely impacted by Hurricane Michael. "In the space of just two to four hours, it wiped out some of what our family had spent the better part of half a century putting together," he says.
Because of a great relationship with Cuthbert logging company Evergreen Timber, he was able to begin the process of cutting and removing damaged trees a week after the hurricane. Approximately 20 percent of the acreage was clear cut and sold in its entirety. On another 10 percent to 15 percent of the property select trees were cut, and he got most of those out. About 10 percent of his acreage is in areas that "you just can't get to," he says. "It's just gone.
"I feel blessed to be getting any kind of salvage," he adds. "For a lot of people, the window of opportunity has closed." That's because logging companies couldn't keep up with the overwhelming demand for their services after the hurricane and the pulp and saw mills couldn't absorb all the excess capacity. As a result, trees have remained on the ground. Fungal growth that stains the wood has set in and it cannot be bleached out, causing the wood to be unusable for anything except wood chips for boiler fuel.
Sanders says he's moved from phase one, which was getting trees off the property and headed to the mill, and now he's about halfway finished with site preparation for replanting the first quarter of next year. He estimates cleanup of the previously unrecoverable wood will take at least a couple of years, and then he will replant those acres.
"The good news about replanting is that pine seedling technology and genetics have advanced so much, I'll grow better trees in 20 years than it took my father 46 years to grow," he says.
He admits he was bitten by the timber-growing bug in early adulthood, but backs up his passion with strong economic reasoning. "I think that timberland and timber growing are one of the most perfect investments," he says. "It gives you opportunities for a long-term return that is a 10 [percent] to 12 percent average annual return." He says the investment is not volatile like stocks, and it's a great diversifier.
"I'm going to replant," he adds. "I may not live long enough to harvest all of it, but hopefully my kids will."
In the face of enormous losses and challenges following Hurricane
Michael, Georgia farmers and growers are demonstrating strong resiliency and determination to persevere.
"Our growing demand for food and fiber is met by a small percentage of men and women, who despite hardships or disappointments, wake up each day to cultivate quality products in the most viable way possible," says Georgia Agriculture Commissioner Gary Black. "After a devastating hit in 2018, Georgia farmers remain stewards of their land. And though it's not easy, it's worth the sacrifice if generations to come have the opportunity to choose their purpose and not have circumstance choose it for them."
"I've grown up in a farming family, and it has always amazed me that farmers are not quitters," McLendon says. "They figure out a way to survive and come back strong."
---
Hurricane Michael's Ag Impact
According to University of Georgia Cooperative Extension agents and agricultural economists, and the Georgia Forestry Commission, the following are estimates of direct losses resulting from immediate damage to commodities grown by Georgia farmers. These estimates do not include agribusiness losses associated with ancillary products and services necessary to produce finished goods.
Timber
$763 million
Pecans
$100 million in crops
$260 million in trees
$200 million in future income
Cotton
$550 million to $600 million
Vegetables
$480 million
Poultry
$20 million in houses
$8 million in birds
Peanuts
$10 million to $20 million
Green Industry
(container and field nursery, greenhouse and turf)
$13 million
Soybeans
$10 million
Dairy
$5.5 million