Georgia Fare: LLoyd's Restaurant & Lounge
Easy Going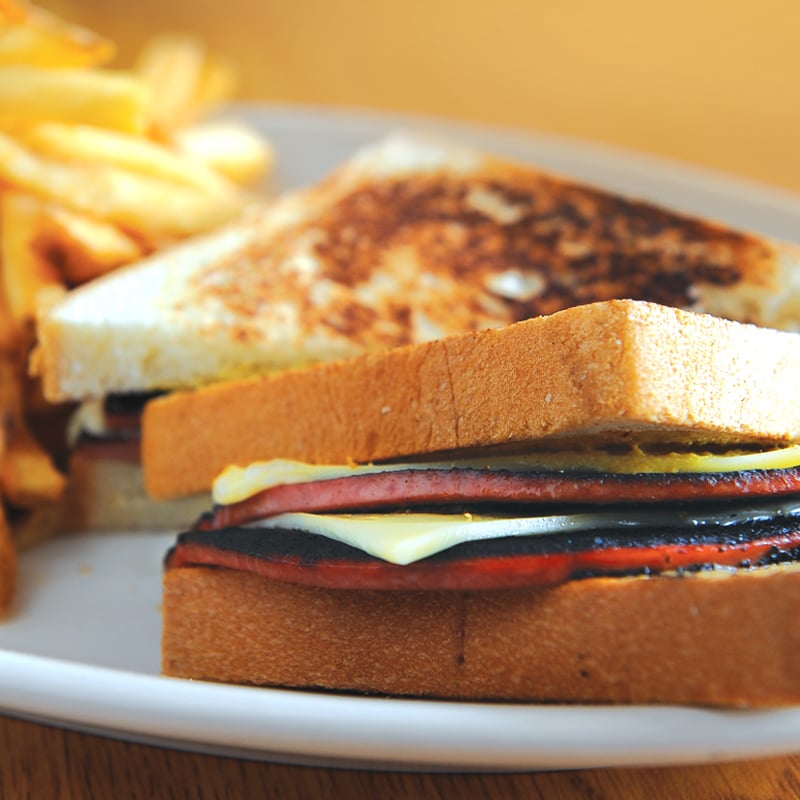 The folks behind Atlanta's LLoyd's, Victory Sandwich Bar and its neighbor, S.O.S. Tiki Bar (as well as its previous incarnation, the dear departed Paper Plane) all share distinctive characteristics: Fantastic cocktails; a hilarious point of view (especially toward midcentury attitudes and culture); imaginative (if low-budget) interior decor; unironically great, often joyful service from hip young folk; and food that is about 10 times better than you expect it to be … or is necessary, given that the first four items on this list would be enough to make regulars out of most of us.
LLoyd's (yes, both L's are capitalized) is the most … most of all the above. From its jauntily mordant references (it's named for the bartender in The Shining; its signature character is a grumpy, grizzled old cartoon man), this self-proclaimed "grandpa bar" succeeds in all its excesses. It looks old, but the square, squat building with the cheap stick-on letters spelling out the name on the front door is part of a new development on DeKalb Avenue in Inman Park, which is growing as fast as the condos and apartment buildings are rising around it.
LLoyd's nods to both this area's frayed industrial past (it faces a MARTA subway line and train yard) and its increasingly young, prosperous neighbors. Inside, pine paneling, animated "waterfall" pictures and wildlife-on-velvet paintings lack only a patina of cigarette smoke to take you back a few decades.
Squinting a little, you might think you see some wizened old dudes hunkered over Old Grandads, neat. Nah, they're young tech bros in hoodies, nursing Guinnesses. (You can, however, get a Hamm's and shot of Cutty for $7.)
Don't expect a big selection of craft beers – LLoyd's stays true to its spirit by heralding such brews as Pabst Blue Ribbon, Lone Star, Coors and LaBatt. As our waitress earnestly said of the choice of a bottle of Miller High Life, "It's the best of the crappy beers." (Except she didn't use the word crappy.) Nor should you expect a list of signature cocktails with esoteric ingredients – the $5 happy hour drinks are limited to just three, all of which you could imagine shaking up in a '70s rec room: martinis, Manhattans and vespers.
Though LLoyd's seems to think of itself as a bar first, the food could draw a teetotaler on its own. Also decidedly midcentury-inspired, the menu is deceptively short – after two visits I could imagine another two for just the items that intrigue me without repeating any I'd had before.
That's partly because LLoyd's three daily specials ("land, sea and air") breathe life into its meaty staples – starting with the griddled meatloaf with ketchup glaze, served with unlimited mashed potatoes. That's right – you finish one serving and simply ask for another. And these aren't the gloppy, gluey kind plopped from an ice cream scoop to a tray in your favorite institutional cafeteria – they're bright with buttermilk and sprinkled with scallion.
Steak, cheesesteak, hamburger, even a fried bologna sandwich dot the regular menu. Dinner specials on Mondays (crab legs), Tuesdays (prime rib) and Wednesdays (fried chicken) also answer the question: What would a Swanson's Hungry Man TV dinner be like if served in a restaurant run by hipsters who really knew how to cook?
Little touches, often among the nightly specials, reach beyond the strict midcentury menu mode – medium-rare steak with chimichurri vinaigrette – oozingly tart and herbaceous, on perfect slices of prime rib. Pan-fried scallops with blood orange jus.
Even regular items are handled with care – the perfectly poached and chilled pink shrimp, perched on a martini glass filled with horseradishy cocktail sauce, were better than many I've had at much more expensive steakhouses. The wedge salad is flecked with sliced grape tomatoes, bacon and caramelized pumpkin seeds in a rich blue cheese dressing over iceberg lettuce.
The fried chicken is another example – a big serving of crisp, herb-flecked deep-fried bird, light and dark, the interior moist from brining, that fits better in New South gastronomy than diner fare. Brussels sprouts are roasted and al dente; even a side salad sports a delicious creamy herb vinaigrette and rainbow radishes.
Only rarely did I encounter missteps – such as an overly salty serving of otherwise delicious crab legs (and since a companion's order wasn't oversalted, it's apparently not standard); bland biscuits with the chicken. Chocolate pie with cookie-crumb crust and whipped cream was … better than we expected. Or perhaps deserved. Our credit card receipt says, "Thanks for leaving!"
Go ahead and glower, grizzled old cartoon LLoyd. We're not afraid of you – or your heart of joy.
---
LLoyd's Restaurant & Lounge
900 DeKalb Ave., Atlanta
404.228.7227 or lloydsatl.com
Hours: Dinner, nightly. Brunch 11 a.m.- 3 p.m. Saturday and Sundays. Late night menu 11 p.m.-1 a.m.
Parking: Plentiful in attached lot
Dress Code: What would Grandpa wear to work? (Works for both men and women. Bonus points for ironic T-shirts, mid-century prints, thrift store gems.)
---
Unlimited Servings
It's easy to find all-you-can eat buffets, or even meat-a-palooza Brazilian steakhouses like Fogo de Chao, where entrees are served to your table until you turn your disk from green to red. But there are other sit-down options:
9292 Korean BBQ
Duluth
Along with the "unlimited" meat options at this charcoal-fueled, in-table grilling establishment, even the meat-limited combination platters include refills of banchan (small appetizer-style plates and sides of pickles, salads and veggies) as well as the delectable scrambled eggs, mushrooms and bubbling "cheese corn" cooked in the grill's channel alongside the meats.
---
Buckner's
Jackson
When you're talking about all-you-can-eat fried chicken, quantity usually trumps quality. But not so at Buckner's, which serves about 100 tons of chicken breast a year, including the critical pulley bone, all brought family-style to your table until you beg for mercy.
---
The Ordinary
Savannah
True to its reputation as a drinker's town, this Savannah spot serves bottomless brunch mimosas every day.