EY – West Central
Making Connections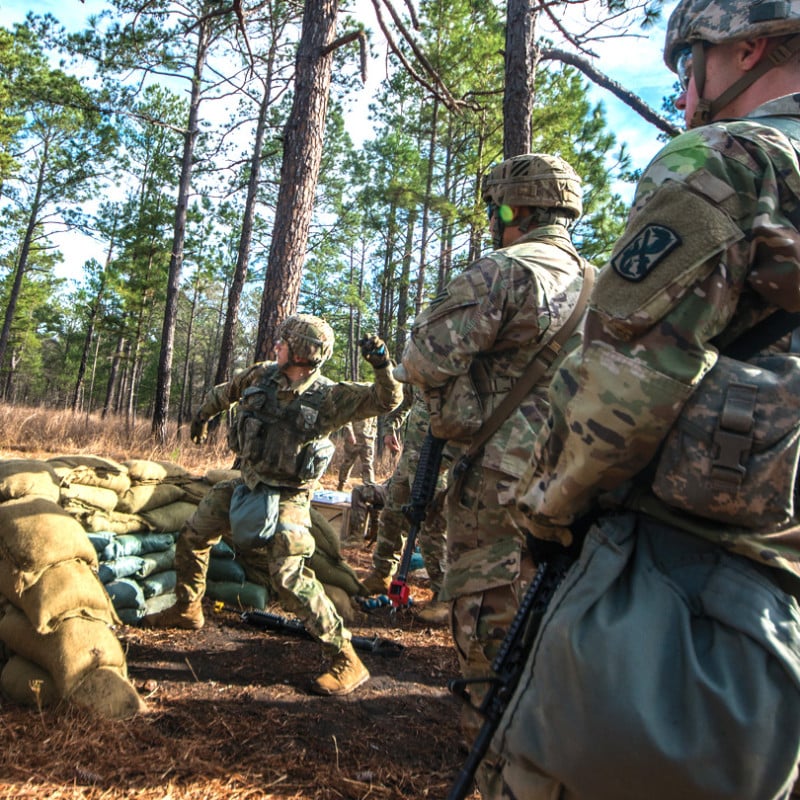 A quick Google search proves there are plenty of job openings in the West Central part of the state. But connecting qualified people to those jobs has not always been easy. Now, though, there are innovative ways to forge these connections and facilitate communication between employers and the workforce.
"It's the first project that I'm aware of that helps give statistical information to employers in terms of employment and job information," says Kirk Fjelstul, executive director of the Three Rivers Regional Commission (TRRC), about the new talent portal and data center for the region.
Made possible through the state's High Demand Career Initiative (HDCI), which aims to train workers for the most in-demand careers in Georgia, the program began by focusing on careers in manufacturing, a sector with an immediate need in the region.
The collaboration between the LaGrange Troup County Chamber of Commerce and Texas-based Avalanche Consulting resulted in a live talent portal, as well as a data center to provide "live, learn and earn" information for job seekers, says Stephanie Glenn, interim workforce director for TRRC. Potential employers are able to see occupational trends and a manufacturing sector analysis report that includes baseline information on current conditions in the manufacturing sector. The portal is designed to provide an accessible link between employers and job seekers in TRRC's 10-county area.
In Muscogee County, getting workforce information to potential employers has become a priority as companies look for quality of life and talent, says Greater Columbus Georgia Chamber of Commerce President and CEO Brian Anderson. "Infrastructure and incentives are expected now," he says, "but no matter where you are in the country there aren't enough people with the right skill set."
Columbus is filling these gaps as part of Columbus 2025, a regional prosperity initiative engaging civic and business leaders begun in 2017. Under its "Talented and Educated People" mission, goals include creating a Muscogee County School District college and career academy, developing a talent retention strategy and creating more internship opportunities for students and teachers.
"Our objective was to create a cradle-to-career initiative," says Sendreka Bledsoe Lakes, executive vice president of education and workforce development with the Greater Columbus Chamber, explaining Columbus 2025's goals. "It is designed for our community to have common goals in terms of education and workforce."
"We can't just see economic development as 'let's just recruit the next big business to our community,'" says Betsy Covington, president and CEO of the Community Foundation of the Chattahoochee Valley. "Increasingly, workforce development is about people who want to start their own business … but what are we are doing to maximize the potential of attracting, developing and retaining talent?"
Modeling Success
For the past nine years, a partnership between jet engine manufacturer Pratt & Whitney and Columbus Technical College has enabled area students to complete an eight-week program and enter a full-time training role with the opportunity to make more than $20 an hour. Since then, "we [have] graduated 100 students out of that model who were quickly connected to a skill set and job opportunity," says Anderson. "It's a goal for other industries." Pratt & Whitney has hired more than 80 students; all but two are still working there.
At TSYS, a global credit card processor with 5,000 employees in Columbus, students from 13 area high schools recently visited the company to learn about careers in technology. The 325 students met with professionals in areas including business analysis, testing and cybersecurity, says Gail Burgos, TSYS senior diversity and inclusion manager. "We wanted them to know that it's not all just programming."
To follow up, the company offered a summer internship for graduating seniors and received an enthusiastic response. Nineteen were interviewed, and eight worked at the company last summer, says Burgos, including "one young man we decided to keep on in the fall while he attends Columbus State University."
Fort Benning, which celebrated 100 years in the Columbus-Muscogee County community last year, is helping to transition its soldiers and veterans to jobs in renewable industries. Last summer, in partnership with Airstream Renewables Inc., the base's Career Skills Program launched a renewable energy and communications tower technician program. According to the Bureau of Labor Statistics, veterans find jobs in wind power at a rate 72 percent higher than the average U.S. industry, and wind technician is the second fastest-growing job in the county.
Pilot programs like Troup County's Occupational Skills Training, which is hosted by TRRC in partnership with the school system, West Georgia Technical College and Goodwill, teach employability skills to 10 young adults, ages 16 to 24, who are out of school and interested in a skill and employment. After interviewing throughout the county, says TRRC's Glenn, "five were offered employment opportunities, and the remaining participated in WIOA's [Workforce Innovation and Opportunity Act] program to gain additional experience."
The programs show the statewide trend toward career academies and high schools with career tracts, says Jamie Loyd, vice president of economic development at Columbus Technical College. "We are looking for workforce development earlier and earlier – it's happening as early as 9th grade."
Identifying Employers
In rural Quitman County, as well as in Randolph, Clay and Stewart counties, state officials have begun to survey employers with a plan to boost employment. The Employer ID project was recently created by Jim Livingston, the community and economic development director with the River Valley Regional Commission, and Columbus Tech's Loyd. The project is an online assessment that asks employers about the number of employees they have and plans for expansion, says Sara Lee Crumbs, the Georgia Family Connection coordinator for Quitman County, which brings together community partners to address the challenges facing Georgia's children and families.
Feedback has shown that finding talented workers is an issue for area businesses. According to Employer ID information, 100 percent of close to 300 businessowners find a "limited or lack of qualified candidates in the region, inability of workers to meet some basic requirements," such as soft skills, and "a limited availability of on-the-job training," says Livingston.
By establishing lines of communication and gathering data from area businesses, officials are able to make progress on developing the workforce and supporting retention and expansion.
"Employer ID provides our technical colleges and workforce development boards data on what companies need in terms of skills and training," says Livingston. A second phase of the project will provide soft skills training with Albany Technical College and Columbus Tech.
"We want the opportunity to work with anyone who wants to better themselves, anyone who wants the opportunity," says Crumbs. "We have outstanding supporters within these four to five counties." They plan to survey employers in nearby Barbour County, Ala., as well, she says.
Healthcare Benefits
Pike County will soon be able to offer healthcare to area veterans. Plans for an outpatient veteran's clinic are underway. Several construction bids have been submitted and site selection continues. Although there is no date set for groundbreaking, residents are enthusiastic about the opportunities.
"It's going to open the door here in Pike County for a lot of different things – restaurants, hotels, medical offices," says Pike County Manager Bobby Bickley about the $20- to $50-million project. "I've seen the layout, and there are many areas [that will need staffing]," he notes.
Marion County will also see expansion in the medical field with construction of a new Phoebe Primary Care of Buena Vista facility located at Highways 41 and 137. Increased volume and demand led to the purchase of 25 acres for the facility, which will include rotating specialists in cardiology, orthopedics and rehabilitation.
Expanding Industry
Upson County recently welcomed Crown Technology, a manufacturer of preformed thermoplastic pavement marking products for roadways. "This is our third expansion in four years," says Joe Winters, the company's vice president of operations. "We've been hiring folks and training since we purchased the property [last year], starting with 12 to 15 [employees]. Probably by the end of this year, we will have close to 50."
As the business community continues to grow, Thomaston-Upson County Development Authority Executive Director Kyle Fletcher says sewer and gas line extensions at the area's Central Georgia Business and Technology Industrial Park have made 215 acres of developable property available. The Thomaston-Upson Industrial Park remains a "utility-rich" spot on State Route 36. New retail in Thomaston includes a "combination store of Dunkin' Donuts/Baskin Robbins, which will be opening on Highway 19," adds Fletcher.
The development authority, at the urging of local government, has recently started a Workforce Development Task Force that "will bring state and local partners [together] to develop new initiatives in hopes of reaching people of all ages who are looking for employment," Fletcher says. Partners include the Thomaston-Upton School System, Southern Crescent Technical College, the city of Thomaston, Upson County and local industry leaders, as well as resource partners like the Georgia Department of Labor, TRRC and the chamber.
"We had 30 participants at our first meeting in January and broke into groups to determine what resources we had that could enhance our workforce," says Fletcher. Sharing information is key. "We [already] have many initiatives in place, yet some organizations weren't aware of what is available."
With today's strong job market, finding qualified job candidates is a challenge in West Central Georgia. But by connecting with businesses and creating innovative programs, leaders in the area are making solid progress in developing labor markets and helping businesses grow.
---
People to Meet
Richard L. Baxter
Columbus' growing film industry has a new champion, Columbus State University's Richard Baxter, the associate vice president for engagement and economic development. To assist Baxter, the $5-million Columbus Film Fund, which offers incentives on top of the state's package to attract producers and directors, was announced at the Sundance Film Festival in January.
Henry M. Jacobs
Middle Chattahoochee Director for the Chattahoochee Riverkeeper, LaGrange-based Henry Jacobs is also a photographer, videographer, drone pilot and musician – he plays drums for Americana group The Front Porch Collective. Jacobs helps run programs like the West Point Lake Floating Classroom and community cleanups, employing his video and photography skills to document life on the river.
---
Regional Highlights
• Sewon America, an automobile industry supplier in Troup County, is investing $160 million and adding 100 jobs to expand its LaGrange facility.
• Global Callcenter Solutions will invest $4.9 million in Columbus and Muscogee County, creating 600 jobs.
• Gildan Yarns LLC expanded production capacity at its Columbus facility, creating close to 80 new jobs.
• Americus' business community will get gigabit-enabled broadband service, a $2-million capital investment, in collaboration with Pineland Communications.
• U.S. Department of Veterans Affairs will build a 49,000-square-foot regional clinic in Pike County at an estimated $20-$50 million cost.
---
Click here to view West Central Georgia statistics: Population, Income and Unemployment