EY – Southwest
Bright Future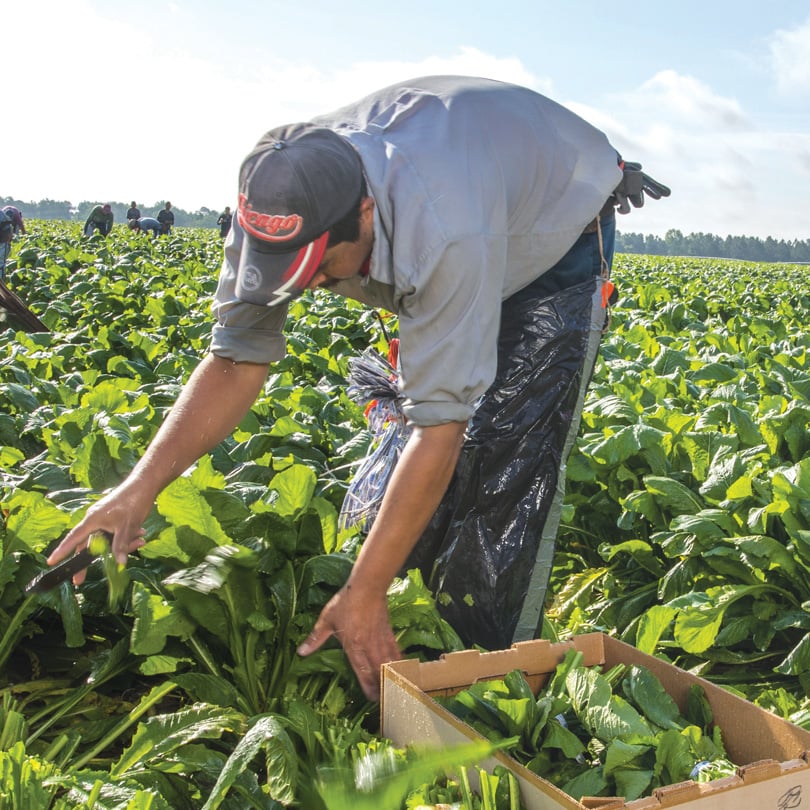 Into every life a little rain must fall, as the saying goes, but when that rain comes in the form of a Category 3 hurricane named Michael, the results are devastating. Michael roared into Southwest Georgia packing 115 mph winds on the night of Oct. 10, 2018. The storm left a trail of destruction in its wake that leveled homes and businesses alike. But in this region of the state, agriculture and agricultural industries are still king, and it was those sectors that bore the brunt of Michael's wrath.
"Between row crops and other ag-related industries like poultry, pecan and timber, the devastation of the storm affects us dramatically," says Robert McDaniel, executive director of the Southwest Georgia Regional Commission. "There was a straight-line wind event a year or so ago in Albany, then a tornado, then Michael came through. Prior to any of these events happening, our region was pretty solid."
Early estimates of agricultural monetary losses include:
• Poultry: $25 million
• Timber: $1 billion
• Peanuts: $10-$20 million
• Cotton: $550-$600 million
• Pecan trees: $560 million
• Vegetables: $480 million
"In Mitchell County, the biggest impact from Michael is the loss of pecan trees," says Paige Gilchrist, executive director of the Mitchell County Development Authority. "Cotton can be replanted for next year. Pecan trees have to be replanted and grow over several years. Farmers who are my dad's age will never see their trees that big again."
Mitchell County faced another setback last year when clothing manufacturer Darwood Manufacturing shuttered its doors after nearly 60 years, but that cloud had a silver lining; within a week, the company was purchased by Fire-Dex, and 70 of Darwood's former 130 employees were hired back. Fire-Dex makes apparel for fire fighters.
"It's taking a while to get the 130 jobs back, but it's definitely headed in a positive direction," Gilchrist says.
Southeast Ag Equipment also brought nine new jobs to the county last year and invested $500,000 to construct a new facility.
In fact, despite the setbacks from Michael, the Southwest region has experienced a renaissance of new industry, as well as expansions of existing industries along with more big and small businesses over the past couple of years.
"We had seven new projects in 2018 that created 755 jobs and totaled $125 million in capital investment," says Shelley Zorn, executive director of the Thomasville Payroll Development Authority. "It was a banner year. More [economic development] than we've had in a long, long time."
While new investment is always welcome, expansions of existing industry also speak well to the business climate of a community. In Thomas County, approximately 10 existing industry expansions created 830 new jobs, including 100 new management and corporate office jobs at Flowers Industries. The packaged bakery foods producer will celebrate its 100th anniversary this year.
"Hurst Boiler, Ag-Pro and Evoqua all expanded here last year," Zorn says. "There are only six companies in the country that make industrial boilers, and Thomas County has two of them, Hurst Boiler and Cleaver-Brooks."
---
Working Solutions
In addition to recruiting new industries, part of Zorn's job is to visit existing industries to ensure they have what they need to be successful. Many times, those conversations focus on workforce development.
"We're launching a new program this year called Project Purpose, which is a work-based learning initiative," she says. "The city, the county, the schools and local industry came together to identify issues around workforce development and find solutions."
One of the issues identified was an aging workforce at Evoqua Water Technologies. Evoqua makes water systems and pumps for municipalities and industrial companies. Project Purpose will pair a high school student with a mentor from the local industry, who they will shadow on the job. Evoqua will pilot Project Purpose this fall with 12 students.
"If we can show students a community in Alaska where an Evoqua water system is and what a difference it makes in that community, they'll see there are good jobs doing great things right here," Zorn says.
Thomasville is also trying to grow its entrepreneur base, launching "Spark Thomasville" in January. The class pairs participants with a mentor and offers business training, support and resources.
To help meet the Valdosta area's growing workforce needs, educators and economic developers came together in November for a one-day workshop focused on workforce development. As a result, the development authority is looking to host industry tours with local and regional educators once or twice a year. Valdosta is also home to Wiregrass Technical College.
"Several of those educators [who attended the November workshop] were able to make connections with local industries and share with their students the types of jobs that are available in our area," says Andrea Schruijer, executive director of the Valdosta-Lowndes County Development Authority.
Seminole County is hoping to develop a youth leadership program that will not only create qualified employees, but entrepreneurs as well.
"There's a youth leadership program they're using in Bainbridge that sounds very promising," says Sarah Avery, president of the Donalsonville-Seminole County Chamber of Commerce. "One of the goals would be to guide local youth and keep them here and help them be successful."
These economic developers aren't the only ones looking for innovative ways to make sure local industry has a qualified pool of job candidates. In July, Albany's Commodore Conyers College and Career Academy launched a new program that will give high school seniors a technical college certificate and a high school diploma in just one year.
"The college and career academy has 17 pathways that all focus on local and current job requirements," says Albany Mayor Dorothy Hubbard. "Some high school students go [to the academy] in the morning, some in the afternoon, then back to school. When they come out of that academy, they will be trained for a job."
Local industries have also partnered with Albany Tech to create the Albany Transportation Academy, which seeks to increase the number of truck drivers.
"Albany Tech doubled the capacity of its truck driving program," says Justin Strickland, president of the Albany-Dougherty Economic Development Commission. "After eight weeks of school, you can become a certified truck driver. These academies help our industries identify new employee prospects and give our citizens the skills they need for the job openings in our community."
Those truck drivers will be in even higher demand when Georgia-Pacific opens a new timber production facility in Albany later this year.
"Between 300 and 400 trucks a day will be servicing that site," Strickland says. "We're really excited about the new opportunities that will bring in terms of job creation and new logistics opportunities."
In addition to construction of the $150-million, 320,000-square-foot Georgia-Pacific facility, WebstaurantStore, a restaurant equipment distributor, added 40 employees to its Albany-based e-commerce fulfillment center, bringing its total employment in the city to more than 300. Since 2014, the company has invested $15 million in its facility. Procter & Gamble also added 30 new jobs last year.
---
Continued Expansions
Expansions are also occurring in Lowndes County. Automotive parts manufacturer Steeda Autosports recently celebrated 10 years there and has grown from just five employees when it opened its doors in 2008 to more than 30.
Annually, more than 3,000 parts related to the automotive industry are manufactured in Valdosta.
"Throughout their 10 years, Steeda has continued to provide good, quality jobs to our residents and invest in our community," says Schruijer. "We are grateful for all the industries that choose to do business in Valdosta-Lowndes County, Georgia."
As Steeda's success was celebrated last year, three additional companies announced $8.9 million in capital investment in the community.
Metal Benderz, a Georgia-based company that designs, engineers, manufactures and fabricates cold-formed steel framing systems, relocated into a building in the Hahira Industrial Park that had been vacant for 10 years. An initial capital investment of $1.5 million is expected to be followed by an additional $3.5 million this year, creating approximately 50 jobs.
Meanwhile, CJB Applied Technologies and Virtual World Technologies are expanding in Valdosta-Lowndes County.
CJB is investing $2.5 million to construct a 10,000-square-foot facility on an 8.4-acre tract in the Miller Business Park. The expansion will create up to 10 jobs. Virtual World Technologies is spending $1.4 million to grow its existing location by 7,500 square feet, and the company plans to hire an additional 10 employees.
---
Retail and Residential Growth
Traditionally, the holy grail of economic development is the successful courting of a large industry that promises to bring millions of dollars in investment to a community, and hundreds, maybe even thousands, of new jobs. Winston Oxford is not your typical economic developer.
"I do not chase industrial development in Lee County," says Oxford, executive director of the Lee County Chamber of Commerce. "I spend all my time recruiting commercial development."
As part of the Albany Metropolitan Statistical Area, Lee County is a residential and retail mecca.
"We're surrounded by rural areas with not even a grocery store," Oxford says. "More people come to this area to spend their dollars than leave here to spend their dollars. Our commercial tax base has increased 340 percent over the last 15 years."
Today, people may come to Lee County to live and shop, but within the next few years there will be another, perhaps even more compelling reason to go there: a brand-new hospital. The 60-bed hospital is expected to open in late 2021 or early 2022.
Lee County's not the only Southwest Georgia county cashing in on its retail assets.
"We're on the cusp of a domino effect of some really good things," says Sam McCard, interim executive director of the Ashburn Turner County Development Authority. "We cleaned up our exit 82 [on I-75], and it really opened our doors."
A Flash Food's truck stop built in 2016 has served as a catalyst for commercial development in Ashburn. The travel center has not only driven competitors in the area to "up their game in price and facilities," it has also drawn more traffic to local fast food places that were previously struggling, McCard says. In addition, a recently closed Shoney's reopened under a new owner/operator in March, and there are plans for a 64-bed Holiday Inn Express behind the restaurant.
"We've received a $600,000 GDOT [Georgia Department of Transportation] grant to build a road that will open up 12 acres to development behind the truck stop, next to the interstate [I-75]," he says. "We're in the process of courting retail establishments for that space. It's pretty easy to focus on retail because that allows us to piggyback off what we've created."
Though it may take years to fully recover from the effects of Michael, new industries, new businesses and new jobs all point to a brighter future for Southwest Georgia.
---
People to Meet
Werhner Washington
When Werhner Washington began his career as a process engineer at Procter & Gamble in Albany, he dreamed of one day becoming the plant manager. That dream would come true 30 years later, and today, he uses his leadership position to partner with other area organizations, including Albany Technical College and the chamber, that are focused on improving the region's economy and workforce development.
Sarah Avery
While many in Donalsonville and Seminole County know Sarah Avery as the new chamber president, they may not know she also happens to be an accomplished and talented artist. Last year, the Savannah College of Art and Design alum's work was included in former Gov. Nathan Deal's Art of Georgia exhibit at the State Capitol.
---
Regional Highlights
• The Linde Group's $40-million atmospheric gases plant in Cook County is nearing completion. The plant will create 35 permanent jobs.
• New solar facilities are under construction in Mitchell County from Origis Energy and Invenergy as part of Georgia Power's solar initiative. One represents a $170-million investment in the community, and the other a $70-million investment. The projects will create several hundred temporary jobs and four or five permanent jobs.
• Keystone Foods chicken processing plant and its 2,000 employees in Camilla were recently acquired by Tyson Foods. It will be investing $34 million in an expansion, creating an additional 100 jobs.
• Philadelphia College of Osteopathic Medicine is investing $30 million in a new PCOM South Georgia campus in Moultrie. The first class of 55 students will begin this August under the tutelage of 20 faculty members.
• Georgia-Pacific is constructing a new timber production facility in Albany, investing $150 million in a 320,000-square-foot facility that will create 150 full-time jobs.
• Long Island, N.Y.-based Check-Mate Industries Inc. is relocating to Thomasville. The family-owned manufacturer of metal stampings, assemblies, tools and dies is investing $16 million to transform a former Caterpillar facility into a new manufacturing plant that will create 230 jobs.
---
Click here to view Southwest Georgia statistics: Population, Income and Unemployment