Macon | Bibb County: Big Momentum
Transportation, transformation and tunes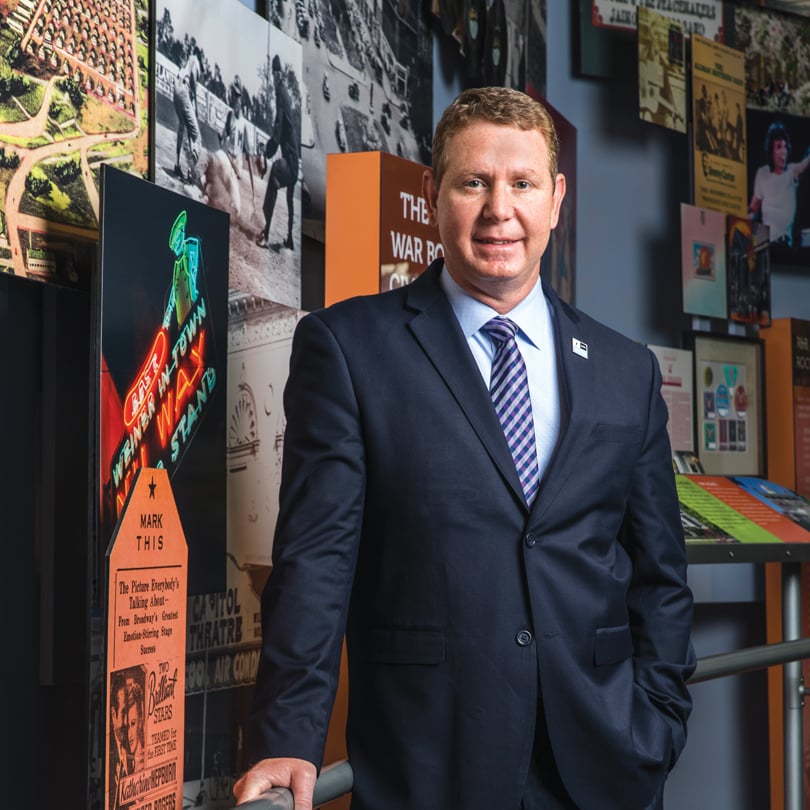 Macon and Bibb County are commanding year-round attention these days, branching out from the cherry trees that bloom every spring and draw thousands of visitors. The city, which is Georgia's fourth largest and located about 85 miles south of Atlanta, has attracted millions of dollars from U.S. and international companies as public, private and nonprofit partners invest in the rebirth of its downtown and educational institutions, while at the same time creating employment opportunities.
The Macon-Bibb County Industrial Authority has generated more than $800 million in new private investment that has created more than 1,100 jobs and retained more than 700 existing jobs since February 2017.
Three major roadway infrastructure projects, including the $500-million upgrade underway at Interstate 16 and Interstate 75, are significantly enhancing Macon-Bibb's ability to recruit, says Stephen Adams, executive director of the Macon-Bibb County Industrial Authority.
"We're really fortunate in the state of Georgia to have obviously the Savannah port. We're very fortunate to have Hartsfield-Jackson [Atlanta International] Airport just north of us," Adams says. "For us to be right in the center of those two, it just makes us very logistically situated for big industry."
---
Industrial Expansions
This year, fiber cement manufacturer Nichiha Corp. plans to break ground on a $120-million manufacturing plant that will double the size of its current facility and create 74 new jobs in Macon.
"Anytime an existing industry has an ability to expand in a different location and chooses to expand in Macon-Bibb County, where they already have a presence, I think that is a testament to the business culture and the business environment here," Adams says. "That tells us they've been able to find the workforce, find the contractors they need and have been able to have a successful business here."
Nichiha joins companies including Amazon, which will open a 1-million-square-foot fulfillment center and create more than 500 jobs this year; a $400-million tissue manufacturing facility by Irving Consumer Products, also opening this year; and investments from Star Snacks, Tyson Foods and Graphic Packaging that demonstrate successes in target industries of advanced manufacturing, distribution/warehouse and food, Adams says.
"We have continued to focus on what we're good at, and we have continued to focus on our goals and our mission: job creation, retention and expansion, and overall improvement of quality of life," Adams says. "I think the track record speaks for itself."
The consolidated Macon-Bibb County government, created in 2014, had a mandate to reduce expenses by 20 percent over four years. It eliminated city property taxes, though county property taxes increased by 3 mils in both 2017 and 2018.
"We're doing everything we can not to go up on taxes any more. But I think we've reached a point where we can level out this year and rely on existing sources of revenue without further tax increase," Adams says.
Jim Manley, Middle Georgia market executive for Synovus Bank and 2019 board chair of the Greater Macon Chamber of Commerce, says the most activity appears to be in sectors such as healthcare, logistics/warehousing and senior housing.
"The outlook for 2019 seems to be still very healthy. It is universally positive at this point, and it has remained so," he says.
---
Flying High
Yvonne Williams returned home to Macon in 2018 when she was named president and CEO of the Greater Macon Chamber. She's focused on promoting regionalism, and connectivity is a key component.
The I-75/I-16 interchange upgrades, which include wider shoulders, additional lanes and concrete barriers, will serve as a major gateway for logistics traffic, expanding connectivity around the Southeast, she says. The project is expected to take about five years to complete.
"Nobody can come through Macon without being aware of the improvements to the interchange of I-16 and I-75. I describe that as the most welcome nuisance," Mayor Robert Reichert says. "We've been waiting and anticipating this improvement. It will make the intersection much safer and much more attractive as well."
Elsewhere in the area, the Sardis Church Road project, a four-lane divided highway, will make a direct connection to I-16 for about 4 miles to state Route 247, near Warner Robins. Part of that project will connect with Middle Georgia Regional Airport.
In December, the airport began offering direct commercial flights to Tampa, Fla., through Contour Airlines, which also offers direct flights to Baltimore. Passenger service is booming, with more than 10,000 enplanements in 2018 from the nonstop service to the Washington D.C., area, he adds. Extending the runway from 6,500 feet to 8,000 feet will help it accommodate 90 percent of all aircraft, he adds.
Also at the airport, Stevens Aerospace, a South Carolina-based aircraft maintenance company, has leased a 48,000-square-foot hanger with a $1-million investment and 150 new jobs, and Embraer, a Brazilian aircraft maintenance company, is expanding into a 155,000-square-foot hanger with more than 100 new jobs and a $1.6-million investment, according to the county.
---
Downtown Renaissance
Williams describes Macon as in a "renaissance period. We are building a momentum of culture and music and living and loft opportunities in downtown Macon," she says.
Markers of change range from storefronts with leasing and coming soon signs to hospital construction. Navicent Health's new Beverly Knight Olson Children's Hospital opened last month and is expected to have more than 45,000 patient visits annually.
The merger of Navicent Health, whose 637-bed Medical Center (formerly The Macon Hospital) is the state's second largest hospital and includes a Level I trauma center, and North Carolina-based Atrium Health took effect Jan.1.
Manley says the transformation by the county, nonprofits, private investment and groups such as developer NewTown Macon makes downtown one of Macon-Bibb's most exciting stories.
New projects include the 11-story government annex building downtown, which is being converted to mixed-use by Valdosta-based IDP Development Partners. The former Shrine Temple on Poplar Street was recently sold to California-based Epic Venues, which plans to convert it to event space.
Business is "crazy," says Travis Jean Emporium owner Scott Mitchell, while pausing to greet shoppers at the downtown gift shop that features local and Georgia-made art and products.
"It's above and beyond anything we saw last year," says Mitchell, who is president of the Downtown Macon Community Association and serves on the board of Main Street Macon. "It's booming, but it's also on the cusp of getting even bigger."
While the return of parking meters may draw some complaints, Mitchell says it has helped lessen shoppers' frustration and kept them from driving in circles to find a space.
Those shoppers included visitors from 26 countries and 46 states since 2017, according to Visit Macon. The Macon area has 5,500 hotel rooms to accommodate visitors, with a 58.4 percent average occupancy the past three years, which is a 4.5 percent annual growth.
Gary Wheat, who joined Visit Macon as president and CEO in 2017, says revamping its marketing and advertising strategy to focus on the Atlanta market has boosted tourism. The sector supports 3,633 jobs and contributes $16.34 million in state tax revenue. Macon tourism also has added $9.97 million in local tax revenue through $364.5 million in direct spending by visitors.
"We were not taking advantage of the fact that about 5 million of our closest friends are an hour up the road in Atlanta," Wheat says.
Visit Macon has promoted the city's music heritage, burgeoning brewery culture and downtown revitalization to entice weekend traffic from the region as well as tourists from farther afield. Visitors from countries such as Germany, Norway, Finland and Australia are interested in landmarks tied to singers including Otis Redding and groups such as The Allman Brothers Band. During the holiday season, crowds of locals came downtown on Friday nights to see a light show synchronized to music.
A Hyatt Place with up to 60 rooms is planned in the Central City Commons on Poplar Street, while a high-rise hotel that has been different brands is set to become a 297-room Wyndham this year. New downtown restaurants in 2018 included Oliver's Corner Bistro and Famous Mike's (formerly Biscuits, Burgers & More), both on Poplar Street. Kudzu Seafood Co. plans to relocate to a larger space on Poplar with rooftop dining.
This year is the 50th anniversary of Capricorn Records, which launched Southern rock and soul groups and artists. Mercer University is redeveloping downtown's former Capricorn Recording Studio to include 13 rehearsal rooms offered at low-rent rates, says Larry Brumley, Mercer's chief of staff and senior vice president for marketing communications. The project will cost about $4 million from sources including private donors and historic tax credits and should be completed late this year or early next year, Brumley says. Tours of the revamped facility will create a new attraction downtown, Wheat adds.
---
Making Connections
When the Second Street Connector is completed later this year, it will provide a pedestrian- and retail-friendly thoroughfare that will link downtown to Mercer University, about 2 miles away, and create a spine for development, Reichert says.
Students, millennials and empty nesters are making downtown home. The Lofts at Capricorn is expected to be fully leased this spring, Brumley says. The changes downtown, including dining and brewpubs, city investments in parks, as well as collegiate football, have helped Mercer attract more students, he says.
Mercer experienced record enrollment for the 2018-2019 school year, with about 8,800 students at its campuses in Macon, Atlanta and Savannah. In Macon, the undergraduate population has grown from about 2,300 to 3,400 students in the last eight years. It plans to add 360 apartments to the 300 beds that became available this fall. Mercer has about 240 medical students in Savannah and Macon.
To ensure these students get the best education possible, last spring, Mercer opened a $44-million science building with nearly 144,000 square feet.
The university also offers the Mercer Innovation Center, a startup incubator that has provided $20,000 in funding and resources such as office space and interns to each of nine companies in its fellows program the past three years. The center has attracted Mercer graduates who otherwise might have left Macon and entrepreneurs from cities such as Atlanta.
Z Beans Coffee, an importer and roaster of Ecuadorian coffee with wholesale sales and a retail location that opened on the edge of campus in August, was one of the three fellows in 2018.
"The biggest thing the innovation center has allowed me to do is to make mistakes organically. As far as I'm concerned, there's no reason I shouldn't be successful. If I'm not, it's 100 percent my fault," says owner Shane Buerster, a Mercer graduate who came up with the idea after a school trip to Ecuador. "Through the innovation center, through Mercer's support, I've been given the resources that I need to take Z Beans to the next level. That's what I think incubator space should be about: the opportunity to make mistakes."
Macon-Bibb County's location, infrastructure and proximity to Atlanta give it a unique sense of identity and place, Reichert says, that more people are finding attractive.
"I've lived in Macon altogether about 20 years," Brumley says. "I've never seen the kind of momentum than Macon is enjoying right now. It's attracting industry. It's attracting new businesses. We're launching new business and creating infrastructure here now where people can create businesses and stay here."
---
Local Flavor
Southern Rock
March marks the 50th anniversary of the formation of The Allman Brothers Band, and Macon's The Big House Museum, former home of the band, continues to welcome visitors from all over the world.
Band members and their families, friends and roadies lived in The Big House, just west of downtown, from 1970 to 1973.
"With a milestone like that, one would certainly hope that people would make it more of a priority to come visit the museum, if it was already on their list of things to do. What better time to do it?" says Richard Brent, director of collections and merchandise at The Big House Museum.
The anniversary also coincides with plans to update and expand the exhibit and event space at the museum, a Tudor-style home with stained glass windows. The nonprofit has purchased the house next door to the museum on Vineville Avenue. A capital campaign aims to raise about $500,000 to help renovate that property for employee offices, archives and an event space, and complete the third floor of the existing museum.
"Then The Big House would be complete from the first floor to the third floor, top to bottom," Brent says.
More than 10,000 people visit the museum annually, an uptick from previous years following the 2017 deaths of founding member, singer and songwriter Gregg Allman, and founding drummer Butch Trucks, Brent says. The museum, open Thursdays through Sundays, displays memorabilia, instruments, clothing, photos and other items in the bedrooms, dining room, parlor, living room, kitchen, music room and rehearsal spaces.
The Big House Museum also hosts backyard concerts, weddings, rehearsal dinners and private parties. The museum plans to host an event this spring to commemorate the anniversary.
"The main thing is just for us to stick to our mission. That's to keep educating the world and the public on the Allman Brothers and Southern rock music. It's a genre that's really nonexistent anymore," Brent says. "We just want to make sure that those bands, specifically, obviously The Allman Brothers Band, are never forgotten about." – Lori Johnston