From The Publisher: Taking on Healthcare Reform
We need to work together to streamline treatment and bring down medical costs, especially in rural Georgia.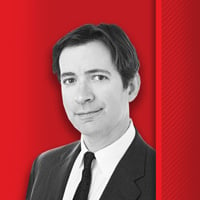 I hope new momentum to support rural Georgia will bring true change in our approach to finally tackling our healthcare problems. Healthcare reform is a confusing issue, but the reality is that access to care is a huge problem in rural parts of the state, and people are facing higher costs that are outstripping their means
It's a mounting crisis as our population ages, according to a recent article, "Medicare (and You) at 65" by Alexandra Hill, a researcher at the University of Georgia's Selig Center for Economic Growth, in its publication Spectrum. And it comes at a time when there's not a lot of traction at the federal level for replacing the Affordable Care Act (ACA), much less healthcare reform.
The ACA has increased funding for Medicaid in states that have accepted it, reducing out-of-pocket spending for families just above the poverty line. Georgia, however, is not one of those states, and nearly half-a-million people – in rural Georgia in particular – are feeling that $3- to $4-billion pinch, as are their hospitals, which are providing more uncompensated care, and surrounding economies.
For nearly a decade, Georgia has refused this amount for Medicaid expansion. Meanwhile prescription drug costs rose almost 25 percent from 2012 to 2016, and the cost of both inpatient and outpatient services, despite falling utilization levels, rose at similar levels, with no end in sight.
Most people I know are flummoxed at trying to figure out their healthcare costs even when they have insurance through an employer. And many people I know do not even bother trying to figure it out. They don't have to: since 1986, hospital emergency departments have been required by federal law to treat and stabilize all patients regardless of their ability to pay.
While Medicare and Medicaid cover a substantial amount of indigent costs for hospitals, the bulk of unreimbursed costs are for uninsured or indigent patients. And many patients who are insured are charged over 40 percent more to make up for these losses.
At the federal level, the GOP has floated plans to reimburse hospitals for the uninsured through tax credits, somewhere in the range of $2,500 each year per patient, but actual health costs can jump into the $10,000 range for one visit. On the state level, there will likely emerge a waiver model that partially increases funding for uninsured Georgians, but it could get caught up in a legislative fight for full access.
I've heard some in the industry say they hope for a technological solution that would streamline treatment and bring down medical costs without the need to replace or reform ACA. I wish that a broadband solution bringing fiber-optic access to rural Georgia, for instance, could include a telemedicine component that could enhance our ability to treat patients in far-flung communities.
Solutions can also be found at a local level. Atlanta's Grady Hospital in 2015 enrolled 50,000 uninsured in its own insurance plan, modeled after safety-net hospitals in Minneapolis and Cleveland, and saw a 23 percent to 25 percent reduction in ER visits, often the go-to zone of the uninsured. The model includes strong patient engagement and payments based on quality and reduced costs per patient. Memorial Health System in Savannah has implemented a similar model.
However, I am not optimistic that such a transformative model will become widespread quickly enough to offset continually rising costs for treatment and prescription drugs. Most health systems in crisis can barely afford to keep the doors open, much less create their own indigent insurance program.
Georgia is stuck on a rock in a river until it shoves off and takes the federal Medicaid money – a problem that will only become more urgent as a showdown looms between younger generations seeing a spike in premiums and older generations seeing a spike in service costs.
It is possible to craft the language of the waiver in a way that addresses some of the deficiencies of the ACA and ensures that all working poor Georgians benefit. However, it could fail if restrictions are attached that further complicate the process of ensuring participation for all eligible Georgians, truly reducing hospital costs for treating the indigent.
But requiring people who have insurance to pay substantially more to offset hospital and health system losses from treating the uninsured is not a sustainable option, regardless of politics. We will all need to work together on this.