Back In Time
Even today, there are areas on Georgia's coast that allow visitors to slow down, unplug and unwind.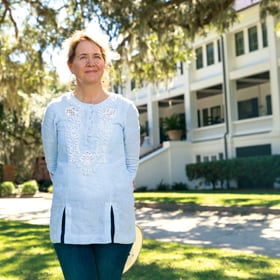 Most Georgians – and a large number of tourists from much farther away – are familiar with coastal hotspots like Tybee, Jekyll and St. Simons islands. The beaches are beautiful, the shopping, golf, activities, hotels and restaurants plentiful. And these locations contribute to the economy of Georgia in substantial ways.
In fact, the economic impact of Golden Isles tourism reached nearly $7 million in lodging tax alone last year, and local officials estimate tourists are responsible for about $1.4 billion in direct and indirect spending annually.
"For the last seven years, really, we have been on a steep incline as far as bringing more visitors to the area," says Scott McQuade, president and CEO of the Golden Isles Convention and Visitors Bureau. "We've grown the tourism industry over almost 60 percent."
These more developed islands may be the economic engines that keep the area humming, but they aren't the only islands in the sea. There's another coastal Georgia, one with nothing but sand, sun, wild animals, forests, marshes and the occasional mansion – and it's only accessible by boat. Jekyll, St. Simons and Tybee all have causeways or bridges connecting them to the mainland – and this accounts for their development. But for the more adventurous, a ferry to Sapelo, Cumberland or Little St. Simons is the only way to go.
"The experience of getting there only by boat almost forces you to leave the world behind," McQuade says.
---
Jackets and Boots
Imagine wild horses roaming tall grasses, the stone ruins of a Carnegie mansion in the background, while the sound of the surf – on a near-deserted beach – hums in your ears. If this seems like your idea of paradise, look no further than Cumberland Island, the southernmost and largest of Georgia's barrier islands. Cumberland is a national seashore, with much of the island owned by the federal government, though part of the island remains in private hands, including the Greyfield Inn, the only hotel on the island.
Greyfield is a place where jackets are required at dinner – but hiking boots and bug spray are also must-haves for exploring the 9,800 acres of nationally designated wilderness.
Thomas and Lucy Carnegie built Greyfield in 1900 for their daughter, Margaret Ricketson. More than a century later it's still family owned and now operated as an inn by Mitty (great-grandson of Ricketson) and Mary Ferguson, who've been managing it for about 40 years.
The all-inclusive experience allows regular folks to live like, well, Carnegies, for a time. The experience includes meals provided by Top Chef alum Whitney Otawka and her husband Ben Wheatley, with many ingredients coming from Greyfield's gardens.
Inside, the house has all the modern conveniences (except Wi-Fi), though it looks like it stepped out of 1900, with much of the family furnishings intact.
"It's pretty much like the family still lives here," says Mary Ferguson. "I think people really love that it's not generic and it feels real. There's still family here working that they see every day. I think people just connect with that – the history of the island, the history of the family."
The inn has naturalists on staff, who lead bike and hiking tours, kayak tours of the marsh, cultural history outings and fishing and birding expeditions. The 17 miles of undisturbed beach – no condos, houses, docks – also beckons.
Among the tours is a look at another Carnegie family home, Plum Orchard, a 22,000-square-foot mansion owned by the park that has been largely restored. Another don't-miss site is the tiny First African Baptist Church, which was established in 1893 and hosted the 1996 wedding of John F. Kennedy Jr. and Carolyn Bessette.
You don't have to be American royalty to enjoy Cumberland Island. The park service offers a daily ferry (reservations required) to the island. People are welcome to spend a day or camp overnight and enjoy guided tours, hikes, biking or just the opportunity to unplug.
"We definitely focus on making an experience here … one of rejuvenation and being well-fed," Ferguson says, of Greyfield. "We don't have Wi-Fi, we don't have internet at all. It's like a step back in time. Kind of renew yourself … and engage with the natural world."
---
Rustic Elegance
The privately owned Little St. Simons offers some of the same experiences for daytrippers and overnight guests that can be found on Cumberland, without the mansions. Instead, overnight guests stay at the all-inclusive Lodge, where single rooms, cottages or even the entire island are available for reservations. You'll share the seven miles of undisturbed beach here with no more than 31 other guests and a dozen or so staff.
"We always call it rustic elegance," McQuade says. "You're not sacrificing any of the amenities that you might find somewhere else. You'll just find them delivered in a rustic way."
Meals, which are included, come from the Lodge's garden, often accompanied by local seafood, and a social hour with wine and hors d'oeuvres is offered each evening.
Also like Cumberland, day trips are available, with the ferry departing from St. Simon's Island. Naturalists offer tours of the maritime forests and wetlands, where wildlife, including alligators, armadillos and dolphins, can be seen. In fact, for outdoor enthusiasts, Little St. Simons is a treasure trove of hiking and biking trails, pristine beaches, birding, kayaking and fishing.
It's all part of the island's dedication to sustainable eco-tourism that limits the impact on the island and ensures that Little St. Simons is available for the kids and grandkids of today's visitors to enjoy.
---
Different Experiences
A visit to Sapelo Island starts with a ferry ride from Darien. Once there, the possibilities range from stops in Hog Hammock, Georgia's only remaining Gullah-Geechee community, to a stay at the Reynolds Mansion, where you and up to 29 of your friends and family can live in luxury, to naturalist-led tours of this primarily state-owned island.
This island, though, has more going on than just tourism, says Fred Hay, who works for the Department of Natural Resources (DNR) as the island manager. It's also a research site, with the University of Georgia's Marine Institute and the National Estuarine Research Reserve (NERR) both having facilities on Sapelo.
In fact, says Hay, "Sapelo doesn't really have a tourism mandate. Now, that's not to say that there aren't tourism opportunities. There are, and they're amazing. But part of the reason they're amazing is because they're in this protective context of research, education and habitat management. It makes Sapelo a very different experience."
Not that Sapelo is completely free of development. Another thing that makes Sapelo different is Hog Hammock, a community of families primarily descended from the enslaved workers on the Spalding plantation (now the Reynolds Mansion).
"I don't think I'd be stretching it to say that one of the things that makes Sapelo completely unique is this surviving community of descendants who have been on this island since the … plantation era," Hay says. "[They] really are responsible for much of the feel of the island."
The community of about 35 full-time residents welcomes visitors with a convenience store – the Graball – bike rentals, lodging through VRBO, Airbnb, or camping and even a bar called The Trough.
The Trough is family friendly, like the rest of the island, says Maurice Bailey, owner of Graball and a Hog Hammock native. There's no cussing or gambling allowed.
"Every Wednesday night we have a potluck, where we invite everybody [residents and visitors alike] on the island to come out," Bailey says. "It's kind of a local bar, it's called the Trough, like a hog trough."
Members of the community also rent golf carts and offer Hog Hammock tours that include the local library, church and always hit the Graball. "It's like a traditional convenience store," Bailey says of the only store on the island. "We have some canned goods, some dry goods, some milk, some ice cream, beer, wine and also a little gift shop with local artists and T-shirts, books."
The other island hot spot is the Reynolds Mansion, now owned by the state and operated by the DNR.
"This place is magical," says Kat Edmond, assistant site manager at the mansion. "It's just one of those places that as soon as you step off the ferry boat you know you're someplace special. It's like walking back in time."
When you rent the c. 1912 mansion, you live in the whole thing (they only rent to groups from 16 to 29) – from the Circus Room, a ballroom on the third floor, to the bowling alley in the basement and everything in between. As with lodging on the other islands, this is also all-inclusive, with meals prepared by island locals.
"The building that is here now was built on the foundation of the home that was built by Thomas Spalding back in 1802," Edmond says.
"The entire [Circus] room – the largest part of the third floor of the mansion – the entire ceiling is a circus tent canvas," Edmond says about why it's called the Circus Room. "The chandeliers look like trapeze artists. All of the paintings on the walls, all the way around the entire room, which were done by Athos Menaboni, [an Italian-born artist who moved to Georgia in the 1920s] are all circus characters. We have the strong man and we have the snake charmer. If you walk up there, it's magical."
In fact, that's the sentiment of all who live on these largely undisturbed islands – they're magical.
"Lucy Ferguson [Mitty's grandmother], one of the things she always said was, 'Greyfield and Cumberland are unique, and they're just going to get more and more unique as time goes on,'" Mary Ferguson says. "It's going to stay a great getaway for people … as we all get more and more connected and we need to disconnect at times and rejuvenate ourselves. I think [Lucy's] words – that it will get more and more unique as time goes on – are really true."
---
Coastal Threats
There are threats to this part of the coast that could impact tourism. In November, the federal government approved seismic testing for oil off the Georgia coast, a move many say not only would damage marine life, but would also have an impact on tourism.
Oceana, an international organization that works to protect and restore the oceans, has a representative, Paulita Bennett-Martin of Savannah, advocating against off-shore drilling in Georgia.
"Oceana opposes off-shore drilling and the expansion of off-shore drilling and any exploration – that would be seismic testing," Bennett-Martin says. "That's for all of the U.S., but here in coastal Georgia we find it very important, because the communities … along the coast, they rely heavily on the natural resources, on the coastal views, the island life. Without that, we're not nearly as beautiful and as much of a destination as we normally would be."
Oceana has identified two sectors that will be impacted by offshore drilling – living resources (fisheries) and recreation-tourism. In Georgia, Bennett-Martin says those sectors are responsible for "around 24,000 jobs, and then it's over $1 billion generated. You're looking at quite a big impact."
She also sees tourism changing in ways that would be especially compromised by drilling. "We have a lot more people who are coming [to the Georgia coast] for outdoor exploration, kayaking, hiking, that kind of thing, and exploring our undeveloped islands," she says.
Then, there are the North Atlantic right whales, endangered marine mammals that return to the warm waters off Georgia every year.
"We're home to the only calving corridor in the world for the North Atlantic right whale," Bennett-Martin says. "When I'm talking about the impacts on tourism, I often refer to the right whales because they return every year just like a lot of our tourists do. We just don't want to see that interrupted with oil rigs and infrastructure for that industry. I don't think anybody is going to pay extra to be in a rig-view hotel room." – Karen Kirkpatrick
---
How to Get There
Reservations are a must for all three islands – not just for lodging, including campsites, but also for the ferries. Start your trip at these websites:
Cumberland Island
National Park Service:
---
Greyfield Inn (has its own ferry):
---
Little St. Simons Island
---
Sapelo Island
Georgia Department of Natural Resources:
gastateparks.org/ReynoldsMansion
---
Sapelo Island National Estuarine Research Reserve: