The Biggest Game in Town
The Super Bowl impact will extend well beyond the football field.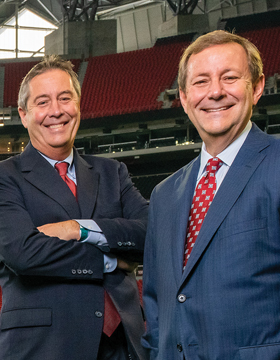 For a city that routinely experiences sports heartbreak – looking at you, just about every team except Atlanta United – Atlanta often finds itself at the center of the sports universe. Basketball Final Fours, college football playoffs and championship, Major League Soccer All Star Game …
And now the big one: Super Bowl LIII. For a good 10 days in late January and early February, all eyes will be on Atlanta – not to mention a million visitors. When it culminates with the game Feb. 3, what will the impact be to the city's and state's bottom lines?
Well, it depends on who you ask, and whether you're looking short-term or taking the longer view. Bruce Seaman, associate professor of economics at Georgia State University's Andrew Young School of Policy Studies, estimates about $200 million in a study done for the Atlanta Super Bowl Host Committee. He says he's "kind of in the middle" – and you can find estimates that range from $400 million (Metro Atlanta Chamber) to as low as $50 million (from Kennesaw State economics professor J.C. Bradbury).
Of course, the biggest beneficiary will be the hospitality sector. In other words, good luck finding a hotel room – they were booked a year ago. And it's not just the game. For 10 days leading up to kickoff, Atlanta's downtown will be humming. Super Bowl Experience, the NFL's ticketed football theme park, begins Jan. 25 at the Georgia World Congress Center (GWCC). There's also a three-night Bud Light Super Bowl Music Fest at State Farm Arena (formerly Philips Arena) Jan. 31-Feb. 2.
And Super Bowl LIVE, a free fan festival with concerts and other activities (Atlanta's Jermaine Dupri is the music producer), starts at Centennial Olympic Park Jan. 26 and runs through Feb. 2. Carl Adkins, executive director of the Host Committee, says the first three or four days are usually targeted at locals and visitors from Georgia and the region, with the second half geared more toward real out-of-towners.
"There's going to be an awful lot to do in that area leading up to the game," says Don Renzulli, executive vice president of events at On Location Experiences (OLE), the official hospitality partner of the NFL. The Atlanta Host Committee partnered with OLE on local events around the game, and OLE is producing Super Bowl LIVE and the Bud Light Music Fest. Hotels, venues and restaurants near downtown will see the biggest impact, but accommodations along the Perimeter or beyond will be booked, too, along with venues and places to eat outside the city.
"One of the great advantages of a big event like this is that it really lifts the entire metro area," says William Pate, president and CEO of the Atlanta Convention & Visitors Bureau and a member of the Host Committee.
Renzulli says he thinks of Atlanta as three small cities: Downtown, Midtown and Buckhead. "You've got something for everybody when it comes to lodging, and even beyond those pieces you've got the Perimeter," he says. That gives the city a chance to showcase itself beyond just downtown – although he adds that downtown restaurants and bars will likely see the bulk of the business from visitors, because they'll be heading to the events there.
OLE, which offers premium ticket and hospitality packages, will have three pre-game parties in the GWCC attended by about 10,000 guests: one in the Georgia Ballroom (to pass the time prior to taking your seat on the 50-yard line), one in the Thomas Murphy Ballroom and the largest one (for 6,500-8,000 people) in Hall A.
"We're kind of an extension to the League," says Renzulli. "If a company wants to entertain 20 people at the Super Bowl and it's not an NFL sponsor, it will come to us and purchase 20 packages, which allows them game tickets, pre-game hospitality access to hotel rooms, and then they would get all the benefits that our other customers would get." And there are plenty of companies in Georgia – even beyond the 17 on the Fortune 500 list – that want to reward (or woo) their clients.
Those are the official parties – there will be lots more. One hundred venues are already booked for Super Bowl-related events. Those include not just the NFL's official events (about 15) and sanctioned events (like a business summit and the Taste of the NFL, which takes place at the Cobb Galleria Centre and benefits local food banks), but corporate-hosted private parties, says Adkins. He estimates there will be about 150 events in all.
---
Where the Money Goes
Pate sees a steady stream of visitors coming in and out of the city during those 10 days – and taking advantage of all Atlanta has to offer. "That all leads to the economic impact, because a lot of those parties and things will be at venues in the city, attractions and things like that," he says. And it's incremental business. Atlanta is a big convention town, and the Super Bowl is taking place when it's not that busy anyway. "It's not really displacing anything we already have," Pate says.
Although restaurants and hotels will be flush, some of that money will not stay in Georgia – it'll go to out-of-state corporate owners. The state loses out on sales tax from game tickets, too, a condition the NFL demands to land the event (about $10 million). The cost of the Super Bowl bid was reported to be $46 million, including that lost revenue. (Critics point to the cost of that bid, plus the $200 million in bonds backed by the hotel-motel tax that went to the construction of Mercedes-Benz Stadium.)
But local businesses that support visitors should get a lift, too, from florists to food service providers to dry cleaners. And though a lot of money for merchandise will likewise go to far-flung vendors, the Host Committee chose Atlanta apparel and merchandising firm The Icebox to provide the uniforms for the committee's 10,000 volunteers.
"As often as we can, we want businesses in Atlanta to be able to provide those services," says Pate. "Part of the reason we do those events is that we want to create a business opportunity for people in the city." In September, the ACVB hosted its largest hospitality briefing on the Super Bowl, with 400 industry members attending.
Part of the Host Committee's efforts involve a community engagement initiative called Legacy 53. It includes working with the NFL's supplier diversity program, called Business Connect, to facilitate networking and help 200 Atlanta companies that are minority-, woman-, veteran- or LGBTQ-owned take advantage of business opportunities around the game.
"All these businesses are listed in a catalog that's provided to the NFL and all their partners," says Adkins. "So when they come to town, they can take advantage of any type of event support, whether it's production, carpentry, catering, florist." The committee has held seminars and promoted networking and connections. "It's been a heavy focus to help them grow and ultimately become better business people," Adkins says. "It's been rewarding to see where so many of these businesses have come … to the point of getting contracts with the league and their partners."
---
Engage Booster Mode
Of course, Atlanta's been here before. The city hosted two Super Bowls, one in 1994 and one in 2000. But as any Georgian who regularly makes their way around I-285 will tell you, the ATL is a different place now. And having the game gives the city a chance to do what it absolutely loves to do – activate its booster mode.
It doesn't get baked into the economic impact of the game, but the long-term effects could wind up adding to the balance sheet with more convention business and even corporate relocations. (Sort of like that other major sporting event the city hosted in 1996, the Olympic Games.) Seaman, ever the economist, points out that the economics of the Super Bowl are negligible when you consider it against the state's entire economy, but he says events like this have an important impact. "These events, even if they are certainly not trivial from an absolute dollar perspective, are a small percentage of the overall annual GDP," he says. "Nevertheless, is it an important event? Yes. Does it help the city's visibility? Yes."
Although the Super Bowl doesn't rival the Olympics, it's still going to draw more than 3,000 national and international media to town for a week, according to Adkins. That's 3,000 chances to tell Atlanta's story. "If you compare what Atlanta is in 2019 compared to the last time we hosted the Super Bowl in 2000, the city has totally transformed itself," he says.
As for Atlanta's perennial Achilles' heel – transportation and traffic – MARTA will be running 24-hour shifts from Feb. 1 through the Tuesday after the game, and residents will be encouraged to telework or take public transportation in the days before kickoff to lighten the load on city streets.
Since the majority of actual attendees are corporate-based, anyone who hasn't been here (or maybe only made it to the airport for a business meeting) is going to see a more walkable downtown with plenty of attractions – the Georgia Aquarium, College Football Hall of Fame, Center for Civil and Human Rights – to keep them busy. "That could lead to any number of business opportunities, just by the city putting its best foot forward," says Adkins. "The opportunity exists for us to have a long-term impact as far as business growth." It's already started, as out-of-town corporate meeting and party planners have been scouting the city for the last year, looking for those venues to book.
Hosting the Super Bowl just keeps building Atlanta's brand, says Pate, which is especially helpful in snagging more of that convention business. "It keeps Atlanta top of mind to associations that are looking for locations to host their conventions," he says, noting that these groups account for about 60 percent of the city's convention business. "People want to go to cities where there's a lot of momentum, where they're hearing a lot of talk about the city. … Everybody's interested in something that's new and something that's different."
In the end, says Adkins, it can be hard to measure the true economic impact of the game – and that's a good thing. "Atlanta's going to be everywhere," he says. "It'll be all around the globe. We'll be the center of the universe that week.
"How do you measure that? It's a phenomenal opportunity for the city, the region and the state."
---
Leaving a Legacy
After the Super Bowl ends, the Host Committee aims to leave a permanent mark on the city through its community engagement effort, Legacy 53.
The initiative has five pillars, says Host Committee Executive Director Carl Adkins:
• Business Connect, which selected 200 local businesses to participate in the NFL's supplier diversity program.
• Capital Improvement, focused on a $2-million renovation of Kennedy Park, which can be seen from the stadium. The NFL Foundation and Arthur M. Blank Family Foundation are partners in the project.
• Civil Rights and Social Justice, which included a public art project throughout the city creating up to 30 murals illustrating Atlanta's civil rights history. Arts organization WonderRoot is a partner.
• Sustainability, which included tree planting (partnered with Trees Atlanta) and creating community gardens around the metro area.
• Youth Engagement, which involves a number of programs including working with GENYouth, a national nonprofit, on health and wellness programs in local schools.
These efforts aren't the type that will pay off immediately, but look to the future of economic development. "We don't want to be just about the football game and the surrounding events that week," Adkins says. "We're doing a number of these things to try and keep everyone engaged and … really have that impact on the community."