Georgia Fare: Husk Savannah – Night and Day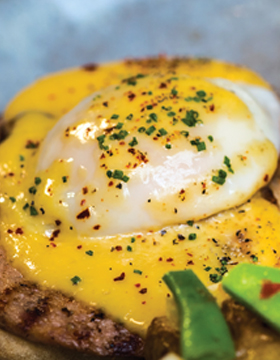 I'm sitting in Husk Savannah, in a multimillion-dollar renovation of a fabulous building in the historic district, its concept the brainchild of star Southern Chef Sean Brock. What could go wrong? Well …
A sea of empty tables surrounds me. A sole family is out on the vast verandah on this lovely early fall evening. And, worst of all, I think I understand why: My dish of delicate local shrimp is overcooked, curled tight into little wheels over meh grits, with the unnecessary addition of a soft-poached egg. My dining partner's trout is at best unremarkable, with a curious and off-putting treatment of its black skin, fried and presented like a plank on the side, over rice grits.
But who thought Husk's signature, hammy-scented cornbread could be served in this state – burnt at the edges, the meal so coarsely ground it's downright gnarly? Our otherwise solicitous waiter says nothing as he takes away my half-eaten dinner.
Things had begun well at Husk, with our starters of briny raw oysters (Husk Savannah is the only one of the group that has a raw bar) and smoked chicken wings (another Husk specialty) with "schmaltz hot sauce" and lime. Even the best restaurant can have an off night – that's why I always visit at least twice, with others, before writing about one. I give it a month after opening and never tell management I'm coming.
And in fact, my next visit to Husk was like night and day – literally. A bright, sunny brunch in the vibrant upstairs, with well executed, modernized classics like eggs Benedict with smoked pecan mortadella, and steak with sous vide scrambled eggs and tomato jam, covered with fresh mizuna leaves and charred onion. I loved the adorably sized frozen "sherry cobbler" drink, garnished with blueberries.
Even there, however, I couldn't help but wonder: Why the distracting big-screen TVs tuned to sports behind the bar in this otherwise cheerful and beautifully designed space? Because brunch was also lightly attended, two of us were seated at one of the big, horseshoe-shaped booths, which could easily accommodate five.
Husk Savannah is just part of a developing story about a reawakening food scene there. Brock opened the first Husk in 2010 in Charleston, where it was a popular and critical smash from the start, using local, sometimes long-lost ingredients, some rescued through Brock's seed-saving programs. Its Southern cuisine was tethered to local foodways, but never slavish to anyone's notion of "Southern authenticity." I went to Husk Charleston in its first year. There was nowhere else like it – or its simultaneously ethereal and rock-solid food.
Today, there are four Husks – in Nashville and Greenville, S.C., in addition to the Savannah and Charleston outposts. The Nashville and Greenville Husks have earned rave reviews for adapting Brock's ideas to local traditions and sourcing. Savannah's Husk, which seemed bedeviled from the start by delays and a freak snowstorm on its opening day, is on its second executive chef; the first was let go after citing differences in direction and the difficulties of service in such a massive space. But perhaps the worst blow was when Brock announced he would be moving to a less active, consultant's role in his Husks and would focus solely on his newer projects in Nashville.
I always wonder why certain restaurants that would seem to have everything going for them have trouble connecting to their communities. Sometimes it's a simple loss of focus; other times owners (or their corporate entities) won't allow the time a chef needs to develop his following. Sometimes a chef is out of touch with what diners want.
Husk Savannah has a lot going for it, and it would be a shame for an investment this big to simply go away. But while this Charleston import seems to have some work to do to engage with Savannah – both its locals and its thriving tourism scene – native Savannah restaurants are upping their own game. Husk Savannah is going to have to work that much harder to meet the challenge.
---
Husk Savannah
12 W. Oglethorpe Ave., Savannah
912.349.2600
husksavannah.com
Hours: Lunch, Mondays-Fridays; Brunch, Saturdays-Sundays. Dinner, nightly.
Parking: On the street
Dress Code: Historic District casual (flat shoes and cashmere)
---
Headed to Savannah? Check out these spots:
The Grey Market
New from The Grey's award-winning chef Mashama Bailey, this bodega-inspired lunch counter and takeout spot aims to please both tourists who want a good lunch and locals who want an easy take-home dinner. Housemade bagels a specialty.
---
El Coyote
From the folks behind dockside delight Wyld, this new concept proves a much better fit to this three-part space than its predecessor (Hugh Acheson's The Florence), with a big dining room serving Tex-Mex, a ramen shop and pleasant rooftop oyster bar.
---
Tybee Island Social Club
On nearby Tybee Island, a new menu incorporates some dishes from sister restaurant Tybee Island Fish Camp, now sadly closed. The blue crab stew is a standout.