Taking Off
Georgia's aerospace industry continues to grow.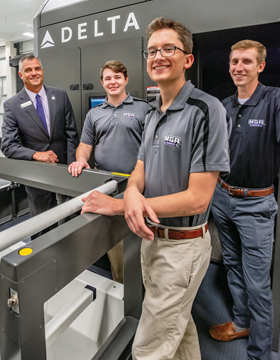 Everyone knows, or should know, that Hartsfield-Jackson Atlanta International Airport is the world's busiest airport, with nearly 104 million passengers through its gates in 2017. A lesser-known fact may be that the Atlanta airport is just one piece of Georgia's thriving – and growing – aerospace industry.
"In Georgia, the aerospace industry has a more than $64-billion economic impact, according to 2015 data, and that's up 22 percent from 2013," says Amy Hudnall, director of the Center of Innovation for Aerospace, a division of the Georgia Department of Economic Development (GDEcD). "Georgia is home to more than 800 aerospace companies and 99,000 Georgians are employed by the industry."
Additionally, aerospace products are the No. 1 international export from the state at $8.4 billion annually, Hudnall says. Georgia's aerospace companies make everything from cargo planes to machinery and tool, interior and engine parts.
According to the PwC 2018 Aerospace Manufacturing Attractiveness Rankings index, Georgia ranked No. 3 among the top 10 U.S. states for aerospace manufacturing. The annual rankings are based on cost, labor, infrastructure, industry, geopolitical risk, economy and tax policy, and are a guide to "promising geographic locations for aerospace development."
"We are very fortunate to have companies like Lockheed Martin, Delta Air Lines, Gulfstream Aerospace and Pratt & Whitney here," Hudnall says. "Aviation has been part of our history here for 100 years."
Fast forward to Industry 4.0 – the term for automation and big-data use in manufacturing – and technology is changing everything in the aerospace industry, from how people fly (think biometric airport terminals) to predictive analytics that forecast when an aircraft part may break. Commonly referred to as the fourth industrial revolution, Industry 4.0 includes things like artificial intelligence, the internet of things (IoT), cloud computing and cognitive computing.
For 64 years, Lockheed Martin has been producing C-130 military transport planes and modifications or upgrades on P-3 surveillance planes and huge C-5 Galaxy military cargo jets at its Marietta facility. With approximately 5,000 employees, Lockheed is the state's fourth largest manufacturing enterprise.
In the early '90s, Lockheed Martin switched from analog to digital technology with the introduction of the C-130J Super Hercules aircraft. The latest version of the venerable cargo plane collects reams of data as it flies. In April, Lockheed partnered with analytics leader SAS to crunch all of that data.
"Early on, we were focused on day-to-day support of our customers, but as it evolved it became obvious that we needed to take a bigger approach to how we handled all of the data that was being generated," says Duane Szalwinski, systems engineering senior manager. "The question became how do we turn that data into actionable information to better support our customers."
Prior to Industry 4.0, if a part on one of its planes broke, Lockheed Martin would launch an engineering investigation to determine why the part failed, but analyzing the plane's data after a failure cost time and money.
"Everything we've been doing up to a certain point has been looking in the rear-view mirror with data," Szalwinski says. "This technology allows us to look forward."
Using all of the generated data, such as the temperature of engine parts or the stresses on the airframe, artificial intelligence and machine learning determine patterns that can predict when something is likely to break.
"You can't predict a part is going to fail, but you can know the probability of failure," Szalwinski says. "Predictive maintenance gives our customers actionable information. We're not going to tell them how to operate the plane. We're looking at trends and correlations and giving the information to them. It's all about supporting the products we build here and providing our customers with more readiness at less cost."
In November, Lockheed wrapped up a six-month demonstration for the Air Force's Air Mobility Command using predictive maintenance technology on the C-130J. Officials hope to be able to predict when certain parts might break before a flight, which could help determine the best aircraft to deploy on a mission, Szalwinski says.
"The results are very promising," he says. "We're developing the toolsets, the models and the algorithms, and the platform doesn't matter. We're developing the capability for the C-130J, but the technology is useful across platforms and is applicable to the F-35 and the C-5."
Szalwinski says the goal is to bring the technology online with some customers in 24 to 36 months. There are more than 400 C-130Js flown by 18 countries.
---
Applied Innovation
While instituting predictive maintenance practices throughout the Air Force will take time, commercial airlines already use the technology. In 2017, Delta reported that it avoided 1,000 potential engine events over 12 months largely due to predictive maintenance practices. But, that's yesterday's news.
The nation's No. 2 commercial carrier, which calls Atlanta home, has been a leader in using today's technology in innovative ways, including:
• ID checks with fingerprint scanning
• A biometric-based self-service bag drop
• Radio Frequency Identification (RFID) baggage tracking
• Automatic check-in and bag tracking via the Fly Delta mobile app
• An app that helps Delta pilots avoid turbulence
And, in March, Delta Biometrics launched across its domestic Sky Clubs, allowing members to use their fingerprints to enter all 50 locations.
"Customers have an expectation that when they encounter Delta alongside other great brands, that their experience is as intuitive and easy as the best in class," says Matt Muta, Delta's vice president of innovation and commercial technology. "That's why making technology a competitive advantage is so important and why we are transforming the airline customer experience by using innovative solutions for some real challenges across the journey."
In 2017, Delta was No. 11 on Forbes' list of 15 Most Relevant Brands, and this year, Fast Company magazine named Delta one of its 2018 Most Innovative Companies.
"Applied innovation means that we don't chase shiny objects for the sake of new technology," Muta says. "Instead, we use the massive amounts of data we collect and work with frontline teams to figure out the most effective ways to have a positive impact on our employees and our customers."
He points out Delta often turns inward for innovation, supporting the development of new ideas from employees through things like its Global Innovation Center, called The Hangar.
"As the velocity of technology advancements grows, the way we work becomes even more important than what we're delivering," he says. "That's where The Hangar comes in. We're able to think big, start small and learn fast in partnership with start-ups, university students and teams, local businesses and others to test and scale new ideas. It's where our Nomad mobile agent technology and Delta Biometrics program was developed."
---
Pilot Potential
In the next decade, Delta plans to hire more than 8,000 pilots. According to Boeing's Pilot Technician Outlook 2018-2037, 790,000 new civil aviation pilots (206,000 in Georgia), 754,000 new maintenance technicians and 890,000 new cabin crew will be needed to fly and maintain the world fleet over the next 20 years. The forecast includes commercial aviation, business aviation and civil helicopter industries.
To help meet its future hiring needs, this summer Delta launched the Delta Propel Pilot Career Path Program to identify, select and develop the next generation of pilots.
"It is an exciting time to be an aspiring pilot," says Patrick Burns, Delta's managing director of flying operations. "This next generation is at the cusp of one of the largest pilot hiring booms in recent history and Delta wants to be an integral part of their development from an early stage in their career."
Delta is initially partnering with eight universities across the country that have accredited aviation programs, including Middle Georgia State University in Macon. Successful candidates will receive a qualified job offer that details a defined path and an accelerated timelime to become a Delta pilot.
"We're the only state university that offers a comprehensive four-year aviation program," says Adon Clark, dean of the School of Aviation at Middle Georgia State. "The Delta Propel program is a great opportunity for our students to have that link to Delta. Delta will be mentoring our students, and be on our campus educating our students on what to expect as a Delta pilot. This partnership is important to us because it means we're recognized as one of the top universities for aviation education and training."
The School of Aviation at Middle Georgia began as a technical school, but in 2007, it became part of the University System of Georgia. The school's main campus is in Macon, but their Eastman campus serves as the hub for the aviation program. In Georgia there are five technical colleges, one university (Middle Georgia) and one commercial school offering aviation and aviation-related certificates and degrees.
"There's a huge pilot and aircraft maintenance shortage, and we help to meet some of those workforce needs," Clark says. "The employment rate of our graduates is very high; it's 80 percent plus. Most of our maintenance grads have jobs before graduation."
Clark says there are 741 students in the School of Aviation, and 349 of those students are studying to become pilots.
"We're a small school and have the benefits of a small school, but we're also a world-class aviation education and training university," he says.
---
Maintenance Momentum
Maintenance, repair and overhaul (MRO) is another large part of the state's aerospace industry. Georgia occupies the 4th position in rankings of the nation's most MRO employment, according to the Aeronautical Repair Station Association's 2016 assessment. Including civilian and military operations, more than 30,000 MRO employees work in the state.
Delta Tech Ops is North America's largest airline MRO and the U.S. Air Force Warner Robins Air Logistics Complex is one of three Air Force depots that does MRO on military planes. HAECO, StandardAero and Stambaugh Aviation are among the state's other MRO enterprises.
"Warner Robins Air Logistics is getting ready to hire 1,200 new employees in the next year," says the Innovation Center's Hudnall. "Pratt & Whitney is expanding and hiring more people. They have an internship program with local high schools to address their aviation maintenance tech needs, and 10 percent of their workforce in Columbus came from the internship program."
The GDEcD recently named Pratt & Whitney the Large Manufacturer of the Year in recognition of the company's $386-million investment that will create more than 500 jobs over five years. The Columbus facility is responsible for engine overhauls, provides forged jet engine parts and employs nearly 2,000.
Gulfstream Aerospace Corp. is also expanding, to the tune of $55 million that will bring 200 new jobs to Savannah with the opening of a new service center in 2019. In addition, the company recently completed an expansion and modernization effort in Brunswick. Gulfstream opened its Savannah facility in 1967 with 100 employees, and today has nearly 12,000 in Georgia.
"As we expand, it is critical we find skilled employees to fill the jobs we're creating," says Jay Neely, Gulfstream's vice president for law and public affairs. "Over the past 10 years, Gulfstream has become increasingly proactive in nurturing and recruiting new talent for our technical jobs."
When it comes to workforce development, the company has focused on engaging elementary through post-secondary students along with military service personnel, and recruiting from technical schools, universities and the military, Neely says.
"A foundational point underpinning this strategy is that our younger generations need help understanding what great opportunities are available in technical fields, and how to take advantage of those opportunities," he says. "This awareness work must include students and, likely more importantly, their parents and teachers. So, our approach is to start with young students to build awareness, build desire and, through mentoring and other resources, guide them down the path toward those goals.
"Without question, Gulfstream's most valuable asset is its people," Neely says. "The development of our people and those who will eventually wear the Gulfstream badge is critical to our mission to 'design, create and deliver the world's finest aviation experience.'"
While Georgians have a gateway to the world through Hartsfield-Jackson Atlanta International Airport, the state's aerospace industry is setting its sights on the final frontier: space.
"The Camden County spaceport is in the final stages of review," Hudnall says. "Commercial space is an emerging industry for Georgia."
Seeking to capitalize on the global $304-billion space industry, the county has a site on the I-95 corridor next to the Atlantic Ocean under contract for the development of an aerospace industrial park.
Whether it's manufacturing, MRO, unmanned autonomous systems or the commercial space market, for Georgia's aerospace industry, the sky's the limit.