Georgia Fare: Midcentury Mensch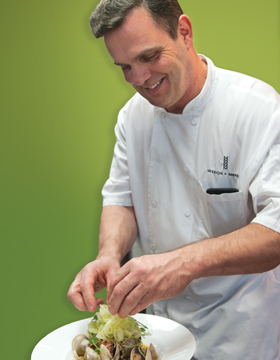 An upscale Buckhead restaurant in yet another newly carved corner among high-rises. A menu that seems divorced of its environment, replete with Californian and Asian influences. A comfortable, pretty interior that assures rather than challenges.
Prepared to be underwhelmed? Perhaps that would be the case if the chef of this restaurant, Mission + Market, weren't Ian Winslade. His most high-profile gig before this one was helming the kitchen at Murphy's, the Virginia-Highland mainstay that masquerades as a simple neighborhood spot, while serving some of the best, and most rigorously consistent food, drink and service of its genre. That food and experience also becomes more understandable once you know Winslade's background at Atlanta's Bluepointe, and at Eric Ripert's Le Bernardin in New York.
Mission + Market, in Three Alliance Center, a spot I've managed to overshoot on multiple visits (don't trust Google Maps' directions), allows you to exhale once you drop off the car with the valet. It's a calming, midcentury vibe, even as the open kitchen exudes energy. Wood, leather, teal velvet and brass accents in a curious, narrow space seem to work perfectly. No one looks crowded, the two-tops are adequate for a large meal and artfully placed curtains enclose private spaces for larger parties. Even in this asphalt-surrounded neighborhood, the space feels secluded – you can see trees and greenery from the many large windows. A patio promises pleasant perches in spring.
On a first visit, I went as part of a large group. Even on this focused menu, everyone – from the adventurous foodies to the steak-loving centrists – found something they wanted, without duplication. On a second visit, I noticed the same thing among multigenerational families – the younger set diving into wood-fired pizzas, older ones delving into crudos and clams. On that visit, the two of us explored dishes that elevated our evening into an ideal date. All that might make Mission + Market a perfect place for a holiday gathering or romantic occasion – and one with a bottom line that may seem like a deal when compared to its more luxe competitors. (Entrée prices largely hover between $12 for the pizzas and the mid-$20s.)
The cocktail menu and wine list befit a place that abuts office towers – although I never saw the long, elegant bar crowded or raucous with happy-hour revelers. Something about this space, despite its relative affordability, seems to invite a more civil experience. Thus the Bella Flora, described by our waiter as "our version of a margarita," is a potent but pretty elixir of reposado tequila, falernum (a sweet syrup of nuts and aromatics), lime and habanero syrup, with pink nasturtium petals floating on top. (Cocktails, like the main menu, tend to be seasonal, so look for more wintry blasts if you visit this month.) Classics are served as you'd like them to be – a Mai Tai in a tiki glass; a straightforward and deliciously balanced Old Fashioned. A long by-the-glass wine list (such as the spicy Terrazas Reserva Malbec) rivals the menu for well-rounded, intelligent choices. Draft and bottled beer, as well as sake, are also on hand.
The beverages, however, serve as handmaidens to the food. Still, all follow a similar philosophy – simple can be better, and sometimes more difficult than elaborate. And elaborate may be hidden in expert technique, rather than show-offy garnishes or twists. Beef bolognese on rigatoni with parmigiano-reggiano is a nuanced and adult bowlful that would also delight a 12-year-old. Old-school crisp fries accompany the Mission + Market steak, along with pesto chimichurri; a 10-ounce center cut filet with portobello mushroom jus and sesame potato gnocchi will satisfy the hungriest carnivore with its range of comforting textures.
But Winslade's team is at its best when luring you to eat your salad, vegetables, grains and fish. Starters include pickled oysters with cucumber granita to perk up your slumbering taste buds; but the rich, butter-basted clams with smoked bacon, celery salad and grilled bread for sopping could easily be a full-on entrée. The romaine Caesar salad is an ungilded lily of white anchovy, parmigiano-reggiano and ciabatta croutons. A rare underwhelmer: Overcooked grilled octopus with hazelnut romesco and shaved vegetables.
Charred albacore tuna on chilled rice noodles with green papaya and ginger soy is a light, satisfying mix of crisp and cool; but the true standouts here were oven-roasted Scottish salmon on rice grits with peas and asparagus, topped with a pea tendril; and the single best dish of our visits, a special of pan-roasted halibut with creamy, burrata-like farmer's cheese and a riotous salad of peaches, heirloom grape tomatoes, plump blackberries, basil and Fresno pepper. It sounds like it shouldn't work, but somehow, in addition to its visual beauty, the creamy interior of the fish and the cheese with the sweet-savory-spicy flavors of late summer married perfectly.
The homey desserts, such as a perfectly good if entirely expected bread pudding, could perhaps use a bit of tinkering to achieve the bravado of the rest of the menu.
If Winslade is out to make his mark with Mission + Market, he's doing it as he has for his entire career – with consistency, quality and bold dedication to the deeply delicious.
---
Mission + Market
Three Alliance Center, 3350 Lenox Rd. NESuite 550, Atlanta
404.948.2927 or missionandmarketatl.com
Hours: Lunch, Mondays-Fridays; Dinner, Mondays-Saturdays. Light "bar bite" menu middays, Mondays-Fridays.
Parking: Valet
Dress Code: Smart casual
---
Speaking of midcentury restaurant design …
An ethic that used to be called "your grandparents' rec room" now has the fancy name Midcentury Modern (MCM). Trademarks of this 1950s-and-'60s era include Sputnik chandeliers, shag carpet, sleek Danish Modern furniture and other vintage elements, like turntables and board games. Look for it in these restaurants:
The Polaris
Calling Don Draper. Twirl atop Atlanta's downtown Hyatt Regency and party like it's 1969.
hyatt.com/corporate/restaurants/Polaris/en/Polaris.html
The Graduate
Athens' MCM hotel features faux rotary phones and retro mini-fridges, and its bar-restaurant, The Foundry, and coffeehouse, Ironworks, carry on the theme.
graduatehotels.com/athens/restaurant/the-foundry/
The Golden Eagle
Dramatic 1950s environment in Atlanta's historic Reynoldstown, with menu touches like wedge salad and Green Goddess dressing, and classic cocktails like the Grasshopper.