Research, Reputation and Revenue
Spurred by top-flight talent, Georgia universities are conducting research that impacts healthcare, technology and the environment as it boosts the state's economy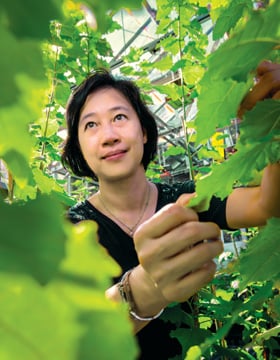 The facts and figures of Georgia's research enterprise are impressive in their own right: Eight universities bringing in more than $2 billion in funding every year and generating discoveries that improve – or even save – lives, while sending a steady stream of new products to market. Yet the talent behind the numbers and the achievements is even more remarkable, helping create a nationally recognized hub where research flourishes.
Dr. Neal Weintraub, a cardiologist and researcher at Augusta University since 2013, puts it this way: "The Vascular Biology Center where I work is one of best in the country. You could pick this unit up and move it to Harvard, Johns Hopkins, Yale, and it would fit in. It's a real jewel," he says, with faculty members who can hold their own with the best anywhere.
Weintraub, a Georgia Research Alliance (GRA) Eminent Scholar, was excited by the chance to work with scientists already in Augusta, people he knew by their work and reputations who are now his colleagues, and – as someone who grew up in Georgia – happy to come back home. His research includes stem cell therapeutics and the effects of obesity on heart health.
He is one of a cadre of top-tier researchers at Georgia universities doing work that Michael Cassidy, who recently stepped down as president and CEO of the GRA, says has elevated the state's research profile. Weintraub's research is emblematic of the caliber of work being done in Georgia.
"It's very high quality, very productive, generating important discoveries," Cassidy, who now serves as director of the new Emory Biomedical Catalyst, says of Georgia's research portfolio. "Purely from a financial standpoint, it's a very big revenue generator for the state – over $2.2 billion of research every year. That puts us at about 12th in the nation."
"Our research infrastructure is topnotch," says Russell Allen, the new head of the GRA. He previously served as president and CEO of Georgia Bio, a trade association for life science businesses. "We have some of the best research universities in the country," he says.
The GRA works with business, government and educational interests, including the University System of Georgia and the state Department of Economic Development, to encourage and support research. Its Eminent Scholars program helps bring top scientists to Georgia's research universities: Augusta University, Georgia Tech, Emory, University of Georgia (UGA), Georgia State, Mercer, Clark Atlanta and Morehouse School of Medicine. It also assists with funding and expertise for business startups resulting from the research.
---
Important Investments
The scope of Georgia-based research is breathtaking. Some of the most commonly used drugs to treat HIV and Hepatitis C were developed in Emory labs; "phoneprinting" technology invented at Georgia Tech is used by banks and government agencies to detect phone fraud. Shade-tolerant Bermuda grass developed at UGA covers many lawns and sports fields.
Current research is focusing on topics like cancer treatment, the Ebola virus, healthy trees, early autism detection, energy storage, heart health and traumatic brain injury in children.
At Augusta University, Weintraub's work with stem cell therapies includes lab research as well as clinical trials in patients, "trying to understand how we might be able to apply stem cell therapy to improve heart function.
"The heart, unlike some of the other organs in your body, when it gets damaged, instead of regenerating itself, it forms a scar," he says. "Once the heart gets damaged, over time that can cause a condition called heart failure. The prognosis of advanced heart failure is very, very dismal. There's lots of interest in trying to find ways that might effectively repair the heart. That's where stem cell therapies come in.
"Our goal is to try to better understand how stem cells work and come up with better ways to make them function so that when we put them into the heart, it will ultimately lead to benefits."
Dr. Madhav Dhodapkar, a hematologist and medical oncologist at Emory's Winship Cancer Institute, whose field is cancer immunotherapy (treatment that uses the body's own immune system to fight disease), was recruited from Yale this year and brought his lab to Georgia.
"What really caused us to move is the benefit both Winship Cancer Institute at Emory and things like the GRA are making in the context of cancer immunotherapy – it's a rapidly growing science," says Dhodapkar.
"We were impressed with the investment the state of Georgia and the people of Georgia were willing to make to facilitate access to new therapies," he says. "It's early days of cancer immunotherapy. People think it's in the mainstream, but it's still early – the tip of the iceberg.
"The great majority of patients, even in settings where it is already the standard of care and already approved, still do not benefit from it. There's so much to do in terms of bringing it to the clinic. We really want to integrate this with clinical care. The clinical care community and clinicians at Winship are very much invested in this – and the leadership at Winship."
Dr. Chung-Jui Tsai, based at UGA, was attracted by the institution's reputation as a leader in plant science research – and the opportunity to combine her work as a forester and a biologist by conducting research on trees, a major component in the state's economy. She has a dual appointment in the Warnell School of Forestry and Natural Resources and the Franklin College of Arts and Sciences.
"I work with trees primarily from two different angles," she says. "From the top down, you can see the traits that are important for commercial purposes or ecological purposes. From the bottom up, because I'm a molecular biologist, I think about genes and mechanisms."
She studies the way trees respond to drought, heat and climate change and is helping design trees that are stronger and more drought-resistant and able to provide higher yields of biomass that can be made into biofuel and, thus, reduce the use of food products, such as corn, in producing the fuel.
"Wood has many different markets, with different values – solid wood, pulp and paper and the bioenergy field," Tsai says. "So we need to think about diversification, think about stress response, then perhaps even growing trees in marginal lands so we are not competing with plantations equipped to produce a higher-value product."
---
To Market
Advancing discoveries from the lab to the market is an important part of Georgia's research enterprise. Both Georgia Bio and the GRA consider this a priority – essential to attracting top talent to the state.
In his work at Georgia Bio, Allen says, what he tried to do was "leverage the strength of our research enterprise and turn that into commercial efforts of companies that create products that will eventually get to a patient or to the right person to help improve lives."
The GRA's venture development program, begun in 2010, assists in the formation and launch of startup companies based on university research, including helping with access to low-cost loans. The alliance's portfolio includes 180 such companies, estimated to have brought more than $1 billion dollars in equity investment into the state and to generate more than $660 million in revenue annually.
Opportunities for commercialization of scientific discoveries have become increasingly important to researchers over the last 20 years or so, Cassidy says.
"We've seen a tremendous difference," he says. "If I were to compare the last 10 Eminent Scholars [recruited] with the first 10 back in the '90s, really all of the people recruited today come with an interest in commercializing their research discoveries. That's not to say they want to become CEO of a startup, but they want to see the results of their research moved to the market quickly, and to varying degrees, [they] want to have an active role in that.
"The top talent we were recruiting in the '90s and even early 2000s – it's a different generation. They were trained differently by their mentors. People coming along today to senior roles are wired differently in that regard. I'm not saying one's wrong and one's right. The attitude about the desire to move those results toward application more quickly and having a direct hand in that is much more intense than it was 20 years ago."
Dhodapkar says the opportunities for taking discoveries from lab to application were key to his move to Emory.
"To me that is at the heart of it – a lot of good ideas in the laboratory that need to be tested," he says. "Many times great ideas in the laboratory stay in the laboratory until you actually go through first-in-human studies. That's something you find out – if things we predicted would happen are actually happening. Testing the hypothesis in the clinic, we think, is a very important aspect of translation. The more shots at the goal you can take, the more likelihood you can score.
What he has found in Georgia, he says, is that institutions like Emory and Georgia Tech, with the potential for collaborative growth, are in a position to help bring discoveries to early-phase testing in people and to assist investigators with startups.
---
Looking Ahead
As bright as the research picture is, there is work to be done to keep the momentum going.
"We have to continue to invest," says Cassidy. "It's like any business. You invest in your talent, your assets, your physical infrastructure, your plant and equipment that collectively generates your revenue. You have to continue to invest in your people, continue to invest to make sure they have the best assets, tools and technology to work with."
Most of the two-billion-plus dollars in research funding comes from the federal government, which prompts some apprehension.
"That's a little bit of an unknown," Cassidy says. "Funding for major federally funded agencies that support research is holding together, but there are concerns."
Overall, he says, the technology side of research fares well in support available for commercialization, but the biomedical side could use help. "There are elements of the ecosystem that need to be addressed – in part to support advances in biomedical research or agricultural research. The technology is not as easy to advance as in internet-related technology or the hard engineering side of the business.
"Look at Atlanta. There's a very strong high-technology scene here. You can count dozens of accelerators and incubators and seed cap funds and investor groups that support the high-tech space," Cassidy says. "On the biomedical side, which comprises a large portion of research done in state, we don't yet have a lot of those tools available to us to help capitalize on research that is taking place in our universities and convert that research into new business opportunities for the state where we can really measure economic development outcomes."
Allen believes it's important for public and private interests to support and promote the life-sciences industries – small startups, established companies and those looking to relocate.
He sees an important but limited role for state government, especially in recruiting life sciences companies to the state. "We've obviously had success with offering incentives, like the Baxter facility, now Shire [a pharmaceutical company in northeast Georgia]. That's a good example of successful recruitment.
"There are always tax policies and things we want to make sure are supportive of our industry. We want to look at leveraging existing programs. One example would be to match the SBlR [Small Business Innovation Research] grants that come out of NIH [National Institutes of Health]," he adds. "If NIH gives a researcher in Georgia $250,000, then if we could match that, even if not one-to-one. But if they could get $50,000 or $100,000 from the state, this science has already been vetted and [additional funds] can really help move things forward at a rapid pace."
More importantly, he says, "We have to get the government to recognize life sciences as a priority industry. That's sometimes difficult, because it doesn't have the same job numbers as other industries – typically not as many employees as others, but it's very high-impact and important.
"What we don't want to do is become reliant on government support," he says, because changes in priorities or leadership can affect the available funding.
"We are always looking for more involvement from the overall business community – life science tends to intimidate folks sometimes. The science is complicated, but the results are not; they are saving lives and improving lives."
Cassidy points to a significant increase in funding from the business community, but sees room for growth. And in the labs at Georgia's research institutions, scientists believe more investment from the business side would be an advantage.
"There's benefit to encouraging in-state investment that would strengthen the research climate," Emory's Dhodapkar says. "In a way, that's what we are competing against – other examples where in-state investments [are made]. There's a lot of potential for local investment within the state of Georgia.
"We do need to make people more aware of it, reach out to the community at large to make that feasible," he adds. "We need the help of people in this area. It doesn't have to be that it only happens in Silicon Valley."
---
GRA Milestones
Michael Cassidy, who worked at the Georgia Research Alliance (GRA) for 25 of its 28 years and led the organization from 2000 through October of this year, stepped down to become director of the Emory Biomedical Catalyst. In this new position, he'll provide leadership and vision in promoting biomedical innovation and enhancing Emory's economic engagement. It's a natural transition given that on his watch, the GRA, which unites business, education and government interests, has become the major force in strengthening scientific research in the state, working to recruit top academic talent and helping bring the discoveries to market.
He has had a hand in the milestone developments that have defined and shaped the research and elevated Georgia's standing nationally.
"Early on," he recalls, "we had a major emphasis around telecommunications technology. Many of the investments that were made in terms of people and specialized facilities have led to the formation of a lot of new business that we see today – coming mostly out of Georgia Tech labs where GRA had a big hand in helping to recruit. A lot of what we see here in the high-tech space has roots in what they were doing in the 1990s at Tech."
Developments in food safety came from the University of Georgia and investments made there around the same time.
"In the biomedical field," he says, "look at all the institutions looking at infectious diseases and immunology. Look at vaccines being developed for Ebola, Zika, other orphan diseases we don't hear about. Look at the medical device companies that have launched around Atlanta and their roots in work at Georgia Tech and Emory."
But closest to Cassidy's heart is the work he has done in establishing GRA's Eminent Scholars program, which has brought top-tier researchers to Georgia universities.
"If I have a favorite, it's interacting with these outstanding, incredible people that we've had the honor of helping to bring to the state," he says. "There are 72 endowed chairs, and there is a story that goes with each one of them. It's been personally enriching, helping identify and attract them to the state. They are the drivers, a high-powered group that has recruited teams to work with them." – Susan Percy