The Business of Governing
Q&A: Mayor of Atlanta Keisha Lance Bottoms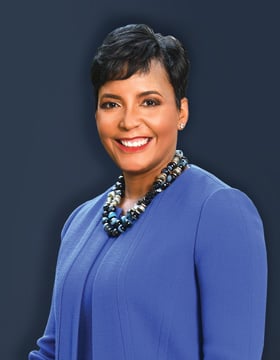 Keisha Lance Bottoms is Atlanta's 60th mayor and only the second woman to hold the job. With the strong support of former Mayor Kasim Reed and former Mayor and Ambassador Andrew Young, she narrowly defeated fellow city council member Mary Norwood in a long, arduous and racially charged campaign that went to a runoff.
She had a tough start. Just weeks before she took office, the city's Hartsfield-Jackson Atlanta International Airport, the world's busiest, suffered a crippling power outage that raised the specter of a state takeover; and there has been ongoing fallout from City Hall corruption scandals from the previous administration. In March, a ransomware cyberattack on the city computer system seriously disrupted operations. All this, in addition to the transition period that dislodged several key department heads.
Now the new mayor is anxious to get to work on some of her own initiatives.
Georgia Trend's Susan Percy talked to Bottoms at City Hall the same day in June that the city council unanimously passed her first budget – $661.4 million, including $3.5 million for upgrading information technology systems.
Following are edited highlights from the interview.
---
GT: You really had to hit the ground running once you took office.
Bottoms: We had a very long and tough campaign. Dec. 6 was the runoff election, and the inauguration was Jan. 2. Somebody likened it to taking off on an airplane as you build it.
---
GT: How is it going now?
Bottoms: Each day is a better day, as we are turning the corner on some of the department heads and getting past the cyberattack of day 80.
---
GT: What do you bring to the office of mayor that is different from your predecessors?
Bottoms: My perspective is just different by virtue of who I am. I joke – but I really mean it – the hardest part of my day is trying to get four kids out of the house. Did someone brush their teeth, who has lunch, why do you have on a flannel shirt when it's 90 degrees outside, please come back in and comb your hair. … It just puts everything in perspective.
---
GT: What are you most anxious to get to work on?
Bottoms: Three things. One would be jobs and economic development from a community-based perspective. Another would be the education piece. Third is affordable housing.
At end of the day, the city is a business, and we are about the business of serving our constituents from an operations perspective. But I am very anxious to get to the true policy initiatives that I think transform a community and make a lasting difference.
---
GT: Early on, you asked your department heads to submit their resignations so you could assemble your new team. Where are you in that process?
Bottoms: I think we're almost there. I've said this about many of the people who have transitioned out. It's not that they were not good leaders. By virtue of the fact that Mayor Reed and I are so very different, it makes sense that the type of leader who may have worked well with him may not be the best fit for me. There were leaders in certain positions who were great for a more experienced mayor but not necessarily the best for a new mayor. It's really about assembling the right team and making sure the synergy is there.
---
GT: Tell us about your own transition from city council member to mayor. Is there a big difference?
Bottoms: Oh, yes. Night and day.
---
GT: In what ways?
Bottoms: I actually thought because I had been on city council for eight years that the learning curve would not be as steep, but it is very different. As a member of council, you are surrounded by several other people. As mayor, you are the mayor. It's not a collective body. You don't get to Monday morning quarterback. Many of the policy initiatives begin here. That being said, it has been nice to have been on council because I am empathetic to challenges the council members have. I understand many of the concerns that are raised. I understand the dynamics of needing to go back to your community and explain. I get it.
---
GT: Tell us about your push for more affordable housing.
Bottoms: Affordable housing is a big piece for so many reasons – not just having a place in Atlanta where people can afford to live, but also for how it balances our city out. We don't want to be a monolithic city – we've been very intentional, making sure we are a racially integrated, culturally integrated city that transcends economic lines.
The vast majority of our workforce doesn't live in the city of Atlanta because they can't afford to. We want people who work here to be able to touch and feel the city, not just drive in to go to work and come home. We've got to give people a reason to care about the city.
---
GT: How do you approach a solution?
Bottoms: What I've quickly realized – it has to be a focused effort, [it] can't just be a policy initiative. It has to be a policy initiative with some real teeth behind who is coordinating and leading us – likely someone who will be appointed to oversee our affordable housing initiative.
---
GT: What resources can you draw on?
Bottoms: One thing I have really been focused on is data tracking. [It] helps me manage. I was pleasantly surprised to see we're between $30- and $40-million since January in [new] affordable housing. We had the benefit of things that have rolled over from the previous administration and have to make sure we are diligent about setting the course for the next three and a half years so the trend continues.
---
GT: In your inaugural address, you talked about a One Atlanta initiative, overcoming "race and division and geography and politics." Is this really achievable in the next three and a half years?
Bottoms: I think it is something that is worth trying to fix. I'm reading the Maynard Jackson biography by Bob Holmes. What is fascinating to me is that so many issues along racial lines [are the same]. It's almost insert name, insert headline, insert challenge 40 years later. This is clearly something we have to address and overcome in Atlanta. I don't think it will ever be perfect, but I think it has to be something we will continue to focus on.
---
GT: Where do you start?
Bottom: We've kicked off a series of conversations across the city on issues of race. I think what is unique about Atlanta is that we don't act as if our challenges don't exist. We've never hesitated to confront them and address them. I think what many people saw reflected in our election is the racial divide that still exists in our city – still front and center.
We have to continue to be intentional about these conversations, because it's there – look at the data, look at the electoral map and see the way we literally are divided as a city based on the demographics of our neighborhood.
I think [it's important] for us post-election to continue to call it out for what it is and to have these very real conversations. There's a political divide as well. The whole country, really the whole world, is feeling it. As Atlantans, we have this responsibility we have always had to lead the way.
---
GT: Atlanta government has historically had a good relationship with the business community. Is that still true?
Bottoms: I think the relationship with the business community is really one of the most productive relationships, quite frankly, seen in the country.
Based on what I know from conversations with other city leaders and business leaders, there's nowhere else in America where the business community and government come together in the way it does in Atlanta, whether it be implementation of community programs or guidance as relates to policy initiatives or partnerships. For the business community to have a seat at the table and provide input in a meaningful way is something I appreciate as a leader and something the business community appreciates.
---
GT: What have your interactions with the business community been like?
Bottoms: I've not had an issue yet that the business community has not been but a phone call away, whether it's sending someone our way to help us navigate our cyber event or even reaching out – can you talk to me about best practices for transitioning a team? They have been extremely generous in helping with our personnel search as well.
Even as we are attracting business across the country, our best selling point is our corporate community, because who else can [better] speak to people about what it's like to do business in Atlanta? So we are very fortunate, and I am very pleased that the business community has been so supportive and so welcoming and so generous with their time. They truly, truly care.
---
GT: Let's talk about the airport. Some legislators would like the state to take it over. Sen. Burt Jones sponsored a resolution that resulted in a study committee to look at Hartsfield-Jackson and its operation. Do you see this as a serious threat?
Bottoms: I take it very seriously. I have been appreciative that Sen. Jones and I have remained in contact – as we did throughout the session – understanding that he has legitimate concerns and also keeping him informed to let him know we recognize what some of our challenges are but we also recognize what our strengths are at the airport.
---
GT: What are those strengths?
Bottoms: We remain the world's busiest and most efficient airport, and that's no small feat. We've done it under the current structure. Certainly there will always be challenges, and we want to do what we can to address those challenges. I don't believe a change in the airport governance structure is the solution when you have an airport that is functioning so well. I also recognize that the fact that the state is looking at it means there is more that can be done.
---
GT: What kind of relationships do you have with state officials and members of Atlanta's legislative delegation?
Bottoms: I spent an enormous amount of time across the street at the Capitol during the session, creating lots of new relationships. It was extra important to reach across the aisle because those are not relationships I have had historically. I am pleased to say it has been extremely helpful to Atlanta to work with the governor's office, to work with the economic development arm to get things done. It has been a productive relationship.
---
GT: I want to ask about your relationship with former Mayor Kasim Reed. He supported your candidacy, and some have even suggested he was responsible for your being elected.
Bottoms: I think to say that Mayor Reed or any one person is responsible for my election is a convenient narrative and, quite frankly, it's an insulting one. When you have nearly 100,000 people who go out and vote, that means that every vote counts. Mayor Reed certainly was supportive and I was appreciative of his support, just as I was appreciative of the other 50,000-plus people who went to cast a vote for our election.
I think that's a narrative we have to be careful with, especially when it comes to women. Quite often we try and attribute a woman's success to something other than what it is: that she worked hard and that you see success on the other end of hard work. It was a team effort, a lot of people who made this campaign successful – not the least of which were the people who went to vote on election day.
---
GT: Is Mayor Reed an advisor?
Bottoms: Mayor Reed has been very respectful in not being overbearing in communicating with me during this transition. I can probably count on one hand the number of times I've spoken with him since January. Mayor Reed and Ambassador Young and a lot of folks have offered their advice and their recommendations and have said they are but a phone call away. But there are probably 20 other names I can give you of people whose names you would recognize who have also offered to be in the same posture.
---
GT: Fairly soon after you were in office, you handed over some long-contested property deeds to Atlanta Public Schools. How will this affect the way the city and APS work together?
Bottoms: That's really a good example [speaking] to your earlier question about Mayor Reed's influence. Throughout the campaign I repeatedly said I was an independent thinker and that I would evaluate all of our issues independently. APS deeds were an example. I differed with the past administration. I made the decision as mayor to make that a priority to get those deeds turned over. We needed to reset our relationship with APS. Education is such an important part of our city and really the core of who we are as a city, how prepared our children will be for tomorrow. I thought turning over the deeds was the right thing to do. It also has helped chart the course for us as to how we deal with one another.
---
GT: Atlanta will be hosting the Super Bowl in just a few months. Is the city up to the challenge?
Bottoms: You have to remember we host very large events multiple times a year in our city – over 52 million visitors yearly. We're not new to this. We are continuing to ramp up day by day, week by week. I trust that we will once again be ready when the Super Bowl comes in 2019.
---
GT: In your inaugural address you quoted Dr. Martin Luther King Jr. and Nelson Mandela. Who else inspires you?
Bottoms: My heroes are people with names and faces that you probably never notice or hear. They are people in our community who truly make a difference, who stand in the gap for our kids, who make sure our communities are solid. These are people who often don't have a formal education, but they're the ones who get it done on behalf of our communities.
I have a family full of people like that – those were the people in my community, those were the people who made a difference when I went to school every day, people who made a difference at my church. It's really our unsung heroes who make a difference.