Georgia Fare – Marcel: Marvelous Morsels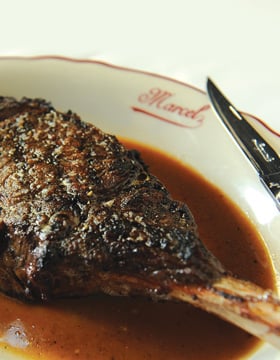 The steakhouse craze shows no sign of slowing down – yet, anyway. So how do any of them manage to distinguish themselves in a crowd of brass-accented meat markets specializing in manly cocktails, wedge salads, massive steaks and fudge-sludge desserts?
Atlanta Chef Ford Fry (JCT. Kitchen, The Optimist, Superica) seems to have it figured out. His French-accented steakhouse, Marcel, in the Westside Provisions space, opens for dinner with the suave appeal of a chanteuse in black velvet. The environment underscores tacit messages of comfort, quality and competence. Deep, tufted leather banquettes embrace parties of four with a parentheses.
Design choices are simultaneously vintage (the kind of bathroom sinks and faucets you'd expect to find in an old Paris bistro) and postmodern (an array of glowing gold fencing masks employed as sconces on one wall; on another, tiny daguerreotypes of boxers, each with its own magnifying glass dangling on a string). The lighting is warm and sexy.
The waitstaff carries encyclopedic knowledge about the menu and, especially, the steaks. One thing you'll want to know for sure before you go: Marcel is expensive. Prices for the "premier" steaks begin at $46 for the "Marcel reserve cut" New York Strip and run to $130 for a tomahawk cote de boeuf; Porterhouses for two or three-plus are $125 and $168. However, there is also a classic French "L'entrecote" cut, in a dish popularly known as "steak frites," served with crisp hand-cut fries and a sauce verte for $30.
Also: not everything works. Although we found the New York strip and pommes purée beautifully charred and served perfectly to medium-rare, the linguine with clams and sea urchin butter turned out to be, rather than the rich, unctuous and umami-laden pasta I craved, an overly peppery-spicy version of this classic. (Does anyone have linguine with clam sauce and think, "This would be better with jalapeño!"?)
That said, I'd still go back to Marcel in an artery-clogging heartbeat. So many dishes were exactly what we wanted – the Oysters Bienville, baked and bubbling with cheese; the thin-sliced salumi platter, which, with the bread (a kind of combination of focaccia and elegant Indian fry bread) and small bowl of pungent olives, made for a perfect counterpoint with icy cocktails, consumed to a soundtrack of Édith Piaf, John Coltrane and Dave Brubeck. The dessert of baba au rhum, filled with chantilly cream and drenched in spiced rum syrup, was the perfect bite after such a significant meal. But the place is more than the sum of its parts – though my husband adored the napkin's buttonhole, encouraging him to secure it to protect his shirt and tie, it was the overall atmosphere that prompted him to blurt about five minutes into our first visit, "I love this place!"
The second visit shows Marcel's alter ego: late-night fun stop. The Friday-Saturday menu is very limited – a soft crab omelet; a $12 (!) steak with fries; a cheeseburger. Although it officially begins at 11, you won't be seated until at least 11:30. We watched as a young group at the bar hungrily eyed the menu and ordered a cheeseburger there. "Are your names on the list for a table?" the bartender asked. "It will only be a few minutes." They looked at him, hollow-eyed: "We still want it." They wolfed it down as an appetizer, then made their way to a table. Ah, youth.
I see how this could become a regular stop on the way home from a night out. The food is fantastic, and while the steak frites is a big draw, that $12 cheeseburger with thick-cut bacon is the star – not sloppy, but a real slam-dunk of protein, fat and carbs. The perfect antidote for too much booze and not enough fuel on any given night. In second place is that impeccable omelet, covering a plate. The steak is so tiny, it's only good as the kind of snack when you realize dinner isn't going to take you through to morning.
Named for France's famous boxer of the 1940s, Marcel Cerdan, who had an affair with the country's most famous singer of the day, Ms. Piaf ("The Little Sparrow"), Marcel is a lover that also delivers a knockout punch.
---
Marcel
1170 Howell Mill Road (in Westside Provisions district), Atlanta
404.665.4555 or marcelatl.com
Hours: Dinner nightly. Late-night menu served 11:30 p.m.-2 a.m. Fridays-Saturdays
Parking: Free in Westside Provisions garage
Dress Code: Is there such a thing as Power French? Late-night menu: young and restless
---
More Morsels on the West Side
If you haven't been to Westside Provisions since the departure of Bacchanalia to its nearby Ellsworth Industrial Blvd. location, you might want to check out a few of the district's other attractions.
Little Star
A sandwich shop that serves up small treats from the old Star Provisions larder.
---
Little Trouble
Hypermodern and hyper hip, Little Trouble is the place to go for a cocktail while waiting on your table for the late-night Marcel menu (or for a nightcap afterwards).
---
West Egg Café
If your idea of a late night extends to 7 a.m., you might as well hang in there for dishes like the Georgia Benedict and the Westside Pileup.