A New Chapter
Rewriting the airport community's story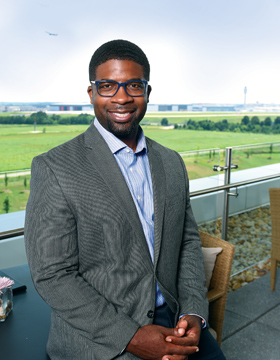 Call it the Southside no more.
For the past four years, the Aerotropolis Atlanta Alliance has fueled revitalization of the area around Hartsfield-Jackson Atlanta International Airport. By definition, an aerotropolis is a city or urban area that has an airport in the center and is surrounded by development.
"We don't want it to be called the Southside anymore," says alliance Executive Director Shannon James. "We want it to be called the Aerotropolis. We're no longer a way point, but a destination."
Governed by a 26-member board comprised of chamber members, county commissioners, mayors and private sector leaders, the alliance is bringing a comprehensive approach to planning and development, leveraging the airport as a major asset to drive economic investment, job growth and quality of life in the area.
"We wanted to galvanize the momentum around Porsche locating here, and we formed the alliance to land big fish like Porsche," James says. "We look to be a catalyst to spur economic development around the airport, and when we say, 'around the airport,' we mean within a 20-mile drive."
In 2015, Porsche Cars North America opened its $100-million Porsche Experience Center and headquarters on the former Ford assembly plant site in Hapeville. The 27-acre complex is located at the northeast corner of Hartsfield-Jackson and includes a driver development track, classic car gallery, restoration center, human performance center, driving simulator lab and a fine dining restaurant. There's also a state-of-the-art business center featuring 13,000 square feet of conference and event space. Joe Folz, vice president, general counsel and secretary at Porsche Cars North America, served as the first chair of the Aerotropolis Atlanta Alliance.
"We want to continue to strengthen partnerships across jurisdictional lines," says James. "I want us to evolve toward a regional strategy around economic development and marketing. We are looking to actively engage developers and corporate executives and highlight the assets in our area."
---
Framework for Growth
When a task force of representatives from cities around the airport recommended the formation of Aerotropolis Atlanta, it also recommended the formation of several community improvement districts (CIDs). To support future growth and development, there would be a need for infrastructure improvements and beautification projects – the wheelhouse of CIDs. The Aerotropolis Atlanta CIDs is now the umbrella organization for the Airport West and Airport South CIDs, which joined forces in 2016.
The Alliance also worked with the Atlanta Regional Commission to develop the Aerotropolis Atlanta Blueprint, which provides a framework to guide growth and development in the area.
"During the blueprint process we discovered the perception of South Metro was not the best, and we wanted to address that," says Gerald McDowell, executive director of the Aerotropolis Atlanta CIDs. "We also discovered we had a central business district around the airport, but it wasn't being utilized or treated as a central business district.
"We're seeking to create the same characteristics of a central business district in the aerotropolis – upscale hotels, restaurants and shops, Class A office space," he says. "When people name the places in Atlanta they want to visit, they name Buckhead, Midtown, Cumberland, Perimeter. We want to add Aerotropolis to that list."
But it takes more than a name change to alter public opinion, making public safety and beautification the top two priorities of the CIDs. Annually, the combined CIDs spend $500,000 maintaining more than 20 miles of right of way on a weekly basis, mowing, removing illegal signs, picking up trash and debris, and landscaping. The Aerotropolis Atlanta CIDs spend another $600,000 annually for public safety programs.
"We have a private security firm, three cars, patrolling the district 24 hours a day, seven days a week," McDowell says. "We also lease a police car and pay for an off-duty Fulton or Clayton county police officer to be on duty for the CID 24 hours a day, seven days a week. And, in January, we rolled out a cloud-based video security system. Any business that signs up is able to upload security video footage to the cloud, and all the police departments can access the cloud and view this video."
In the two and a half years since the security firm and off-duty police were hired, McDowell says crime in the area has decreased 35 percent. With the addition of the cloud-based video technology, he believes crime can be reduced even more.
"We can reduce crime by 50 to 60 percent, or more," he says. "Just this week [June], a Camp Creek Marketplace customer's purse was stolen out of her car in East Point. BJs uploaded their security footage to the cloud, and the suspect was identified and captured within 20 minutes."
To support the Alliance's Blueprint, in 2016 the Aerotropolis Atlanta CIDs created a master plan to implement 21st century infrastructure, focusing on innovation and technology. The plan includes, among other infrastructure and beautification projects, transforming 14 interchanges off I-75, I-85 and I-285 in the airport area into Aerotropolis gateways, enhancing the brand and perception of the area.
This past summer, the interchange at Camp Creek Parkway and I-285 was first up for a makeover. The Georgia Department of Transportation is converting the area into a diverging diamond interchange. Construction of the $10-million project is expected to be complete in late 2020.
McDowell says the CIDS, in partnership with Fulton County, College Park and East Point, will invest another $1.5 million in enhancements at the interchange, including upgrading the fencing, lighting and traffic signals and re-landscaping the entire interchange.
"When you're traveling to South Metro, we want there to be a distinction when you have entered the airport area," he says. "If you have ever traveled to Disney World, you know when you've gotten on the Disney World property. Hartsfield-Jackson is the Disney World of airports, so we want to create a Disney World environment around the airport."
Hartsfield-Jackson itself is in the midst of a $6-billion expansion and makeover aimed at updating the domestic terminal and concourses. It will also introduce new features like a hotel at the world's busiest airport. It's all part of a 20-year plan aimed at maintaining Hartsfield-Jackson's status as a leading airport, replacing aging facilities and enabling growth.
Michael Hightower, founder and managing partner of urban planning company The Collaborative Firm, was raised under the noise of planes coming and going from Hartsfield-Jackson. A native of College Park, Hightower was on the city council when it was debating construction of the fourth runway, which opened in 1984.
"I've lived around Hartsfield-Jackson my entire life," he says. "So much happens around this area largely because of the success of the airport. It's been a magnet for growth; it's been a magnet for infrastructure enhancements; and it's really been the catalyst around economic growth."
Hightower recalls there was heated debate around expanding the airport, mainly because it involved relocating the largest African-American community in the city – the same community where he was born and raised, which also resided in the district he served as a city councilman at the time.
"If we had not as a community grown to embrace the airport, we would not be where we are today," he says. "We had to balance concerns about noise problems, while not being in the way of growth."
Hightower credits then-aviation commissioner George Berry and former Atlanta Mayor Maynard Jackson with helping to ease tensions around the relocations by offering compensation to those affected.
"Decisions made in the '60s and '70s around the airport paved the way for a lot of the successful development we see today," Hightower says. "The fourth runway was a tipping point that going forward was critical."
---
Airport City
After the fourth runway came online, a 320-acre parcel of land was left vacant. For 30 plus years, most of it has been off the tax rolls. But that's about to change in a big way.
A planned mixed-use development on the site, which the city owns, is making the vision of an Aerotropolis around the airport reality. "Airport City College Park" is a $500-million-plus development with the potential to create thousands of jobs. A groundbreaking is scheduled for November.
"People are already calling to discuss what's going to be available and when it's going to be available," says long-time College Park Mayor Jack Longino. "There will be retail, hotels, office space and some residential. The city will own all the infrastructure and all the property. It's a $19-million investment on our part. I don't have an economic impact number, but it's going to be huge."
The development site is on the north side of Camp Creek Parkway, west of Interstate 85 and Hartsfield-Jackson and directly across the street from the Georgia International Convention Center [GCCI]. The project can also connect to the Atlanta BeltLine through the extension of existing trails and completion of trail projects already underway in the Aerotropolis area.
A professional office building is under construction on the GICC site, in addition to a BMW training facility, a new hotel and the Atlanta Hawks' G-League arena.
"There are more than 35 hotels with 750 rooms on the convention center site," Longino says. "There's another 200 coming, and that will push us close to 1,000 rooms just on that site. Our growth has been in the hospitality industry since about 1980 because of the airport and our decision to get into the convention center business."
With its residential population hovering around 15,000 (cut in half by the airport from a high of 30,000), Longino says the hospitality industry allowed his community to reinvent itself.
"The hospitality industry is how we were able to overcome land restrictions from the FAA and the airport," he says. "You either adapt or you go away."
As the Aerotropolis Atlanta Alliance works to market Airport City College Park, Longino gives the group and its leadership credit for getting the community a seat at the table with corporate America.
"Aerotropolis has brought us all together to make sure corporate America is having a good experience here and talking about why they should be doing business here," he says. "Without Aerotropolis, those conversations wouldn't traditionally be possible."
---
Under the Umbrella
While the alliance may be bringing the whole southside area together, other organizations have also formed to help market different niches. Connect South Fulton was started last November by the mayors of seven cities in south Fulton County – Chattahoochee Hills, College Park, East Point, Fairburn, Hapeville, Palmetto and Union City.
"The Connect South Fulton member cities are in the heart of the Aerotropolis with direct proximity to Hartsfield-Jackson Atlanta International Airport," says Michael Davis, executive director of Connect South Fulton. Not only that, but, "South Fulton County has more undeveloped land in proximity to an international airport than any international airport in the world."
This amazing location drew the mayors in south Fulton together with the recognition that they could achieve more in the area of economic development if they worked together to advocate for the region. The mission of the organization is to attract global investment, spur growth, support educational institutions, foster workforce development and enhance quality of life for each of the seven distinctive cities in the South Fulton region, Davis says.
But, again, even this new organization doesn't work alone.
"We collaborate, communicate and support other organizations in the ecosystem to position the region for success," he says. "There is a great deal of partnership in the south Fulton County area between municipalities, chambers, CIDs, business associations and other stakeholder organizations working to advance the economic development agenda for the area."
"I'm excited about the opportunity for collaboration, but Union City has already moved forward with several development opportunities," says Union City Mayor Vince Williams.
Asos, a British ecommerce business, will bring 1,600 jobs to the community in the next two to five years.
"Asos has already made a $100-million investment in their facility, and they have already approved another $150 million as they continue to make their mark on this community," Williams says. "It's a 1-million-square-foot development that will provide a Google-like work environment for its employees. Asos has been looking to land an opportunity in the U.S., and everyone knows we're in reach of the world's busiest airport."
And it was the airport that drew Atlanta Metro Studios to town. Atlanta Metro is the studio behind movies like Pitch Perfect 3 and Jumanji.
"Atlanta Metro Studios is the largest purpose-built movie studio in North America," Williams says. "They chose us because of our proximity to the airport and all the major interstates – 75, 85, 285 and I-20. And because of the Georgia film tax credit, they decided this is the place [they] want to land in."
Williams tells the story of a movie executive who left the studio off I-85, got to Hartsfield-Jackson in under 15 minutes and arrived back in Los Angeles before a shoot later that evening as a testament to the city's prime location.
"Their success has spurred faith in the community as it relates to business and opportunity," he says. "Small businesses like dry cleaners, beauty salons and grocery stores have certainly benefited from the studio being here, and it's created another opportunity for upstart businesses that want to support the film community, so it's been a win for everybody."
In addition to Asos, several other leading brands call Union City home, including American Building Products, Caterpillar, Costco, Del Monte Foods, General Electric, Green Mountain Coffee, Proctor and Gamble, Walmart eCommerce and Amazon. An 86-million-square-foot Coca-Cola facility in the community will be online in 2020.
"We have the second-largest Walmart eCommerce facility in the country here to date," Williams says. "And Amazon transformed the old Clorox facility into a distribution warehouse. In FY 2017, a total of 1,752 permits were issued for a new development or housing or business opportunities. That's a 280 percent increase compared to FY13."
Williams says for too long other people have dictated the narrative of the Southside, and as the area rises from the economic development shadows, that needs to change.
"We've got to start telling our own stories," he says. "So many people have told the story of the Southside, and they are not residents. It's incumbent upon us to tell the story of who we are and the great opportunities that exist in this area."
To ensure these stories are positive for generations to come, there are three studies underway in various stages of completion that will be integral to shaping the future of transit, mobility and access throughout the Aerotropolis, including plans for a multi-use trail network surrounding the airport, wayfinding and signage, and transit feasibility.
Rough estimates for the greenway plan call for 200 miles of pathways winding through Hapeville, College Park, East Point and Forest Park. The transit feasibility study will evaluate multimodal options in the district, including rail transit and autonomous shuttles such as personal rapid transit to create connectivity to corporate headquarters, manufacturers and warehouses as well as hotels, housing, shopping and restaurants.
Though there are many authors to this new chapter being written on the Southside, if such visionary plans can be made a reality, there's sure to be a happy ending.