More than Fun and Games
It's no surprise that Mercedes-Benz Stadium is bringing more visitors and dollars to Atlanta, but the real legacy may be the Westside revitalization efforts underway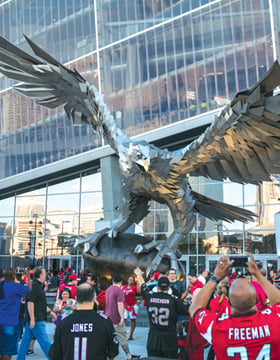 Inside the gleaming $1.5-billion Mercedes-Benz Stadium in downtown Atlanta, all is jaw-droppingly bright, energy-infused and just plain fun. It's a great place to experience Falcons football or Atlanta United FC soccer amid the best high-tech gadgetry money can buy. The teams' owner, Arthur Blank, and his organization made sure of that.
The stadium hosted the college football national championship game last January and kicks off the month of August with Major League Soccer's All-Star Game. January 2019 will bring Super Bowl LIII, and the NCAA Men's Final Four basketball championship will be here in 2020. The stadium and the city are on a roll.
"We wouldn't have four major events in three years without the Mercedes-Benz Stadium," says William Pate, president and CEO of the Atlanta Convention and Visitors Bureau (ACVB). "All have ripple effects. Back-to-back-to-back big events – no city has done this before."
"What the stadium has done," says Atlanta Sports Council President Dan Corso, "is put us at the forefront. As far as recruiting these big events, a city is only as good as its place to play."
Just days after the stadium opened last August, the two 2017 Chick-fil-A college football kickoff games, held over Labor Day weekend, brought 150,000 fans and generated more than $62.5 million in direct economic impact.
Impressive as all this is, it isn't actually a big surprise. With lots of money and civic clout behind it, bolstered by the power and prestige of the Blank organization, the stadium was bound to be a success. It's the kind of thing Atlanta does well.
What is truly remarkable and may be the facility's most enduring impact is the mammoth community revitalization effort that is underway in nearby Westside neighborhoods. There are economic, health, public safety, housing, employment, business, education and financial empowerment components with the goal of turning around one of the city's most troubled spaces – and making sure longtime residents are not displaced in the process. The area of focus encompasses English Avenue, Vine City, Castleberry Hill and Atlanta University Center; it includes The Bluff district that is known for drug activity and Sunset Avenue that was once home to Dr. Martin Luther King Jr., Maynard Jackson and Julian Bond.
Blank himself has said, "If we are not successful in transforming the Westside area around the stadium, the project will be a failure."
The Arthur M. Blank Family Foundation, through its Westside Neighborhood Prosperity Fund, has contributed more than $15 million to the effort and persuaded many of the stadium's corporate partners to pitch in as well. The city of Atlanta, through Invest Atlanta, its economic development agency, committed another $15 million. And there is a long list of other donors and participants – individuals, foundations, nonprofits, corporations, organizations, churches and community groups.
"You cannot have what is best and great about Atlanta in this iconic stadium standing next to some of the most marginalized and forgotten neighborhoods in the city, especially neighborhoods that have such a rich legacy," says Frank Fernandez, vice president of community development for the Blank Foundation.
The work began several years ago when Blank wanted a new facility for the Falcons. "As the whole stadium process unfolded, it became clear for Arthur that we need to do it differently," Fernandez says. "Stadiums have a bad reputation. They are only active a few days a year. They're a dead asset and don't do much to uplift the community and neighborhoods around them. He wanted to turn that on its head."
---
The Neighborhoods
Fernandez is used to giving driving tours of the Westside. On a new-penny-bright morning, he maneuvers past boarded-up houses and abandoned buildings that co-exist with signs of progress – some small, but all important, he believes.
"This is a Boys and Girls Club," he says, indicating the one-story Salvation Army Bellwood club building adorned with lively murals. "It used to be a juvenile detention center."
A short distance away, baskets of flowers hang over the porch at the Mattie Freeland Community House, once home to a community matriarch, now rebuilt by Holder Hunt Russell Moody, the stadium's contractor consortium. It is owned by the adjacent New Life Covenant Church and used for an after-school program and other neighborhood events. Fernandez calls it a "resident-led, resident-scale project."
He points out pocket parks, new single-family homes – including some designated for police officers – the refurbished Atlanta Public Schools' Hollis Innovation Academy and the site of the $40-million-plus Rodney Cook Sr. Park, which will be the Westside version of the Historic Fourth Ward Park in northeast Atlanta.
Fernandez speaks of short-term priorities, determined after a lengthy series of meetings and discussions with residents and communities: "People want jobs, want to feel safe walking the streets and feel good about where their kids go to school." And the long-term implications: "Grappling with concentrated, intergenerational poverty and all that means. That's not something you fix in three years. It's a 10- to 20-year process."
There are several programs put in place that aim to break that cycle. Westside Works, which creates employment opportunities and job training for residents of the Westside community, was established by the Blank Foundation with other partners, including Invest Atlanta, the Metro Atlanta YMCA and the Atlanta Workforce Development Agency, "to help folks get jobs, keep jobs, then get better jobs," he says. The program has already helped close to 500 Westside residents find work in fields like construction, healthcare, culinary arts and information technology; the one-year retention rate is well above 75 percent.
The Westside Security effort, a partnership with the Atlanta Police Foundation, has installed hundreds of security cameras and established a neighborhood patrol.
Throughout the area are scores of programs and initiatives like these that work together on a broad array of projects. "It is," says Invest Atlanta President and CEO Eloisa Klementich, "a concerted effort to think about how we can impact the community, preserve its history and culture and ensure no one is displaced."
---
History Lesson
All the participants in the redevelopment venture are painfully aware of the well-intentioned but failed neighborhood efforts, mostly related to housing, that accompanied the publicly financed Georgia Dome. It was built in 1992 and taken down some 25 years later to make way for the new stadium.
Five-term Atlanta City Council Member Ivory Lee Young Jr., in whose district the Mercedes-Benz Stadium lies, is a longtime Vine City resident who recalls the Dome construction and its consequences.
"Ivan Allen [Boulevard] used to be Simpson Street all the way down to the site of the old Georgia Dome," he says. "It was located in a neighborhood called Lightning. When they built the original Dome in 1992, there was very little sensitivity to the needs and concerns of the larger community. When they first did the acquisition, there were residents, homes and families – there were businesses, churches – who had lived and operated and worshipped in Lightning for decades. A good bit of that land was purchased by the state of Georgia with very little consideration for what would happen next in the lives of those residents and property owners.
"There wasn't any real thought given to comprehensive needs of the surrounding community – they were just focused on housing. And they only provided a percentage of what was really needed to actually make a dent. There were tremendous housing needs that existed then and still exist today."
Fernandez says the effort was "mostly just the public sector with a primary focus on housing. You need a three-legged stool – public, private and community."
And what makes the current effort more likely to succeed? Well, Arthur Blank and his organization, for one thing. The Falcons were owned by the Rankin Smith family when the Dome opened; Blank bought the team in 2002.
"It's a different time," Fernandez says. "Atlanta is in a different place for redevelopment. Then we didn't have the BeltLine, didn't have the push of people moving back into town."
The effort in the '90s was not comprehensive, he says, but the current one considers what he calls the two big buckets of place and people.
"Affordable housing, market-rate housing, parks, rec centers and infrastructure all contribute to place. For people, it's education, public safety, economic inclusion, civic empowerment, health. So many different pieces go into imposing order on chaos. I think all those issues connect. We've got to have a framework."
---
Up With The New
Blank and the Atlanta Falcons put up more than $850 million to build the new stadium; the NFL kicked in with a $200-million loan.
The city's contribution was $200 million, which comes from the hotel-motel tax. Invest Atlanta issued bonds for the city's share. The facility is owned by the Georgia World Congress Center Authority and operated by the Blank organization.
Both despite and because of the failed revitalization attempt a quarter-century before, Councilman Young says it was important to keep the Dome history in mind – and to acknowledge the role a stadium plays in producing revenue for city services.
"When you balance everything out," Young says, the city "wanted to learn from previous mistakes and make sure if we were going to put our support behind a stadium, it would really be worth the while of all the impacted residents.
"I have nothing but great things to say about what Arthur Blank and the Arthur Blank Family Foundation [are doing]. At no point was there ever any question about the support that existed and remains to really make a difference."
Young pays tribute, too, to Atlanta's former mayor: "Kasim Reed deserves a lot of credit for helping to broker a package for funding and public support that didn't rely on many dollars from taxpayers." In a 2013 interview with Georgia Trend, Reed called it "the most favorable stadium deal in America."
Young says the two historic churches that were displaced by the new stadium, Friendship Baptist and Mt. Vernon Baptist, received more than fair market value for their property. Friendship has "a brand, spanking new $21-million building" and Mt. Vernon has renovated an existing church "which has allowed their membership to increase – they've restarted their school."
It should be said that a lot of folks have a bit of a "bless-its-heart" soft spot for the old Dome – recognition that it paved the way for the new stadium and all its promise, and an acknowledgement of its service in the Olympics, as a Super Bowl host and a home for the Falcons.
"The Dome was successful," Corso says, "but events are getting bigger and bigger. You need a big facility, more technically advanced. Our goal is to bring the biggest and best sports events to the city" and bring them back again.
---
Rave Reviews
And the new stadium? It is a stunner. Inside is a whole new world of sports-watching experience: the 360-degree halo board with video displays of game action, replays and statistics; the retractable roof; the food and beverage options; the multiplicity of restrooms.
Fans love it. "Oh, my gosh!" is a pretty common reaction from first-time visitors. Civic leaders are beside themselves. "It's a big, big win for everyone," says longtime Atlanta champion A.J. Robinson, president of Central Atlanta Progress and the Atlanta Downtown Improvement District. "Atlanta always punches above its weight."
And, he points out, it doesn't hurt that the two teams that call the stadium home have had great success there.
In fact, the biggest on-the-field surprise has been the tsunami that is Atlanta United, which qualified for the playoffs in its inaugural year and has set MLS attendance records in its first two seasons. United has brought out a whole new group of sports fans, including a host of millennials and newcomers to the city. The stadium that works so well for devoted Falcons fans is equally welcoming to the high-spirited and diverse soccer spectators.
"I think people, before the stadium was conceived and constructed, had some well-founded skepticism about whether we really needed it," says Robinson. "Arthur Blank and [Falcons President and CEO] Rich McKay and their teams had the foresight. It's much more than a football stadium. It was built for Atlanta and Georgia to really take the next step. People tend to think of stadiums for sporting events, but there's a lot broader impact."
Indeed, Mercedes-Benz Stadium has another life as a concert venue – it had a bit of a rough start with some sound problems, but those have apparently been addressed – and a place for business meetings and community events.
"We look at these spaces in a different way," Robinson says. "Because of the way we have gone about it, the quality of the product, the care that the Blank Foundation has taken and the attention paid to the surrounding neighborhoods – there are a lot of firsts here."
---
Community Success
Atlanta leaders believe strongly that the stadium success, civic success and community development success are inextricably linked. Partnerships and collaborations are key.
Invest Atlanta's Klementich notes that the stadium lies within the Westside Tax Allocation District (TAD) – and it's from the TAD's general fund that the city's $15 million in community development resources is available. But the agency reports more than $98 million total investment in the Westside since 2013, including funds from the TAD; New Markets Tax Credits, which is a U.S. Treasury Department incentive for investment in low-income communities; a tax-exempt bond; and down payment assistance.
"We try to take a holistic view [for] balanced growth and development of the Westside – education to housing to employment to business to neighborhood to security to community. We are very purposeful in our objectives to create programs in each of those verticals," Klementich says.
"The direct impact of what a stadium can provide," she adds, is "people coming to a game, spending money. Atlanta is very dependent on travel and tourism. There's also the impact on jobs. The stadium has made concerted efforts to hire individuals from the community."
She and others recognize that the neighborhood work will take years, but she sees a real resolve. "Do we get it all right every time? I would love to say yes, but no. But I do think we have a commitment by everyone involved in the Westside to learn from the opportunity and the things we didn't quite get right to get them right next time. So you create programs, activities and support that are long-lasting and create opportunities for residents to stay."
"The Mercedes-Benz Stadium has been a fantastic addition to the Atlanta portfolio," the ACVB's Pate says. "Atlanta is a championship city. People who have never been to Atlanta before will come for big events. And it's a catalyst for investment in the west side of town."
"The stadium that Arthur Blank and the Falcons built is a game-changer," says Corso. "The social impact goes beyond the economy. It relates to quality of life; there's an energy and buzz created. It's a great reflection of what sports events can do."
Councilmember Young says the community engagement piece remains crucial; some older residents have long memories.
"We can never do enough to engage the community," he says. "Those we are reaching are feeling the effects of positive changes – residential retention is a big one of the priorities. Despite all of that, when we have the experience we had in Lightning – we still have some historic residents who have post traumatic stress who will never fully buy into government, philanthropic, business interest in their community and whether they are getting a fully transparent deal.
"We [have to] do everything we can to protect the interest of existing residents, families, businesses, churches in the community and not support or celebrate those things that would lead to their detriment. It's still a work in progress."
He references Westside Works; the At-Promise Youth Center, which is a community gathering place that has specialized youth services; improvements in public safety; stadium employment of people from the neighborhoods; even the new African-American owned Chick-fil-A that opened this year.
"Every time we have one of those successes, we win a new supporter for Arthur Blank and what he has represented on Atlanta's Westside," Young says. "Arthur Blank has a legacy that will be felt for the remainder of this community's history."
---
About Mercedes-Benz Stadium
Home To: Atlanta Falcons, Atlanta United FC
Events: Peach Bowl, Chick-fil-A Football Kickoff, SEC Championship Game, MLS All-Star Game, NCAA Men's Final Four
Construction Cost: $1.5 billion
Owner: State of Georgia, through the Georgia World Congress Center Authority
Operator: AMB Group, parent company of the Atlanta Falcons and Atlanta United
Timeline: Ground broken May 2014; first game played August 2017
Seating Capacity: 71,000 seats, expandable to 75,000
Size: 2 million square feet; 30 stories high
Parking: 21,000 spaces
Access: 25 escalators, 20 elevators
Beer Taps: 1,264
Source: Mercedes-Benz Stadium, Georgia World Congress Center
---
The Home Teams
Atlanta Falcons
Owner: Arthur Blank
Head Coach: Dan Quinn
First Season: 1966
2018 Regular Season Home Opener: Sunday, Sept. 16 vs. Carolina Panthers
Playoff Appearances: 24
Super Bowl appearances: 2 – 1999, 2017
All-Time Regular Season Record: 351-443-6
All-Time Scoring Leader: Kicker Matt Bryant reached 807 career points in 2016
Pro Football Hall of Famers: Claude Humphrey, Deion Sanders, Bobby Beathard, Brett Favre, Eric Dickerson, Morten Andersen, Tommy McDonald, Chris Doleman
Atlanta United FC
Owner: Arthur Blank
Head Coach: Gerardo "Tata" Martino
First Season: 2017
First Season Record: 15-9-10
First Season Scoring Leader: Josef Martinez, 19 goals
Final 2018 Home Game: Sunday, Oct. 21, vs. Chicago Fire
First Season (2017) Highlights: Playoff appearance; set MLS single-game attendance record of 70,425; first MLS team to surpass 800,000 attendance in its first season
2018 Season Highlights: Broke own single-game attendance record with 71,874 fans attending DC United match at Mercedes-Benz Stadium
New Tradition: The Golden Spike, representing Atlanta's beginnings as a railroad town; before each home game, spike is signed by players and fans and carried into the stadium