Georgia Fare: Spring Ahead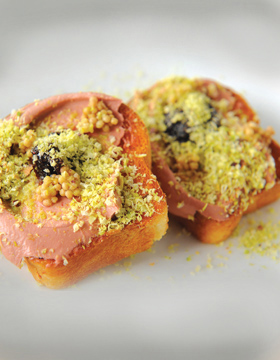 Marietta's Church Street – the road you take from I-75 to Marietta's town square – is a boulevard of beautiful old houses tucked behind lush landscaping and dignified trees lending shade to neat lawns.
Despite the sheer growth and magnified political power of this segment of Atlanta's metro magnet, this entryway makes Marietta seem like some halcyon Southern small town, especially once you get to the town square, complete with gazebo and lined with charismatic shops. Driving down Church Street in spring, when yards are flush with magenta azaleas, pink rhododendrons and fluttering white dogwood blossoms, feels a little like looking at a set for a charming old movie.
It's also the perfect time to visit a restaurant named Spring, on Church near the square. As it turns out, that is the favorite time of year for Chef/Owner Brian So, and soon it becomes clear why. This is when sprouts emerge with pastel tendrils and subtle flavors, the occasional burst of vibrant color and zest that announces, "Winter is over, and we're all still alive!"
Spring is an aggressively seasonal restaurant, tied securely to local producers and farms, and subtlety and vibrance are So's calling cards. While Spring's mid-summer menu will likely feature more ingredients associated with a teeming farm stand (corn, tomatoes, berries), the approach will be the same as we found on two visits in March and April: a tightly focused menu of snapping-fresh vegetables and fruits with carefully curated proteins (lamb, young chicken and flounder in spring) and a devotion to coaxing delicate flavors from the shyest vegetation.
Spring's physical setting is just short of austere – its doorway is off a side street, arrived at by walking alongside the railroad tracks. The time-worn exposed brick of this former freight warehouse faces a small room lined with wooden benches and small tables over creaky wood floors. Down the narrow passage to the restrooms, you pass a window into a compact, crowded kitchen. It says a lot that this modest spot has earned so much critical praise, including a slot among last year's Best New Restaurants in the country in Bon Appétit and a James Beard Rising Star Chef nomination for So.
You begin with a thick slice of crusty sourdough bread that is so fresh and air-bubbly it's slightly spongy, served with soft butter glistening with salt crystals. The immediate signal: You won't go hungry here. It's all you can do to keep from wolfing it down and asking for more, but resist – you're going to want all that follows.
The first bite of the first course on my first visit related everything I needed to know about this place: White asparagus soup with sweet gulf blue crabmeat, orange trout roe and fresh chervil, with little pools of chervil oil. White asparagus make it through the winter like many of us – they just stay under the blankets, getting paler and paler. The flavor is distinct from its verdant kin – lighter, more understated and yet more vegetal – and matches beautifully with the crab and salty pop of the roe. It remains one of my favorite dishes of two visits.
Other starters were also standouts – a salad of vivid, sweet beets, radicchio and blood orange with burrata (a mild, creamy cheese), candied walnuts and pickled red onion made you feel as fresh and virtuous as the chicken liver paté on toast made you feel naughty. Organ meat, no matter how finely pureed and professionally presented, should not seem such a natural pairing with blueberry jam and pickled mustard seed on brioche. It had the crazy deliciousness of a very wrong peanut butter and jelly sandwich.
So's beurre blanc has earned wide praise, and I won't interrupt it here: Painted on and pooled under a mound of pan-seared flounder, sprinkled with snipped chives, over tender English peas, baby bok choy, braised radishes and leek, it delivers simple but delectable buttery unctuousness.
The roasted lamb loin was a frolicking riot of spring flavor: Young collards with florets, glazed carrots, wide green fava beans and spring onion over a pool of potato purée countered sliced, medium-rare lamb loin, a dribble of pan juices moistening all. Spring mushrooms abounded – the pan-roasted chicken breast featured hen of the woods among the asparagus and farro, and the green garlic risotto was one of the best vegetarian dishes I've had all year, with plenty of umami-rich morels among the Parmesan, fava beans and young collards.
Two of the four desserts we sampled were stunningly good – fresh strawberries and poached rhubarb with vanilla parfait on the buttery French cookie called Sable Breton had the appearance and flavors of a brighter, lighter, more fruit-forward strawberry cheesecake. And the simple scoop of pineapple sorbet was a revelation. While we also enjoyed the yogurt panna cotta, a delicate vanilla against sweet pinky-orange Cara Cara orange, the dark chocolate-citrus tart sounded like a combination that wouldn't work – and didn't. The acidic fruit against the tannic chocolate clashed harshly.
Still, that's quite a batting average. What's even more gratifying is how locals seem to have embraced this little jewel box – you'll want to make a reservation well in advance. We saw lots of special occasion dinners with people bearing gift bags; a father and daughter sitting next to us told us it's their regular date night destination.
For too long, Marietta's dining scene hasn't matched its physical beauty. That's all changed, now that Spring has arrived.
---
Spring
83 Church St., Marietta
678.540.2777 or springmarietta.com
Hours: Dinner, Tuesdays-Saturdays
Parking: On street (free after 6 p.m.) or in nearby free and paid lots
Dress Code: Simple but elegant – like the food
---
The Best Places for Vegetables
Miller Union
Atlanta
Chef Steven Satterfield's deft use of vegetables earned him a comparison by The New York Times to famed California chef Alice Waters.
millerunion.com
---
White Oak Pastures
Bluffton
It's a short trip from farm to table at the farm's open-air Dining Pavilion and food truck, and you can tour the fields where your meal was grown.
whiteoakpastures.com/content/dining-pavilion.asp
---
Fresh Harvest
Clarkston
This business delivers produce from local, organic, regenerative farmers to your door, while providing jobs and support for Clarkston's refugee community. They also hold occasional artisan markets with groceries, refugee-created dishes, chef-made tacos and more, usually at Refuge Coffee in Clarkston. Check out their Facebook page for more info.
facebook.com/freshharvestga