Reimagining Travel
New possibilities are on the horizon for making Metro Atlanta easier to navigate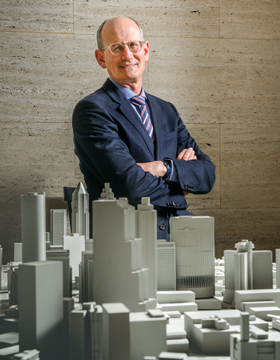 Transportation and transit options in Atlanta and Fulton County are being reimagined in ways that create dynamic spaces that are safe for pedestrians and bicyclists on the streets while at the same time transforming the city's urban core.
Projects like The Stitch in downtown, the park over Georgia 400 in Buckhead, dedicated bike lanes and pedestrian plazas in Midtown and a host of other transportation improvement plans represent a radical overhaul of how people will soon not only get around town, but also how they live, work and play in the ATL.
"We're at kind of a tipping point with projects in Atlanta, particularly downtown Atlanta," says A.J. Robinson, president of Central Atlanta Progress (CAP) and the Atlanta Downtown Improvement District. "The Stitch is a long-term project, the BeltLine continues to expand and the Gulch is poised to be sold for the first time in 100 years. There are a lot of big infrastructure projects in play."
This spring, the city of Atlanta completed the single-largest remaining land acquisition for the BeltLine. The BeltLine was previously an abandoned and under-used railroad corridor that encircled the city's core. During the past decade, portions of this 22-mile loop have been transformed into pedestrian- and bike-friendly trails replacing the rail lines and connecting to parks and transit.
The recently acquired railroad corridor was needed to complete the BeltLine's Southside Trail, which connects the Eastside and Westside trails for a total of approximately 11 contiguous miles. The $26-million purchase was funded by Transportation Special Purpose Local Option Sales Tax (T-SPLOST) revenues and represents more than four miles and 63 acres of the BeltLine's planned trail loop.
"The Southside Trail will connect the east side of the Atlanta BeltLine to the west side for the first time in its history – and that changes everything," says Brian P. McGowan, BeltLine president and CEO in a press release. "This inactive rail corridor that once divided neighborhoods can now be used to create jobs, transit and affordable housing options for communities south of downtown."
Reconnecting divided neighborhoods and spurring downtown development is the exact same idea behind The Stitch. CAP is halfway through the second phase of a development study for The Stitch, a $200-million to $300-million proposal to cover Interstate 75/85 with greenspace and private development.
The Stitch would cap the Downtown Connector by building a tunnel over the interstate from the Spring Street flyover southeast to the Piedmont Avenue Bridge, turning the space above it into 14 acres of economic development opportunity.
"When the highway came through in the '50s, it physically, spiritually and psychologically divided Downtown and Midtown," Robinson says. "We believe that by building a park essentially over the highway, we will stimulate economic development along the park, and the development of those parcels around the park will pay for the construction of the park over time."
Robinson says the first phase of construction for The Stitch could be completed within five years.
"I think it's a realistic timeframe," he says. "So far we've been making great progress, and we haven't seen any showstoppers. We're encouraged by it all."
While long-term plans had previously called for the Gulch to be turned into a multi-modal transit hub, it is currently under contract to a private developer, who wants to fill 27 acres of the property with new streets and high-rises, which nixed that idea. But that doesn't mean the city's transportation network won't get a boost from the development.
"We definitely will get a new street grid out of it that will connect the downtown community in a way it's not been connected before," Robinson says. "A new street grid above the Gulch would connect from potentially Forsyth, Spring and Centennial Olympic Park Boulevard north and south, then connections east and west across that Gulch property that any mode of transportation in the metro area could use – bus, train, MARTA, street- cars, bikes."
---
Midtown Options
While downtown awaits the anticipated expansion of its street grid, Midtown inherited a street network laid out in the late 1800s and early 1900s.
"We are blessed with a multimodal transportation system in Midtown," says Kevin Green, president and CEO of Midtown Alliance. "Having a street grid and transit access opens up a lot of transportation options, and it's a strength as a differentiator."
Another strength, according to Green, is how Midtown is reinventing its streets.
"Midtown's success is not going to be measured by getting cars through Midtown as quickly as possible," he says. "We see streets as playing a much larger role than conduits for traffic."
Adding more signalized intersections and pedestrian crossings, building out a network of protected bike lanes using parked cars or bollards and repurposing traffic lanes for bus rapid transit use are among the array of options on the table for Midtown's 23 linear miles of streets, which represents 70 lane miles within the district's one square mile. There is a four-mile project underway on Juniper Street that repurposes on-street parking into a barrier-separated bike lane.
"For the last four years, GDOT [Georgia Department of Transportation] has been doing a lot of work with traffic and pedestrian signals here," Green says. "The first step is to make the most efficient use of what you've got, and optimizing traffic signals has been a great way for us to do this."
Midtown is also in the planning stages of a shared street connecting the North Avenue MARTA station to the Arts Center station. On a shared street, pedestrians, bikes and cars traveling at a low speed share the roadway, which is at the same level as the sidewalk, creating a pedestrian promenade anchored with public art, cafes and retail on both sides of the street. This low-volume street will blur the line between sidewalk and street while maintaining access for slow-moving vehicles and offering opportunities for closure during non-peak hours to create a park-like atmosphere.
"This is how you get creative in an urban environment where an acre of land is trading for upwards of $10 million," Green says. "Shared streets make the most efficient use of the space between the curbs and prioritizes pedestrians."
Ultimately, a great transportation strategy, Green says, is one where people don't have to travel, or at least don't have to travel far.
"Our overall goal should not be what's the least painful option, but what's the most pleasant and convenient strategy," he says. "What's going to make our region thrive is offering a great array of options for all users – those who want to ride an express bus or those who want to bike for 30 minutes. What's going to make us stagnant is increasing long commutes with no option but being stuck in a car."
---
Unification Strategy
When state Sen. Brandon Beach looks back on a transit trip he took six years ago from Kennesaw State University to the Gwinnett Arena, the words "pleasant" and "convenient" are not among the adjectives he uses to describe it.
"It took 38 miles, and four hours and 10 minutes to make that trip," he says. "What I learned on that trip was No. 1, even to plan the trip I had to go to three different websites; No. 2, I had to use three different payment types; and No. 3, there was a 30-minute wait trying to cross jurisdictional lines. I found out we didn't have a seamless transit line."
And so began a six-year quest to create a unified regional transportation system, efforts that culminated 11 minutes before the close of the 2018 General Assembly session in late March when lawmakers passed a bill that will pave the way for a dramatic expansion of mass transit in Metro Atlanta.
"It's a big win," Beach says. "It's the biggest thing we've done in transit in 40 years."
House Bill 930 allows 13 Metro Atlanta counties to impose a penny sales tax for transit expansion contingent upon voter approval. Such referendums could potentially pour hundreds of millions of dollars into new regional transit lines across the metro area. The state would add $100 million in bonds for transit expansion beginning July 1.
The bill also creates a regional board to oversee transit funding and construction. In an effort to coordinate transit projects across county lines, the board will have the final say over the project lists counties submit to their voters.
"We're not trying to take over MARTA or create another huge alphabet soup bureaucracy," Beach says. "MARTA will be the backbone [of the new regional transit system], and even when we rebrand the new system as ATL, MARTA will still be the umbrella organization."
One of the bill's provisions allows Gwinnett County to hold a vote on joining MARTA this year, while another authorizes a special transit district in south Cobb County around the Galleria.
"The thing we can do the quickest is bring Gwinnett and South Cobb on board," Beach says. "If you bring Gwinnett in, you're bringing in 1 million people that can cross county lines, and another 350,000 in South Cobb. That's more than 1 million people that now have a system to go from Perimeter Mall to the Galleria to the [Braves] stadium in an easy, seamless fashion."
Some of the new money for expanded transit could come from a two-tenths of a penny sales tax in north and south Fulton County. The tax will be on the November ballot and is expected to raise $30 million to finance bus rapid transit outside of the city.
"We think we can do a quality project with bus rapid transit in north and south Fulton that improves mobility and makes a measurable difference in the quality of life in those communities," says Robbie Ashe, chair of the MARTA board. "Bus rapid transit is cheaper and faster than heavy rail."
For bus rapid transit to happen, significant federal investment in managed lanes on Ga. 400 would be required.
"We've made a commitment to cover the operations and maintenance costs of that new service if they can get the lanes and stations built," Ashe says. "If they get the federal investment in managed lanes, then within a couple of years there can be buses at a guaranteed rate of speed running up and down Ga. 400 largely separated from traffic."
In November 2016, Atlanta voters approved a half-cent, 40-year sales tax for MARTA capital projects and operations and maintenance. Since revenue began being collected last year, MARTA has "significantly" enhanced its bus service in the city and officials are developing a capital projects program.
"We've purchased several smaller buses, so we can fit on smaller streets and provide more nimble service," Ashe says. "We're running more buses more frequently, and for high-demand routes, we've brought back the bendy buses – articulated buses – which allows us to serve more people at one time."
Future capital improvement projects will be chosen from a pre-approved list, which includes things like light rail between the Lindbergh Station and the Emory University campus, east-west light rail along North Avenue, light rail lines on the BeltLine and bus rapid transit up and down Northside Drive.
"The list is thought of more like a menu because there are more projects than we could raise money for, but if we did increase the money for our system, we wanted to make sure Atlanta voters had comfort in what the range of choices would be," Ashe says. "We promised we would use that list, do the study and analysis and work to ensure we prioritize the projects that provide the best return on investment."
---
Road Renovations
Despite all the newfound hype and hope around mass transit, there will always be cars and the need for road improvements. One of the biggest road improvement projects underway is at the Interstate 285/Ga. 400 interchange.
The total project budget is approximately $800 million, including $10 million chipped in by the Perimeter Community Improvement Districts (PCIDs). The project is expected to be completed in 2020.
"The magnitude of that project is enormous for our district," says Ann Hanlon, executive director of the PCIDs. "It's the largest renovation of an interchange in recent history. I think the wisdom of the CID boards was to make a large investment in the project because they knew how valuable it would be to our district."
The project includes improvements on I-285 from west of Roswell Road in Fulton County to east of Ashford Dunwoody in DeKalb County (4.3 miles), and on Ga. 400 from the Glenridge Connector to Spalding Drive (6.2 miles). The enhancements include construction of new flyover ramps, new collector-distributor lanes and other facilities to aid east-west travel on I-285 and north-south travel along Ga. 400.
The project also includes a diverging diamond interchange on Abernathy Road at Ga. 400 and an extension of the PATH 400 trail system to outside the perimeter. The completed project is expected to save commuters who travel the corridor eight hours per year.
"The improvement at that interchange is going to improve traffic along the top end of 285 and along Ga. 400," Hanlon says. "Traffic within our district boundaries is our focus, but regionally, it's important that employees are able to get to the Perimeter market from other parts of the Atlanta region."
The Perimeter CIDs are home to 5,000 businesses, including three Fortune 500 companies, representing $3.36 billion in commercial real estate value.
---
Holistic Focus
Investments in projects like improving the I-285/Ga. 400 interchange are critical for providing congestion relief for commuters and preparing the state's infrastructure for more freight and business traffic. In South Fulton, the local CID, working with the Atlanta Regional Commission (ARC), just finished a freight cluster plan focused on the movement and distribution of freight in the heavily industrialized area. By 2040, the ARC predicts a 56 percent increase in freight traffic in the region.
"The plan addresses freight transit, but it also includes plans for mass transit, biking and walking," says Joddie Gray, administrator of the South Fulton CID. "This is the first time we're looking holistically at the transportation system within the South Fulton CID."
Planning for which projects to tackle first began this spring.
"We're also very excited about the BRT [bus rapid transit] on Roosevelt Highway," Gray says. "It's one of the primary projects that came out of the Fulton County transit plan on the south side."
With only four miles of MARTA track and 22 bus routes, Gray says South Fulton needs more buses to support the needs of the local workforce.
"Our workers are getting off MARTA and crossing Roosevelt Highway, then crossing the railroad tracks to get to their jobs," she says. "It can be up to a two-mile walk to the warehouses where they work. When you actually see these workers making these commutes, that's when you really see the need that's out there."
Whether it's dedicated lanes for bus rapid transit in North Fulton County, pedestrian promenades in Midtown, regional transit or building The Stitch downtown, Georgia is focused on not only improving mobility, but on improving the experience of getting from here to there.