Georgia Fare: Eighty Ocean Kitchen & Bar
Sleek, Streamlined, Seaworthy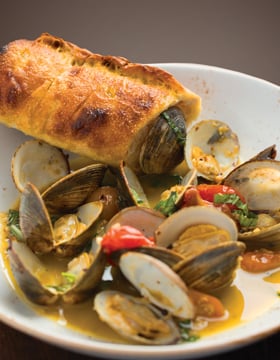 After originally launching as Corsair, named for the yacht J.P. Morgan often sailed to his Jekyll Island getaway, the restaurant at the new Jekyll Ocean Club hotel recently changed its name to Eighty Ocean Kitchen & Bar, apparently due to a trademark conflict with another restaurant. What a shame – the name Corsair reverberated with Jekyll Island Club history.
In any case, the new hotel and its restaurant are helping to chart a new course for this family-friendly, state-owned refuge, which has seen a wave of recent developments. Here, on the opposite side of the island from the historic wharf on the Jekyll River, a cluster of new shops, hotels and restaurants have opened near the convention center overlooking the Atlantic Ocean.
A short walk from the Jekyll Island Seafood Co. and the Wee Pub, pass through the sleek new Westin's aromatherapied lobby to its bar and restaurant, The Reserve. Next door is Eighty Ocean Kitchen, inside the new Jekyll Ocean Club, a modern sister property of the Jekyll Island Club, built in the late 1880s. That legendary property (now a hotel), along with its village of elaborate "cottages" near the wharf, once housed Morgan and his many wealthy business pals, who whiled away their spare time on Jekyll by doing things like inventing the Federal Reserve and making the first transcontinental phone call.
In some ways, Eighty Ocean is like many newly built beachfront restaurants – all wicker and wood, with a gas fire flickering in cool months. Informal and approachable, the restaurant and its staff are devoid of stuffiness or snobbery, seeming to aim for the elusive ethos of "affordable luxury." (As opposed to Morgan's actual yacht, of which he once reportedly said "If you have to ask how much it cost, you can't afford it.")
Instead, the restaurant feels sleek, streamlined and seaworthy. It's also a toe in the uncharted waters of more modern dining on Georgia's Golden Isles, which seems to tack between fried seafood and comforting Southern favorites (think Barbara Jean's, The Crab Trap) to very upscale dining, like Sea Island's Colt & Allison, The Georgian Room or even the old-school menu at the Jekyll Island Club's Grand Dining Room. Finding something in between – sophisticated but not fancy, delicious and somewhat healthy – is more difficult.
Eighty Ocean Kitchen joins other more recent, contemporary efforts on the Georgia coast, like St. Simons' Ember and Brunswick's The Farmer and the Larder (which recently chose to focus on Sunday brunch only along with hands-on cooking classes and special events), along with pioneers like St. Simons' Georgia Sea Grill.
What's notable about this kitchen's approach is the clean, modern sensibility, from the raw bar offerings to simple grilled items and a short menu of wood-fired pizzas. The focus is, unsurprisingly, seafood, and Eighty Ocean Kitchen navigates its seasonal offerings adeptly. On one weeknight, out of mussels, the kitchen offered a superior alternative: Sapelo Island clams in a buttery, garlicky white wine broth. A head of baby romaine, cut in half and lightly grill-seared, with focaccia croutons, big shavings of parmesan and a buttermilk dressing, added crisp, cool crunch.
For a chilly night, the creamy clam chowder, with potatoes and smoked bacon, was as comforting as a lap blanket on a deck chair. The seafood pizza hid lumps of Georgia shrimp, crab and crawfish in a roasted garlic cream sauce, with arugula and truffles sprinkled lightly on this thick-crusted lifesaver. Warm wood-fired peach-blackberry crumble with streusel and High Road craft vanilla ice cream finished us off. (The kitchen also offers DIY s'mores kits for the outdoor firepit.)
A word here about the cocktail program, which is as inventive and professional as any I've found on Jekyll: My husband ordered the Mai Tai, with light and dark rum, sweet but balanced with citrus and topped with an impressive honey foam, on our first evening there. He refused to order any other drink for the rest of our stay. I found the Boulevardier to be just as impressive – an old-fashioned variation on the Negroni, with bourbon instead of gin. The wine list – even by the glass – is adventurous, from the Chateau Minuty Rosé to the Chateau Lessegue Bordeaux.
As a hotel restaurant, Eighty Ocean stays busy, three meals a day. In some ways, lunch may be my favorite, especially in the large screened porch overlooking the pool. Sandwiches – like the fresh catch grilled mahi-mahi, with sriracha, lettuce and tomato; or the "giant" lobster roll, with poached Maine meat, a bit of mayo and lettuce piled high in a toasted, buttered roll – come with pickles and excellent thick, house-made fries or kettle chips. Coleslaw is creamy and tart, with purple slaw and red pepper.
My only issue: I'm picky about lobster rolls, and while the meat on this one was clearly hand-harvested, there were too many traces of the icky black stuff you sometimes find inside the shell. At $24, it needs to be pristine. I comforted myself with the ice cream sandwich – lemon thyme ice cream between lemon-blueberry sugar cookies, in a little pool of blueberry sauce.
Eighty Ocean Kitchen seems to have threaded its way between safe and fancy-schmancy to the kind of food you could make yourself at home with. Go ahead – drop anchor.
---
Eighty Ocean Kitchen & Bar
80 Ocean Way (in the Jekyll Ocean Club Hotel), Jekyll Island
912.635.5238 or jekylloceanclub.com/dining/corsair
Hours: Lunch and dinner daily (breakfast reserved for hotel guests only Monday-Saturday)
Reservations: Available on opentable.com
Parking: Free in attached lot for diners and hotel guests
Dress Code: Anything from cutoffs to dressy resortwear
---
On the way to the Georgia coast?
If you're headed down I-75 and/or I-16, you might want to check out these little gems in historic downtowns near shops and stores.
Grits Café
Forsyth
Yes, grits are a specialty – try the Grits Martini, with shrimp, bacon and mushroom cream, in a martini glass.
gritscafe.com
---
Company Supply
Dublin
Rotisserie chicken is the specialty, but the New Orleans-style gumbo, po'boys and bananas foster are fierce.
companysupplyga.com
---
Gee Dah's Table
Statesboro
Duck fried rice, andouille sausage dogs, bloody Mary with bacon. You in?
facebook.com/geedastable