County Commitment
From pets to solar panels, six counties across Georgia have implemented programs designed to make lives better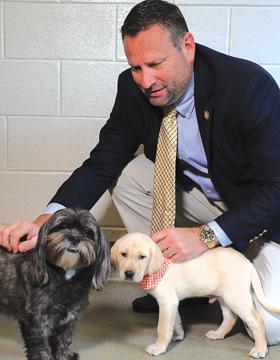 County leaders are generally folks just like the rest of us – they want life, liberty and the pursuit of happiness – with one difference: their job is to develop ways to better provide those same inalienable rights to their constituents.
This year, the ACCG, a nonprofit organization that serves Georgia's county governments, honors six Counties of Distinction for going above and beyond in their commitment to county residents – including the four-legged ones. Initiatives such as wellness programs, traveling commission meetings, professional development, solar farms, greater access to healthcare and animal adoptions demonstrate the outside-the-box thinking that results in better living for Georgia residents.
"Local governments are constantly striving to provide adequate services, using limited resources," says ACCG Interim Executive Director Dave Wills. "As we honor our counties through the Counties of Distinction program, we acknowledge and shine light upon counties that demonstrate exceptional resourcefulness and innovation. By sharing their stories and successes, we are helping other counties gain knowledge from which they, too, can benefit." – Karen Kirkpatrick
---
Columbia County
Upping Animal Adoptions
When Scott Johnson, county administrator for Columbia County, was looking for ways to revamp Animal Control, the first thing he did was change the division's name to Animal Services, replacing officers' uniforms with logoed polo shirts and khaki pants. That simple change, along with a change of tactics, created a less confrontational, more community-minded approach to animal services.
Instead of carting an animal off to the shelter, officers check the animal for a microchip, then knock on doors to see if they can locate the owner. "We take a few extra minutes to try to keep the dog with the owner, as opposed to bringing it to the shelter," Johnson says. "That was a mentality issue, providing better customer service, with the result being fewer animals in the shelter."
They've achieved astonishing results. Although the shelter no longer euthanizes based on how long an animal is there, the adoption rate soared while the euthanasia rate plummeted. In 2017, not a single animal was euthanized for time. How? A combination of innovative planning and diligent action.
"When it was time to build a new shelter, we were very strategic about it," Johnson says. "We asked the Animal Services team, 'If you could design this building with anything you wanted, what would it be?' Some of those ideas help us to adopt out animals."
Ideas like a grooming station where volunteers bathe and groom the animals using donated materials; acclimating animals to children by having school kids read to them; raising awareness through social media; and aggressively pursuing adoption opportunities for the animals, including taking animals to company-sponsored adoption fairs.
At a recent adoption fair, an ADP executive offered to pay adoption fees for any employee who adopted a pet. "It's just taking a different approach," says Johnson. "People say you should run government like a business. I say you can't because business is in business to make a profit. Instead of running government like a business, we run government businesslike. We're concerned about our customer." – PR
---
Morgan County
It Takes a Community
Thanks to generous donations from local citizens – and a little financial help from the U.S. Department of Agriculture (USDA) – Morgan County is finally going to get the hospital it needs.
For many years, the county 60 miles east of Atlanta has been eager to upgrade its medical services. Granted, it had its own 25-bed hospital, Morgan Memorial, which opened in 1960, but the facility did not have adequate specialists to treat the medical conditions that surfaced among its citizens.
The old hospital drew patients from 13 counties, had limited emergency services and used mobile units for office space. Given its vital regional role, it sorely needed to modernize.
That finally happened in September 2017, when ground was broken on a new hospital in a commercial district off the Highway 441 bypass. The 74,000-square-foot facility is scheduled to open at the end of this year.
Much of the credit for getting the project off the ground goes to Ralph Castillo, who was appointed hospital CEO in 2012. The executive previously managed the financial aspect of a hospital construction in Sparta, N.C., and was involved in a similar project at Camden Medical Center in St. Marys.
"Ralph has provided stability and been one of the driving factors in getting the hospital built," says Ronald Milton, chair of the county's board of commissioners.
Local citizens also helped move the project forward. For example, the Conrads Family Foundation Fund donated $1 million, a challenge grant that allowed the county to qualify for a $35-million USDA loan.
To secure that federal loan, the county had to sign an intergovernmental agreement that commits $1 million a year for 25 years for the hospital, to help offset the approximately $2 million in indigent care the hospital provides each year. "If that agreement had not been in place, we would not have gotten the USDA loan," says Milton.
Another family's donation has also been pivotal. Pat and Natalie Reams of Reams Enterprises Inc., a Madison construction firm, donated the 24-acre parcel of land that is the site of the new hospital.
The hospital will have the same bed count as the old one, but it has upgraded office space and operating rooms. Milton estimates an overall $10.5-million positive economic impact in the county.
Best of all, the new hospital will offer a wider range of specialists. "We had been losing patients to other counties because specialist care was lacking," Milton says. "Now, that problem's been solved." – SN
---
Rockdale County
Mobile Meetings
Rockdale County Commission Chair and CEO Oz Nesbitt was tired of seeing only a scattering of people at the commission's meetings. Along with the two other commission members, he decided if the public couldn't make it to the meetings, they would take the meetings to the public.
"I thought people felt disconnected in terms of local government," Nesbitt says. "The goal is to be as visible as we can."
So every third Tuesday, you can now find the commission – along with staff members and the clerk of the commission – holding 7 p.m. meetings in different schools. They may travel to Hightower Trail Elementary School on Highway 138 one month, to J. H. House Elementary on Highway 20 the next or to Lorraine Elementary, close to Stockbridge. They also meet in the Olde Town and Salem communities, Nesbitt says.
The public relations staff brings video equipment to stream the meetings live and broadcast them on a local cable television station. It's another way to reach the public that Nesbitt endorsed when he was elected chair in 2016, after two terms as a commissioner.
The Rockdale County Commission meets as many as four times a month, with two work sessions and two voting sessions, "depending on what's going on," the chair says. The majority of meetings are held at 10 a.m. in the commission chambers of the county courthouse.
Nesbitt says the evening meetings draw 25 to 30 people, far more than the 10 to 15 people who come to the morning meetings. He says those working 9-to-5 jobs would probably prefer evening meetings, acknowledging that most jurisdictions no longer schedule morning meetings.
"It's something we're studying," he says. "In the future, we may move to late meetings, but we haven't had that conversation yet. Right now, I'm just glad more folks are paying attention." – RM
---
Fayette County
Training Rewards
Attorneys, physicians and CPAs all engage in continuing education, and in Fayette County, county department leaders do, too. Fayette County is one of a handful of Georgia counties whose department heads actively participate in ACCG's Lifelong Learning Academy, a training program designed initially to help elected officials understand government policies, leadership and why decisions are made. Phil Frieder, Fayette County's chief information officer, and County Clerk Tameca White credit County Administrator Steve Rapson for the strong emphasis on the additional training.
"We had one staff person, our CFO, who took it upon herself to take the classes," says White. "Afterward, Steve Rapson wanted everyone to do it so that all staff could understand the bigger picture."
And the training is done on the county's nickel. "That drives home how important this training is to us," says Frieder. "It's tied to a dollar amount, making it a tangible asset we can put in our pocket, reinforcing the value."
Academy participants can take courses in everything from economic development and taxation to ethics in government and personal leadership styles. Frieder took courses to become a certified CIO, and White is still going through training that includes courses in leadership in local government and understanding personal power and influence.
Both Frieder and White say the training has influenced not just how they feel about their job – empowered and purposeful – but the way they view county government. "I bring back information to my staff constantly, because it empowers them to align their personal mission with the mission of the county," says Frieder. "Every time I left an ACCG meeting I came out with a blue-sky view, rather than a negative view. That's important in government work because the trophy is nebulous. When you get done doing the job, you don't get thank you notes and Christmas cards."
White agrees. "It elevates everybody," she says. "And it's taken my training to another level. As county clerk, so many things come past my desk on any given day. You never know what's going to walk through the door or be on the other line. It helps in dealing with citizens, commissioners and each other, staff-wise." – PR
---
Liberty County
Feelin' Good at Work
Liberty County's employee wellness program has been growing steadily since its creation some 10 years ago. Employees may pop into the commission boardroom for a Zumba class after work or meet at a park to walk. They may attend a quarterly lunch-and-learn session on heart health, where they receive a nutritious meal and information from a local cardiologist. And many routinely participate in the annual fall health fair, which provides them with flu shots, lipid analyses, blood pressure readings and cardiac screenings – all free of charge, thanks to Blue Cross Blue Shield, which covers the costs.
"About 200 of our 350 employees are involved in the wellness program to some degree," says human resources generalist Laura Troutman. "We have spring and fall challenges for individuals and teams and try to make things fun."
Unlike many other counties, Liberty hasn't seen a huge increase in health costs, for which she credits the wellness program.
Troutman cites the importance of the vital health screenings. One woman who took the cardiac screening later learned one of her arteries was 85 percent blocked. Subsequent surgery corrected the problem – and likely saved her from a life-threatening heart attack. Some years the fall fair includes free mammograms and hearing tests.
Throughout the year, employees earn points for participating in the L.I.V.E. (Liberty Inspires Vibrant Employees) Well rewards program, Troutman says. A lunch- and-learn session may be worth 25 points, while each health screening can be 10 to 20 points and volunteering is 9 points. Those who earn 100 points or more are invited to an end-of-the-year luncheon and awarded prizes and gift cards. In 2010, 28 people qualified for rewards; last year, there were 68.
A $7,000 grant from ACCG and $2,500 from the Liberty County Board of Commissioners funds the program. Liberty Regional Medical Center in Hinesville offers employees free smoking cessation classes. Blue Cross Blue Shield also contributes to the wellness program though the county's health insurance premium.
"People are feeling good and seeing the benefits of participating," Troutman says. "We try to make the program bigger and better every year." – RM
---
Taylor County
Sunny Forecast
Taylor County, a sparsely populated agricultural county in central Georgia, lays claim to being one of the state's leading solar energy providers.
That's a major achievement for the rural community, whose 8,142 population count (as of July 2017) is about the same as it was in 1900. Yet its capable leaders have managed to turn 3,000 acres of previously underutilized farmland into a series of productive business enterprises.
Since 2015, four solar power plants have been built within the county. They include the 1,072-acre Butler Solar Facility, located in its largest town, as well as the 962-acre Sandhills Solar Facility.
Two smaller facilities, the 338-acre Pawpaw Solar Facility and the White Pine Solar Power Plant, a 507-acre farm, also opened in recent years.
The solar farms were built on land that was mostly open fields, but the soil was barren, sandy and not well-suited for agriculture. From an economic perspective, return on the land was low.
According to Lenda Taunton, county manager and board member of Taylor County Development Authority, the projects arose when several energy companies came knocking at their door, asking for permission to build the plants.
"They came to us. We didn't go to them," she says, noting that the solar firms picked Taylor County after receiving a favorable tax abatement package. "The low flat land and low millage tax also helped," she says.
Benefits to the county were clear from the start. The solar farms were built on land previously zoned as agricultural. "The solar farms requested that the land be rezoned as commercial," says Taunton, "and that allowed us to collect higher property taxes since commercial land has a higher market value."
County officials now face the enjoyable task of spending the additional tax revenue generated by the solar farms. "We haven't decided how to spend it all," Taunton says, "but we're considering a new fire truck, a new car for the sheriff's deputy and updated equipment for bridge and road building."
However, the larger tax coffer did have one immediate benefit – it allowed Taylor government employees to receive a long-awaited raise. "For the past five years, we haven't had any merit raises," Taunton says, "but this past year, we got a raise." – SN