Georgia Fare: B's Cracklin' Barbeque
Q, Stew and Moo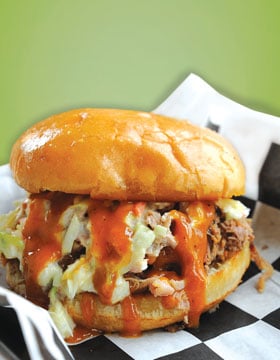 New Orleans has gumbo, beignets, po' boys. Charleston has trifle, shrimp and grits, Frogmore stew. Nashville: Hot chicken. Louisville: Hot browns and Derby pie. Atlanta has … fried chicken? Barbeque? Lemon-pepper wet wings?
Maybe we don't have such clearly trademarked dishes – Atlanta is, after all, defined by airports and interstates, crossroads and waiting rooms. But the good thing about being a city of transients is that Atlantans don't cling to Southern culinary orthodoxy either. You want your fried chicken Korean-style, made extra-crispy with cornstarch? Fine! We'll call it KFC. You prefer hoppin' john to be super-simple, with just rice and black-eyed peas? OK, go ahead. You like your bourbon with Pepsi? Well … that's taking it a little too far, mister.
Still, those stark boundaries are few and far between in Atlanta. Barbeque, in particular, seems a no-holds-barred sport, with most Georgia stands serving several varieties of sauces and preparations, from vinegary tomato-based North Carolina elixirs, gold mustard-based mops from South Carolina, Memphis-style dry rubs, even Asian-influenced sweet-hot glazes. And while Georgia barbeque is all about the pig, you can easily find good examples of the Texas Trinity (pork ribs, brisket, sausage) here. Compare that to the Lone Star State, where a pulled pork sandwich is a lonely wallflower compared to belle-of-the-ball beef.
In fact, barbeque is having something of a moment. Over the last few years, enterprising young chefs have opened genre-bending spots, like northwest Atlanta's Heirloom Market, with its Korean-accented 'que and burgers. Meanwhile, Fox Bros. and Community Q have employed serious culinary chops to make great, old-school-style barbeque and sides.
Enter B's Cracklin' Barbeque. Nearly from the moment pitmaster Bryan Furman quit his welding job and started roasting whole hogs in Savannah, he gained attention from the 'que-hounds at publications like Garden & Gun and Southern Living. His original Savannah location is going strong, with another outpost now open in Atlanta.
In the Riverside area of northwest Atlanta, which is already seeing development spillover from the rapidly evolving part of town some refer to as the Upper West Side, B's inhabits a Craftsman-style house with fieldstone columns and fireplace. Old-style, wire-enclosed fans whirl and revolve among the rafters, making the place seem airy, sunny and bright – with a hint of woodsmoke.
Influenced by the barbeque pitmasters in his home state of North Carolina, Furman also incorporates the no-waste, "snout-to-tail" method of both modern chefs and your farming great-grandparents, using heritage hogs and locally sourced produce. That means you'll find an excellent North Carolina-style vinegar-spiked sauce among your choices, along with warm, freshly made cracklings, and hash and rice, from the pig's head and cheeks.
But let's get right to the point: B's Cracklin' Barbeque has the best pork barbeque sandwich I've ever sampled, in this or any other state. Does it matter that it's called "Carolina's finest"? Not to me – not when you've got a toasted Holeman & Finch bakery bun encapsulating a warm mound of sauced-up pork and cool, piquant slaw. It is that perfect combination of slightly elastic bread enclosing tender, just-moist-enough meat with that vinegar-tomato tang and creamy, sweet slaw.
The sandwich alone is enough to bring me back, but B's has a deep bench: molasses-y BBQ beans and crusty mac and cheese; crisp fried okra and excellent collards. While the wings were slightly dry the day we tried them, the chicken leg was delectable. Ribs are tender and tasty; the Brunswick stew was also good. But the second standout on this menu is the brisket – redolent with smoke, charred at the edges, fork-tender.
But wait! There's more! B's offerings come in a lot of different options, including tacos, barbeque salads, sandwiches, by-the-pound bagsful. But along with its trivia nights and kids-eat-free specials, the real crowd-pleasers come in the form of liberating libations and starters, like those namesake cracklings served with an admirable store of local beers (Athens' Creature Comforts Tropicalia is always on tap) and even locally sourced cocktails, such as the "Gin Nicky," with 229 Gin, Mercer Orchards apple cider and lime juice.
Though I was a little disappointed in the banana pudding for its whipped cream instead of meringue, do you really need dessert after all this? If you do, that will hit your sweet spot.
What's interesting about B's hardworking ethos – Furman has been recently partnering with local Erika Council for a popular pop-up biscuit breakfast at the restaurant – is how successful it has been, and how fast. Something about this combination of new methods and traditional skills has caught on like cured hickory to lit kindling.
But perhaps in part because of B's 10 percent discount to male-dominated professions like the police, fire and military, I've rarely seen a place so packed with one gender – on my second visit, I realized that in the nearly full restaurant, I was the only female customer. It was also refreshing to see a racially diverse crowd in a barbeque spot – which are sometimes as segregated as Sunday morning pews.
Like many Atlantans, B's wasn't born here. But it's also all business, with a striver's flair for excellence, a hat tip to tradition and above all, good manners. Sounds like trademark Atlanta to me.
---
B's Cracklin' Barbeque
2061 Main St. NW, Atlanta
(also at 12409 White Bluff Road, Savannah)
678.949.9912 (912.330.6921)
bscracklinbbq.com
Hours: Lunch and dinner, Tuesdays-Sundays
Parking: Free parking in attached lot
Dress Code: Ballcaps, cargo shorts, sneakers
---
Speaking of barbeque, check out these outstanding spots, old and new
---
The Wicked Pig, Clayton: Seven housemade sauces and super-sweet service. twpbbq.com
Fresh Air, Jackson: Established in 1929 and still smokin'. freshairbarbeque.com
Southern Soul, St. Simons: Like B's, these young turks offer fresh twists on old school 'que and sides. southernsoulbbq.com
White Tiger Gourmet, Athens: Quirkily delicious, with traditional BBQ and burgers, but also grilled tofu. whitetigergourmet.com
Zombie Pig, Columbus: You'll want to get here walkin' or crawlin' for real hand-pulled pork. zombiepigbbq.com
Sprayberry's, Newnan: Open since 1926. Still serving the Lewis Grizzard special of sandwich, Brunswick stew and onion rings. sprayberrysbbq.com
Jomax, Metter: Traditional barbeque and sides, plus smoked turkey. 912.685.3636
Sandfly, Savannah: In the community of Sandfly and downtown, the dry rub barbeque is "Memphis born and Savannah made." sandflybbq.com