Auto Evolution
Growth of manufacturers and suppliers in the state keeps the industry booming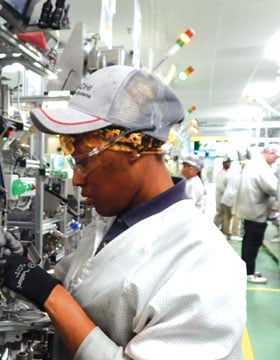 The automotive industry is thriving in Georgia. Since 1909, when the first automobile was assembled in the state to Kia Motors Manufacturing locating here a hundred years later, Georgia is cashing in on cars.
"The automotive industry in Georgia represents $2.8 billion in gross state product," says Mike Grundmann, director of automotive, aerospace and advanced manufacturing for the Georgia Department of Economic Development. "It's a very big sector of our economy, one that we're very proud of and want to continue to grow."
In the last five years, Georgia located 97 automotive companies creating 7,376 jobs. The state is also home to more than 300 automotive-related facilities and six headquarters, including Cox Automotive, Genuine Parts Co., Mercedes-Benz USA LLC, Novelis, Exide Technologies and Porsche Cars North America Inc. And in January, Groupe PSA, the French manufacturer of Peugeot and Citroën and the second-largest carmaker in Europe, announced it will open its North American headquarters in Atlanta.
"Automotive suppliers could locate in any number of states based on the locations of the manufacturing plants; BMW to the northeast in South Carolina, Mercedes-Benz to the west in Alabama and Volkswagon to the north just over the Tennessee line," Grundmann says. "When you look at the geography, these companies see Georgia as central to supply all three plants."
Toyota, Honda and Hyundai have additional manufacturing operations in Alabama, while Volvo and Mercedes-Benz are also located in South Carolina. And, each manufacturer has ties to Georgia-based suppliers including:
• Transmissions built in Tallapoosa by Honda Precision Parts of Georgia;
• Air conditioning compressors made in Pendergrass by TD Automotive;
• Locks and related door accessories produced in Bremen by HL-A Co. (Honda);
• Electronic break and steering systems manufactured in Gainesville by IMS Gear;
• Fenders forged in White by voestal-pine Automotive Components; and
• Tires fabricated in Macon by Kumho Tire.
Georgia's largest metal equipment and components manufacturer, Hitachi Automotive Systems, is located in Monroe and employs 1,200 people. The company produces valve timing controls, drive shafts and electric power steering. Their customers include Ford, GM, Honda, Hyundai, Nissan, Subaru and Aston Martin.
"We celebrated our 20th anniversary in Walton County in July 2017," says Mike Schoon, vice president of the Georgia plant. "We have over 590,000 square feet of manufacturing space on 70 acres, and our revenue exceeds $500 million annually – and growing."
Schoon credits Georgia's pro-business environment, as well as the state's transportation network, favorable tax strategy, the relatively lower cost of land and the Quick Start job training program as being critical for the continued success of Hitachi.
"Georgia provides an excellent environment for doing business no doubt," he says. "The state of Georgia is focused on providing the resources companies need to be successful."
Hitachi is the largest employer in Walton County, according to Shane Short, executive director of the Development Authority of Walton County.
"Over the years Hitachi has grown significantly, and no doubt it does have an impact on the community," he says. "The more our companies grow, the more we grow."
But, it's not just the jobs and dollars that a large manufacturing operation brings to a community. There are important intangible benefits, too.
"Hitachi is one of the best corporate community partners any community could ask for," Short says. "Their employees serve in leadership roles in the community and support local nonprofits. We couldn't be more proud of what Hitachi has done for our community."
The company also works with the local school system to ensure those who are not college-bound have a career path. In 2016, the company received the "Community Impact Award" from the Georgia Department of Economic Development.
---
Community Rebirth
Perhaps nowhere else in the state are the benefits of being a host community for the auto industry more apparent than in West Point, home to Kia Motors Manufacturing.
"Before Kia, we were a dead and dying textile town," Mayor Steve Tramell says. "Because of Kia and its related suppliers, we need people moving here to take all these jobs."
Suppliers include Daesol Material Georgia LLC, Hyundai Dymos and Sewon America.
In December, Daesol completed construction of its new Harris County manufacturing facility, creating 110 jobs. Daesol manufactures automotive fiber padding and invested $35 million in the construction and equipping of the 120,000-square-foot-facility in the Northwest Harris Business Park.
In 2014, Hyundai Dymos began manufacturing seats at its West Point plant for Kia Sorentos. The new facility created 350 manufacturing jobs and represented a $35-million investment at the time.
In 2008, Sewon America located operations in nearby LaGrange. Since then, the company has invested $300 million in its facility and increased its workforce from 360 in 2009 to 750.
Kia is located on 2,200 acres, employs more than 3,000 workers and last year produced its one-millionth vehicle at the West Point manufacturing facility.
"It's a night-and-day turn around," Tramell says of the community's rebirth. "The restaurant scene in town was nonexistent before Kia. In the last three years, three new restaurants have opened, two more are coming right now and there's probably more on top of that. We are becoming quite the destination for dining."
More than 40 new businesses, including restaurants and automotive suppliers, have opened their doors since Kia took up residence in the county back in 2009.
"We say our population swells to 10,000 people a day because of Kia and its related suppliers," Tramell says. (The city's population in 2016 was 3,766.) "There are more jobs than we have people to fill them."
---
Culture of Innovation
In addition to its central location; access to an international airport, ports, rail lines and interstates; and more than 300,000 skilled production workers, Grundmann says there's another reason Georgia is a destination for the automotive industry.
"We also have this culture of innovation in Georgia that has really gotten noticed among automotive industries," he says. "Georgia's engineering talent pool has become as attractive to automobile companies as Georgia's central location."
Georgia's "culture of innovation" dates back to 1935, according to Grundmann, when Asa Phillips invented a ventshade that was standard equipment on Volkswagen Beetles for 25 years. Today, the state is home to two innovation centers and several other companies initiating and translating technology and software advances into practical applications in the industry, exploring connected cars, autonomous vehicle technologies, advanced diagnostics and fuel efficiencies.
Companies include AT&T Drive Studio, Car360, Elan Technology, Verizon Connect and Wheego Technologies. GM and Panasonic Automotive have innovation centers in Atlanta and Peachtree City, respectively.
"GM announced in 2012 plans for an innovation center in Atlanta," Grundmann says. "They started with 1,000 employees and have grown significantly since then. Talent is critical to these innovation centers, and the great news is we have that right here in Georgia, particularly coming out of Georgia Tech.
"In addition to attracting these innovation centers of major corporations, Georgia's talent pool has spawned several startups in the emerging auto technology space, including Wheego," he adds.
Wheego develops emerging vehicle technologies, including self-driving/autonomous cars using artificial intelligence and machine learning.
Another startup, this one spawned at Georgia Tech, is Parkmobile, which helps users find open parking spaces for street parking, gated parking, airport reservations, university parking and event/stadium reservations. Parkmobile has an inventory of more than 1 million parking spaces, and in 2017, it processed more than 50 million parking transactions in North America. BMW acquired the company in January.
"Everything is changing with autonomous vehicles and vehicle sharing, and everyone is trying to position themselves to thrive in this new era of transportation," Grundmann says. "We're very pleased to be so strategically positioned in Georgia to capitalize on all of this change and emerging technology in the automotive space."
---
Here Comes the Bus
While it may be natural to think of cars when talking about the automotive industry, in Georgia, that definition expands to include something much larger painted in iconic yellow and black – school buses.
Since 1927, Fort Valley has been the home of the Blue Bird Corp., one of the state's two automotive manufacturers (Kia is the other). The company has about 2,400 employees (nearly all in Georgia) and posted $991 million in revenue for fiscal year 2017. In January, Blue Bird moved its corporate headquarters to Macon to make room for a plant expansion.
"Fort Valley is our home," says Phil Horlock, Blue Bird president and CEO. "We have a focused, skilled labor force that specializes in one thing: making the world's finest school bus. Blue Bird has deep roots in the middle Georgia community and is a part of local culture."
Car companies aren't the only ones innovating the auto industry in Georgia. In July, Blue Bird unveiled two new electric-powered school buses. The announcement came on the heels of a $4.4-million Department of Energy grant awarded to the company in December 2016. The company built its first electric-powered bus in 1994 for use in Southern California as a demonstration project. Production of the latest iteration of its electric bus is slated for this year.
"We are excited to bring to market the first all-electric school bus produced by a major bus OEM [original equipment manufacturer]," Horlock says. "The electric buses we are developing reinforce the leadership position that Blue Bird has achieved in the alternative fuel-powered bus segment – propane, gasoline, CNG, now electric.
"In 2012, we launched our propane-powered school bus, which has been a huge success – we delivered our 10,000th propane bus this past year," Horlock continues. "On average, school districts that choose propane save $2,000 to $3,000 per bus per year in fuel and maintenance cost, compared with diesel buses."
Every 13 minutes, a school bus rolls off Blue Bird's Fort Valley production line.
There's no doubt the automotive industry in Georgia is booming. Kia's presence in southwest Georgia has been a magnet for automotive suppliers, and the state's ready-to-work, highly trained workforce is ensuring that Georgia remains competitive for major automotive projects moving forward.
---
The Ray Way
In addition to preparing for the vehicles of the future, Georgia is also preparing for the roads of the future.
The Ray is an 18-mile stretch of I-85 that serves as a testing ground for new technologies focused on transportation, safety and energy generation. The Ray seeks to be a highway that has a net zero environmental impact while improving the beauty and ecology along its route.
The Visitor Information Center in West Point, which is located within The Ray, is home to the state's first solar-powered PV4EV (photovoltaic for electric vehicle) charging station and a tire safety check station for improving safety and fuel efficiency. (Drivers receive a text message with information regarding their tire pressure.) There's also a 7,000-square-foot pollinator garden at the visitor's center that provides a habitat for honeybees, monarch butterflies and other species.
Adjacent to the visitor's center is a 50-square-meter solar-paved highway that uses photovoltaic techniques to provide renewable energy in the form of electricity, while allowing all forms of traffic. The right-of-way around The Ray is being farmed with Kernza plants, which have deep 10-foot roots that help enrich the soil, retain clean water and sequester carbon. Also in the right-of-way, to clean water runoff there are bioswales, shallow drainage ditches filled with vegetation or compost to slow water movements and capture particulate pollutants during rainstorms. These are just two examples of the ways The Ray is innovating to help improve the environment on and off the highway.
Looking ahead, The Ray is scheduled for a complete repaving in 2019, and its next incarnation could be a rubber road. Rubber roads add recycled tires to an asphalt mixture, providing the added benefits of reducing road noise and increasing road durability, as well as recycling scrap tires. – Jennifer Hafer